Press Release
NYCEDC, Council Member Reynoso and Borough President Adams Announce $2.7M Investment to Renovate Moore Street Market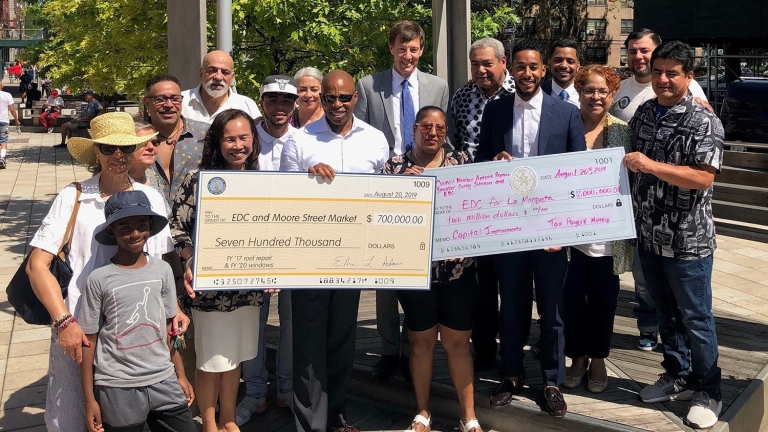 Funds Will Be Used to Upgrade Facilities at One of Brooklyn's Oldest Indoor Markets

NYCEDC Announces El Puente De Williamsburg as Official Community Partner
BROOKLYN, NY—New York City Economic Development Corporation (NYCEDC), joined by Council Member Antonio Reynoso and Brooklyn Borough President Eric L. Adams, announced a $2.7 million investment to make improvements at Moore Street Market, one of Brooklyn's oldest public markets. Provided by the New York City Council and the Brooklyn Borough President's Office, the funds will be used to enhance the market's facilities, which is a beloved retail and shopping destination in the East Williamsburg community.
Occupying a 15,000-square-foot site at 110 Moore Street in North Brooklyn, Moore Street Market opened in 1941 and currently houses 15 vendors. In addition to selling products from culturally unique merchants, the market offers events year-round from cooking classes to holiday celebrations and seminars for small businesses. At the market, residents and visitors can find fresh produce and seafood, groceries, specialty foods, craft items, quick and sit-down dining options and personal care services available from local businesses.
The recently allocated funding will support renovations that include repairs to the facility's roof, installation of street-level windows, and updates to the heating and cooling systems. In the fall, NYCEDC will contract a designer to begin a master planning process for the scope of these upcoming renovations as well as future upgrades to the facility.
"Moore Street Market has been a community cornerstone for decades, and I want to thank Speaker Johnson, Council Member Reynoso, Borough President Adams and our community partners for this generous investment in the market's future," said NYCEDC President and CEO James Patchett. "The market is an important part of our City's cultural fabric, and with this investment, we can ensure it meets the needs of local businesses and shoppers."
"For generations, Moore Street Market, also known as 'La Marqueta de Williamsburg', has served residents of Williamsburg and Bushwick by offering products, events, and services that are reflective of our community's roots and diversity," said Council Member Antonio Reynoso. "The $2.7 million investment made for physical upgrades and the partnership between El Puente, a pillar of our community, and the market will ensure that residents continue to benefit from high quality goods and services. Thank you to Borough President Eric Adams, NYCEDC President and CEO James Patchett, and City Council Speaker Corey Johnson for helping make this possible."
"Moore Street Market has long been a hub for local and immigrant businesses, and a beacon of opportunity for people living in East Williamsburg and beyond," said Brooklyn Borough President Eric L. Adams. "Its existence is a testament to the power of grassroots organizing and civic engagement in a community that has long lacked access to resources. With this capital funding, including the $700,000 my office allocated for roof and window repairs, we are making long-term investments in the vitality of a true neighborhood amenity. I thank the EDC and Council Member Reynoso for their partnership."
"I applaud NYCEDC's decision to invest in La Marqueta to support our local artists and small businesses," said Rep. Nydia M. Velázquez (D-NY). "This $2.5 million allocation of funds will ensure the historic marketplace, which has served as an economic engine for our community since 1941, will continue to thrive for years to come. It also represents our community's growing commitment to maintain the integrity of our historic neighborhoods and the incredible strides we have made since the market almost closed down 12 years ago. "I want to thank Council Member Antonio Reynoso and Borough President Eric Adams for their work in securing this critical funding. I am a proud champion of La Marqueta and will continue to fight for the health of its entrepreneurs."
"El Puente is proud and excited to continue its partnership with EDC and the merchants of the Moore Street Market as their Cultural Partner," said Dr. Frances Lucerna, Co-Founder & Executive Director of El Puente de Williamsburg. "El Puente remains committed to cultivating resources for the Market so that it continues to serve its mission in promoting local businesses that are the backbone of our community and be a cultural hub that not only celebrates our Latino culture, but aims to continue bridging all cultural practices of Williamsburg's diverse population."
"The properties, stores and professional outlets of the Graham Avenue BID proudly support the commitment of the City and EDC to maintain and update the Moore Street Market," said Betty Cooney, Executive Director of the Graham Avenue Business Improvement District. "It's long history in this community stands as a tribute to the people who have been diligent in preserving its existence. The market is the jewel of the neighborhood and its growth is vital to the rest of the retail district."
Additionally, NYCEDC recently partnered with El Puente de Williamsburg, who will serve as Moore Street Market's official community partner. El Puente will provide a wide range of services for the market, including creating weekly and monthly cooking classes, sewing seminars, and reading workshops, helping to coordinate the design and installation of a new market mural, and assisting with developing expanded pop-up and seasonal events at the market. Additionally, El Puente will oversee marketing and promotional activities designed to draw customers to the Moore Street Market.
Moore Street Market is one of six public markets that NYCEDC oversees. The market's renovation comes shortly after NYCEDC's relocation and reopening of Essex Market at Essex Crossing in May 2019.
About NYCEDC
New York City Economic Development Corporation creates shared prosperity across New York City's five boroughs by strengthening neighborhoods and creating good jobs. NYCEDC works with and for communities to provide them with the resources they need to thrive, and we invest in projects that increase sustainability, support job growth, develop talent, and spark innovation to strengthen the City's competitive advantage. To learn more about our work and initiatives, please visit us on Facebook, Twitter, or Instagram.
About Moore Street Market
Moore Street Market was opened by Mayor Fiorella La Guardia as a part of a push to provide pushcart vendors and street merchants with a clean and affordable site to do business. Today, the market offers fresh produce, as well as multiple fish markets, coffee shops, sit-down dining spots, botanicas, craft shops, a barbershop, a beauty salon, a tailor, a bakery and a music store. Merchants include AC Tropical, LA Union Fruit & Grocery, American Coffee Shop, Ramonita's Restaurant, SustainTable, J&R Distribution, Latin American Barbershop, Neida's Beauty Salon, Body & Soul Vegan Wholesale Bakery, Reconnect Bakery, Botanica La Esperanza, Jerez Tailor Shop, Las Margaritas, The Rose Thrift Shop and Torie's Treasures.
About El Puente de Williamsburg
El Puente was founded in 1982 by Luis Garden Acosta who called together church leaders, artists, educators, health providers, and other community activists to stop the epidemic wave of violence in the Southside community of Williamsburg, Brooklyn. In over three decades, El Puente has accomplished numerous headline initiatives while pioneering a national model for youth development within the context of overall community development. Grounded in a holistic approach to leadership development for young people and their families, El Puente bridges the worlds of health, education, and the arts with activism and community empowerment.