Press Release
NYCEDC, City and State Officials, and Lower Manhattan Community Celebrate Dedication of West Thames Street Bridge for Robert R. Douglass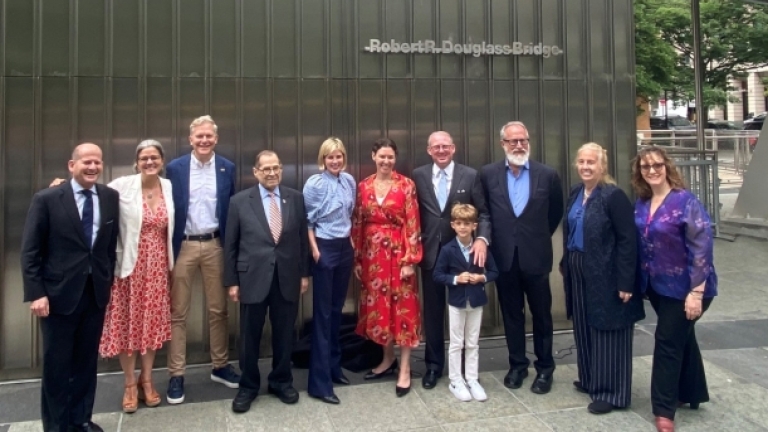 NEW YORK, NY—Officials from New York City Economic Development Corporation (NYCEDC), Battery Park City Authority and the Lower Manhattan Development Corporation (LMDC) were joined by members of the Douglass family, Congressman Jerrold Nadler, Manhattan Borough President Gale Brewer and Councilmember Margaret Chin to celebrate the renaming of the West Thames Street Pedestrian Bridge in honor of Robert R. Douglass. Douglass was a longtime advocate for Downtown Manhattan, as both a founding member of the Downtown Alliance, where he served as chairman for two decades before retiring in 2015, and as an LMDC board member.
In addition, Robert R. Douglass served as counsel to former Governor Nelson Rockefeller from 1965 to 1970 and as secretary to the governor until 1972. He is well known for his contributions to Lower Manhattan including working on original plans for Battery Park City and helping with the completion of the original World Trade Center. Douglass was instrumental in the area's renaissance following the terror attacks of 9/11.
"Today is a great day as we dedicate this impressive span to Robert Douglass who advocated tirelessly to improve and reimagine Downtown Manhattan," said NYCEDC President and CEO Rachel Loeb. "After many pandemic-related delays to marking the completion and installation of this remarkable link between Battery Park and the Financial District, it is wonderful to celebrate this symbol of the City's recovery. Congratulations to all our agency partners and to the Douglass Family on this important recognition."
"The work of our father was focused for much of his life on the betterment of Lower Manhattan," said The Douglass Family. "His was a career dedicated to the ideal that public service is one of the highest callings and most fulfilling ambitions. It was in government and in his role as the founding and long-time chair of the Downtown Alliance that he found the purest expression of those goals. He was here working with Governor Rockefeller to create the original World Trade Center and Battery Park City and played an important role in the revitalization of Lower Manhattan after the tragic events of 9/11. It is fitting that we come together to name this bridge--one of the final projects post 9/11 and one that connects Battery Park to Lower Manhattan--after him. He would have been most proud. 
The Douglass family would like to thank the New York Economic Development Corporation, Lower Manhattan Development Corporation, the Battery Park City Authority, all our elected officials and the community board as well as the Alliance for Downtown New York for recognizing his role and making this tribute possible."
"Nearly twenty years after the unimaginable devastation of 9/11, Lower Manhattan is a growing, vibrant place due to the intentional effort to make it a neighborhood that honors the street-level experience as much as its iconic skyscrapers," said Eric Gertler, Acting Commissioner and President & CEO-designate of Empire State Development. "Today's dedication, honoring a New Yorker who gave so much to Lower Manhattan, reminds us that despite tragedy, the Empire State will always build back better and stronger than before." 
"We are grateful to all those involved in the completion of this very challenging project which provides a permanent, scenic and safe crossing for lower Manhattan residents, workers and visitors," said Holly Leicht, Chair of the Lower Manhattan Development Corporation. "We are grateful to Robert Douglass for his leadership, dedication, skill, and sense of civic purpose, which contributed greatly to Lower Manhattan's successful recovery and growth after the 9/11 attack."
"As the newest and final connection between Battery Park City and the Financial District, the Robert R. Douglass Bridge stands as testament to Douglass's enduring contributions to both neighborhoods," said BPCA President & CEO B.J. Jones. "It's also an important symbol of downtown's historic and remarkable recovery, as well as a welcome, beautiful addition for our residents and the tens of thousands more people who work, go to school, and visit Battery Park City. We're honored to join his loved ones here today, and to have a role in building and maintaining this crossing for the next generation of New Yorkers."
"Bob Douglass's vision and drive profoundly shaped this part of his beloved New York," said Downtown Alliance President Jessica Lappin. "He truly was Mr. Downtown. He led the Downtown Alliance for a generation with passion, dedication, and drive. This bridge, one that knits a community together, stands as a fitting and enduring monument to Bob, his big life and great work."
"The Robert Douglass Bridge provides pedestrians with a crucial connection between Battery Park City and the Financial District", said Congressman Jerry Nadler. "This bridge unites Lower Manhattan community and is aptly named for Robert Douglass, who was a staunch community advocate for rebuilding of Lower Manhattan after 9/11. The completion of this long-awaited project is another important milestone in Lower Manhattan's recovery and resurgence."
"Reimagining our streets means making investments in infrastructure that prioritizes pedestrians, not cars," said Council Member Margaret Chin. "The new Robert Douglass Pedestrian Bridge connects Battery Park City to the Financial District and creates a seamless and safe path across the West Side Highway. The bridge is named after the Late Robert Douglass, a bold New Yorker who was instrumental in Lower Manhattan's recover following the September 11 terrorist attacks. New Yorkers, especially our seniors, will be able to cross West Street safely."
"This bridge is a deeply needed piece to connect Battery Park City with the Greenwich South community, empowering families, businesses, parks and the schools in both of these neighborhoods in Lower Manhattan," said Manhattan Community Board 1 Chair Tammy Meltzer. "The planning and construction of the bridge may have faced a few difficulties, but ultimately succeeded in classic New York fashion, much like its namesake, Robert R Douglass -- a man who embodies our city's power of creating financial, political and social bridges for the benefit of all. The dedication today is a good reminder as we look toward a post pandemic version of Lower Manhattan, to ask ourselves what bold new ideas can be realized by building new bridges to meet the needs of our community."
NYCEDC, in coordination with Skanska, Thornton Tomasetti/Weidlinger Associates, and WXY Architects + Urban Design, designed and constructed the now renamed Robert R. Douglass Bridge. The bridge provides a direct connection between the Battery Park City and Financial District neighborhoods, crossing West Street and Hudson River Greenway from West Thames Street near Joseph P. Ward Street. The $45 million project was funded predominantly by a $33 million grant from the Lower Manhattan Development Corporation, a subsidiary of Empire State Development, funded through Community Development Block Grants from the US Department of Housing and Urban Development. A portion of the funding, approximately $8.25 million, was provided by the Battery Park City Authority.
Constructed by Skanska, the steel lenticular truss bridge was designed to maximize views of the World Trade Center and the Lower Manhattan skyline while improving functional access to these bustling neighborhoods for millions of residents and visitors every year. The design also allowed for the structure to be assembled offsite in Red Hook to minimize construction impacts to the local community.
"Skanska has a proud history of building and rebuilding Lower Manhattan. We are honored to have built the West Thames Street Pedestrian Bridge for residents and visitors of the Financial District and Battery Park City to safely enjoy for years to come," said Executive Vice President and General Manager, Tom Webb. "We thank our partners, dedicated employees and subcontractors who have contributed towards delivering this beautiful and critical community infrastructure project."
"The Robert Douglass Bridge for pedestrians has, through a unique approach to the span, created a new safer and more resilient way to connect and experience Lower Manhattan," said WXY's principal Claire Weisz. "Our goal was to create a unified and open experience for everyone using all of the bridge's elements; its systems and its materials, to float a light glass and mesh steel bridge over a major tunnel entrance."
"The Robert Douglass Bridge creates a uniquely open-air crossing that is both sheltered and exciting," said WXY's studio director Paul Van der Grient, "Last year its value as an outdoor and safe crossing was much appreciated by the community."
About NYCEDC
New York City Economic Development Corporation creates shared prosperity across New York City's five boroughs by strengthening neighborhoods and creating good jobs. NYCEDC works with and for communities to provide them with the resources they need to thrive, and we invest in projects that increase sustainability, support job growth, develop talent, and spark innovation to strengthen the City's competitive advantage. To learn more about our work and initiatives, please visit us on Facebook, Twitter, or Instagram.
About BPCA
About BPCA: Established in May 1968, The Hugh L. Carey Battery Park City Authority is a New York State Public Benefit Corporation charged with developing and maintaining a well-balanced community on the Lower West Side of Manhattan. Battery Park City's 92-acre site has achieved worldwide acclaim as a model for community renewal in planning, creating, and maintaining a balance of commercial, residential, retail and park space. By pioneering development through ground leases and bonding authority with public/private partnerships between the BPCA and private developers, this planned community has become a blueprint for successful urban development. For more info visit: bpca.ny.gov
About Skanska
Skanska is one of the world's leading construction and development companies. In the U.S., Skanska's core operations include building construction, civil infrastructure and developing self-financed commercial properties, which together generated $8 billion in revenue in 2018. As a developer in the U.S., Skanska has invested a total of $2.3 billion in commercial and multi-family projects. With U.S. headquarters in New York City, Skanska has offices in 28 metro areas with 9,000 employees nationwide. Skanska is an industry-leading innovator in both safety and project execution, and offers competitive solutions for both traditional and complex assignments to help build a more sustainable future for our customers and communities. Global revenue of parent company Skanska AB, headquartered in Stockholm and listed on the Stockholm Stock Exchange, totaled approximately $20 billion in 2018
About WXY architecture + urban design
WXY is an award-winning, multidisciplinary practice specializing in the realization of urban design, planning and architectural solutions in challenging contexts. Focused on innovative approaches to public space, structures and urban issues, the firm's work engages both site-specific design and planning at multiple scales. The firm's commissions are in collaboration with community-based, public authority, and private clients.