Press Release
NYCEDC Announces Winners of Annual NYC BigApps Blockchain Competition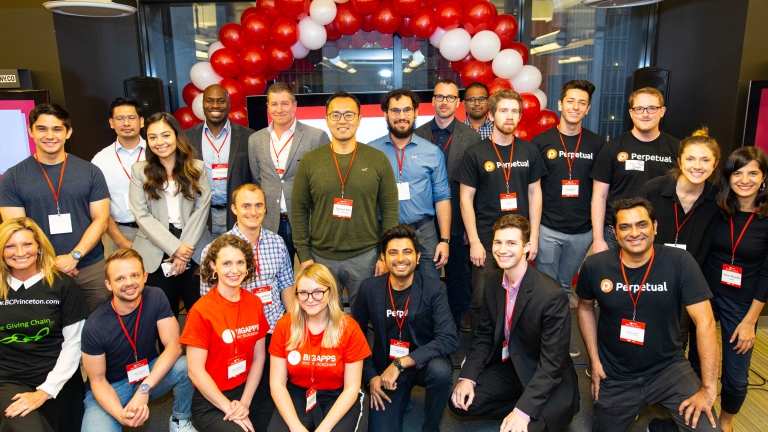 Innovation competition encourages New Yorkers to collaborate with City and industry leaders to develop blockchain solutions that address civic challenges
NEW YORK, NY—New York City Economic Development Corporation (NYCEDC) today announced the winners of the annual innovation challenge, NYC BigApps. This year, BigApps focused on identifying civic applications for blockchain technology. Designers, developers, academics, entrepreneurs and New Yorkers at large created blockchain applications that could be used to improve New York City services. The challenge began with need-finding workshops for city and state agencies, bringing together industry leaders and the New York City technology community in the process. These workshops identified three challenge areas: Identity, Energy, and Real Estate Asset Management.
More than 60 teams from the blockchain community submitted proposals. After review and feedback from city and state agencies, 10 finalists were selected to present their proposals to media, investors, and government stakeholders as part of BigApps Demo Day. One winner was selected in each of the three challenge areas by a panel of judges composed of representatives from government agencies and technical experts. Finalists were evaluated based on the idea's ability to solve a civic problem, its viability, desirability, feasibility, and fit. The list of finalists is available here.
"For years, NYC BigApps has offered innovative solutions to some of the City's most pressing challenges, and it's encouraging to see New Yorkers apply their expertise to make city processes more effective and efficient," said NYCEDC President and CEO James Patchett. "I'm pleased to congratulate the finalists and winners, and recognize their stellar efforts aimed at identifying ways to use blockchain technology to improve city services and resources for all New Yorkers."
"NYC BigApps engages thinkers, doers and technologists all across New York City. Through this pioneering competition, participants deliver innovative new approaches to difficult challenges, expanding the realm of what's possible and spurring government to think bigger," said John Paul Farmer, Chief Technology Officer of The City of New York. "This year, BigApps teams are bringing to the table promising new blockchain-based solutions. We're excited about the potential to apply these solutions in ways that help the public sector run better for the benefit of all New Yorkers."
See below for the winners of each competition:
Identity: MyCity.ID by Milligan Partners proposed a blockchain-based, self-sovereign digital ID that will improve the verification of identity-related information. The end goal is to improve the process of applying for social services and benefits by using pre-verified information, making the process faster and easier for residents and service providers. MyCity.ID proposes a private blockchain network that would keep individuals' information secure and allow them to control who can see and use their ID.
Real Estate Asset Management: Graph ID by Alpine proposed a system that virtually manage licenses and documents for physical assets; the solution would address data inefficiencies and improve interagency collaboration.
Energy: Omega Grid proposed a blockchain energy rewards platform and local energy market software that can help the electric grid support an order of magnitude more solar panels and electric vehicles.
The three grand prize winners will receive a cash award along with legal, computing, marketing and other opportunities to further develop their proposals.
In the audience at Demo Day were agency and industry leaders from the Mayor's Office of Sustainability, New York City Department of Buildings, IDNYC, NYC Opportunity, New York City Department of Citywide Administrative Services, New York City Department of Information Technology and Telecommunications, IBM, Google, and more.
"Congratulations to the NYC BigApps winners, who are developing the tech programs that will benefit New Yorkers today and for years to come," said Council Member Paul Vallone, Chair of the Economic Development Committee. "Programs like these help ensure the Big Apple maintains its position as a leading tech hub in the country while incubating advances that will improve efficiency and security in New York City's public sector."
"As our cities become increasingly driven by apps and technology, government must strive to tap into the talent and creativity of our workforce to find new ways to make technology work for everyone," said Council Member Peter Koo. "Blockchain is a rapidly emerging industry in NYC, and I'd like to offer my congratulations to all those who took time in the NYC BigApps competition to make the City of New York more user-friendly for all."
"New York must do all that it can to invest in emerging technologies that may improve the way we cooperate with each other and create new value in our neighborhoods," said Assemblymember Ron Kim. "This annual event by the NYCEDC is a wonderful opportunity to collaborate with the blockchain community and spur new ideas and promising projects to address the issues New Yorkers face. I congratulate the winners of this year's NYC BigApps Competition and wish them the best in the further development of their projects."
"NYC BigApps has long been a model for civic innovation in NYC and beyond," said Dmytro Pokhylko, Director of the Lab-to-Market Accelerator Network and Columbia-IBM Blockchain Accelerator. "Through its diverse community of innovators across NYC universities, Columbia's Lab-to-Market Accelerator Network is thrilled to support the City's efforts to launch and scale startups in the emerging tech ecosystem in NYC."
"Since partnering with NYCEDC last year on the launch of the NYC Blockchain Center, we have witnessed the development of a burgeoning blockchain technology ecosystem in New York City," said Sandra Ro, CEO of Global Blockchain Business Council (GBBC). "The breadth of solutions presented at this year's BigApps Demo Day is a testament to the ingenuity, technical expertise, and creativity of this community. Congratulations to the winning teams, we are proud and heartened to join with those who are passionate about employing blockchain technology to advance urban living for all New Yorkers."
"Blockchain is perfectly suited to government use cases," said Jules Miller, Partner at IBM Blockchain Ventures. "The privacy, transparency and security that it offers can create better experiences for citizens and agencies alike. Things like digital identity, verifying ownership and reducing paperwork are critical functions that can be improved with blockchain-based applications."
"We are excited to welcome these BigApps challenge winners to the Blockchain Center and look forward to helping them grow their blockchain businesses in NYC," said Kim Quinones, Executive Director of the NYC Blockchain Center.
"There is incredible energy and strength when we bring together innovators, citizens, government and the private sector to solve the most complex issues of city living. BigApps Blockchain absolutely did this over the past year—so many thoughtful solutions emerged, with exciting next steps. We're proud to partner with NYCEDC to grow this civic tech community in NYC," said Katey Metzroth, Sr. Director of Cities at SecondMuse.
Powered by SecondMuse, a global company that works with governments and organizations to build 21st-century economies, the challenge was sponsored by Google Cloud, Latham & Watkins, LLP, Consulate General of Canada, and WithumSmith+Brown, PC. A full list of partners is available here.
Launched in 2009, NYC BigApps leverages New York City's creative and technological communities to address the city's civic and urban challenges. This year's BigApps challenge engaged more than 600 New Yorkers, most through government and community workshops.
About NYCEDC
New York City Economic Development Corporation creates shared prosperity across New York City's five boroughs by strengthening neighborhoods and creating good jobs. NYCEDC works with and for communities to provide them with the resources they need to thrive, and we invest in projects that increase sustainability, support job growth, develop talent, and spark innovation to strengthen the City's competitive advantage. To learn more about our work and initiatives, please visit us on Facebook, Twitter, or Instagram.
About SecondMuse
For the past 10 years, SecondMuse has collaborated with visionary governments, corporations, foundations and startups to build 21st-century economies. Current programs include NYCEDC's Futureworks, the M-Corps cleantech manufacturing program with NYSERDA, The Incubator Network with Circulate Capital to battle ocean plastics, and NASA's International Space Apps Challenge. To learn more about SecondMuse, visit secondmuse.com or join SecondMuse on Twitter and Instagram.