Press Release
NYCEDC Announces Plan to Transform Former Spofford Juvenile Detention Center Into Vibrant, Live-Work Campus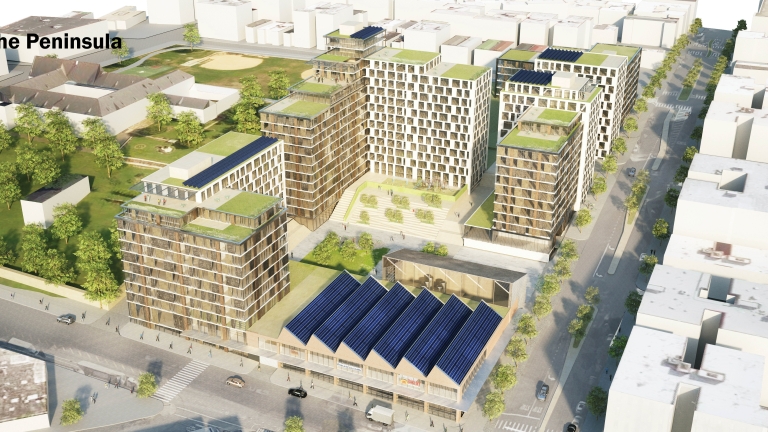 BRONX NY—New York City Economic Development Corporation (NYCEDC) and the Department of Housing Preservation and Development (HPD) today announced plans to transform the former Spofford Juvenile Detention Center in the Hunts Point section of the Bronx into a 5-acre campus featuring 100% affordable housing, good jobs, and recreational space.
After operating for more than 50 years, the notorious detention facility was closed in 2011 in response to a decades-long movement by criminal justice reform activists and community advocates. Under the plan announced today, the facility will be demolished and replaced with a vibrant live-work campus known as The Peninsula. The project forges a new model in neighborhood development by embedding quality manufacturing jobs, health and wellness, and open space recreation in a new residential community. The $300 million project will create approximately:
740 units of 100% affordable housing
52,000 square feet of open/recreational space, including a new public plaza
49,000 square feet of light industrial space
48,000 square feet of community facility space (15k sq. ft artist workspace anticipated)
21,000 square feet of ground floor retail/commercial space
In June 2015, NYCEDC issued a request for expressions of interest (RFEI) to redevelop the vacant site with responses due October 2015. The winning proposal was The Peninsula, LLC, a joint submission by Gilbane Development Company, Hudson Companies and Mutual Housing Association of New York (MHANY). The experienced development team is working closely with long-time community stakeholders and operators, including The Point Community Development Corporation, Urban Health Plan, Sustainable South Bronx, The Knowledge House, Casita Maria, Rocking the Boat, and BronxWorks.

Development of The Peninsula will occur in three phases, with phase I to be completed in 2021, phase II to be completed in 2022 and anticipated completion of phase III in 2024. The project is expected to create 177 permanent jobs and more than 1,600 temporary construction jobs, and the selected development team has committed to a 35% MWBE goal. Additionally, the development team will participate in HireNYC, a free NYCEDC program that connects the City's workforce development services to various projects.

The project builds on the Administration's Housing New York plan that addresses the City's housing affordability crisis, which impacts half-a-million low-income to middle-class New Yorkers, by building or preserving 200,000 units of affordable housing by promoting mixed-use, mixed-income and healthy communities.

"Today marks the start of an exciting new chapter for the Spofford Juvenile Detention Center. With the support of Councilmember Rafael Salamanca, our development partners, and many great community-based organizations, NYCEDC is proud to be transforming this notorious site into a thriving mixed-use campus and true community asset," said NYCEDC President Maria Torres-Springer. "With over 700 affordable apartments, space for community organizations and light manufacturing space, The Peninsula will erase the memory of Spofford and replace it with homes and job opportunities that benefit the people of the South Bronx."

"After many years of working together as a community to advocate for redevelopment, I am absolutely thrilled to see the former Spofford site reborn," said Councilmember Rafael Salamanca Jr. "With its location in the heart of Hunts Point, this site has the opportunity to be transformative, and I am particularly pleased to see the community amenities that will be offered here through this development. This is a win for the South Bronx."

"This proposal for a dynamic mixed-use, mixed-income development opens a new chapter for the neighborhood, and for the families and businesses that will make The Peninsula home," HPD Commissioner Vicki Been said. "We are pleased that this adaptive reuse of a former juvenile detention facility will provide 100% affordable housing for New Yorkers at a range of low and moderate incomes. I thank Gilbane Development, Hudson Companies, and MHANY for their commitment to MWBEs and local hiring, and congratulate them on a thoughtful proposal that will add to the vibrancy of the Hunts Point community."

"Hunts Point's vibrant cultural community generates an extraordinary amount of creative energy, and we're thrilled that this resource will be involved in the reimagining and revitalization of the former Spofford facility into The Peninsula," said Cultural Affairs Commissioner Tom Finkelpearl. "Affordable, quality workspace is essential to keeping New York's neighborhoods places where artists can live and work, and we applaud EDC's commitment to integrating artist workspace into this exciting new community hub."

"Gilbane Development Company is pleased to invest in the Hunts Point neighborhood by partnering with NYCEDC to offer New Yorkers a vibrant new community-driven centerpiece supporting both jobs and new affordable housing," said Gilbane Development Company President Ed Broderick. "Along with our development partners Mutual Housing Association of NY (MHANY) and Hudson Companies, our community sponsors Urban Health Plan and The Point Community Development Corporation, and numerous community-based leaders and partners, we look forward to making the vision for The Peninsula a reality."

"The symbolism behind tearing down a Juvenile Detention Center and replacing it with affordable housing, locally-owned manufacturing and retail space and a highly-revered health center is not lost on the Peninsula Development Team. We applaud Mayor de Blasio and his administration for their leadership in showing Hunts Point that the City is investing in its future and economic development will bear fruit with expanded opportunities for area residents and businesses. Hudson is honored to be working with Gilbane Development Company, MHANY, Urban Health Plan, The Point CDC and the City of New York on this transformative development in Hunts Point. We look forward to working with all our partners as well as community leaders and elected officials to start this new chapter of the Hunts Point neighborhood," said Aaron Koffman, Principal, The Hudson Companies, Inc.

"The Peninsula development provides a unique opportunity to bring community, housing and economic development together in a unique and vital way. The planning, development and final product have been designed and created with community involvement in an effort to get the layout of the project, the commercial and industrial uses and the apartment and living space 'right' in such a way that reflects what the community wants and addresses what the community needs. MHANY is thrilled that our work in Hunts Point beginning in 2008 has an opportunity to grow into something so community based and comprehensive," said Ismene Speliotis, Executive Director, MHANY Management Inc.

"Years of advocacy by community and civic organizations for the productive reuse of the former Spofford Juvenile Detention Facility in Hunts Point are finally bearing fruit, and our borough is grateful for that. This project will transform a former youth prison into a mixed-use project that will bring Bronx partners together to develop new housing, create new jobs and change a blighted property into a true amenity for the Hunts Point community and the entire borough of The Bronx. I look forward to a continued partnership with the New York City Economic Development Corporation and their development and community partners as we bring The Peninsula to fruition," said Bronx Borough President Ruben Diaz Jr.

"I am thrilled to hear that a project has been selected to redevelop the former Spofford Juvenile Detention Center. I believe that The Peninsula, a collaboration between a number of local community groups, including The Point CDC and Urban Health Plan, developers, and housing organizations, will provide enormous benefits and transform our community. I applaud NYCEDC and HPD for conducting and open and collaborative process that has taken Bronxites' needs and input into consideration," said Congressman Jose Serrano (D-NY).
"The Peninsula at the former Spofford Juvenile Detention Center is a creative transformation that is a win-win for the community and business. This vibrant development adds much-needed affordable housing units, good-paying jobs through food manufacturing, retail, and health and wellness amenities that will benefit the entire community," said NYS Senator Jeff Klein.
"The continued renaissance of our Borough will take a giant leap forward with the exciting announcement of the La Peninsula development at what was the notorious Spofford Juvenile Correctional Facility. A space once a symbol of the social ills that affected our City youth, and the abuse with which they were treated, will now be home to a innovative mix of affordable housing, live-work spaces, economic development, community gathering and social support programs. The experience of the Gilbane development group coupled with the partnership of two community pillars in The Point CDC and Urban Health Plan, give me great confidence that The Peninsula will not only be a success story for the South Bronx, but also a model for the rest of the City to emulate," said NYS Assemblymember Marcos Crespo.
The Peninsula: A Live-Work Campus
The expansive campus will be comprised of a five building, three phase project that will provide 100% affordable housing for low- and moderate-income New Yorkers; from students to seniors to families. The Peninsula will be anchored by a mix of commercial and industrial businesses, as well as a health and wellness center and educational and job training programs.

Many of the anticipated retail, commercial and industrial tenants are Bronx-based organizations operating in and around the Hunts Point area that include Il Forno Bakery, Soul Snacks, Bascom Catering, Mass Ideation, Hunts Point Brewing Company, Lightbox NY film studio and space for a 15,000 square foot supermarket.
The Peninsula campus will offer community development and education resources through a higher-education space and incubator space. Specifically, the project will preserve and expand an on-site Head Start facilityand add a dedicated playground, provide higher-education space that features career-readiness programming, co-working space designated for small business incubation and technical assistance to local entrepreneurs.

Additionally, an 18,000 square foot health and wellness center operated by Urban Health Plan, a lead community sponsor of The Peninsula, will connect residents to quality primary and specialty health care services and employ emerging health-tech professionals.
Statements of Support from Project Stakeholders/Community Partners
Paloma Hernandez, President and CEO, Urban Health Plan, Inc.: "Urban Health Plan is proud to be part of The Peninsula. We will be offering an innovative health and wellness center that encourages active living and incorporates nutrition, spirituality and stress reduction techniques. Our project also includes a Mercado, a community space that will provide Hunts Point residents access to fresh, healthy food choices."

Maria Torres, Co-Founder & President, The Point Community Development Corporation (CDC): "The Point CDC is thrilled to be a part of the team selected to develop the Spofford site. We look forward to working with our partners and the community in planning a dynamic live-work campus in Hunts Point. Closing the dark chapter of Spofford Detention Center and creating a new future for the residents of Hunts Point is more than a symbolic act-- it is an affirmative step toward a clear and meaningful improvement in the quality of life for our community. This achievement is a testament to a decade of hard work and advocacy from Mothers on the Move and others in our area. We are proud to join with our friends and allies in saluting their efforts and realizing a new and compelling vision for Spofford, together."

Jennifer Mitchell, Executive Director, Sustainable South Bronx, a division of The HOPE Program: "We are thrilled about The Peninsula and its promise to bring much needed housing and economic development to Hunts Point. We look forward to the opportunity to connect graduates of our green jobs training program with living wage employment in construction and maintenance of The Peninsula. Sustainable South Bronx is a proud community partner of this innovative mixed-use project that will generate jobs and spark innovation in Hunts Point."

Haydee Morales, Executive Director, Casita Maria Center for Arts and Education: "Casita Maria Center for Arts & Education is excited to be a part of such an innovative project, one that will improve the lives of South Bronx residents through increased access to fresh, wholesome foods, health and wellness programs, and affordable housing. It is this kind of inclusive development: one that brings together various community partners all committed to serving the greater good, which ensures the South Bronx community continues to thrive and remain the vibrant beacon of history, culture, progress and hope that it is."

Kelston Bascom, President, Bascom Catering and Events: "We here at Bascom Catering & Events are very excited to be a part of this much needed project in the Hunts Point area. We look forward to mentoring the youth and training the adults in our area with our culinary programs, ensuring that the people of Hunts Point get a chance to compete for great jobs in a growing industry. We also anticipate sharing our services with the project's community partners by offering jobs, affordable, healthy food, and our knowledge in this field. We look forward to launching the partnership and creating a better Hunts Point. It's a good day for us and a brighter day for New York."

Jerelyn Rodriguez, Co-Founder & CEO, The Knowledge House: "We are thrilled to be part of The Peninsula project. We have seen increased demand from local youth, parents and agencies to spread digital media and technology education to the Hunts Point peninsula and throughout the borough of the Bronx and The Peninsula will help us host more coding programs in the community to meet that demand. We're also excited to accelerate innovation with other partners like Mass Ideation and Mainland Media to bring new technology businesses and jobs to Hunts Point. We mostly look forward to piloting a new work space dedicated to Bronx-based coders, where they can thrive and utilize their tech skills to uplift the neighborhood."

Demetris Giannoulias, Founder and Chairman, Spring Bank: "Spring Bank applauds the city for its choice of The Peninsula project for the redevelopment of the Spofford Youth Detention Facility in the South Bronx. The Peninsula is a plan that aligns with the bank's mission to improve the economic well-being of our community. As the first bank to headquarter in the South Bronx in over 30 years, we appreciate the challenges faced by many Bronxites in accessing affordable banking products and services. The Peninsula location can provide the bank with an important opportunity to reach more unbanked and underbanked consumers. Spring Bank is a federally-designated Community Development Financial Institution that established its first branch in the South Bronx in 2007 and is the first and only B-Corp certified bank in New York."

Ralph Rolle, President, The Soul Snacks Cookie Co.: "My name is Ralph Rolle. I was born in Parkchester General Hospital and grew up in Bronx River Houses. I now live on Mosholu Parkway. The Bronx is in my blood, my drive and my personality. I am so proud to be from a community that has a style of its own and a uniqueness that belongs only to the Bronx. Spofford, growing up, was a word that scared me and my friends. It was a place that we didn't want to go. A place that the community was not very proud of. The sun in now shining on Spofford and I am more than proud to be a part of the sunshine. The Soul Snacks Cookie Company and Cafe is coming as well as many other Bronx businesses. This is what my business stands for. What I stand for. Empowering my Bronx community to live, thrive and grow. That is why I am here and why my business is here. Positive growth and paying forward. Affordable housing and food manufacturing will bring jobs, life and love to a place that was once a blemish on the borough and the city. This makes me proud to be from the Bronx."

Anthony Reynoso, General Manager, SuperFi Emporium: "On behalf of the staff and management of SuperFi Emporium, I congratulate the Hunts Point community on this great step forward in transforming the Spofford Youth House campus to a new mixed-use community, anchored by much needed affordable housing. SuperFi was thrilled to participate in the planning of this project and we are excited about bringing our fresh and wholesome food model to a community that lacks meaningful access to healthy foods."

Ramon Eduardo, President and CEO, Il Forno Bakery: "The team at Il Forno Bakery is so pleased to learn that the Spofford detention facility will be remade into a new hub for affordable housing, food manufacturing, education, and health care. We were proud to take part in the planning process for this visionary project and will be even prouder to open a new manufacturing space for Il Forno at The Peninsula. As a Hunts Point-based business and employers of a largely South Bronx-based workforce, we are thrilled that this project will unfold in our backyard; as makers of the finest artisanal bread in New York, Il Forno and our 47 employees are excited to join a community of other like-minded food manufacturers who are slated to become part of The Peninsula."

Wanda Salaman, Executive Director, Mothers on the Move: "Today is a day to celebrate and honor the heroes of our community who rose as one to say 'No' to incarceration and 'Yes' to opportunity and transformation. Fifteen years ago, Mothers on the Move began a campaign to close Spofford and transform a place of great sadness into one that raises aspirations and fires the imagination of our young people. We salute our allies in that long struggle and remind all those who have worked so hard to make this day possible that we still have much work to do-- to help make this project fully realize its great potential to improve lives and community."
About NYCEDC
New York City Economic Development Corporation creates shared prosperity across New York City's five boroughs by strengthening neighborhoods and creating good jobs. NYCEDC works with and for communities to provide them with the resources they need to thrive, and we invest in projects that increase sustainability, support job growth, develop talent, and spark innovation to strengthen the City's competitive advantage. To learn more about our work and initiatives, please visit us on Facebook, Twitter, or Instagram.