Press Release
NYCEDC Announces Launch of NYCIDA Manhattan Commercial Revitalization Program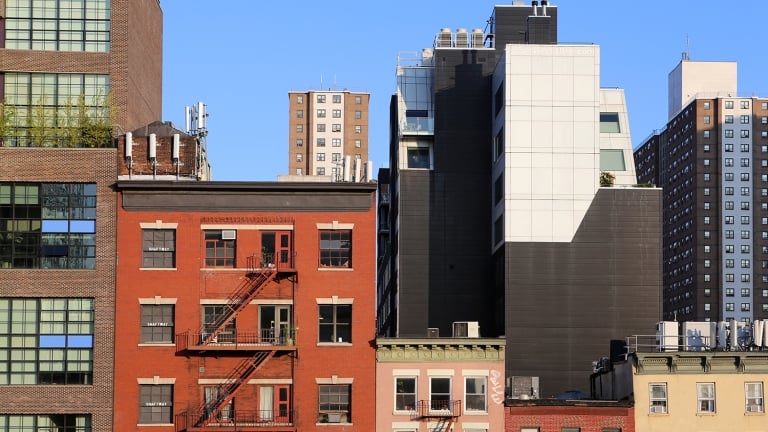 Program Will Be a Shot-In-The-Arm to New York City's Aging Commercial Office Space, As Over 255 Million Square Feet is Underperforming Space and 22% Remains Vacant
Program Aims to Decrease Office Vacancy and Provide Financial Assistance to Enable Commercial Office Buildings in Manhattan Make Transformative Renovations Targeting up to 10 Million Square Feet
NEW YORK, NY—Today, the New York City Economic Development Corporation (NYCEDC) and the New York City Industrial Development Agency (NYCIDA) launched the Manhattan Commercial Revitalization Program (M-CORE). The program will provide financial assistance, in the form of tax incentives, to support transformative renovations of aging commercial office buildings located in Manhattan south of 59th Street. The program is intended to help building owners decrease vacancy and attract world class tenant companies, who are increasingly seeking high-quality, amenity-rich office space, as well as incubator and accelerator operators to generate the high-growth companies of the future. Information about the pre-application is available here, and pre-applications will open starting on June 8.
Recently, preferences for hybrid work, combined with rising interest rates have resulted in a slowdown of investment into the office sector, and created immediate challenges facing New York City's commercial business districts, particularly Manhattan which generates 58.5 percent of the citywide office and retail property tax revenues, and 45 percent of all jobs in NYC. However, aging and outdated office buildings in New York City's business districts are increasingly struggling to retain tenants and to sign new leases, as compared to higher quality office spaces. Of the 450 million square feet of office space in Manhattan nearly half – 255 million square feet – represent underperforming buildings.
M-CORE was a key recommendation from the 'New' New York panel's Making New York Work for Everyone action plan – a set of 40 proposals to reimagine New York City's commercial districts as vibrant 24/7 destinations – transforming business districts into vibrant, resilient, healthy, and globally competitive in attracting and retaining businesses.
"Every office sitting empty means less funding for everything from schools and affordable housing to emergency food and police officers, and that's why it's vital we get workers back into offices, revitalize our economic engine neighborhoods, and continue New York City's comeback. And that's exactly what this program does," said New York City Mayor Eric Adams. "The Manhattan Commercial Revitalization Program delivers on an important recommendation from the 'New' New York panel and will help make the necessary renovations in office buildings that will make 10 million square feet of Manhattan real estate more attractive to businesses. We know that there is real demand for the newest, highest-quality office space — and having more of that in New York City means bringing more employers to our city and more jobs to New Yorkers."
"The Manhattan Commercial Revitalization Program (M-CORE) will help the city maintain our standing as the world's best place to live, work, learn and play by addressing one of our most pressing challenges: the need for modern, flexible buildings that foster a 24/7 city," said Deputy Mayor for Economic and Workforce Development Maria Torres-Springer. "With this tool, the city will have a new way of catalyzing the transformation of old commercial buildings into 21-century space and, in so doing, contribute to the revitalization of Manhattan's core business districts."
"Aging and vacant office space is hurting landlords, small businesses, and ultimately the future economic success of our city. M-CORE will facilitate the transformation of underperforming buildings into the high-quality space tenants in high-growth, high-wage innovation sectors are looking for," said NYCEDC President and CEO Andrew Kimball. "Finding solutions and acting now, is imperative to the Adams Administrations' vision to build vibrant 24/7 commercial districts that are great places for people to live, work, and play."
Office buildings are vital to a vibrant New York City economy and quality of life. The goal of M-CORE is to attract tenants, lower office vacancy levels, and benefit New York City in the following ways:
Increased property tax revenue for NYC, which directly funds all of the vital city services that NYC provides.
Increased street activity, which improves public safety and supports nearby small businesses.
Increased MTA ridership, which will help fund our MTA.
The aim of M-CORE is to improve commercial office buildings that experience higher occupancy rates and increase tax revenues associated with better-performing buildings. The program will have a positive fiscal impact on New York City, with the net benefit estimated to be between $750 million and $844 million. The program will also generate additional positive economic impact on the city of approximately $2.3 billion related to construction and employment activities.
Through M-CORE, NYCEDC and NYCIDA will incentivize owners to undertake investments which will improve the quality of Manhattan's office stock, create desirable workspaces that will attract businesses and top talent, make necessary upgrades and retrofits to ensure compliance with LL97, and introduce ground floor uses to support the vibrancy of NYC's business districts.
NYCIDA will consider applications representing up to 10 million square feet of combined eligible office space. Eligible buildings must be located in Manhattan south of 59th Street, be at least 250,000 gross square feet in size and must have been built before the year 2000.
"New York City is a global engine for economic opportunity, and Manhattan's central business districts are part of the fuel that keeps it running. We must make smart, future-minded investments to keep it that way," said Rich Buery Jr, Robin Hood CEO and Co-Chair of the New New York Panel. "Our economy is changing - but midtown and downtown remain critical to our present and our future. The M-CORE plan will catalyze business activity in those neighborhoods and support the innovators, workers, and dwellers who are the heart of New York City."
"As Midtown's representative on the City Council, I see the area's resilience every day – as well as the long-term challenges it faces as we emerge from the pandemic. M-CORE is the kind of program we need to revitalize our older buildings and I look forward to seeing its results," said New York City Councilmember and Majority Leader Keith Powers."
"Although we have seen New York City bounce back in many ways from the grip of the pandemic, the office market continues to struggle. With the launch of M-CORE, the city will have a new set of tools to help buildings adapt to the pre-pandemic age, bring workers back, attract new tenants and continue to make NYC the world capital of business and commerce," said New York City Councilmember Erik Bottcher. "I want to thank NYCEDC for their commitment to NYC's economic growth and applaud the role out of this vital new service."
"The commercial real estate market faces stiff headwinds, but this program will provide a shot in the arm for our central business districts," said Jessica Lappin, President of the Downtown Alliance. "The deeply-useful tools available through M-CORE will help to stimulate economic growth and ensure that buildings are adapting to the wants and needs of the changing workforce. NYCEDC has delivered a much-needed step towards recovery for the office market."
Applicants will be chosen based on the strength and feasibility of their proposals. Strong proposals must demonstrate near-term plans for significant renovations that will introduce new layouts, building systems, infrastructure, energy efficiency improvements, common areas, health and wellness measure, programming and/or amenities that are sought by tenants. Additionally, proposals should include thoughtful strategies around ground floor uses that will draw foot traffic and activate the surrounding commercial corridor.
Financial assistance that may be provided by the NYCIDA M-CORE includes:
Property tax abatement on project improvements for a period of up to 20 years
Partial waiver of mortgage recording tax exemption
Sales & use tax exemption on construction materials and eligible purchases
About NYCEDC   
New York City Economic Development Corporation is a mission-driven, nonprofit organization that works for a vibrant, inclusive, and globally competitive economy for all New Yorkers. We take a comprehensive approach, through four main strategies: strengthen confidence in NYC as a great place to do business; grow innovative sectors with a focus on equity, build neighborhoods as places to live, learn, work, and play; and deliver sustainable infrastructure for communities and the city's future economy. To learn more about what we do, visit us on Facebook, Twitter, LinkedIn, and Instagram. 
About NYCIDA  
New York City Industrial Development Agency (NYCIDA) supports business growth, relocation, and expansion across the five boroughs by lowering the cost of capital investment. NYCIDA's tax incentive programs bolster the local economy, create jobs for New Yorkers, and uphold the city's position as a global business hub.