Press Release
NYCEDC and NYC Parks Announce Plans for New Water Ride, Adventure Park, and Public Plaza on Coney Island Boardwalk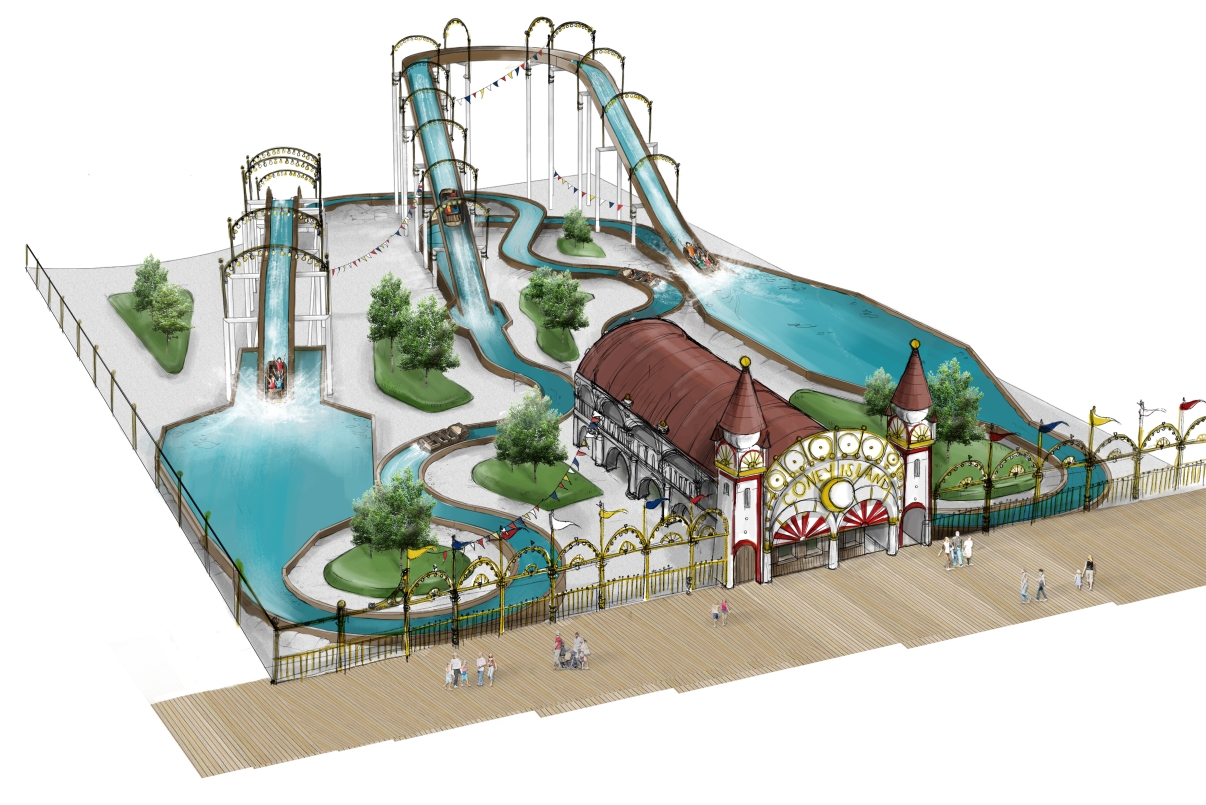 City to Bring Log Flume, Adventure Park With Ropes Course, Public Plaza, and Arcade to Historic Coney Island Boardwalk
Attractions Build on Administration's Investments in Affordable Housing, Infrastructure, and Economic Development Across Coney Island
CONEY ISLAND, BROOKLYN—New York City Economic Development Corporation (NYCEDC) and NYC Parks today announced plans to bring a new large-scale water ride, adventure park, and public plaza with open-air food options and an arcade to Coney Island's world-famous amusement district. The City has selected Central Amusement International (CAI) to activate 150,000 square feet of City-owned land in the heart of the amusement district. This adds momentum to the Administration's investments in affordable housing, infrastructure, cultural facilities, and economic development across the neighborhood.
"Coney Island is both a cherished summertime destination and an important economic engine for South Brooklyn," said James Patchett, President and CEO of New York City Economic Development Corporation. "With these exciting new attractions and our ongoing investments in housing and infrastructure, Coney Island's future has never looked brighter."

"The Coney Island Amusement District is a nostalgic New York City destination, and we are proud to be a part of improving and evolving it for future generations to enjoy," said NYC Parks Commissioner Mitchell J. Silver, FAICP. "We are confident that the new developments to Luna Park will add even more fun for the thousands of families that flock to Coney Island each year."

"Recapturing the best of Coney Island's past is a big part of the future at the People's Playground. This continues the revitalization of the amusement district, offering exciting new activities and attractions for residents and visitors alike to enjoy," said Council Member Mark Treyger (47th District).
"It is an honor to work with the City of New York to continue the expansion of Luna Park and the revitalization of the historic Coney Island amusement district," said Alessandro Zamperla, President of Luna Park. "Our shared commitment to the constant growth and development of Coney Island has allowed us to burnish this iconic place. We are expanding Luna Park by 50 percent, adding new attractions and entertainment while also providing spaces where guests surrounded by timeless excitement can eat, play, rest, and escape the mundane. A spectacular new portal with thousands of glorious lights will welcome guests as they arrive from the subway, asserting Luna Park as one of the nation's most dynamic amusement destinations that must be visited by New Yorkers and tourists."
"As the birthplace of roller coasters and other iconic amusement attractions, it is remarkable to have new innovations continue to be added to our iconic landscape," said Alexandra Silversmith, Executive Director of Alliance for Coney Island. "We are ecstatic about EDC's announcement of the newest amusements and amenities that will be developed by Central Amusement International signalling the further revitalization of Coney Island. We look forward to these new additions bringing more thrills and fun to the area in 2019, and beyond!"

"We are pleased to see Central Amusement International selected as the recipient of the Coney East Amusement RFP. With the many successes from CAI, we have confidence with them in filling in the amusement area with entertainment uses," said Eddie Mark, District Manager of Brooklyn CB 13.
Located next to the Thunderbolt rollercoaster, CAI will transform vacant land at the boardwalk into an exciting new log flume and an adventure park, featuring a ropes course for visitors of all ages to climb and enjoy views of the boardwalk and ocean.
Conceptual design subject to approval by the Public Design Commission
CAI is also activating street ends with public seating, landscaping, and a new public plaza with an open-air style eatery and entertainment area with an arcade and games. Activated street ends will better connect the Coney Island community to the historic amusements district with new seating, shade, and a pedestrian-only area which is closed off to cars.
Conceptual design subject to approval by the Public Design Commission
Building off of the City's investment in the amusement district, NYCEDC and NYC Parks released a request for proposals (RFP) in 2017 to develop and operate five parcels of land totaling 150,000 square feet between Surf Avenue and the boardwalk, and between West 10th and West 16th Streets. This investment continues the City's commitment to preserving the amusement district and creation of additional parkland, both enhancing the community and visitors' experience of Coney Island, and generating vigorous economic activity in the neighborhood.
Since 2014, the de Blasio administration has committed $180 million in infrastructure and other capital improvements through the Housing New York plan. The new attractions will build on the ongoing City investment across the Coney Island neighborhood to bring thousands of units of affordable and mixed-income housing, critical infrastructure upgrades, and improvements to cultural institutions including the restoration of the historic Child's Building, including the addition of Kitchen 21, the new 5,000-seat Ford Amphitheater, and the recently-opened Ocean Wonders: Sharks! exhibit at the New York Aquarium.

In 2009, a 19-block rezoning created a 27-acre amusement and entertainment district on Coney Island, along with plans to develop new amusements and thousands of affordable and market-rate homes. The full implementation of this plan, which continues today, is expected to generate up to 6,000 permanent jobs, 25,000 construction jobs, and $14 billion in economic activity.
About NYCEDC
New York City Economic Development Corporation creates shared prosperity across New York City's five boroughs by strengthening neighborhoods and creating good jobs. NYCEDC works with and for communities to provide them with the resources they need to thrive, and we invest in projects that increase sustainability, support job growth, develop talent, and spark innovation to strengthen the City's competitive advantage. To learn more about our work and initiatives, please visit us on Facebook, Twitter, or Instagram.