Press Release
NYCEDC and Council Member Cumbo Break Ground on Redevelopment of Bedford Union Armory in Crown Heights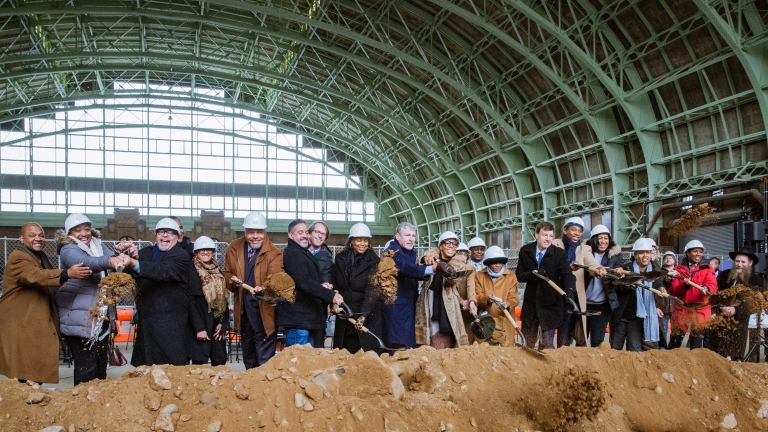 Vibrant New Community Hub Will Offer Affordable Space for Local Non-Profits, Recreational Space for Central Brooklyn's Youth, and Hundreds of Units of Affordable Housing
CROWN HEIGHTS, BROOKLYN—Today, New York City Economic Development Corporation (NYCEDC), Council Member Laurie Cumbo, local community members and BFC Partners gathered at the historic Bedford Union Armory in Crown Heights to celebrate the groundbreaking of the site's redevelopment. The milestone is a significant moment in the history of the Bedford Union Armory, which community leaders beginning with Congressman Major Owens have long envisioned becoming a vibrant gathering space for the Crown Heights community.
The Armory will accommodate several enrichment activities and educational programs including computer and coding classes, dance and performance studios, and literacy courses.  The space will also include a recreation center that will house three basketball courts; a multi-use field that will be used for soccer, volleyball, and martial arts; a full length swimming pool; a fitness center; and areas designated for boxing and archery.
"The Bedford Union Armory demonstrates this administration's commitment to building strong neighborhoods," said Vicki Been, Deputy Mayor for Housing and Economic Development. "In addition to this incredible recreation center, the project provides affordable housing and affordable space for local non-profits, transforming a long-vacant building into a community resource for New Yorkers in Central Brooklyn."
"The reimagined Bedford Union Armory is poised to restore this historic facility to its rightful role as a community resource for residents and families in Crown Heights," said NYCEDC President and CEO James Patchett. "This vibrant new gathering space will unlock local potential and opportunities through educational programs, enrichment activities, and state-of-the-art recreational facilities. I'd like to thank Council Member Cumbo and our community partners for their tireless efforts to ensure the Crown Heights community benefits from the new Bedford Union Armory."
"Today we celebrate the renewal of one of our city's pillars of the past," said Housing Preservation and Development Commissioner Louise Carroll. "Once serving the most exclusive National Guard unit in Brooklyn, this armory will now serve the most important people of this borough – the children, the families, and the individuals who call this community home. We are proud to have worked with our partners to guarantee that this future development includes 50 homes that will serve the lowest incomes, by deepening affordability and ensuring meaningful community services on site."
The project will offer affordable space for non-profits and other civic organizations that will permanently call the Armory home. Ten organizations, including New Heights Youth, Imagine Swimming, Globall Sports Concepts, Ifetayo Cultural Arts Academy, Digital Girl, Inc., Brooklyn Community Pride Center, West Indian American Day Carnival Association, James E. Davis Foundation, Carey Gabay Foundation, and Brooklyn Medical Plaza Center will have space for offices and programming in the Armory.
The Armory's spaces will be utilized by local schools and Yeshivas, with access to its enrichment programs and athletic facilities. Operators in the Armory will also offer literacy, STEAM, and computer classes for local residents of all ages, as well as providing spaces for meetings and exhibitions for a number of organizations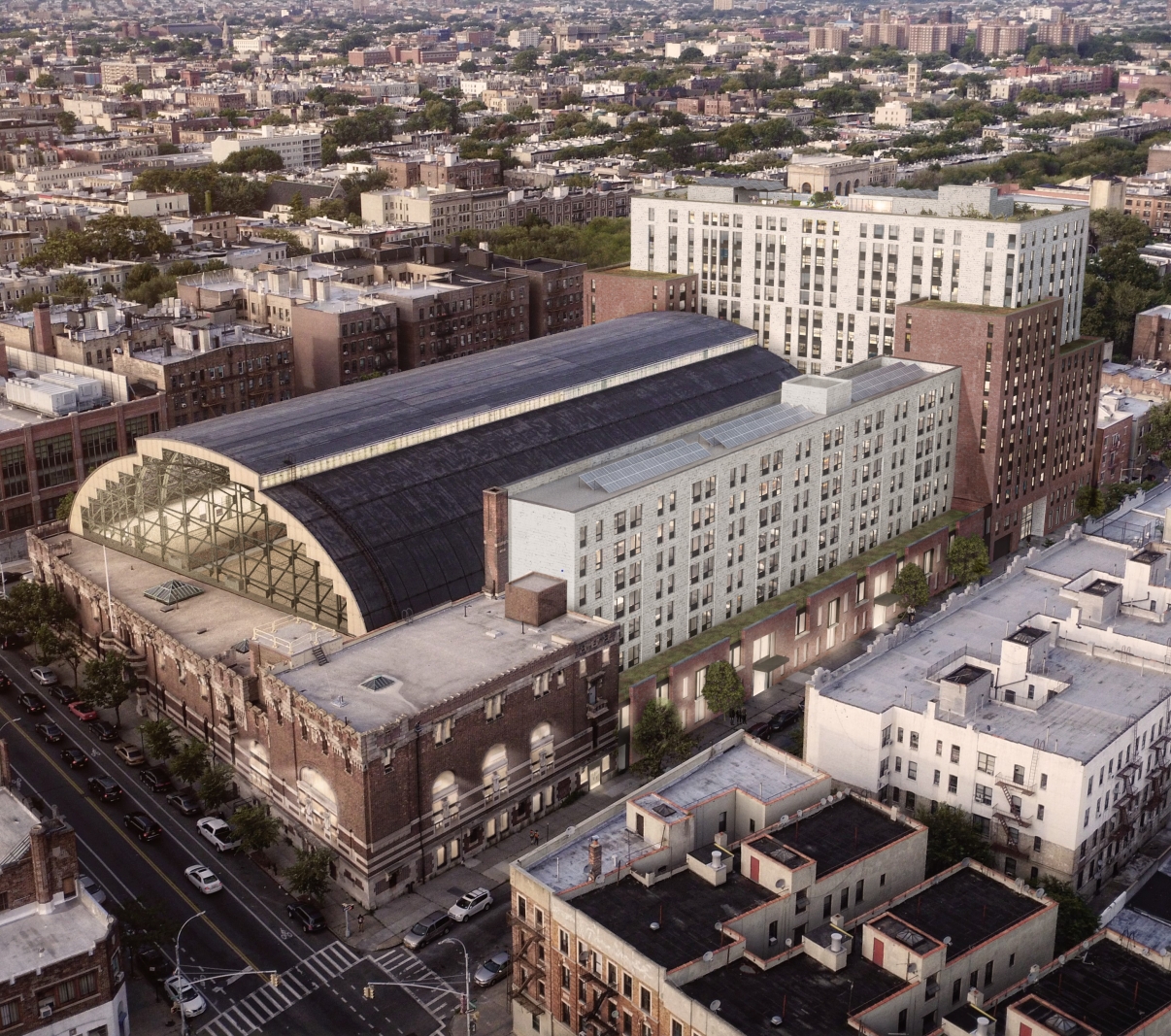 "Growing up in East Flatbush in the backyard of Crown Heights, some of my fondest memories were made skating through the Empire Roller Rink and hanging out in Bedford Bowl, among other community spaces in the neighborhood," said Council Member Laurie A. Cumbo. "There were a variety of recreational outlets for my friends and I to enjoy that helped shape our young adulthood. Today we celebrate the groundbreaking of the Bedford Union Armory, a true symbol of the culture and legacy of this historic neighborhood. We fought unwaveringly to ensure that this community space would reflect the beauty and history of Crown Heights, and I am proud to enter this first step toward bringing our vision to fruition. Our youth will have access to a newly renovated space with an array of after-school programming and year-round activities; a facility in which they too, can create their own cherished memories looking back on them in many years to come. Let us join together in our collective glory and partake in this special piece of Brooklyn."
"I am proud to have taken part in today's conversion of The Bedford Union Armory, once a fortified structure for our military to a multi-purpose facility that will benefit local residents of Crown Heights and beyond," said New York State Assemblyman Walter Mosley.  "The Armory will include a state-of-the art recreation center, new space for community events, affordable office space for non-profit organizations, and 250 new affordable homes for low-income families - including formerly homeless New Yorkers.  As someone who was born and raised in Crown Heights, I look forward to seeing the new Bedford Union Armory facility becoming a cornerstone of our community for many years to come."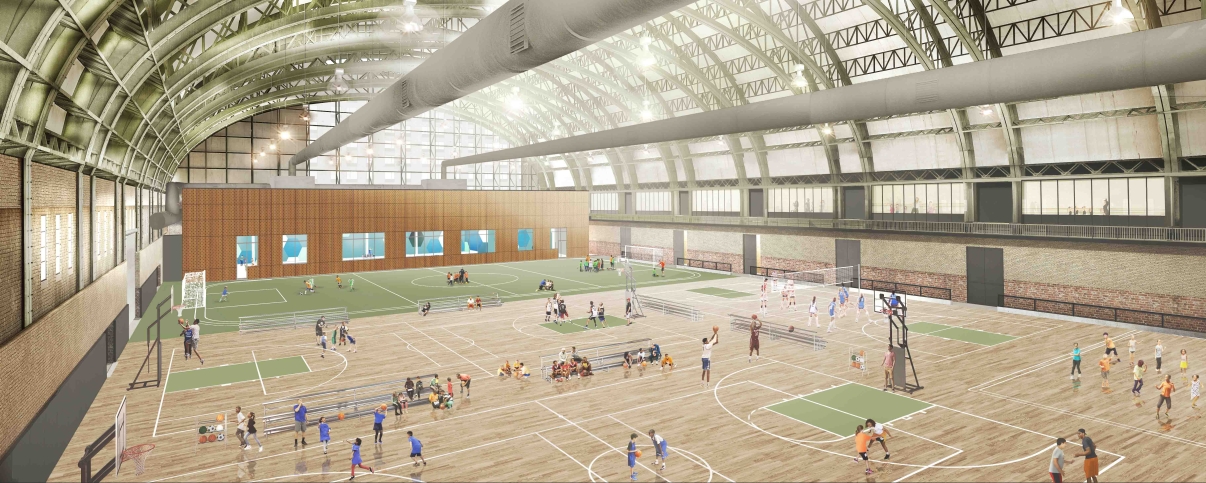 As part of the project, the Armory will deliver 415 units of housing, nearly two-thirds of which (250 units) will be affordable to low-income individuals and their families earning at or below 60 percent of the area median income (AMI), with some reserved for formerly homeless New Yorkers and others reserved for households earning as low as $20,000 for an individual and $28,000 for a family of four.
The residential component of the project will be developed on adjacent land and will be built from the ground up, while the recreational/non-profit component will repurpose the existing property.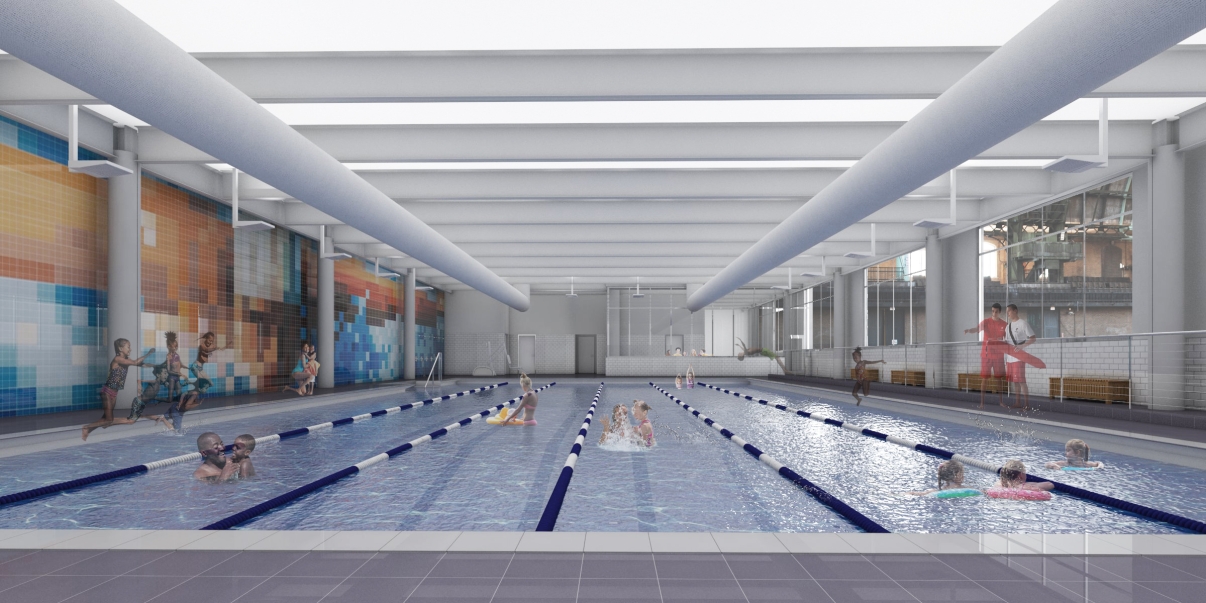 "History has been made in our beloved Crown Heights community. We now have the opportunity to address violence and hate through recreational, educational and art programs all under one roof," said Geoffrey Davis, Executive Director for Dedicated to the Struggle. "My organization Dedicated to the Struggle/James E. Davis Foundation is looking forward to our office space and in working with other community based organizations to continue to improve this wonderful neighborhood. Great job to all involved."
"We at the West Indian American Day Carnival Association (WIADCA) are very pleased to see that the Armory project is moving forward at such a great pace," said Dr. Jean Joseph, President of WIADCA. "We are excited to move into this office space if and when it becomes available to us. This move will represent a significant milestone for WIADCA. We hope the transition will be a smooth one."
"We at the West Indian American Day Carnival Association (WIADCA) are very pleased to see that the Armory project is moving forward at such a great pace," said Dr. Ionie Pierce and the Members of WIADCA. "It was the hope of our late President, William Howard, that our organization found a place call home. We are excited to move into an office space that will help us to continue providing quality service and cultural programs to the community. This will be achieved through equitable terms and negotiations. Finding this space represents a significant milestone for WIADCA. We hope the transition will be smooth."
"We at the CGF are honored to have the unique opportunity of providing solutions and meeting the needs of the underprivileged in Brooklyn," said Trenelle Gabay of the Carey Gabay Foundation. "The community center will impart and connect the resources to foster and provide opportunities for Brooklyn, as well as the city of NY.  Looking towards the future, the Bedford Union Armory will be the foundation that will continue to breathe vitality into the community as well as Carey Gabay's legacy of public service. We look forward to bolstering the strength, unity and resources for generations to come."
"Ifetayo is excited to celebrate the groundbreaking for the redevelopment of the Bedford Union Armory, and our upcoming move here," said Naima Oyo, Board Chair & Acting Executive Director of Ifetayo Cultural Arts Academy. "This spectacular new location will allow us to co-locate administration and programs at the same place for the first time in a long time in our organization's history, while at the same time enabling us grow programming. This relocation has the added benefit of enhancing inherent synergies across our initiatives. In addition we see great potential for collaboration with fellow tenants CAMBA, Brooklyn Community Pride Center, the West Indian Day Parade Carnival Association, and Digital Girl, Inc., moving forward.?
"As Brooklyn's only LGBTQ+ community center, we are thrilled to expand opportunities for queer residents to participate in positive, life-affirming activities," said Floyd Rumohr, CEO of Brooklyn Community Pride Center. "We offer a distinctive choice for residents of New York City's largest borough to celebrate, heal, learn, create, organize, relax, socialize, play, and pray and we are deeply grateful to Eric Adams, Brooklyn Borough President, who is making the build-out possible through $1 million of capital support. Armory programming will feature sports and a mental health clinic in a state-of-the-art facility long overdue for Brooklyn's growing LGBTQ+ residents."
"Digital Girl, Inc. has plans of outfitting and operating a technology lab, which will be a tremendous asset to the community center and the Crown Heights community at large," said Toni Robinson, President of Digital Girl. "We will include STEM after school and summer classes, professional development courses in technology and open hours for community use. We are excited to have a place in the Armory where people in the community can come and learn a new skill, do employment searches, work on their resume or just surf the Internet. Our hope is to bridge the economic and social inequality that still exists across the city, by providing a service to those who are often overlooked."
"New Heights is thrilled to be involved with the Bedford Union Armory project," said Ted Smith, Executive Director of New Heights. "We look forward to expanding our programs and offering high-quality athletic, academic and college prep services to support youth and families in the community."
"Imagine Swimming is thrilled and honored to be a part of the coming Bedford Union Armory," said Casey Barrett, Co-Founder and Co-CEO of Imagine Swimming. "We can't wait to share the joys of swimming with the community in this incredible new space."
"Today's groundbreaking brings us one step closer to delivering a $42 million sports, recreation and community center to thousands Crown Heights residents," said Don Capoccia, Principal of BFC Partners.  "When completed, this center will also become home to a number of locally-based non-profits that focus their resources on education, sports and culture.  None of this would have been possible without a robust and rigorous community engagement effort, and we owe the Crown Heights community our gratitude for guiding us on their needs, and above all, welcoming us to their neighborhood."
The Armory will also provide space for entertainment and arts events and will provide access for local artists to teach about theater, film, and music.
Rounding out the Armory's slate of attractions, there will be a café open and available to the public to offer food and beverages in between performing arts, athletic competition, and continuing education programming.
The Bedford-Union Armory is expected to open by the end of 2020 with the residential components to open in 2021 and 2022. For more information about the Bedford Union Armory redevelopment project, please visit bedfordarmory.com.
About NYCEDC
New York City Economic Development Corporation creates shared prosperity across New York City's five boroughs by strengthening neighborhoods and creating good jobs. NYCEDC works with and for communities to provide them with the resources they need to thrive, and we invest in projects that increase sustainability, support job growth, develop talent, and spark innovation to strengthen the City's competitive advantage. To learn more about our work and initiatives, To learn more about our work and initiatives, please visit us on Facebook, Twitter, or Instagram.