Press Release
NYCEDC and Columbia Technology Ventures Launch Accelerator and Talent Network Initiative for Local Cyber Startups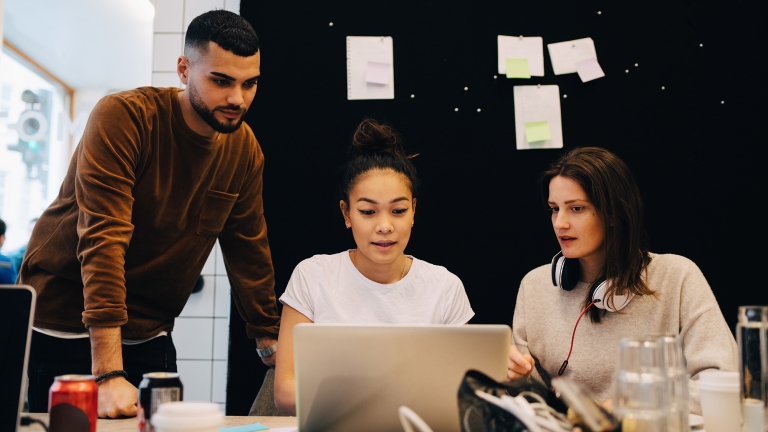 Inventors to Founders Will Provide Funding, Mentorship, and Networking to Early-Stage Startups Led by Faculty, Researchers, Academics and Alumni From New York City's Leading Universities
NEW YORK, NY—New York City Economic Development Corporation (NYCEDC) and Columbia Technology Ventures announced the launch of Inventors to Founders (I2F), an early-stage startup accelerator and talent network focused on building the next generation of cyber startups in New York City. I2F is a public-private partnership that is part of Cyber NYC, NYCEDC's $100 million initiative to make New York City a global leader in cyber security.
The initiative will develop targeted programs and funding structures to catalyze cutting-edge research and development of academia-affiliated startups in New York's cyber security ecosystem. Eligible ventures will consist of New York-based university professors, researchers, students and alumni.
"Inventors to Founders has the ability to become a global model for bridging the gap between academia and corporations in the cyber security space, and NYCEDC is proud to partner with Columbia Technology Ventures to deliver these resources to the city's cyber talent and innovative companies," said NYCEDC President and CEO James Patchett. "Through Cyber NYC, I2F will support New York City's development of an inclusive and robust early-stage cyber ecosystem to create good jobs and develop innovative solutions in cyber security."
"When building an entrepreneurial ecosystem strategy, it is critically important to develop fertile ground where new startups can start and grow in New York City," said Daniel Goetzel, Executive Director of Inventors to Founders Initiative at Columbia Technology Ventures. "We view this initiative as the innovation and academic commercialization engine for Cyber NYC. Developing an interconnected network of early stage cyber startups and operators will be critical to the long-term vibrancy and growth of NYC's cyber ecosystem."
I2F is comprised of two components: Pre-Seed Startup Accelerator and a Talent Matching Platform.
The first-of-its kind Pre-Seed Startup Accelerator connects cyber startups in New York City with capital, talent and the expansive networks of four world-class universities including Columbia, Cornell Tech, NYU and CUNY. University-affiliated startups accepted into the accelerator will receive non-dilutive and dilutive capital, mentorship, deep university support, and access to growth opportunities within the city's cyber ecosystem.
The Talent Matching Platform connects technologists with executives who can transform raw intellectual property and early-stage ventures into scalable, venture backed startups. In addition, the program will facilitate key networking opportunities with mentors, operators and C-suite talent.
Today, the, NYCEDC and Columbia Technology Ventures announced the first cohort of Cyber NYC's Inventors to Founders Accelerator, which includes ventures led by a diverse group of undergraduate students, PhD students, adjunct and tenured faculty members, and alumni from Columbia, Cornell Tech, CUNY, and Fullstack Academy:
BrainCeek provides work simulations for students to try out different jobs and for corporations to widen applicant funnels and find top candidates. Their early markets are cyber security and data science.
Egalito performs efficient transformation of binary software to provide on-demand security hardening, profiling, and customization to developers and companies.
ElphaSecure is a cybersecurity insurance company that focuses on being a partner to enterprises, including the option to use their managed security provider service.
FeatherDocs automates the manual aspects of document and knowledge management to make it simple, powerful and more secure.
Hacware is an autonomous anti-phishing company that leverages open-source data, NLP, and data science technology to identify risky behavior, automate sophisticated phishing campaigns, and provide personalized training at scale.
MicroV is a verified Linux KVM hypervisor deployable on cloud servers that protects the confidentiality and integrity of user data.
Midoor is a vault-less agent-less PAM with a key advantage over existing solutions - providing just-in-time privileged sessions while denying them access to data.
Mody Data protects insurance carriers from insurance fraud as they go digital and the pace of fraud rapidly increases.
NC-Hash empowers victims to prevent the spread of non-consensual images on social media.
Next Peak is developing a suite of cyber security services and a data analytic advantage SaaS product for commercial markets.
Notably, these startups include:
Two female-led ventures
Nine teams with a person of color as a founding member
Four faculty-affiliated startups that have raised millions of dollars in federal and private grant funding, including a Facebook Secure the Internet Grant
The former CISO of JP Morgan and Director of Cybersecurity in the White House
Three exited entrepreneurs and a fourth founder whose previous startup received funding from top-tier venture capital firms, including Lightspeed China and Wing Ventures
Graduates of Plug and Play and Techstars accelerators and Fullstack Academy
I2F will distribute up to $180,000 of capital annually to each cohort of ventures, who will complete a 12-week validation phase starting in February, followed by a 5-month incubation phase. Each startup in the validation phase will receive $15,000 to grow their venture, along with access to top-tier mentors, a cyber-specific Lean Launchpad curriculum, introductions to investors, and access to entrepreneurial networks of all the participating universities. The most promising startups will be invited to continue into the 5-month incubation phase, where they will be offered access to additional dilutive capital from the City as well as more specific, individualized market penetration support. The accelerator will run annually for the next three years.
"It is critical we encourage and support the next generation of cyber security professionals, who will be continuously charged with finding new and innovative ways to inventively face the cybersecurity challenges of the 21st century," said Council Member Paul Vallone, Chair of the Committee on Economic Development. "Partnerships like those formed between tech companies and local talent through the Inventors to Founders initiative will ensure New York City always stays on the cutting edge of cyber security research and development."
"As technology continues to rapidly progress, cities are tasked with staying ahead of the fold and ensuring that their residents get the critical services they need using the best possible technology available," said Council Member Robert Holden, Chair of the New York City Council's Committee on Technology. "Fostering a partnership between the public and private sectors will assist policymakers in tackling real world problems that affect the lives of their constituents. I applaud NYCEDC and Columbia Technology Ventures on their launch of Inventors to Founders (I2F) and encourage start-ups to apply and showcase the next best products in technology."
"I am excited to be a part of the Cyber NYC I2F accelerator because of their mission to build the workforce of the future," said Tiffany Ricks, Founder of Hacware. "I have always tried to find ways to inspire, educate, and empower minorities and women into STEM careers. I am excited to grow Hacware through this accelerator and then reinvest our growth back into the city of New York."
"We are extremely excited to join Cyber NYC I2F and its world leading partners in its mission to establish NYC as the capital of cyber security talent and innovation," said Noam Shalev, Founder of Midoor and a Cornell Tech Runway Post-Doc Fellow.
"We look forward to joining this year's Cyber NYC I2F cohort to become part of their network of alumni, mentors and founders," said CUNY Professor Rosario Gennaro, who is leading NC-Hash with a team of his students. "Working in this environment, where collaboration is the currency, will help us create a sustainable business with real-world impact."
"Our company was built on premise of giving back," said Gregory Rattray, Co-Founder of Next Peak and Adjunct Professor of International and Public Affairs at Columbia University. "With nearly 90 years of direct cyber and analytic impact within the Federal Government and Corporate America, we are eager to keep challenging ourselves but also helping our peers unleash our collective entrepreneurial potential."
Cyber NYC Inventors to Founders will host their accelerator kick-off event at the Global Cyber Center on February 12. At the event, the first cohort of startups will present one-minute pitches to the audience while mingling with key ecosystem players from the investment, academic and corporate communities. You can RSVP to the event by clicking here.
To learn more about the Inventors to Founders Initiative and ways to get involved, please visit edc.nyc/program/cyber-nyc.
About NYCEDC
New York City Economic Development Corporation creates shared prosperity across New York City's five boroughs by strengthening neighborhoods and creating good jobs. NYCEDC works with and for communities to provide them with the resources they need to thrive, and we invest in projects that increase sustainability, support job growth, develop talent, and spark innovation to strengthen the City's competitive advantage. To learn more about our work and initiatives, To learn more about our work and initiatives, please visit us on Facebook, Twitter, or Instagram.
About Columbia Technology Ventures
Columbia Technology Ventures is the technology transfer office for Columbia University and a central location for many of the technology development initiatives, entrepreneurial activities, external industry collaborations, and commercially-oriented multidisciplinary technology innovations across the university. CTV's mission is to facilitate the transfer of inventions from academic research labs to the market for the benefit of society. Each year, CTV manages more than 400 invention disclosures, 100 license deals, and 20 – 25 new IP-backed start-ups, involving over 750 inventors across Columbia. CTV has over 1200 patents available for licensing, across fields such as cyber, bio, IT, clean tech, devices, big data, nanotechnology, materials science, and more.