Press Release
NYCEDC and CFDA Announce Largest Investment Yet for Sixth Round of Fashion Manufacturing Initiative Grant Fund Recipients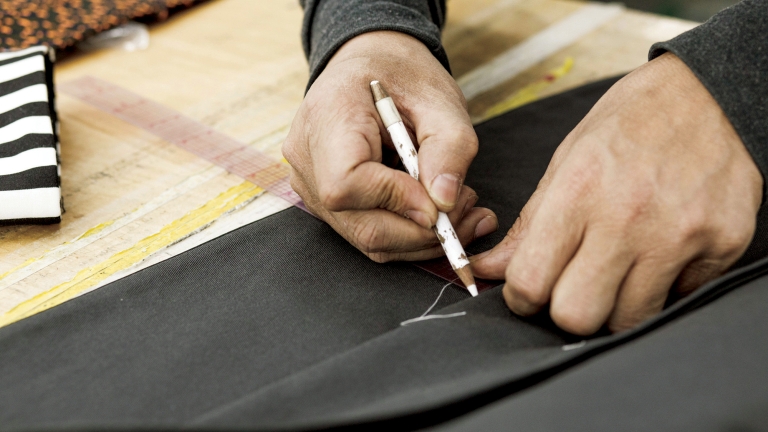 Twelve NYC-Based Fashion Production Facilities to Receive over $730k in Grants to Purchase Advanced Manufacturing Equipment and More
Nearly $3.5m Distributed to 33 NYC-Based Manufacturers Since Inception of FMI
NEW YORK, NY—The Council of Fashion Designers of America (CFDA) in partnership with New York City Economic Development Corporation (NYCEDC) today announced the sixth round of Fashion Manufacturing Initiative (FMI) Grant Fund recipients. This round marks the program's largest investment yet and the highest number of recipients in a single year since its 2013 launch.

The public-private grant program was designed to support the local fashion manufacturing sector and its workforce. 12 companies have been awarded nearly $730K in FMI grants in the latest round.

12 companies, including eight first-time recipients, were chosen to receive financial awards to be used for equipment and software, infrastructure upgrades and capital improvements, relocation costs, and workforce training to help promote business growth. The improvements made possible by the FMI grants will offer designers advanced services designed to preserve manufacturing jobs in New York City's fashion industry.

The 2018 FMI Grant Fund recipients are:
Atelier Amelia – Atelier Amelia is a development and production manufacturer located in the Garment Center. The atelier offers in-house design services, sourcing, pattern and sample making, as well as production with a focus on swimwear, lingerie, knits and woven.
Button Down Factory – Garment Center-based, Button Down Factory is a full-service garment development and production manufacturer with deep understanding of modern and traditional craftsmanship. Capabilities also include button hole and goose down services.
Create-A-Marker – The leading computerized grading and marking service, based in the Garment Center, guarantees optimum fabric utilization and cost effectiveness, with the capabilities of scanning patterns, digitizing and conversions.
Geri Gerard – The design atelier, located in the Garment Center, specializes in product development and collaborating with designers and their ateliers on all aspects of their collections, including sample making, patterns and manufacturing.
Hertling – HERTLING is a Sunset Park, Brooklyn-based trouser manufacturer serving the NYC and global apparel market since 1925 and under new ownership as of 2016, now marries a strong manufacturing legacy and new standards of quality, efficiency, and innovation. HERTLING specializes in small batch production and customization for high-end dress trousers and sport trousers and offers various pricing tiers, including full-package options.
New York Embroidery Studio – Garment Center-based New York Embroidery Studio is a full-service textile manipulation and development studio offering embellishment, trim, embroidery, laser cutting and extensive surface treatments.
Not Just Lace – Not Just Lace is a dye and wash house in Long Island City. A second-generation family business, Not Just Lace offers services including dyeing samples and production for all types of fabrics and garments.
Park Avenue Trimming – Located in Chelsea, the Park Avenue Trimming family run factory provides leather trims, components, braiding, stripping, weaving, development and full-scale production
from handbags to belts to leather pulls.
Rainbow Leather – Rainbow Leather, located in College Point, Queens, specializes in digital printing, sublimation printing, embossing, perforating and snake scale cutting on leather, cork and fabric.
SN Productions – A one-stop shop located in the Garment Center, SN Productions offers apparel consulting services for the entire lifecycle of the garment, from design development, sampling, to bulk production. Their team has over 30 years of experience and knowledge in craftsmanship for the garment business.
Tailored Industry – Based in Sunset Park, Brooklyn, luxury knitwear manufacturer Tailored Industry focuses on WholeGarment 3D knitting. The company offers on-demand and just-in-time services that enable brands to launch new products in 1-3 weeks and move into production with zero MOQ.
Timberlake Studios – Garment Center-based Timberlake Studios builds custom costumes and provides expert alterations on ready-to-wear garments for theatrical productions, the film and TV industries, and more. It is the first theater-focused manufacturer to receive a grant.
In addition to the FMI Grant Fund, FMI currently includes a full Production Directory designed to help better connect designers with high-quality and reliable local manufacturers, including all FMI grant recipients. The program also features industry networking events, collaborative partnerships and business development opportunities for manufacturers and designers. Learn more on the FMI program here.

"Providing grant assistance for upgrades and expansion costs is key to ensuring that the garment manufacturing industry stays strong in New York," said James Patchett, NYCEDC President and CEO. "Congratulations to this year's recipients. I look forward to their continued contributions to one of New York's most iconic industries."

"We are proud to see the largest investment yet in the Fashion Manufacturing Initiative's six-year history. By investing in local manufacturing, we are supporting the fashion industry at-large and we will continue to expand our programming to build a viable production sector in New York City," said Steven Kolb, President and CEO of the CFDA.

Along with the support from NYCEDC, FMI is generously supported by founding partner Andrew Rosen and Theory, premier underwriters Ralph Lauren and the Coach Foundation. Other past and current partners include the American Apparel & Footwear Association, Banana Republic, Barneys New York, Bloomingdales, DHL, Google, Lisa Perry, Macy's, Pokémon, Premiere Vision, Rag & Bone and SwatchOn.

The 2018-19 FMI grant recipients were chosen by a selection committee that included:
Kei Hayashi, BJH Advisors
Maggie Haight, BJH Advisors
Steven Kolb, CFDA
Cal McNeil, CFDA
Becca McCharen-Tran, Chromat
Danielle Birkenfeld, Coach
Allison Rupprecht, Coach
Andrew Ward, Consultant
Dana Davis, Mara Hoffman
Eleanor Hoffman, Mara Hoffman
Karen Bhatia, NYCEDC
Sonia Park, NYCEDC
Vidula Joshi, NYCEDC
Thomas O'Meara, Rag & Bone
Halide Alagoz, Ralph Lauren
Michele DiGenova, Ralph Lauren
Jennifer Guarino, Shinola
Joshua Wertheimer, Thom Browne
Andrew Rosen, Theory
About NYCEDC
New York City Economic Development Corporation creates shared prosperity across New York City's five boroughs by strengthening neighborhoods and creating good jobs. NYCEDC works with and for communities to provide them with the resources they need to thrive, and we invest in projects that increase sustainability, support job growth, develop talent, and spark innovation to strengthen the City's competitive advantage. To learn more about our work and initiatives, please visit us on Facebook, Twitter, or Instagram.