Press Release
NYC Relaunches Neighborhood Challenge Initiative to Spur Innovative Solutions for Small Businesses Impacted by the Pandemic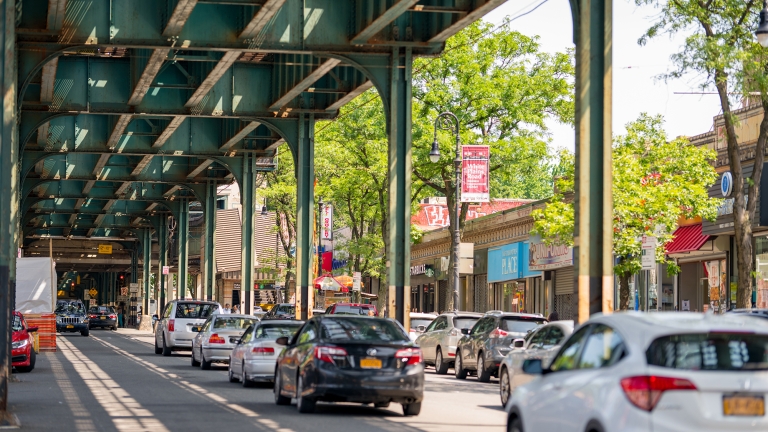 New York, NY - New York City Economic Development Corporation (NYCEDC) and NYC Department of Small Business Services (SBS) in collaboration with, The Urban Tech Hub @ Company (UTH), and CIV:LAB today announced the relaunch of the Neighborhood Challenge: Tech Forward, an open innovation platform designed to crowdsource solutions to support the city's commercial districts and small storefront businesses that are facing severe impacts due to the COVID-19 pandemic.
NYCEDC, SBS and The Urban Tech Hub @ Company are seeking proposals to pilot innovative, tech-enabled solutions from startups, technologists, and innovators from across the globe. The solutions will help small businesses recover as they seek to reopen safely and responsibly.
The neighborhood challenge will focus on four areas:
Digitizing business models
Redesigning establishment operations
Curb management and public space reconfiguration
Mitigating and activating storefront vacancies
Up to two winning proposals, per focus area, will be selected to develop and implement their proposed solutions. With an eye towards scaling successful solutions, selected Neighborhood Challenge projects are intended to serve as catalysts for long-term sustainability and positive economic impact in New York City. Through a network of private and public partners and advisors, including the Mayor's Office of the Chief Technology Officer, the Office of Nightlife, Partnership for New York City, Cornell Tech, IEEE, Fraunhofer IAO, the NYC BID Association, and the NYC Hospitality Alliance, support teams will be formed around each area of focus to provide guidance and expertise for selected proposals being implemented. Proposals are being accepted on a rolling-basis.
To find out more information on the program, the four challenge areas, and partnership opportunities, please visit: neighborhoodchallenge.nyc.
"Small businesses are the backbone of our communities and their success is key to the City's long-term economic recovery," said James Patchett, President and CEO of New York City Economic Development Corporation. "Throughout the pandemic, we have seen the innovation and creativity that exists within our city and to help our small businesses, we will tap into the ingenuity of New Yorkers once again. The Neighborhood Challenge: Tech Forward platform will surface new ideas, mobilize resources, and expand opportunities to small businesses across the five boroughs." 
"Supporting our neighborhoods is a top priority as we help our 240,000 small businesses recover from this pandemic," said Jonnel Doris, Commissioner of the NYC Department of Small Business Services. "We know that innovation, collaboration and adaptability will help business owners adjust to the ever-changing landscape and will act as key principles that guide all of us to creating a fairer, more equitable city."
"New York City was built on innovation. That's why we're calling on the global tech community for actionable solutions that will help our city's small businesses recover from the devastating impacts of COVID," said Robinson Hernandez, Executive Director, Urban Tech Hub @ Company. "Together, we aim to ensure that small businesses can reopen safely, responsibly and set up for long-term success and resilience."
 "This program isn't just about COVID-19, it's about creating and deploying solutions making our businesses and neighborhoods more resilient and prepared for future crises and a new era of urban living," said Simon Sylvester-Chaudhuri, Executive Director, CIV:LAB.
"Safely getting New York City's small businesses back on their feet will require creative, novel approaches, which is precisely what this Neighborhood Challenge invites," said John Paul Farmer, Chief Technology Officer for New York City. "Through collaboration with City agencies and the tech sector, New York City's neighborhood establishments will be better equipped with technologies and approaches to help reestablish thriving local business communities, which are an essential part of what makes New York the thriving city that we know and love."
"The NYC BID Association, which represents over 93,000 businesses in all five boroughs, is looking forward to collaborating on the Neighborhood Challenge program with the City and public sector technology partners to create innovative, collaborative and equitable solutions to save our small businesses," said Bob Benfatto & Jennifer Tausig, Co-Chairs of the BID Association. "The small business community, as the backbone of the City's economy, will be an integral part of the City's economic recovery from COVID-19."
"The Challenge will identify and promote some of the tools that will be necessary to rejuvenate our neighborhood business districts, which is an essential aspect of the city's recovery, " said Kathryn Wylde, President and CEO of the Partnership for New York City.
"This crowdsourcing approach shows our ability to come together to find much-needed solutions on how to get our vital small businesses back up and running," said Bronx Borough President Diaz Jr. "The global pandemic has shown the need for our city to readjust and restructure around our new realities, and the relaunch of the Neighborhood Challenge: TechForward platform is an example of the innovative ways we are approaching our economic recovery."
"As our businesses, offices, and restaurants continue to reopen their doors, we must use every tool to renew and sustain an economic recovery in New York City," said Council Member Paul Vallone, Chair of the Economic Development Committee. "The Neighborhood Challenge: Tech Forward initiative will mobilize our startups and tech innovators to develop the solutions of tomorrow that will help safeguard both the health of New Yorkers and the health of our economy throughout the five boroughs."
"In challenging times like these, it is incredibly critical for government, academia and industry to come together to develop innovative new solutions that support our local businesses to get New Yorkers back to work," said Michael Samuelian, Founding Director of the Urban Tech Hub at the Jacobs Technion-Cornell Institute at Cornell Tech. "We launched the Urban Tech Hub to do exactly this kind of work -- drive collaborations that will lead to new technologies to make New York stronger, fairer and more resilient."
"As a technology startup founder, I'm constantly looking for opportunities to solve problems with new ideas," said Starling Childs, Founder, Ginkgo. "I'm excited about the potential the Neighborhood Challenge creates for other founders like me to engage with the local community and work together on impactful, long-term solutions to real problems caused by the pandemic."
About NYCEDC
New York City Economic Development Corporation is a mission-driven, non-profit organization that creates shared prosperity across New York City by strengthening neighborhoods and growing good jobs. NYCEDC works with and for communities to provide them with the resources they need to thrive, and invests in projects that increase sustainability, support job growth, develop talent, and spark innovation to strengthen the City's competitive advantage. To learn more about our work and initiatives, please visit us on Facebook, Twitter, or Instagram.
About NYC Department of Small Business Services (SBS)
SBS helps unlock economic potential and create economic security for all New Yorkers by connecting New Yorkers to good jobs, creating stronger businesses, and building vibrant neighborhoods across the five boroughs. For more information on all SBS services, go to nyc.gov/sbs, call 311, and follow us on Facebook, Twitter, and Instagram.
About The Urban Tech Hub at Company 
The Urban Tech Hub is a one-of-a-kind space built to support and materially advance the prospects of entrepreneurs and companies seeking to address New York City's most pressing urban challenges in sectors such as mobility, logistics, infrastructure, open data, and clean tech. The Urban Tech Hub is a highly curated community of growth-stage companies working on urban-focused technology. The Hub fosters continuous community discussion, engagement, and thought leadership progression relating to urban tech solutions.
About CIV:LAB
CIV:LAB is a 501(c)(3) non-profit organization working in New York and Detroit on urban innovation and economic development. CIV:LAB's unique model, launched in partnership with the New York City Economic Development Corporation (NYCEDC) is called the Grid. It harmonizes the urban innovation ecosystem by connecting entrepreneurs, city departments, academia, business, and community leaders within cities and around the world to identify urban problems, solve them, and scale those solutions. The ultimate goal of CIV:LAB is to build and enhance a network that accelerates innovation in social impact. CIV:LAB works in urban tech with a focus in areas such as accessibility, buildings, mobility, cleantech, waste, water and urban ag.