Press Release
NYC Ferry to Extend Astoria Route to Serve East 90th Street in Upper Manhattan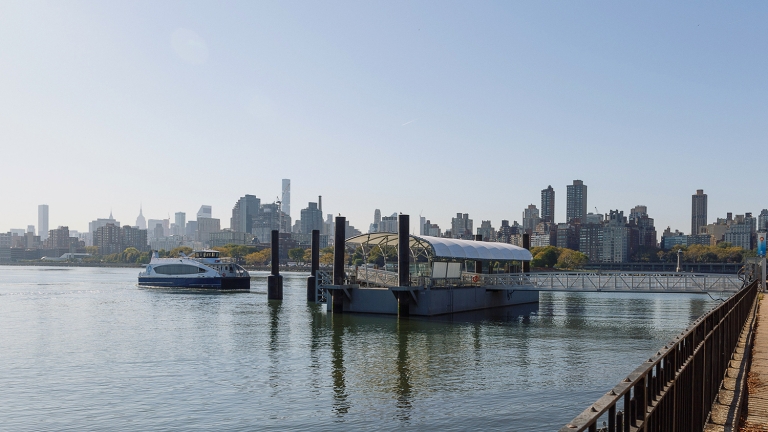 New Connection Comes at No Additional Cost to the City and Reduces Travel Time between Astoria and Upper East Side by up to 25 Minutes
QUEENS, NY – New York City Economic Development Corporation (NYCEDC) today announced the extension of NYC Ferry's Astoria route to serve the East 90th Street landing in Upper Manhattan.
The new connection, which will officially launch Saturday, August 22nd, comes at no additional operating or capital expense and will not change travel time to or from existing landings on the Astoria Route. After launching, the newly extended Astoria Route will now terminate at East 90th Street and Pier 11.
"Establishing additional connections and cutting travel time between neighborhoods and job centers is what NYC Ferry is all about," said James Patchett, President and CEO of New York City Economic Development Corporation. "We are proud to extend the Astoria route to serve Upper Manhattan. By building a more connected city, we are creating greater access to jobs, open space, and cultural institutions for New Yorkers."
"As someone who has always worked hard to expand public transit options for New York City residents, I am delighted the Astoria route will be extended to the East 90th Street pier on the Upper East Side," said Congresswoman Carolyn Maloney. "Connecting these two neighborhoods in in the 12th Congressional District, which I am privileged to represent, will streamline commutes for countless people who work in the medical industry on the East Side of Manhattan and in the growing number of startups and established companies moving to Western Queens. Importantly, this new connection will be particularly beneficial to residents of public housing in Long Island City and Astoria, who are currently underserved by traditional public transportation options."
"I am pleased to see NYC Ferry continue to connect waterfront communities far from other transit options like Astoria and the eastern portion of the Upper East Side," said Manhattan Borough President Gale Brewer. "I look forward to the increased ease of travel that this important connection will make for these two neighborhoods."
"This small change will open large swaths of the City to New Yorkers in East Harlem, the Upper East Side, and Astoria, including public housing residents at both ends of the connection," said Council Member Ben Kallos. "The 90th St.-Astoria is a common sense, efficient upgrade to our ferry system that will connect areas of Manhattan and Queens that have long been isolated from each other. I was proud to advocate for this connection with my neighbor across the East River, Council Member Constantinides, and am thankful to the Economic Development Corporation and to all the New Yorkers who pushed for this. I am looking forward to taking advantage of this addition to the NYC Ferry Network next time I'm going from borough to borough."
"Western Queens and Manhattan's East Side will be linked via ferry for the first time in almost a century, which will offer a lifeline to Astoria Houses residents who need to access healthcare across the river," said Council Member Costa Constantinides, District 22. "Sadly, far too many Astoria residents west of 21st Street are forced to take exhausting trips on buses, across bridges, and then subways just to visit a hospital or a specialist. Expanded ferry stops are a step in the right direction to ending geography and race's influence on healthcare."
"Our city's waterways are a unique resource that provide opportunities to expand the transportation options available to New Yorkers," said Council Member Paul A. Vallone, Chair of the Committee on Economic Development. "I applaud this additional connection within NYC Ferry and look forward to further expansions into the northern Queens waterfront."
"In Community Board 1, the section of our District where the NYC ferry was implemented used to be known as a transportation desert," said Florence Koulouris, District Manager for Queens Community Board 1. "The NYC Ferry has provided easy access to numerous residents who did not have such convenience in the past. This additional route will open up many opportunities in the future, including employment and healthcare access. We greatly appreciate the implementation of this new connection and look forward to our residents' use of this access."
"This vital NYC Ferry connection between Astoria and Manhattan is an important step in connecting Western Queens residents - many of whom are essential workers at our city's hospitals and medical institutions – directly to employment, education, and cultural opportunities that until now required an onerous commute," said Ms. Claudia Coger, President of Astoria Houses Tenant Association. "Residents on either side of the East River have much to share, and this connection ensures that residents of Manhattan and Queens continue to work together as one city. It's good for my neighbors, good for the economy, good for the environment, and good for the city."
"Old Astoria Neighborhood Association is proud to fully support this critical new NYC Ferry connection between Astoria and Manhattan, which ensures that New Yorkers of all backgrounds have equitable access to reliable and efficient public transit," said Richard Khuzami, Old Astoria Neighborhood Association President. "We have sponsored petitioning, surveys and public meetings to encourage this direct service to facilitate our economic and cultural growth. OANA works tirelessly to promote economic growth, quality of life, and cultural health in our neighborhood, and this new NYC Ferry connection will play an important role in ensuring that this mission is fulfilled."
"One immediate benefit from this new NYC Ferry link between Astoria and E. 90th St. on the Upper East Side is the connection of business corridors along Second and Third Avenues in Manhattan and 21st Street and Astoria Boulevard in Queens, bringing consumers to once vibrant small businesses hubs while connecting workers to new employment opportunities at a time when they are most needed," said Jessica Walker, Manhattan Chamber of Commerce President & CEO. "The Manhattan Chamber of Commerce looks forward to continuing its work with the city, NYCEDC and other partners to support our small business community during these economically challenging times."
"The new NYC Ferry extension between Astoria and E. 90th St. is a welcome lifeline for our small business communities, with an easy, five-minute connection to employment, healthcare, cultural and educational opportunities on both sides of the river," said Thomas Grech, Queens Chamber of Commerce President & CEO. "We thank the city for recognizing the importance of this new connection and giving New Yorkers as many transit options as possible, especially since ferries are social distancing friendly with their spacious outdoor decks for New Yorkers to take in the fresh air."
"EsplanadeFriends could not be more excited to learn that NYC Ferry will now link our East Harlem and Upper East Side communities with the incredible diversity of Astoria--and all of those global cuisines!" said Jennifer Ratner of Friends of the East River Esplanade (60th - 120th Streets). "What a fun way to travel for food, community, and more."
"This new connection between East 90th Street and Astoria will provide more families and individuals with a safe way to access all that Queens and Manhattan have to offer," said Julia Metro, Socrates Sculpture Park Director of Development & Communications. "Socrates Sculpture Park has long benefited from its proximity to the Astoria Landing stop. As the City slowly emerges from this pandemic, we are looking forward to welcoming new visitors to take in new art on view and sweeping waterfront views."
NYC Ferry riders began to receive alerts via the app today, and a fully updated schedule is now available at ferry.nyc. Riders with questions on service changes can follow @NYCFerry on twitter or reach out at [email protected].
About NYCEDC
New York City Economic Development Corporation is a mission-driven, non-profit organization that creates shared prosperity across New York City by strengthening neighborhoods and growing good jobs. NYCEDC works with and for communities to provide them with the resources they need to thrive, and invests in projects that increase sustainability, support job growth, develop talent, and spark innovation to strengthen the City's competitive advantage. To learn more about our work and initiatives, please visit us on Facebook, Twitter, or Instagram.