Press Release
NYC Ferry Announces Service Modifications That Save New York City $10 Million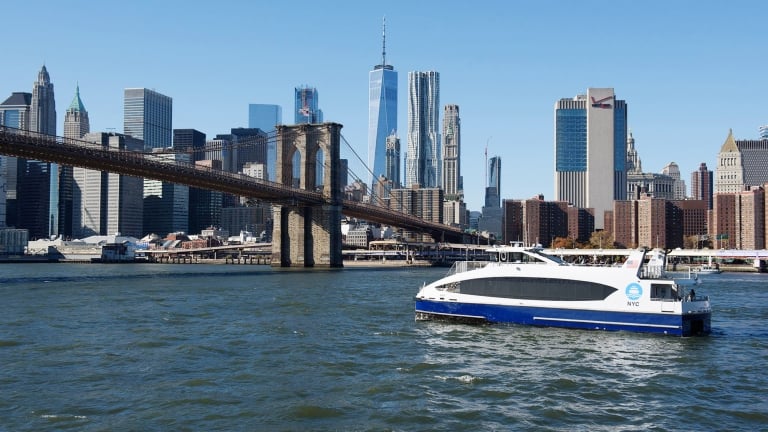 Service Modifications Create Cost-Savings for the City While Providing Better Service and Connectivity for Riders
Expansion to Staten Island, Coney Island, and Throgs Neck Still Planned
NEW YORK, NY – Today, NYCEDC announced changes to NYC Ferry service. These include service modifications enacted in response to the COVID-19 crisis as well as permanent changes to service that improve system-wide efficiency and cost-savings. Together, these modifications save the City approximately $10M.
Service Modifications that Create Cost-Savings & Better Service for Riders
NYC Ferry has already reduced service by nearly 30% since March 23rd in response to low ridership related to the COVID pause. This initial reduction in service has resulted in savings for the City of New York.
To increase cost-savings, improve system-wide efficiency, and implement a more connected service for riders, starting Monday, May 18th service modifications will be enacted, which will result in an additional 20% service reduction. These changes include:
An additional, temporary reduction in service during the PAUSE period. On both weekdays and weekends, NYC Ferry service will end at approximately 9 PM.
Creating a more connected and efficient system. NYC Ferry will permanently reconfigure three routes: the Lower East Side, South Brooklyn, and Soundview. This will allow NYC Ferry to continue serving all existing landings at a lower cost. All riders will still have connections to the job hub at Wall Street, and Corlears Hook riders will have additional direct connections to job hubs in Sunset Park (BAT) and Red Hook. For existing South Brooklyn riders, this change means faster and more ways to get between Brooklyn and Manhattan.
Permanently closing The Rockaway parking lot. NYCEDC will close the underutilized parking lot near the Rockaway ferry landing.
NYC Ferry will continue to monitor the ongoing crisis and may make additional reductions in service as necessary. As New York City re-opens, NYC Ferry will evaluate how to ramp up service to keep pace with the recovery and make careful choices increasing service.
A Continued Commitment to Expansion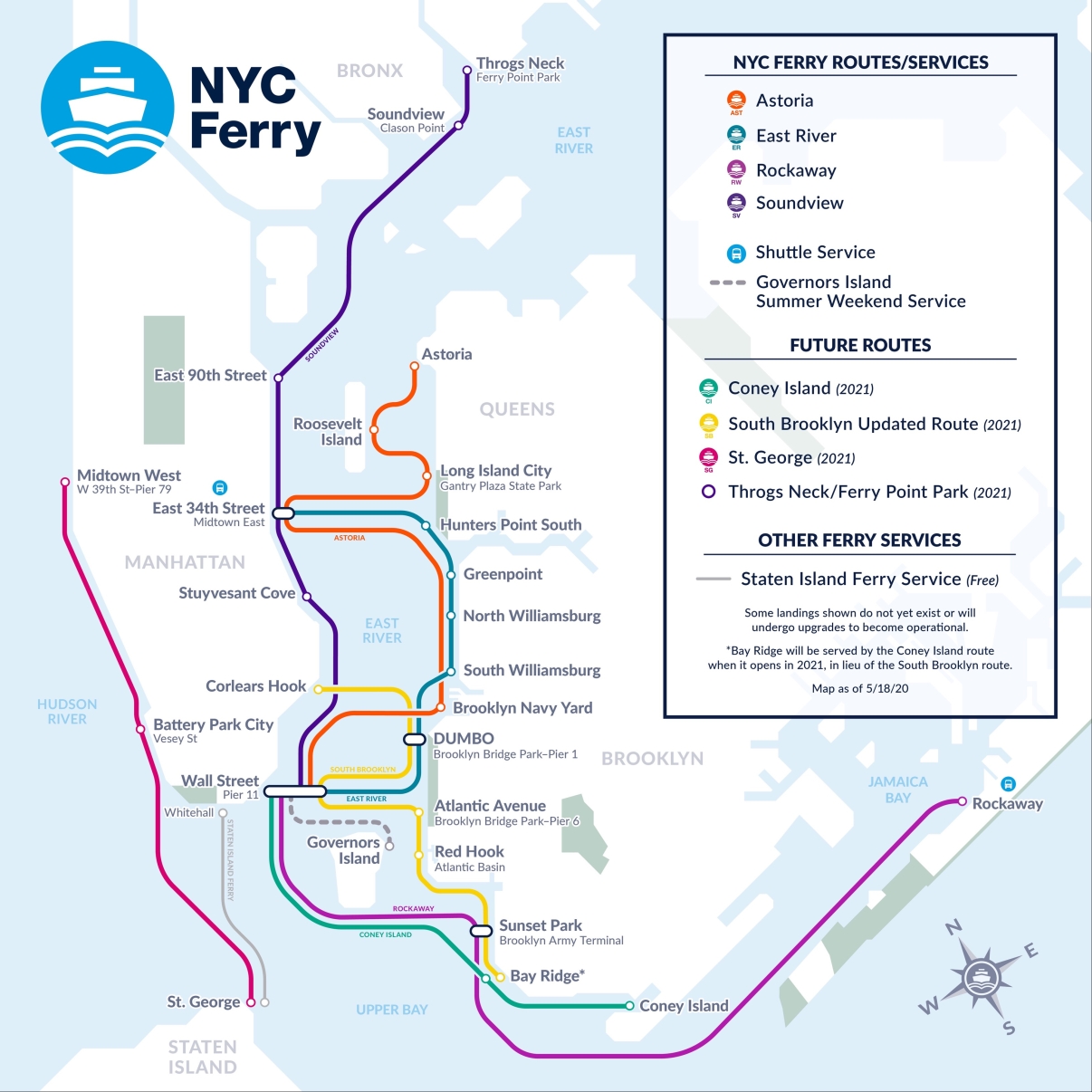 As NYC Ferry makes these service changes and takes cost-cutting measures, it remains committed to expanding service and providing New Yorkers with additional transit options.
Expansion of the system to serve Staten Island, Coney Island, and Ferry Point Park in the Bronx will go ahead as planned. The St. George route is expected to launch in Summer 2021, and the Coney Island and Ferry Point Park landings by the end of 2021.
"The goal of NYC Ferry is to connect communities and provide New Yorkers with additional transit options and that commitment will never change," said James Patchett, President and CEO of the New York City Economic Development Corporation. "Through these modifications to service, we are able to save the city money, provide even better service to our riders, including essential workers. We are also happy to reaffirm our commitment to expansion in Staten Island, Coney Island, and Throgs Neck, areas where New Yorkers have endured notoriously long commutes. We look forward to NYC Ferry service arriving in these locations next year."
"It is great to see that we are all working together to find ways to keep transporting our essential workers throughout the five boroughs," said Bronx Borough President Ruben Diaz Jr. "One of the ways to nurture a robust economy, especially as we try to recover from the economic fallout of the COVID-19 pandemic, is focusing on our borough's infrastructure system, looking for ways to help our most valued commodity, the essential workers who call this borough home, to move with ease between work and home. A thriving city like ours requires taking advantage of all forms of transportation, and keeping ferry service operating is a great way to take advantage of the resources around us. Providing additional service to Stuyvesant Cove to help alleviate the long journey for East Bronx residents is welcome, not only during the pandemic, but long-term."
"Unfortunately, the City is not going to meet the goal to launch the fast ferry slated for Staten Island in 2020. However, they are committed to Summer 2021. I want this ferry. Badly. I have 594 days to get it done. I believe and appreciate the commitment of NYCEDC President James Patchett, and I know he also wants to get this done. My team and I have put a lot into this fight over the last several years, and losing this struggle is not an option. We need fast ferry service, and we are going to have to keep fighting to ensure it happens," said Staten Island Borough President Oddo.
"New York City's ferry system connects all five boroughs using our abundant waterways and provides a safe and healthier mode of transportation during COVID-19," said Council Member Paul Vallone, Chair of the Committee on Economic Development. "These important changes will keep in-demand ferry service operational and efficient, while at the same time saving taxpayer dollars at a time when our City faces unprecedented fiscal challenges."
"We appreciate that EDC has listened to the voices at the City Council and taken these actions today to ensure that services and sacrifices are being made equitably across the City," said Council Member I. Daneek Miller. "We look forward to this continued partnership as we navigate through the current crisis and strive to support communities across the five boroughs."
"Providing residents of historically marginalized neighborhoods, like the West End of Coney Island, with multi-modal transportation options is vital, particularly given limited public transit options. I am grateful to NYCEDC for reaffirming its commitment to rolling out the expansion of ferry service to Coney Island by the end of 2021," said Council Member Mark Treyger (Bensonhurst, Coney Island, Gravesend, Sea Gate). "The Coney Island ferry expansion will result in dramatically reduced commute times for my residents, and help better connect us to the city as a whole."
"For a city which is surrounded by water, not to employ its waterways for transportation is foolish," said Assembly Member Michael R. Benedetto. "Myself and my constituents eagerly await the start of the ferry service to Ferry Point park in Throggs Neck. I applaud the NYC Ferry expansion and NYC Economic Development Corporation for keeping their commitment and at the same time saving money in doing so."
NYC Ferry riders began to receive alerts via the app today, May 15 and a fully updated schedule is now available at ferry.nyc. Riders with questions on service changes can follow @NYCFerry on twitter or reach out at [email protected]
About NYCEDC
New York City Economic Development Corporation creates shared prosperity across New York City's five boroughs by strengthening neighborhoods and creating good jobs. NYCEDC works with and for communities to provide them with the resources they need to thrive, and we invest in projects that increase sustainability, support job growth, develop talent, and spark innovation to strengthen the City's competitive advantage. To learn more about our work and initiatives, please visit us on Facebook, Twitter, or Instagram.