Press Release
New York City, Berlin, London, and Paris Announce Collaboration to Support Economic Recovery in the Cultural and Creative Sectors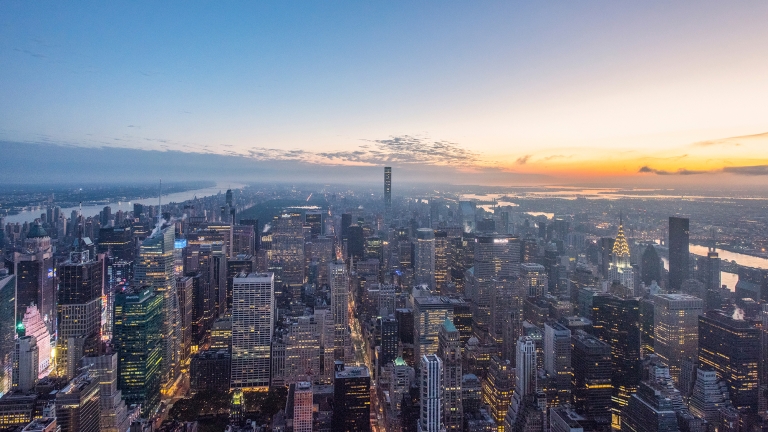 The Four Cities Launched an Open Innovative Competition to Source New Solutions to Support Economic Recovery
NEW YORK, NY—New York City Economic Development Corporation (NYCEDC) joined the cities of Berlin, London, and Paris, along with Bloomberg Associates, Nitrous, and Microsoft to form the Global Innovation Collaborative, a partnership to reignite and strengthen businesses as they recover from the impacts of the pandemic. On June 1, 2021, The Global Innovation Collaborative announced the launch of the Creative Cities Challenge, a competition designed to develop innovative solutions to speed economic recovery in the cultural and creative sectors.
The Creative Cities Challenge seeks proposals to pilot innovative solutions from technologists, entrepreneurs, environmentalists, data scientists, researchers, designers, architects, and creatives from across the globe. Once selected, these solutions will support the growth of creative production, prioritize the ongoing safety of creative consumers and producers, while centering equity, inclusion, and accessibility in the rebuilding of the industry.
"New York City is home to some of the world's most iconic arts institutions. Supporting our cultural and creative sectors is essential to restoring jobs and reopening our businesses," said NYCEDC President and CEO Rachel Loeb. "We are proud to join the Global Innovation Collaborative to work with our partner cities and launch the Creative Cities Challenge. We look forward to bringing the creative industry back to life."
"As the agency charged with supporting New York City's creative economy, the Mayor's Office of Media and Entertainment continues to work with our arts and entertainment sectors to help them survive the pandemic and return stronger than ever," said NYC Mayor's Office of Media and Entertainment Commissioner Anne del Castillo. "The Creative Cities Challenge will reinforce our efforts to advance an equitable recovery of our creative economy."
"The Office of Nightlife at MOME is grateful to participate with the Creative Cities Challenge in this global effort to find innovative solutions to help support the recovery of nightlife and performance venues around the world," said the Executive Director of the Office of Nightlife Ariel Palitz.
"I applaud NYCEDC for their efforts in the Creative Cities Challenge, which would bring the city beyond just recovery and move into truly new and innovative ways to ensure New York remains on the leading edge of performance, the arts, and nightlife," said Council Member Paul Vallone, Chair of the Committee on Economic Development. "Programs like these, in partnership with other world leading cities, strengthen our position as one of the premiere places on earth for creativity to flourish with a focus on true equity."
"We are thrilled that NYC is partnering with Berlin, London, and Paris to surface innovative solutions to challenges faced by the creative sectors during the pandemic," said NYC & Company President and CEO Fred Dixon. "Our cultural institutions are globally celebrated and the backbone to our tourism industry; it is imperative that we support them as New York City reopens and recovers".
The Creative Cities Challenge Competition in New York City will seek solutions that:
Reimagine systems to ensure creative individuals, industries, and activities can be connected, made financially sustainable, and thrive as a critical part of the cultural landscape
Help small and independent businesses in the creative economy adapt to changing community needs and consumer behavior
Innovators will be selected by partner cities and given access to city systems, services, and staff to pilot ground-breaking new programs in local government. Submissions are due by July 20, 2021.
Details and submission information can be found here.
"Berlin's economy is inconceivable without its culture, said Dr. Stefan Franzke, CEO, Berlin Partner for Business and Technology. "This is another reason why the Global Innovation Collaborative is sending the right signals: Together we are stronger. Jointly with our friends in London, New York and Paris, including also Kulturprojekte Berlin and visitBerlin, we are looking for innovative ideas for the unique creative landscape of our capital. Culture belongs to Berlin like the Brandenburg Gate and the television tower. I am grateful that we tackle these challenges together with our partner cities and I am sure that something good will come of it. The way out of the pandemic is not a 'back to square one': We want to be better, happier, more colorful and more creative than before."
"London is home to some of the world's most dynamic innovators and entrepreneurs," said London Mayor Sadiq Khan. "Through this exciting new partnership with other world cities I'm confident we will be able to harness their creativity and help those sectors hardest hit by the pandemic – such as arts and culture – adapt and thrive as we emerge from lockdown and into our economic recovery."
"Culture and creation have been particularly hard hit by the pandemic. As we see hope returning and Paris reviving, it is time to get back on track in both of these key sectors," said Paris Mayor Anne Hidalgo. "To this end, Paris has joined Berlin, London and New York in the "Global Innovation Collaborative" project, alongside Bloomberg Associates, to ensure the rich success. This international creative challenge, open to innovation players from all over the world, will be a unique opportunity to share our ideas and think about the future of the cultural and creative sectors that are essential to the prestige of our cities."
About NYCEDC
New York City Economic Development Corporation is a mission-driven, non-profit organization that creates shared prosperity across New York City by strengthening neighborhoods and growing good jobs. NYCEDC works with and for communities to provide them with the resources they need to thrive, and invests in projects that increase sustainability, support job growth, develop talent, and spark innovation to strengthen the City's competitive advantage. To learn more about our work and initiatives, please visit us on Facebook, Twitter, or Instagram.