Press Release
New York Works: NYCEDC Announces Plan to Bring First of its Kind Industrial-Commercial-Residential Project to Long Island City Waterfront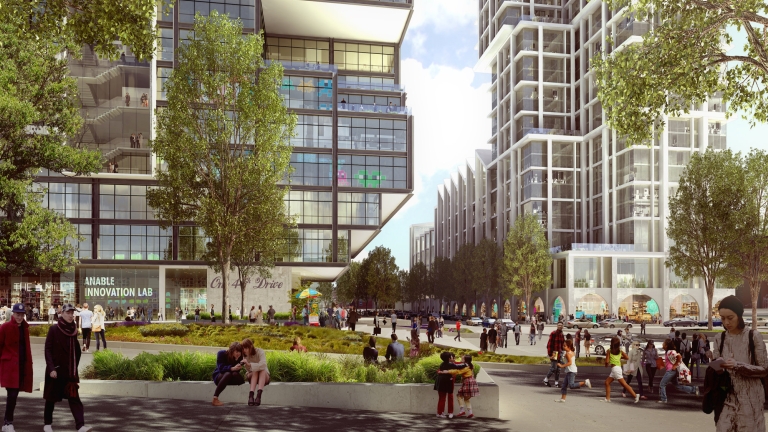 1.5M SF development will include light industrial and office space, mixed-income housing, artist space and open space, and a new school

Delivers on key components of Mayor de Blasio's New York Works plan, creating industrial and innovation jobs, and space for the jobs of the future
NEW YORK, NY—New York City Economic Development Corporation (NYCEDC) today announced a plan to transform two City-owned sites on the Long Island City waterfront into a groundbreaking mixed-use project that combines industrial and commercial office with residential space in order to support 21st century jobs and innovation. Development of the 1.5 million square foot project is expected to create approximately 1,500 permanent and more than 2,500 construction jobs.

The project will also include more than 250 units of affordable housing, a new 600-seat school, workforce training programs, 25,000 square feet of art space, more than an acre of open space, and ground floor retail. This development also delivers on key goals of New York Works, Mayor de Blasio's plan to create 100,000 quality jobs over the next ten years, by catalyzing job growth in both the innovation and industrial sectors, and providing good paying jobs that are accessible to New Yorkers from all backgrounds.

"Long Island City has emerged as one of the fastest growing centers of our city's economy, especially when it comes to innovation and modern industrial jobs," said NYCEDC President and CEO James Patchett. "With this project we are creating a first of its kind work-live-play structure, with affordable housing, incubators, and space for cultural institutions. We're investing in the continued revitalization of the Long Island City Waterfront, and delivering on our commitment to create good, middle class jobs for New Yorkers."

"This dynamic new development on the Queens waterfront will bring new diverse assets to this community," said Department of Housing Preservation and Development Commissioner Maria Torres-Springer. "The project will include critically needed affordable housing for an area that will undergo a major transformation. We are excited to work with our colleagues at EDC and development partners to see this project through to fruition."

"We are thrilled to have the opportunity to bring another state-of-the-art school to Long Island City, said New York City School Construction Authority President and CEO Lorraine Grillo. This school, which will provide our students with a world class learning environment, builds on the tremendous work being done to not only address overcrowding in District 30 but to plan ahead and support our growing communities."

"New schools are an incredible investment in our communities, and this state-of-the art facility will provide hundreds of new seats for families in the area while helping to alleviate overcrowding," said Schools Chancellor Carmen Fariña.

NYCEDC selected a joint submission by TF Cornerstone (TFC), Greenpoint Manufacturing and Design Center (GMDC), C4Q, and BJH Advisors to build on this unique waterfront site. The project will provide:
100,000 square feet of light industrial space, including 50,000 square feet of affordable workspace co-developed by GMDC
400,000 SF of commercial space, including:
22,500 square feet of pre-built incubator spaces
10,000 square feet for an Arts and Technology Accelerator, providing education, training, incubation and economic opportunities
10,000 square feet of classroom space for workforce development and career training
80,000 square feet of step-out office space for start-ups and fast-growing companies in the tech, arts, design and creative industries
At least 1,000 residential units, with 25% affordable housing
A brand new approximately 600 seat school
Over an acre of open space, including a canoe and kayak launch point, to be designed in consultation with community members
19,000 square feet of ground-floor retail
"Over the last decade, TF Cornerstone has been a leader in Long Island City's urban renaissance, evolving from a largely industrial hub to a thriving 24/7 community," said Jeremy Shell, Principal and Executive Vice President at TFC. "As an early pioneer in developing over 3,200 apartments along the Long Island City waterfront, TF Cornerstone is thrilled to be part of the next chapter in the evolution of this neighborhood. We are excited to be working with the DeBlasio Administration and our development partners GMDC, C4Q and BJH, on creating a new model for urban mixed-use development."

"C4Q is focused on building inclusion and equality through technology and ensuring that more New Yorkers are able to participate in the new innovation economy," said Jukay Hsu, CEO and founder of C4Q. "This initiative is a transformative opportunity to create a diverse, integrated, and dynamic physical environment with vibrant live and work spaces that are representative of the values and cultures of Queens and New York City. We are excited to work with the NYCEDC and TF Cornerstone to connect our local community with the tremendous opportunities created by the rapidly growing tech industry."

"GMDC is grateful to have been considered a potential partner and is now very excited about participating in the project now that our team has been selected. We look forward to working with TF Cornerstone to develop the industrial space and to be a part of this transformative development," said Brian T. Coleman, CEO of GMDC.

In February 2016, NYCEDC issued a request for proposals (RFP) for the development of these sites. The two sites, located near major residential developments at Hunter's Point South and Queens West, are currently being used as a Department of Education (DOE) parking lot and a Department of Transportation (DOT) facility, both of which will be relocated as part of this development.

This project will deliver 500,000 square feet of space for jobs of the future - a key component of New York Works, Mayor de Blasio's plan to create 100,000 quality jobs over the next ten years. In particular, the selection of a development team for the LIC Waterfront project fulfils one of fifteen short-term milestones in New York Works.

Additionally, by providing hundreds of thousands of square feet of new office and light manufacturing space, the development will help address the need for additional workspace in New York City. NYCEDC projects that 60 million square feet of new commercial office space will be needed across the city by 2025, much of it in outer borough commercial hubs like Long Island City.
About NYCEDC
New York City Economic Development Corporation creates shared prosperity across New York City's five boroughs by strengthening neighborhoods and creating good jobs. NYCEDC works with and for communities to provide them with the resources they need to thrive, and we invest in projects that increase sustainability, support job growth, develop talent, and spark innovation to strengthen the City's competitive advantage. To learn more about our work and initiatives, please visit us on Facebook, Twitter, or Instagram.