Press Release
As New York Reopens, City Officials, Advocates, and Industry Groups Thank Food Supply Workers with Event at Hunts Point Market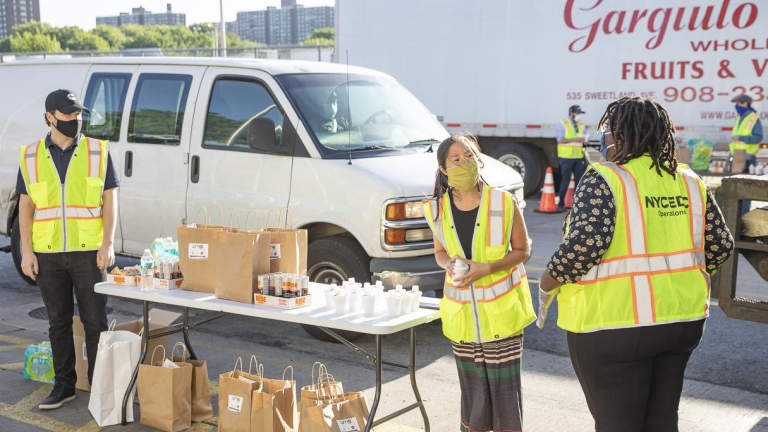 Hunts Point, Bronx – City officials, industry leaders, labor groups, and advocates gathered at the Hunts Point Market this morning to give thanks to essential workers keeping New York City's food supply chain intact during the COVID-19 crisis. Hunts Point Market is the largest single entry point into New York for the more than 19 billion pounds of food the city consumes each year, processing approximately 4.5 billion pounds. The essential workers who keep the Market running each day have worked tirelessly to keep New Yorkers fed.
Elected officials, City agency leaders, and industry representatives gathered at the Market starting at 5 am to greet and thank truck drivers, providing them with free meals, before visiting with market staff and operators.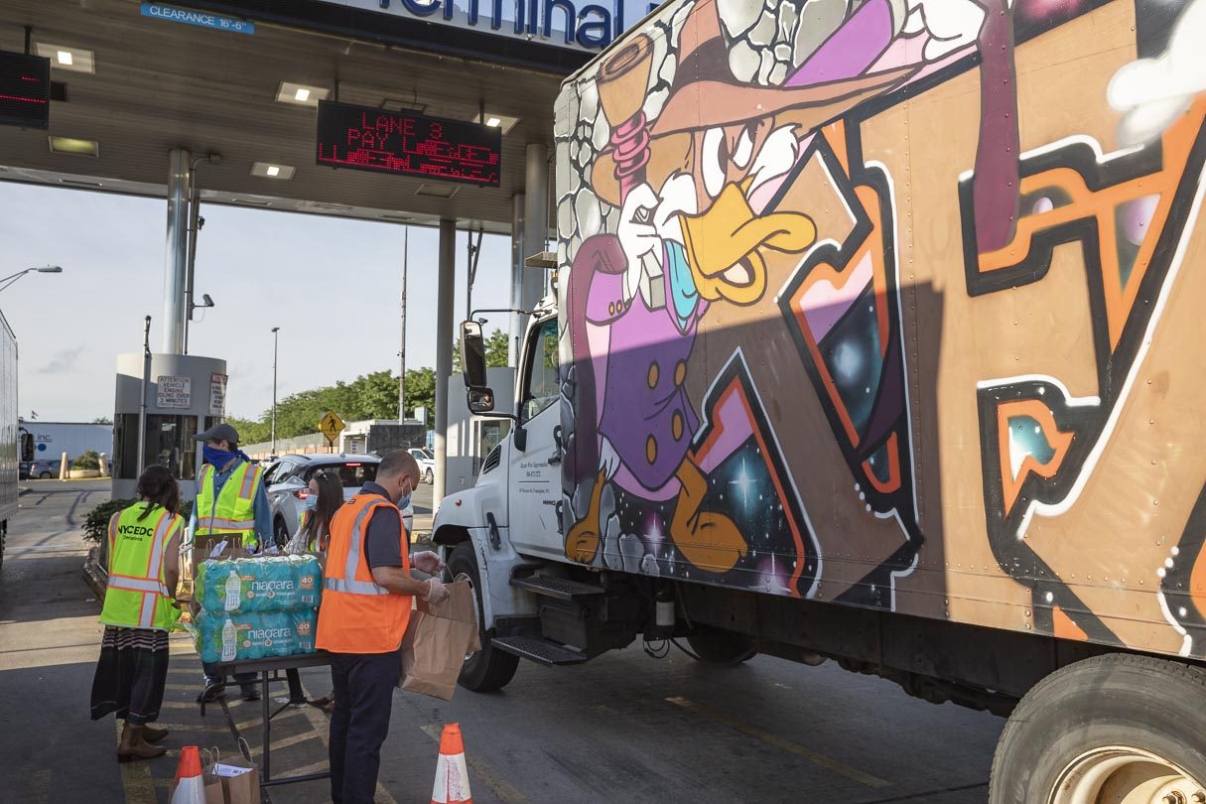 Each day, 8,500 workers at the Hunts Point Food Distribution Center ensure that food from across the world is safely unloaded and distributed to local grocery stores, bodegas, and restaurants across New York City. These truck drivers, food distributors, warehouse workers, unions, and small businesses have kept the Hunts Point markets open every single day since the onset of COVID-19. The Hunts Point businesses secured PPE and established cleaning protocols to keep workers safe. In addition, New York City has taken a number of steps to support the businesses in Hunts Point, as well as the broader regional supply chain businesses, including opening two temporary truck rest areas (one at Hunts Point and one at the Global Container Terminal NY in Staten Island) and prioritizing work with local farm consortiums and suppliers.
"The working people of Hunts Point Market are key to making sure that the crisis of this virus does not become a crisis of hunger, and I'm proud to be here with them, thanking them for their hard work during this challenging time," said Kathryn Garcia, Commissioner of the New York City Department of Sanitation and the City's COVID-19 Food Czar. "The staff here share our commitment to ensuring that no New Yorker will go hungry because of COVID-19."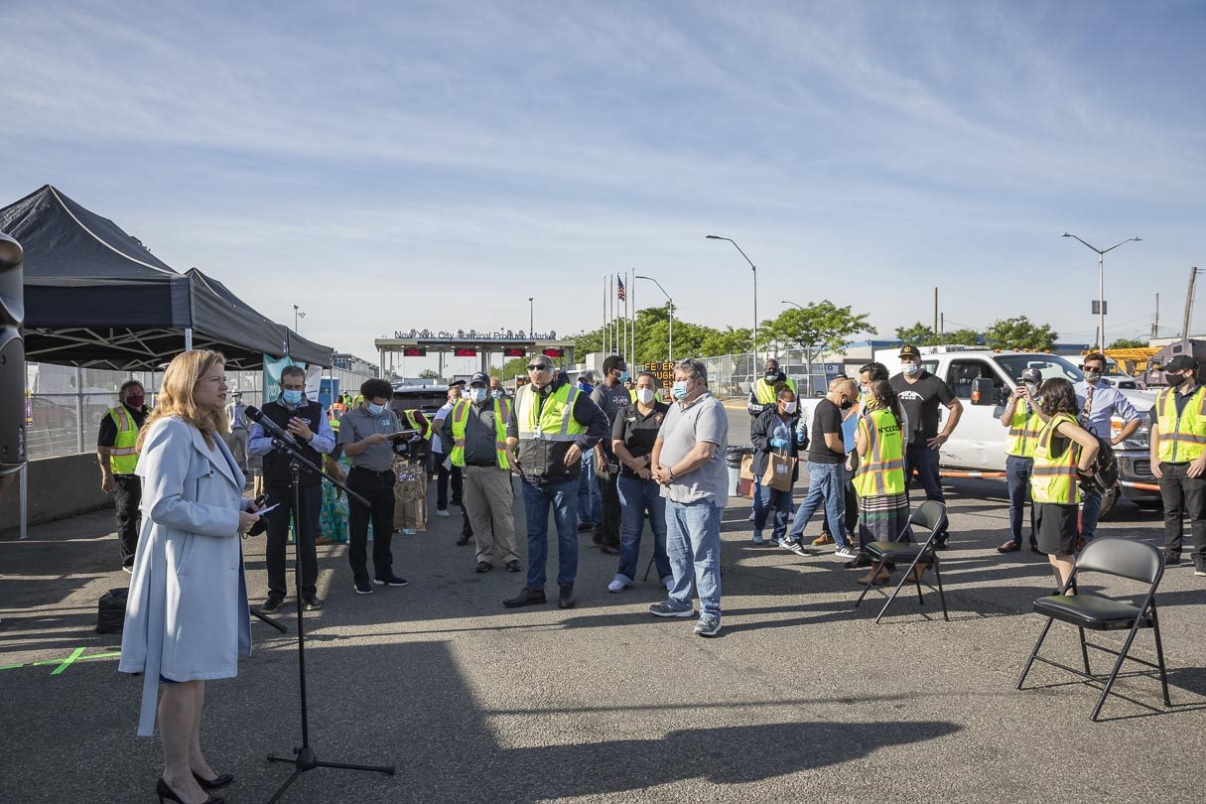 "I want to thank Hunts Point Market and its workers for helping to ensure all New Yorkers have the food they need during these toughest of times," said NYC Department of Transportation Commissioner Polly Trottenberg. "I also want to thank DOT's Freight Mobility team for their great work with the freight industry and I would like to recognize the many wonderful DOT employees who stepped up to volunteer each week at the City's food distribution centers."
"Every day, Hunts Point Market essential workers put their lives at risk to make sure our food supply continues working properly and families are able to put food on the table. I'm proud to join my colleague in celebrating and thanking essential workers and the difference they make in our community, particularly during this time," said Congressman José Serrano.
"Our essential workers, such as the employees of the Hunts Point Markets, are on the frontlines of the Coronavirus pandemic every day, making sure that our food supply chain is strong and steady," said Bronx Borough President Ruben Diaz, Jr. "As we transition into our new normalcy, we thank you for risking your own well-being to keep our borough functioning through this difficult time, recognizing your contributions and bravery. The Bronx thanks you all for being there for us, you are our everyday heroes."
"Maintaining the supply chain for New Yorkers to receive fresh food and produce during this pandemic has been critical to supporting the health of our communities. I extend my deepest gratitude to our essential workers at the Hunts Point Food Distribution Center for their sacrifice and service to the Bronx, and our city at large – thank you for nourishing New York families," said State Senator Alessandra Biaggi.
"The COVID-19 pandemic has caused great pain, death and suffering. Essential food workers know the grave dangers they face daily and diligently showed up to work. Facing possible death, their sacrifices have helped New York residents fed. We owe them an enormous debt of gratitude," said Assemblymember Carmen Arroyo.
City Councilmember Rafael Salamanca was also present at the event.
"Throughout this crisis, we've seen the resilience of the City and New Yorkers stepping up for one another," said James Patchett, president and CEO of the New York City Economic Development Corporation. "The team at Hunts Point Markets continues to work tirelessly to safely distribute food across the five boroughs. Through these efforts, the shelves of local bodegas and grocery stores remain stocked and communities across the city have access to a meal. New York City is forever grateful to the individuals at Hunts Point Markets and the essential workers who have kept our city going during this unprecedented challenge. Thank you."
"Professional truck drivers have been on the front lines responding to the COVID-19 pandemic. They have left their families, often for weeks at a time, putting themselves at risk, to make essential and critical deliveries that kept New York City running. Because of their dedication, distribution centers such as Hunts Point were able to ensure that food was available and store shelves remained stocked," said Kendra Hems, President of the Trucking Association of New York. "Thank you – not only for your tireless effort in keeping the economy rolling during COVID – but also for the job you do every single day. You are truly heroes."
For additional information about the City's emergency feeding operations, please visit nyc.gov/GetFood.
Labeled photos can be seen and downloaded here, and are courtesy of the New York City Economic Development Corporation.
About NYCEDC
New York City Economic Development Corporation creates shared prosperity across New York City's five boroughs by strengthening neighborhoods and creating good jobs. NYCEDC works with and for communities to provide them with the resources they need to thrive, and we invest in projects that increase sustainability, support job growth, develop talent, and spark innovation to strengthen the City's competitive advantage. To learn more about our work and initiatives, please visit us on Facebook, Twitter, or Instagram.