Press Release
New York City Will Pilot Smart Lighting in Brownsville to Illuminate Public Spaces at Night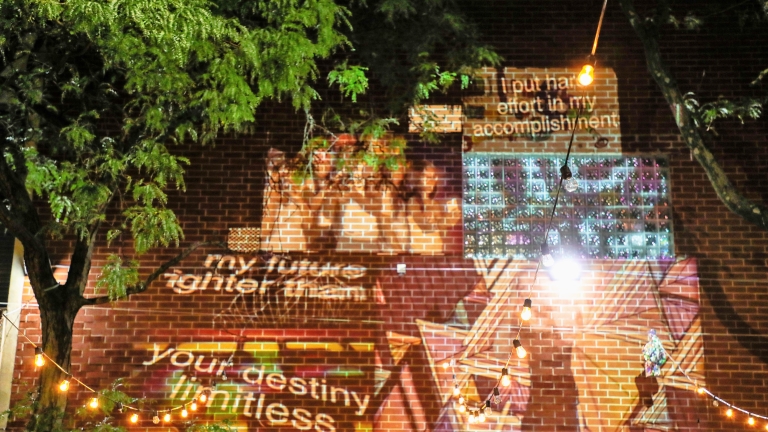 Two Lighting Pilots Will Be Installed in Brownsville's Osborn Plaza for the Next 10 Months to Improve Neighborhood Safety, Quality of Life, and Spur Economic Development
BROOKLYN, NY—New York City Economic Development Corporation (NYCEDC), Mayor's Office of the Chief Technology Officer (MOCTO), NYC Mayor's Office of Criminal Justice (MOCJ), and the NYC Department of Transportation selected two proposals for the NYCx Co-Lab Challenge: Safe and Thriving Nighttime Corridors. Over the next ten months, the City will pilot the lighting installations and a media projection in Osborn Plaza and on Belmont Avenue to help improve neighborhood safety, quality of life, and spur economic development.
"Partnering with communities to create safer spaces for New Yorkers has been a top priority of this Administration. This new program further accomplishes that by providing creative approaches that will retain the culture and fabric of the community, boost local businesses, and display the innovative solutions the City continues to strive for to improve the daily lives of New Yorkers," said Deputy Mayor Laura Anglin.
"We're proud to launch Co-Lab's Safe and Thriving Nighttime Corridors pilot in Brownsville, an innovative approach to strengthen the community through creative activation of public space," said NYCEDC President and CEO James Patchett. "These new installations will enhance public safety, increase foot traffic in one of Brownsville's most important commercial corridors and generate economic activity for local businesses. We'd like to thank MOCTO, MOCJ, NYC DOT and our community partners who have helped make this initiative possible."
"These smart lighting pilots are innovative because they not only combine public safety, art, and community, but they also present government with a new approach to brightening neighborhoods after dark and spurring economic growth in local communities—all in collaboration with the neighborhood where these installations will live," John Paul Farmer, Chief Technology Officer, City of New York. "The launch is a milestone in government co-designing with community, industry and academia to activate new ideas that can benefit every New Yorker."
In 2017, the City announced the first NYCx Co-Lab in Brownsville. The program, led by NYCEDC and MOCTO, creates neighborhood-based partnerships between communities, agencies, and technology innovators in high-need, high-opportunity neighborhoods, in order to challenge inequality in the deployment of smart city technologies. The program identifies and sources local needs through an extensive community engagement process, partners with City agencies aiming to address those needs, co-designs innovation challenges, and makes neighborhood spaces available for testing emerging solutions.
In response to community engagement and the MOCJ-led Neighborhood Activation Study, the NYCx Co-Lab Challenge: Safe and Thriving Nighttime Corridors invited startups, entrepreneurs and independent teams to propose tech solutions focused on activation of public spaces after dark.
"Public safety is about engaged residents building safe and vibrant neighborhoods. With the NYCx Co-Lab in Brownsville, the abundant creative and technological talent in our city is on full display showing how we can co-produce public safety by inviting people to interact with their environments and their neighbors," said Elizabeth Glazer, Director of the Mayor's Office of Criminal Justice.
"With the largest municipal streetlighting system in the entire country, New York City DOT congratulates the two winning proposals for the NYCx Co-Lab Challenge," said DOT Commissioner Polly Trottenberg. "The Safe and Thriving Nighttime Corridors pilot is an exciting opportunity to tap into our resource—and showcase how technology-based fixtures can brighten and beautify public spaces like Osborn Plaza and Belmont Avenue in Brownsville. We're excited to measure the performance of the challenge winners, see more community-led efforts that work with our established infrastructure, and activate streetscapes and plazas throughout New York City."
"Public safety is the prerequisite for prosperity. Without it, the local economy and small businesses suffer. That's why I applaud the winners of the Safe and Thriving Nighttime Corridors challenge, which will make important business corridors brighter, safer, and stronger. Brownsville is undergoing a renaissance thanks to forward-thinking investments like these, and I look forward to continuing to support these kinds of community-led initiatives," said Brooklyn Borough President Eric Adams.
Two winners and their solutions were selected from a pool of 24 applicants to the competition:
A project created and led by Brownsville youth with support from the Brownsville Community Justice Center, The Brownsville Partnership, and Peoples Culture, will install a 3D projection system in Osborn Plaza on the Belmont Avenue Corridor. Brownsville youth are adapting new technologies, coding, and installing an interactive projection system responsive to sensor-monitored pedestrian activity. When individuals walk within a certain proximity to the projection or when a certain number of individuals enter the plaza, it will shift brightness, color, or imagery. The project will serve as an adaptable and accessible platform responsive to the corridor's needs—showcasing community created art and projects.
Plans to augment the existing streetlamp posts along the Belmont Avenue Corridor with programmable, networked, decorative LED light strips that respond to passing pedestrians with fluctuating radiance. As pedestrians pass under the lamps the lights will shine brighter and trigger other nearby lights, creating wave-like effects. The animations, which will also be triggered by external data such as bus arrival times at the nearest bus stop, will create an active, responsive atmosphere that subtly indicates the presence of activity and reinforces the use of Belmont Avenue after dark. In collaboration, youth from the Brownsville Community Justice Center's Tech Lab will design their own lighting choreographies and learn coding to program the lighting system.
"The Brownsville Community Justice Center is extremely grateful to be an awardee of the NYCx Co-Lab Challenge: Safe and Thriving Nighttime Corridors," said Jasmine Bowie, Deputy Director of the Brownsville Community Justice Center. "We believe our young people are closest to the issues impacting public safety and should be given the agency to think through creative solutions. This is yet another example of Brownsville brilliance, and we're honored that the young people from the community will be given a platform to showcase tech innovation along Osborn plaza and the Belmont corridor."
"In an increasingly digitized society, we need think deeply about the overlay of technology in our public spheres," said Sarah Bassett, Executive Director of Peoples Culture." Brownsville, like any community, thrives on interpersonal connection in public space. We are proud that the project promotes and illuminates community voices that connect us."
"Having been born in NYC, even as a child I recognized that my sense of safety was connected to the community and the presence of others around me," said Henry Lam, Principal at Anyways Here's the Thing. "The LED's that have been mounted to the poles are a reminder and indicator of that presence and connection. Being able to engage with the youth of Brownsville has been an amazing experience for myself and Anyways to understand how they interpret art and technology and the applications toward city infrastructure."
"Years ago, Belmont Avenue was a business corridor destination for many in central Brooklyn. People came for groceries, clothing, and even a meal but much has changed since then. In order for communities to thrive then and now local stakeholders have to focus on developing neighborhood CBDs with innovative new approaches to encourage economic growth. That is why I am happy the 41st council district will host the winning proposal for the NYCx Co-Lab Challenge," said Council Member Alicka Ampry-Samuel. "Illuminating streets improves public safety, attracts pedestrians, and that attracts local businesses to commit long term to a community. This project is special because of the inclusive nature in the design process and because it took community insight. We have high hopes for the change Safe and Thriving Nighttime Corridors will bring."
"Brownsville residents know that too many of our blocks lack the lighting we need to keep our streets safe and encourage foot traffic in our business districts. By bringing new lighting and art, this project will help keep Brownsville safe and allow our businesses to thrive," said New York State Senator Zellnor Myrie.
In tandem with the Safe & Thriving Nighttime Corridors challenge, NYCx Co-Lab launched the Zero Waste in Shared Space Challenge, in support of the City's goal to achieve Zero Waste to Landfills by 2030, in partnership with the New York City Housing Authority (NYCHA) and the NYC Department of Sanitation (DSNY). The Zero Waste in Shared Space Challenge sought innovative solutions to reduce litter and improper waste disposal, increase resident participation in recycling waste-reduction, and promote waste-free common spaces in public housing. Winning pilots began in 2018 and concluded early 2019.
In Brownsville, community partners and local youth are advising the City on areas of opportunity where technologies can play a role in improving neighborhood quality of life and local economic development.
About NYCEDC
New York City Economic Development Corporation creates shared prosperity across New York City's five boroughs by strengthening neighborhoods and creating good jobs. NYCEDC works with and for communities to provide them with the resources they need to thrive, and we invest in projects that increase sustainability, support job growth, develop talent, and spark innovation to strengthen the City's competitive advantage. To learn more about our work and initiatives, To learn more about our work and initiatives, please visit us on Facebook, Twitter, or Instagram.
About the City of New York Mayor's Office of the Chief Technology Officer
The Mayor's Office of the CTO is led by the New York City Chief Technology Officer. We're making broadband, smart city technologies, digital services, and the tech industry work for all New Yorkers. Learn more at nyc.gov/cto and follow us on Twitter.