Press Release
New York City to Close Digital Divide for 1.6 Million Residents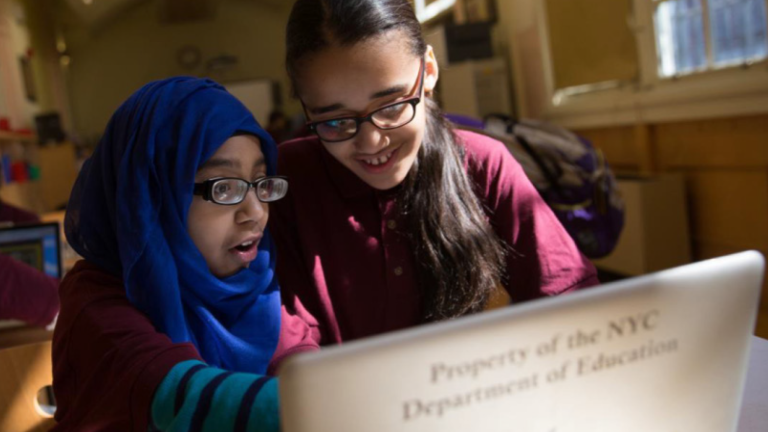 Mayor de Blasio Announces Landmark Advancements in Digital Equity Across New York City, Building Critical Broadband Infrastructure for Up to 1.6 Million New Yorkers

The City Is Also Partnering on Immediate-term Affordable Internet Connectivity for More than 250,000 Residents
NEW YORK, NY—Mayor Bill de Blasio announced the largest step of any city in American history toward providing affordable broadband for all. Through its Internet Master Plan, New York City will be the first city in the nation to reverse the digital redlining that has left communities of color disconnected, ensure that M/WBEs share in the economic growth of the broadband industry, and incentivize at scale high-quality affordable internet service options for New Yorkers.
"Broadband isn't a luxury, it's a necessity," said Mayor Bill de Blasio. "We are closing the digital divide and bringing our city into the 21st century by reaching communities most in need."
Today, the City is announcing that it will reach up to 1.6 million New Yorkers in the next 36 months by using $157 million to build publicly owned, open-access broadband infrastructure. The City is also designating a wide range of companies -- large and small, including multiple M/WBEs -- to provide fast, reliable, and affordable connectivity options to an additional 70,000 NYCHA residents and 150,000 residents in the surrounding communities by early 2022.
Already, the City is in the process of bringing free or low-cost internet connectivity options for up to 40,000 residents in 18 New York City Housing Authority (NYCHA) developments by the end of the year. This historic initiative brings newly affordable connectivity to a majority of NYCHA residents, with options to further scale affordable broadband to all neighborhoods citywide.
"The City is taking unprecedented action to make sure that the digital divide soon becomes a thing of the past," said Deputy Mayor for Administration and Chief of Staff Emma Wolfe. "We're not just connecting New Yorkers to the internet. With the City's investment in both connectivity and new infrastructure, we're ensuring that affordable, reliable, high-speed internet service will be possible well into the future."
"The Internet Master Plan proves that government can leverage its vast resources to bring affordable, essential Broadband services and infrastructure to those who need it most" said J. Phillip Thompson, Deputy Mayor for Strategic Policy Initiatives. "The Taskforce on Racial Inclusion and Equity was proud to support this strategic investment that will greatly benefit our target communities most impacted by decades of disinvestment."
"No matter your zip code, every New Yorker deserves an equal opportunity to participate in building our shared future," said New York City Chief Technology Officer John Paul Farmer. "The New York City Internet Master Plan has enabled the Big Apple's unprecedented progress in promoting digital equity and making that idealistic vision a practical reality. New York City's bold new approach delivers cross-sector partnerships, incorporates cutting-edge technologies, upgrades performance, and ensures affordability for residents and businesses. That is how we are transforming the broadband marketplace."
"This program is a model for ensuring that every American has access to reliable high-speed internet. New York is proof positive that this kind of equitable infrastructure development is a critical component of what it means to Build Back Better," said Dr. Alondra Nelson, Deputy Director for Science and Society, White House Office of Science and Technology Policy. "That's why the Biden-Harris Administration so values the vision and partnership of Mayor Bill de Blasio and New York City."
"Many communities hardest hit by COVID have experienced longstanding health and socioeconomic inequities, including a lack of access to affordable and reliable broadband internet," said Sideya Sherman, Executive Director of the Taskforce on Racial Inclusion and Equity. "This disparity is the result of digital redlining. With today's announcement, the City is driving equity and righting this historic wrong."
"In today's landscape, providing equitable access to internet service is essential for improving the quality of life and pathways to opportunity for our residents," said NYCHA Chair & CEO Greg Russ. "Over the past year, we have made tremendous strides in expanding affordable broadband options for public housing communities, and we are excited to work with the City as well as our public and private partners in bringing a robust digital infrastructure to even more NYCHA campuses in the years to come."
"We are thrilled these latest milestones implementing the Internet Master Plan continue to increase digital access for communities that need it the most," said NYCEDC President and CEO Rachel Loeb. "Now more than 250,000 New Yorkers, including NYCHA residents, will have access to new, affordable, high-speed internet options and we are excited to continue to work with our City Partners on advancing the City's Internet Master Plan."
"Providing equitable access to broadband is critical to the City's economic growth and recovery," said Jonnel Doris, Commissioner of the NYC Department of Small Business Services. "Now more than ever, small business owners and job seekers in underserved communities are relying on the internet to effectively participate in our economy. SBS was proud to be an integral part of this initiative, which levels the playing field for customers, opens the door to smaller providers, and diversifies the City's digital service pool. This is a win for everyone."
"Broadband connectivity is increasingly important for the activities that help people lead productive and healthy lives," said Department of Design and Construction Commissioner Jamie Torres-Springer. "By investing in broadband infrastructure the City is investing in the future, including the ability to deliver government services efficiently. DDC is prepared to support this important work however possible."
"This past year has revealed that while greenspaces and parks are essential, so too is reliable access to affordable internet," said New York City Parks Commissioner Gabrielle Fialkoff. "With this latest announcement, we are proud to be part of this administration's Internet Master Plan and will continue to do our part to expand broadband infrastructure into our city's parks and greenspaces where possible."
"The last 20 months have made clear what we've long known - fast, reliable, and affordable broadband is not a luxury, it's an essential utility for learning, working, public health, and to ensure all people can thrive," said Darren Walker, president of the Ford Foundation. "From pioneering publicly owned open-access broadband infrastructure to increasing competition between ISPs, these pathbreaking steps by New York City to close the digital divide marks a milestone in advancing the promise of equity in broadband access."
"The pandemic has permanently altered the role of broadband, and access to it, as essential infrastructure for individuals, communities, governments and small businesses to function in today's digital world," said Michael Froman, Vice Chairman and President of Strategic Growth for Mastercard. "Yet millions of households across the country do not have access and many small businesses lack the digital skills or education to leverage online services. Mastercard is committed to working with local governments, telcos and small business owners to ensure we obtain ubiquitous access to broadband and foster digital skills development as a critical step toward achieving a more equitable and inclusive society where opportunity exists for all."
"20 years ago, then-Councilman Bill de Blasio recognized how important broadband access is for all New Yorkers to learn, work, and participate in the 21st century economy" said Andrew Rasiej, Co-founder of Civic Hall. "With today's announcement Mayor Bill de Blasio is making his vision of a more fair and equitable online future for all a public priority and reality."
About the NYC Internet Master Plan
The New York City Internet Master Plan is a first-in-the-nation roadmap to close the digital divide and transform the broadband market, incentivizing companies of every size, including M/WBEs, to provide new high-performing and affordable broadband service options. The NYC Internet Master Plan found that nearly one-third (29%) of New York City households lacked broadband at home and others lacked mobile connectivity. This means close to 3.4 million residents had been excluded partially or entirely from modern life. The Internet Master Plan is accelerating broadband deployment to address racial inequities by prioritizing public housing communities, which have previously suffered from decades of digital redlining.
Disparities in internet infrastructure and Internet Service Providers (ISP) are especially concentrated in specific geographic areas – the South Bronx, Upper Manhattan, Southeastern Queens, and Central Brooklyn – which experience some of the city's highest rates of neighborhood poverty. New Yorkers in these neighborhoods have fewer service options, which can lead to less affordable service, as long-serving incumbent ISPs are disincentivized to compete for customers.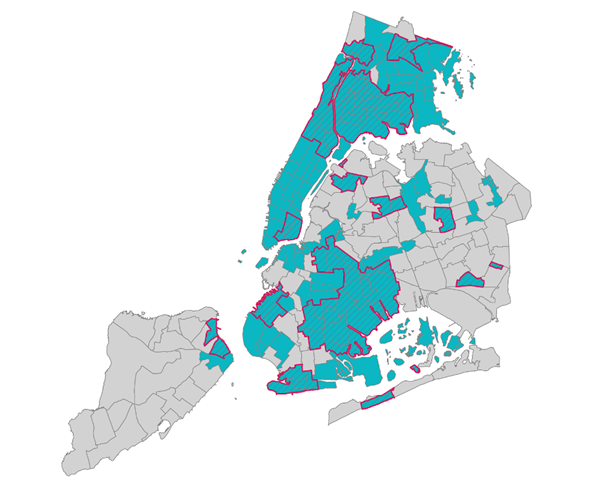 Since the release of the Internet Master Plan in January 2020, the City has brought about significant changes in the ISP marketplace, with many new vendors emerging, roughly half of whom are M/WBE or minority-led. Some of the vendors who will be offering affordable, high-speed internet connectivity and/or broadband infrastructure to formerly disconnected households include:
BlocPower
Flume
Honest Networks
NYC Mesh
Silicon Harlem
Sky Packets
The Smart Community
Initiative, Inc
Starry
T-Mobile
Skywire Networks
Younity
"Flume came at a perfect time when I was out of work due to COVID-19 and did not have any internet service," said Robert Maldonado, resident of Wald Houses. "They came in right away connected me with no problem. Ever since, I'm glad I have them as my service provider. I also recommend them to everyone that doesn't have internet service, from young to old. Everyone needs internet service in this age when everything is done over a computer."
"Flume has rapidly deployed fiber into the first two complexes at NYCHA and is looking forward to completing the Phase 1 implementation of the NYC Internet Master Plan in the coming month," said Prashanth Vijay, Co-Founder & CEO, Flume Internet. "We are seeing great uptake at the current locations, with lots of residents taking advantage of our EBB program on-ramp, to qualify for free internet. We look forward to assisting with the larger phase 2 buildout that will bring lasting open access connectivity and competitive options for many New Yorkers. Flume is happy to do our part in working with the many city entities behind this project, to accelerate the future of fiber broadband throughout NYC."
"Universal broadband is the essential enabler for an equitable recovery of New York City," said Clayton Banks, Chief Executive Officer for Silicon Harlem. "Equity and inclusion cannot occur without broadband access and affordability for lower income communities. Silicon Harlem commends New York City for the unprecedented commitment to ensure everyone is connected to realize their full potential in the digital society. We are devoted to continuing our partnership with the City in delivering next-generation affordable internet to every child, senior and family and workforce development in building broadband infrastructure. The implementation of the New York City Internet Master Plan is a path to end digital disparities once and for all and provide opportunities to everyone."
"In today's world, broadband is a utility, plain and simple. The past 19 months have shown us how crucial it was for learning, working, or shopping from home. To close the digital divide once and for all requires a new kind of thinking," said Chair & Co-founder of Sky Packets Henry Quintin. "And the New York City Internet Master Plan represents that new kind of thinking. Sky Packets is keen on leveraging new technologies to ensure that no New Yorker is left digitally behind. Sky Packets is proud to partner with the City of New York and the Mayor's Office of the Chief Technology Officer to bring our high-quality, affordable broadband service across the five boroughs."
"Younity is excited to partner with New York City to provide every New Yorker with access to high-quality, fast, and affordable internet regardless of where they live," said Chen Konfino, Founder & CEO of Younity. "We are looking forward to working closely with the Mayor's Office of the Chief Technology Officer to continue building breakthrough technology to democratize broadband access for those who need it most. Expanding our fast WiFi solution to more underserved communities will enable NYCHA families to access essential health, educational, and employment resources. We want to thank Mayor de Blasio, CTO John Paul Farmer, and the MOCTO team for their commitment to closing the city's digital divide."
"Honest Networks is proud to partner with the City to bring affordable broadband service to more New Yorkers," said Landon Tucker, CEO of Honest Networks. "We are excited to empower our neighbors with more options for their internet service and make it easier to work and study from home with reliable service."
"Mayor de Blasio and City Hall have led the way on Universal Pre-K, the most aggressive green buildings law in the nation, a groundbreaking Civilian Climate Corps, and are now focused on closing the digital divide. Closing the digital divide will be a capstone on an incredible record of transformative progressive accomplishments," said Donnel Baird, CEO of BlocPower. "BlocPower is happy to partner with community leaders, labor leaders, civic leaders, to help build NYC back better than ever!"
"Skywire Networks is thrilled to be selected by the City to bring high quality, universal broadband to those parts of the City which have traditionally had poor and limited broadband options" said Alan Levy, CEO of Skywire Networks. "We are excited to be working again with the City on broadband expansion. Our past work with the EDC shows how impactful investments in broadband infrastructure in these neighborhoods can be. Residents and businesses are desperate and are being left behind. We are happy to play a part in bringing quality broadband to these digital deserts."
"The Smart Community Initiative, Inc. (TSCI) is very excited to be partnering with the City of New York in this groundbreaking initiative to provide critically-needed universal broadband service that will help close the digital divide in the City's under-served communities," said Stuart Reid, Co-Managing Partner of TSCI. "TSCI, led by Ethel Velez and Stuart Reid, provides much-needed free Internet access, applications and services to public housing residents in New York City and is certified by the FCC as an Emergency Broadband Benefit (EBB) provider. TSCI's innovative and historic collaboration with the Manhattan North Broadband coalition includes the training of NYCHA residents to help install and maintain the wireless technical facilities provided by the project. TSCI is looking forward to working with the City and our resident partners on this momentous project."
"We're honored to partner with the City of New York to put the power of our nationwide network in the hands of millions of residents who need options to stay connected to the people and experiences that matter the most," said Mike Katz, President, T-Mobile Business Group. "For over a year, T-Mobile and the City of New York have partnered to bridge the digital divide by connecting children and seniors with unlimited internet access, and we are committed to supporting New York to help provide even more residents access to essential online information, services, education, and support they need to live safer, healthier, and more productive lives."
"Starry is proud to partner with the City of New York to accelerate the availability of affordable, high-quality broadband to the communities that need it most," said Virginia Lam Abrams, Senior Vice President of Government Affairs & Strategic Advancement for Starry. "Broadband access is no longer a 'nice-to-have.' It is absolutely essential for our families and communities to thrive. The City's Internet Master Plan gives us a roadmap to making universal broadband a reality and Starry is proud to do our part to ensure that all New Yorkers can benefit from digital access."
"NYC Mesh is dedicated to expanding community-owned and community-first broadband infrastructure in New York City," said a representative from NYC Mesh. "We are incredibly proud of the work we've been able to accomplish in partnership with the Mayor. We look forward to keeping up the momentum so every New Yorker, no matter where they may live or what they are able to afford, has reliable access to high-speed internet."
Making Connectivity a Reality
Eighteen agencies and entities have made up to 100,000 City-controlled assets -- such as rooftops, rooms, and poles -- available through the RFP, including: Department of Social Services (DSS), Human Resources Administration (HRA); Department of Homeless Services (DHS); New York City Economic Development Corporation (NYCEDC); Department of Transportation (DOT); Department of Environmental Protection (DEP); Parks Department (Parks); Department of Sanitation (DSNY); Department of Citywide Administrative Services (DCAS); Department of Education (DOE); Health + Hospitals (H+H); New York City Housing Authority (NYCHA); Department of Correction (DOC); New York Public Library (NYPL); Queens Public Library (QPL); Brooklyn Public Library (BPL); the Fire Department (FDNY); and the Brooklyn Navy Yard.
To facilitate the additional work needed to implement the NYC Internet Master Plan, New York City expresses its gratitude for the monetary contributions made to the Mayor's Fund to Advance New York City by The Ford Foundation and Mastercard. Their generous donations have made it possible to expand the New York City Mayor's Office of the Chief Technology Officer's staff with additional positions critical to implementing the Internet Master Plan and delivering affordable broadband for New Yorkers.
"With this announcement, NYC makes clear we are all ready to take on the digital divide. The pandemic put a spotlight on what was obvious before: we cannot have millions of New Yorkers without broadband at home, cut off from school and work and culture. We need our citizens connected to each other if we are going to have the economy, society and democracy we need. Now we begin to seriously move toward community innovations and a public solution that will make New York City also the capital of the interconnected age," said New York Public Library President Anthony W. Marx.
"We couldn't be more excited to see the City extend internet access to 75,000 more New Yorkers," said Linda E. Johnson, President & CEO of Brooklyn Public Library. "Public libraries are a refuge for the thousands of students and job seekers without broadband at home, but a long-term solution requires universal access. Every New Yorker deserves the ability to participate fully in our city and our society."
About the New York City Mayor's Office of the Chief Technology Officer
Our mission is to ensure that technology is inclusive, accessible, human-centered, and works for all New Yorkers. We view technology as a critical tool for making New York City the fairest big city in America. Our work is organized around four pillars: Universal Broadband, ensuring high-quality, affordable internet for all New Yorkers; Inclusive Innovation, making New York City the place where new ideas are applied to improve lives; Digital Services, delivering government services online to make government work better for everyone; and Emerging Tech & Society; advancing laws, rules, and plans that promote the public good and protect New Yorkers' digital rights. Learn more at nyc.gov/tech.
About NYCEDC
New York City Economic Development Corporation is a mission-driven, non-profit organization that creates shared prosperity across New York City by strengthening neighborhoods and growing good jobs. NYCEDC works with and for communities to provide them with the resources they need to thrive, and invests in projects that increase sustainability, support job growth, develop talent, and spark innovation to strengthen the City's competitive advantage. To learn more about our work and initiatives, please visit us on Facebook, Twitter, or Instagram.