Press Release
New York City Announces Winners for Global Cybersecurity Competition to Reinforce Cybersecurity Resilience for Small Businesses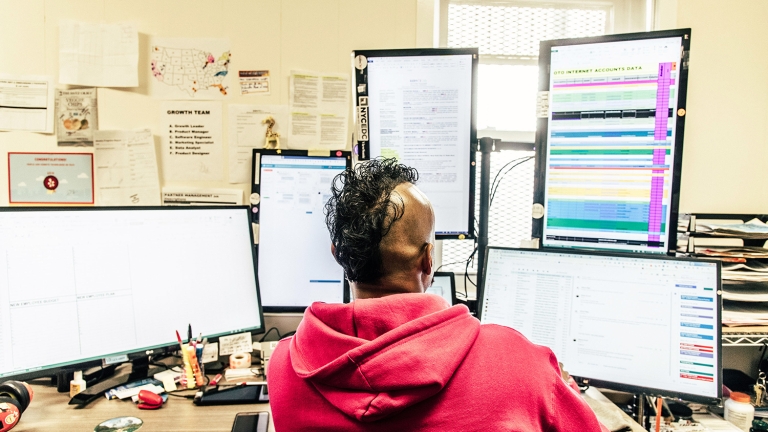 Three Challenge Winners Will Work with the City to Provide Small and Mid-Size Businesses with Essential and Affordable Security Resources
NEW YORK, NY—The Mayor's Office of the Chief Technology Officer (MOCTO), New York City Economic Development Corporation (NYCEDC) and NYC Cyber Command (C3) today announced three winners for the NYCx Cybersecurity Moonshot Challenge, launched in 2018 to help strengthen New York City as a leading hub for cybersecurity. The Challenge is a core component of NYCEDC's Cyber NYC initiative, a $100 million public-private investment aimed at transforming New York City into a global leader of cybersecurity innovation and talent.
The City partnered with Israel's leading venture capital firm, Jerusalem Venture Partners (JVP), and global partners from Israel, Japan, South Korea, Singapore, Berlin, Helsinki, London, and Paris to establish a consortium of international partners with a shared interest in developing the most innovative and effective cybersecurity solutions.
"This Moonshot Challenge has contributed to a safer and more secure New York City," said John Paul Farmer, New York City Chief Technology Officer. "The more secure our city's businesses are, the more secure we all are. Congratulations to the winners and thank you for working with us to bring some of the world's most innovative solutions to the Big Apple's small and mid-size business community."
"Small businesses are the lifeblood of New York City and central to our economic stability," said NYCEDC President and CEO James Patchett. "The Cyber Moonshot Challenge has inspired cutting-edge innovation from our thriving cyber ecosystem and will strengthen the security of New York City businesses. Congratulations to the Challenge winners and thank you for helping make New York City a global leader in cybersecurity."
The three winners are eligible for $1 million investment from JVP and acceptance into JVP's inaugural Cybersecurity Accelerator cohort aimed at helping cybersecurity startups accelerate their growth and footprint in New York City:
"Cybersecurity is becoming the single biggest business risk for most organizations but small and mid-sized businesses have traditionally been underserved due to a lack of practical solutions" said Han Wang, CEO, Paladin Cyber. "Through this exciting collaboration with New York City, we're excited to offer a comprehensive cyber risk solution that includes easy-to-use technical defenses and broad insurance coverage at a cost affordable to even the smallest businesses."
"We're thrilled that the City of New York has selected INKY as a NYCx Cybersecurity Moonshot winner," said Dave Baggett, INKY CEO and Founder. "Our mission is to protect customers large and small from email-based phishing attacks, and we're looking forward to securing email for thousands of NYC businesses."
"Since day one SKOUT has been a mission-oriented company, focused on serving small business and their managed service providers," said Aidan Kehoe, CEO of SKOUT CYBERSECURITY. "We believe that SMBs will need one place to go for all their cybersecurity needs and that is exactly what we have been focused on providing. We are delighted that New York City is working so hard to protect SMBs and are honored to be selected as winner in the NYCx Cybersecurity Moonshot Challenge alongside Inky and Paladin." Over the next year, MOCTO, NYCEDC and Cyber Command will publish recommended security standards and best practices for cyber resiliency and partner with the Department of NYC Small Business Services to launch a Cybersecurity training for small and mid-size businesses in New York City.
"Providing Cybersecurity courses to New Yorkers opens the doors of possibility for those interested in tech and gives residents, entrepreneurs, and businesses the skills they need to keep our City safe," said Gregg Bishop, Commissioner of the NYC Department of Small Business Services. "Technology is the future and SBS is proud to support the City as it expands into this field and equips New Yorkers with the skills necessary to grow and thrive."
The winners pitched their approach in New York City to City officials and underwent rigorous technical testing led by C3, including real-time feedback from small business users. In August 2019, the winners participated in a public showcase at JVP's HUB.NYC cybersecurity center to highlight their progress and demonstrate how the Moonshot Challenge will help the City's broader cybersecurity goals.
"As we continue to build the world's most cyber-resilient city, New York City is deeply committed to cultivating an environment where startups can make the City their home and thrive," said Geoff Brown, Head of New York City Cyber Command. "Our startup community is one of the City's greatest assets - they're laboratories for developing cybersecurity innovations responsive to increasingly sophisticated threats, homebases for our growing cybersecurity talent pipeline, and collaborators with whom we exchange research and knowledge to enrich our collective cyber defenses."
Cybersecurity resilience remains a top priority for New York City. In 2018, NYCEDC announced the winners of its Cyber NYC initiative aimed at driving substantial cyber startup growth, training and skill-building for cyber careers, and deep commercialization partnerships between academic institutions and cyber companies. Similarly, C3 launched a first-of-its-kind free consumer app to help New Yorkers secure their personal devices and the Wi-Fi networks they routinely use. A survey conducted by MOCTO prior to launch of the Challenge revealed that 85% of SMB respondents ranked cybersecurity as very important to their business and 76% wanted to learn about affordable cybersecurity solutions.
The NYCxCybersecurity Moonshot Challenge was announced in November 2018 and received over 169 proposals from 77 cities representing 18 countries from around the world, making it the most well-received global challenge launched in the Mayor's Office of the Chief Technology Officer.
About NYCEDC
New York City Economic Development Corporation creates shared prosperity across New York City's five boroughs by strengthening neighborhoods and creating good jobs. NYCEDC works with and for communities to provide them with the resources they need to thrive, and we invest in projects that increase sustainability, support job growth, develop talent, and spark innovation to strengthen the City's competitive advantage. To learn more about our work and initiatives, please visit us on Facebook, Twitter, or Instagram.