Press Release
New State-Of-The-Art Workspace to Open in the Bronx in Hunts Point Neighborhood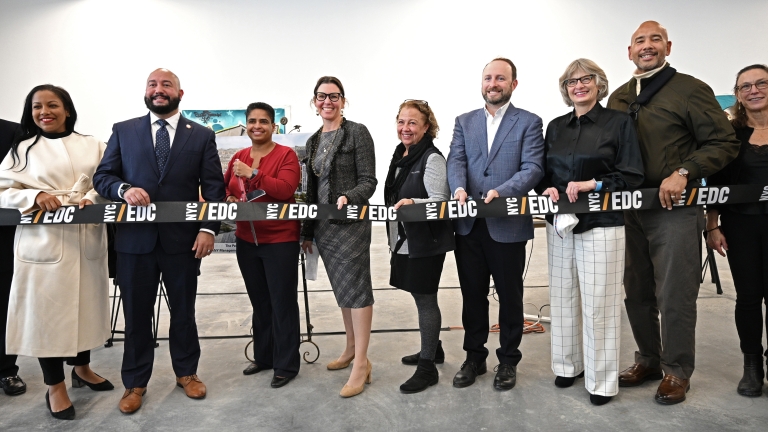 NYCEDC Leads Project to Redevelop Former Spofford Juvenile Detention Facility, Which Includes Light Industrial Space and Affordable Housing
BRONX, NY—On Tuesday, New York City Economic Development Corporation (NYCEDC), Bronx Borough President Ruben Diaz Jr., New York Council Member Rafael Salamanca Jr., development partners, and community members celebrated the completion of a new workspace facility in the Bronx at the former site of the Spofford Juvenile Detention Center.
City officials and community members gathered for a ribbon cutting ceremony inside the Peninsula 1A, a 56,000 square foot state-of-the-art space designed to support local entrepreneurs. Tenants will include bakers, coffee roasters, caterers, pastry operations, beverage manufacturers, prepared foods producers, retail CPG food brands, and more. The space will be built out to support tenants' specific needs and is expected to create upwards of 100 jobs over the next five years.
"Building and investing in strong communities is critical for a fair and equitable Recovery for All," said Deputy Mayor for Housing and Economic Development Vicki Been. "Phase 1 of The Peninsula realizes the community's vision of addressing the affordability crisis in a holistic way -- by providing space for food distributors, bakers, coffee roasters, and talented local entrepreneurs. I look forward to seeing the future phases bring 100% affordable housing, open space, a health center, Head Start classrooms, and cultural spaces—all of which will begin to heal the pain and fear the Spofford Juvenile Detention Center once caused."
"This new workspace will be home to local entrepreneurs and support the local economy. From jobs to workforce training, it will be a place for Bronx-based businesses to grow and thrive," said NYCEDC President and CEO Rachel Loeb. "NYCEDC is proud to work with the community and local elected officials to redevelop the former Spofford Juvenile Detention Center and lead with a plan that prioritizes job creation, affordable housing, and supports the health and wellness of residents in Hunts Point."
"I am ecstatic about this redevelopment, as it will be a great addition to our Bronx community," said Assemblymember Kenny Burgos. "Not only will this project create jobs, it will provide opportunities that prioritize affordable housing and the health and safety of Bronxites. I applaud NYCEDC and all parties involved that worked tirelessly to make this new workspace a reality."
"The redevelopment of the Peninsula at the site of the former Spofford Juvenile Detention Center is a retaking of the neighborhood," said Assemblymember Amanda Septimo. "The addition of affordable housing and community spaces are investments in a stronger neighborhood, and an important turn of the page for the Hunts Point Community."
"For more than five decades, the Spofford Juvenile Detention Center represented the juncture at which so many of our youth lost their innocence and their path in life," said Council Member Rafael Salamanca, 17th Council District, The Bronx. "Born and raised in Hunts Point, Spofford was a place that parents taught their kids to fear, while also serving as an imposing stigma that local leaders were determined to overcome in their campaign to revitalize the Peninsula. Now, our efforts have come to fruition as the painful past of Spofford has blossomed into a beacon of opportunity and hope. From members of Mayoral administrations – past and present, - to the stalwart members of the Hunts Point-Longwood community, to the criminal justice advocates, the list of people who contributed to this day becoming a reality is far-reaching. To each and every one of you, I say thank you."
"La Peninsula represents the transformative redevelopment of a long dormant site, and I am thrilled to see that this project has moved forward," said Bronx Borough President Ruben Diaz Jr. "For decades, the name Spofford struck fear into the hearts of young people. Now, we see a community of support and opportunity forming through La Peninsula. A place that continues the amazing work done by residents and local organizations in Hunts Point for the last thirty years. The completion of building 1A will create much needed space for local Bronx businesses and entrepreneurs, and the project as a whole will bring much-needed affordable housing as well as new retail and commercial options to Hunts Point. It has always been a priority of mine to bring vibrant, inclusive development to every Bronx community, and La Peninsula does just that. I'd like to thank everyone who made this project possible."
The new light industrial space is the first building to open at The Peninsula, a five building, mixed use complex, which includes over 740 affordable apartments, with at least 10 percent reserved for the formerly homeless, along with a performance theater, cultural art space, and a commercial space for a wellness center and grocery store. The development will also include a brand-new facility for La Peninsula, the long-standing Head Start community daycare operating on the site. The entire development will be centered on nearly one acre of newly landscaped open space and a public plaza.
In 2015, NYCEDC began working with the community and local elected officials on behalf of the city to demolish and redevelop the former Spofford Juvenile Detention Center, which was notorious for its poor conditions. After it's closure in 2011, the community laid out a clear vision for what the site could become. After extensive community engagement, NYCEDC focused on a plan to deliver much-needed affordable housing and open space and jobs, while integrating Bronx-based organizations. Phase 1A is the first product of that vision.
"Today marks a great day for our community. La Peninsula will bring housing, jobs, wellness, and the arts to Hunts Point, all of which are essential if individuals and families are to thrive," said Paloma Hernandez, President and Chief Executive Officer of Urban Health Plan. "Urban Health Plan is proud to be among the many stakeholders, including residents, who shared their vision and collective voices to shape this project. Together, we have transformed a painful reminder of our past into a great source of hope and an incredible model for what is possible when there is equity in the process."
"The Peninsula, and the affordable housing and vibrant community spaces it includes, is a symbol of New York City's investment in the family and children of Hunts Point and their future," said Jill Roche Gomez, Executive Director of the Hunts Point Alliance for Children. "Repurposing this land to include education for our community's youngest learners, wellness components, and access to safe gathering spaces is a testament to the hard work and advocacy of Hunts Point residents, community organizations, and our elected officials' vision."
NYCEDC selected the development team of Gilbane Development Company, Hudson Companies, and MHANY Management Inc. (MHANY) to work on the project, which has been guided by Council Member Rafael Salamanca Jr., Urban Health Plan, The Point CDC, Bronx Community Board 2, BronxWorks, the Hunts Point Alliance for Children, City Year, Youth Ministries for Peace and Justice, Casita Maria Center for Arts and Education, Sustainable South Bronx and more. The project was designed collaboratively by WXY Architecture + Urban Design and Body Lawson Associates Architects & Planners.
"The completion of The Peninsula's first building signifies tremendous new opportunity for the Bronx and is a direct result of the vision of the people living and working within Hunts Point," said Ed Broderick, President and CEO of Gilbane Development Company. "We are committed to developing dynamic communities that are sustainable, inclusive, and geared towards improving the quality of life for residents and people within the community, and with our team at The Peninsula, we are bringing to life a true live-work, mixed-use destination, providing 740 affordable apartments, open space, and a new home to growing entrepreneurs."
"Today's ribbon cutting at Building 1A in the Peninsula campus is the first step towards the complete transformation of a former detention facility into an equitable, mixed-use community amenity featuring 740 affordable homes," said Aaron Koffman, Managing Principal of The Hudson Companies. "The Peninsula showcases the true potential of prioritizing the needs of the Hunts Point community in order to build a more inclusive development that will deliver new housing, recreational and economic opportunities for the people of The Bronx."
"We are incredibly proud that the Peninsula Building 1A will support small businesses and well-paying job growth for Hunts Point," said Ismene Speliotis, Executive Director at MHANY Management Inc. "This beautifully designed, well-constructed building will be home to emerging food production companies and an incubator/shared kitchen for local entrepreneurs. Most importantly, residents will have an opportunity to participate in the neighborhood's economic revitalization. Peninsula Building 1A is a new direction for MHANY but fits genuinely with our mission and commitment to affordable housing and community development."
"NYCEDC and MHANY's leadership in ensuring high-quality space for New York's local manufacturers brings us closer to a city where affordable living and working are key to well-designed public projects," says Claire Weisz, FAIA, founding principal of WXY architecture + urban design. "This new model for supporting local industry building is designed to anchor this new affordable live-work development with its distinctive industrial form and glowing facade to ensure for lower energy consumption and zero waste."
"This new light-industrial building is a fitting debut for La Peninsula, and it will benefit the Hunts Points community in terms of job training and employment opportunities as well as wellness and long-term sustainability for the area," says Victor F. Body-Lawson, AIA, NOMA, principal of Body Lawson Associates Architects and Planners. "We applaud the prescience and planning by NYCEDC and MHANY, along with other key agencies and partners, in creating a true national model for affordable mixed-use communities."
The project's next milestone, Phase 1B, is currently under construction and includes 183 deeply affordable homes, 8,000 square feet of artist workspace and a performance theater, all of which are expected to open next year. The entire project currently supports about 1,000 construction jobs and is expected to create more than 300 permanent jobs throughout its development and operation. Further, the development team has committed to hiring 35 percent M/W/DBE (Minority, Women-Owned, and Disadvantaged Business Enterprise) firms for the construction and is participating in HireNYC, a program that connects residents and workers to the City's workforce development services.
About NYCEDC
New York City Economic Development Corporation is a mission-driven, nonprofit organization that creates shared prosperity across New York City by strengthening neighborhoods and creating good jobs. We work with and for communities to bring emerging industries to New York City; develop spaces and facilities for businesses; empower New Yorkers through training and skill-building; and invest in sustainable and innovative projects that make the city a great place to live and work. To learn more about what we do, visit us on Facebook, Twitter, LinkedIn, and Instagram.