Press Release
New Event Space Opens at La Marqueta in East Harlem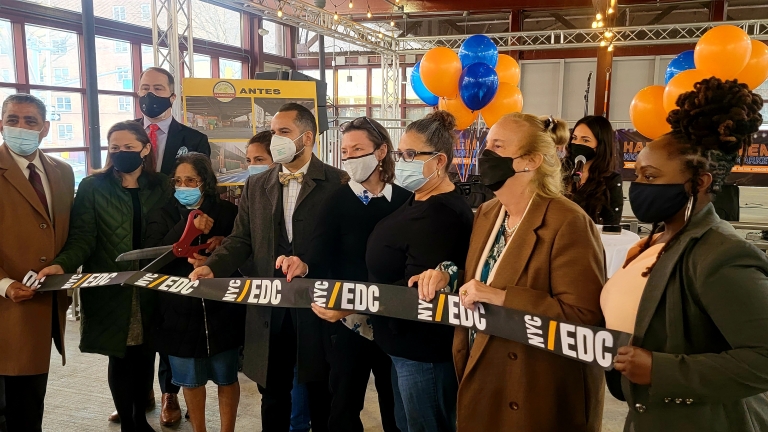 La Placita Opening Kicks off the Return of the Harlem Night Market
NEW YORK, NY—Today, city and elected officials celebrated the ribbon cutting of La Placita, an event space at La Marqueta in East Harlem. The $10 million space features a stage, bleachers, exhibition areas for artists, and upgraded facilities for the public. This is the first event held at La Placita since 2019.
"Today's ribbon cutting represents a joyous occasion for East Harlem," said NYCEDC President and CEO Rachel Loeb. "We are proud to have delivered a space with a stage, retractable bleachers, an artist exhibition area, upgraded restroom facilities, lighting, free Wi-Fi, and improved street view visibility that brings culture and community together for this vibrant neighborhood."
Council Member Ayala presented a citation to longtime La Marqueta vendor Ms. Aurelia Velez for her service and commitment to East Harlem. For over 50 years, Ms. Velez owned and operated Velez Groceries, moving to La Marqueta from a storefront on East 111th Street. Ms. Velez grew up in East Harlem and remains a staple figure in the neighborhood.
"This is a great moment for East Harlem in which this public gathering and events space returns to the community," said Council Member Diana Ayala. I am delighted to join New York City Economic Development Corporation, local elected officials and the community during the kickoff of the Harlem Holiday Night Market, the ribbon cutting for La Placita and in honoring a life-long tenant of La Marqueta; Ms.Velez."
La Placita has served as a gathering place for East Harlem residents and community members since 2014. The space offers a wide variety of programming that includes Salsa Saturdays, a film screening series for children, art classes, health and wellness workshops, food drives, art classes, and a seasonal farmers market.
"This is a special time of the year when we reflect upon the many blessings, opportunities, and freedoms that have been bestowed upon each of us," said Congressman Adriano Espaillat (NY-13). "I am delighted to join friends, families, and business leaders of the New York City Economic Development Corporation (NYCEDC) during the kickoff of the Harlem Holiday Night Market and ribbon cutting for La Placita, a celebration of community, commerce, and culture – and I wish all throughout New York City a happy and joyous holiday season."
"La Placita has become such a culturally key element to our community here in El Barrio, and seeing these vital renovations is a victory for the neighborhood," said former Assembly Member and Acting Secretary of State Robert J. Rodriguez. "These investments are not only steps in revitalizing of La Marqueta but are investments into the residents of El Barrio—providing spaces for local vendors, spaces to celebrate and be together. I'm proud to celebrate the greatness in its multiculturalism that it continues to offer to our wonderful community."
"La Placita has become nothing short of a local gem, serving as a destination for East Harlem residents to gather and celebrate the rich cultural diversity of the neighborhood," said New York State Senator Jose M. Serrano. "These latest improvements will make La Placita even more welcoming, and as we kick off the Harlem Night Market, I encourage New Yorkers to come and experience La Placita for themselves. Many thanks to NYCEDC for their commitment to revitalizing this treasured community space."
"La Placita has served as a vital resource for our community," said Vice Chair of Community Board 11 Xavier Santiago. "As a means to advance our cultural heritage, music and commerce, this welcoming space has always been supported by Community Board 11. None of this would be possible without champions such as Aurelia Velez. Sra Velez has been an integral part of La Marqueta as one its legacy tenants. She and her husband championed La Marqueta for over six decades. As we celebrate the reopening of our Harlem Night Market, we thank you Sra. Velez for your tireless efforts. It is with great hope that as we turn the page on 2021, that this beautifully renovated space continues to be activated for years to come. Thank you to all of our elected officials, NYCEDC, and all of our community champions."
The ribbon-cutting kicked off the return of the Harlem Night Market, a three-day pop-up shop featuring vendors, artists, and musicians from east, central, and west Harlem. Harlem Night Market returned to La Marqueta after taking last year off. The expanded event hosted by Uptown Grand Cental and TBo Harlem featured over 40 vendors, live music and performances by Stormin' Norman & Ted Smooth, and family friendly activities by El Museo del Barrio.
The Harlem Night Market will take place on the last shopping weekend before Christmas Friday, December 17, from 5-9 p.m., Saturday, December 18, from 4-9 p.m., Sunday, December 19, from 3-8 p.m.
About NYCEDC
New York City Economic Development Corporation is a mission-driven, nonprofit organization that creates shared prosperity across New York City by strengthening neighborhoods and creating good jobs. We work with and for communities to bring emerging industries to New York City; develop spaces and facilities for businesses; empower New Yorkers through training and skill-building; and invest in sustainable and innovative projects that make the city a great place to live and work. To learn more about what we do, visit us on Facebook, Twitter, LinkedIn, and Instagram.