Press Release
Manhattan Borough Board Approves NYCEDC Project to Develop Much-Needed Affordable Housing in Midtown Manhattan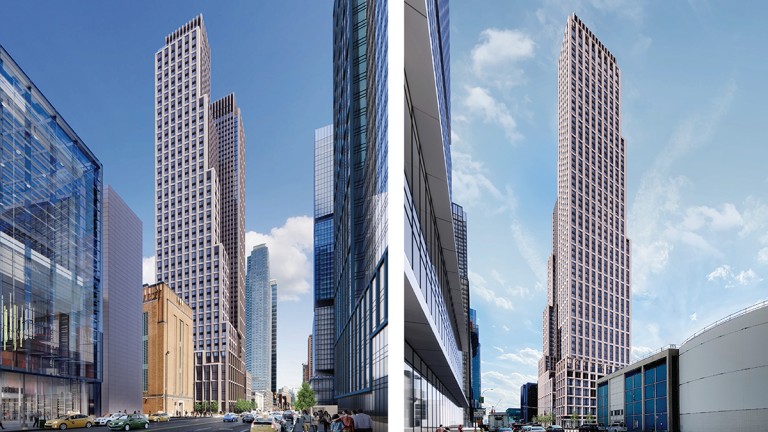 Radson-Kingspoint Heights Team to Build a Mixed-Use Development with 100 Percent Affordable Housing Complex with 350 Units, Including 75 Units of Supportive Housing for Formerly Homeless Individuals and Families
NEW YORK, NY—The Manhattan Borough Board has approved a  New York City Economic Development Corporation (NYCEDC) project that delivers much-needed affordable housing along with a hotel, office space and a supermarket, to Midtown Manhattan, just east of the Javits Center Expansion. The Borough Board's approval follows City Council ULURP approval of the project in October.
The two towers to be developed by Radson Development and Kingspoint Heights at 495 Eleventh Avenue will rise – at 56 and 57 stories respectively – between West 39th and West 40th streets. When completed, the project will include 350 units of 100 percent affordable housing, and all units will be permanently affordable. Seventy-five of these units will be supportive housing for formerly homeless individuals and families, alongside supportive services to be managed by the Center for Urban Community Services. NYCEDC recommended the site for development after working closely in partnership with City Council Speaker Corey Johnson and Manhattan Community Board 4.
"This project will provide much-needed affordable housing and services for some of our most vulnerable New Yorkers, and will strengthen the business and the tourism sectors, which are key to the City's economy and recovery from the COVID crisis," said NYCEDC President and CEO Rachel Loeb. "We thank the Borough Board, Speaker Johnson and the Council for working with us to move this essential development forward through many stages of approval, as well as Community Board 4 for its invaluable input and support." 
The approximately 700,000 square-foot project from Radson Development and Kingspoint Heights Development, designed by FXCollaborative and Gene Kaufman Architects, navigated a small and complex site. The project is also known as "Slaughterhouse," because the site was the location of the New York Butchers' Dressed Meat Company building for much of the 20th century. 
In 2015, at the urging of Community Board 4, NYCEDC released a Request for Proposals (RFP) for a mixed-use redevelopment of the site, with the goals of maximizing affordable housing at a range of income levels, with cross-subsidy from commercial use, but with no City subsidy.
The building design meets LEED Gold Certification, in line with New York City's aggressive sustainability goals on waste and greenhouse gas emissions. 
The 495 Eleventh Avenue development is projected to create 2,540 construction jobs, along with 641 permanent positions in its hotels, restaurants, and offices. The development team is committed to local hiring and has agreements with the building workers' union 32BJ SEIU and the New York Hotel and Motel Trades Council (HTC). The development team has a track record of using NYC-area-based Minority and Women-Owned Business Enterprise (M/WBE) subcontractors and suppliers. Pending approvals from the Department of Buildings, Public Design Commission, and Manhattan Borough Board, construction is expected to begin in 2022.
"I am very happy to see this project come to fruition after years of hard work by my office, the NYC Economic Development Corporation, the Radson-Kingspoint Heights team, Community Board 4, and Manhattan Borough President Gale Brewer," said City Council Speaker Corey Johnson. "This project will bring 350 permanently affordable units of housing to families in the heart of Hudson Yards and sorely needed supportive housing. I want to thank NYCEDC and the de Blasio Administration for working with Community Board 4 and my colleagues over the years to help realize a project that we can all be proud of."
"It's exciting to see this project, which has long been identified by the community as an affordable housing resource, move forward," said Manhattan Borough President Gale A. Brewer. "I'm pleased that the developer and the City have committed to ensuring that all the residential units in this project remain affordable for the full 99-year term of the lease. It's an excellent outcome that demonstrates the importance of community input and advocacy in the development process."
"Manhattan Community Board 4 identified the Slaughterhouse site for permanent affordable housing with a range of incomes in 2009 and, after more than a decade of advocacy, we are confident the project will result in 100% permanent affordable housing the community so desperately needs," said Manhattan Community Board 4 Chair Lowell D. Kern.
"HYHK is excited to hear about the continued progress on the Slaughterhouse project," said Robert Benfatto, President, Hudson Yards Hell's Kitchen Alliance. "From the beginning, the BID, along with many community members, supported the project as a way to add new affordable housing to a neighborhood that is undergoing profound change. HYHK seeks to improve the neighborhood for those who live, work and visit and we look forward to engaging with the residents, operators, and owners in this building as it enters the fabric of our community."
"Radson Development and Kingspoint Heights are excited for this opportunity to bring a fully affordable residential building with support services to Hell's Kitchen along with a new hotel and supermarket. We'd like to thank NYCEDC for their partnership, and are proud to have worked closely and collaboratively with Community Board 4 and Council Speaker Johnson to respond to neighborhood needs and bring this unique project one step closer to fruition," said Dan Rad, Radson Development. "We look forward to an ongoing partnership with the community as we build and lease up this project."
"Increasing the number of affordable housing units in our city is more necessary than ever, and we at 32BJ are gratified to work with Radson Development and Kingspoint Heights to show how we can have development that serves our communities and provides good jobs with industry-standard wages and benefits, said 32BJ Vice President John Santos. "Responsible developers understand that it's both possible and desirable to meet the needs of residents and workers."
About NYCEDC
New York City Economic Development Corporation is a mission-driven, nonprofit organization that creates shared prosperity across New York City by strengthening neighborhoods and creating good jobs. We work with and for communities to bring emerging industries to New York City; develop spaces and facilities for businesses; empower New Yorkers through training and skill-building; and invest in sustainable and innovative projects that make the city a great place to live and work. To learn more about what we do, visit us on Facebook, Twitter, LinkedIn, and Instagram.