Press Release
Mayor de Blasio Announces Winners of 2018 NYC Ferry Vessel Naming Competition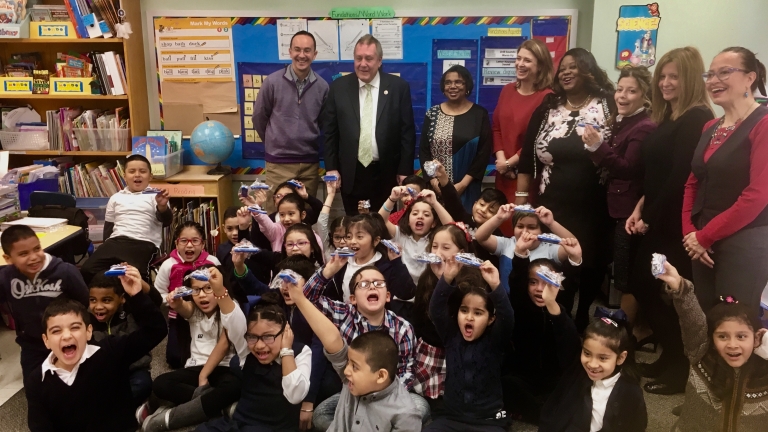 NEW YORK, NY—Deputy Mayor Alicia Glen and Council Member Daniel Dromm today visited and congratulated a second-grade class at P.S. 148 in East Elmhurst that submitted the name Spring Mallard as the name for one NYC Ferry boat. Spring Mallard is one of 10 names that won this year's NYC Ferry boat naming competition.
"Kids say the coolest things, and for the second year in a row New York City school children are not disappointing. These are inspired nautical names, ones our new ferry boats will proudly carry," Mayor Bill de Blasio said.
"The kids who came up with the name Ocean Queen Rockstar are why I love this town so much. Every one of these NYC Ferry boat names have swagger and panache – and these students and their schools should be incredibly proud," said Deputy Mayor for Housing and Economic Development Alicia Glen.
"An innovative ferry system deserves the kind of innovative boat names that could only come from our most creative New Yorkers. Years from now, these second graders will be proud of seeing the ferryboats they named floating around the iconic New York City Harbor,"said NYCEDC President James Patchett.
"I'm proud of our students for coming together and leveraging their ideas to create exciting and unique names," said New York City Schools Chancellor Carmen Farina. "After today, these classes will have a lasting mark on our City's waterways, and I'm looking forward to taking a ride on the Spring Mallard."
"Congratulations to the P.S. 148 students who won the 2018 NYC Ferry Vessel Naming Competition," said NYC Council Member Daniel Dromm (D-Jackson Heights, Elmhurst). "Spring Mallard is such a creative name for a vessel which will be known to millions of people who take the ferry each day. I join Deputy Mayor Glen in applauding all the work they and other students from across the city put into this project."
"Civic engagement among our youth is always a positive," said Council Member Vallone, Chair of the Committee on Economic Development. "The more opportunities we provide for our youth to be involved, the more ready they will be to become our future leaders."
"The creative energy these second graders exhibited with these vessel names really did "Seas the Day," said Cameron Clark, Senior VP for NYC Ferry operated by Hornblower. "We look forward to welcoming these students and all riders on these new jewels of the harbor for generations to come."
The full list of 2018 NYC Ferry winning vessel names are:
| | |
| --- | --- |
| 2018 Winning Name | 2018 Winning School |
| Seas the Day | P.S.102 The Bayview School |
| Unity | P.S. 112Q Dutch Kills |
| Golden Narrows | P.S. 102 Bayview School |
| The Ocean Queen Rockstar | P.S. 197 The Ocean School |
| Rainbow Cruise | P.S. 330Q |
| Starlight | P.S. 112Q Dutch Kills |
| The Jewel of The Harbor | P.S. 170 The Ralph A. Fabrizo School |
| Spring Mallard | P.S. 148 |
| The Atlantic Compass | P.S. 270 The Johann Dekalb School |
| Traversity | P.S. 29 The John M. Harrigan School   |
In 2017, the first NYC Ferry vessel-naming competition produced names for 13 NYC Ferry vessels: Lunchbox, Urban Journey, Waves of Wonder, Friendship Express, Connector, Flyer, Opportunity, Happy Hauler, Great Eagle, Owls Head, McShiny, Munsee and Sunset Crossing.
The competitions aimed to engage some of the youngest New Yorkers on the City's newest mass transportation system. Click here to watch a brief video announcing some of last year's winning names.
Last year, the NYC Ferry's inaugural year, the system served nearly three million riders across four routes that are already in operation. The ridership exceeded the projected number of riders by 34%, or 800,000 riders. In response to the high demand, NYC Ferry announced they will be introducing six higher-capacity boats, outfitted with larger engines and designed to hold up to 349 passengers per vessel.
Construction is currently underway on the 2018 Soundview and Lower East Side routes, which will start servicing passengers to this summer. The Lower East Side route is anticipated to serve nearly one million riders annually traveling to and from Manhattan's Wall Street/Pier 11, Corlears Hook, Stuyvesant Cove, East 34th Street; and Long Island City, in Queens. The Soundview route is anticipated to serve an estimated 400,000 riders traveling to and from the Soundview area of the Bronx, East 90th Street, East 34th Street and Wall Street/Pier 11 each year.
When fully activated, NYC Ferry will carry an estimated 4.6 million trips per year on twenty-three vessels across six routes – providing a new and easily accessible transit option to traditionally underserved communities where jobs and housing are growing rapidly. At $2.75 a ride, and free transfers across the ferry system, the cost is the same as a subway ride.
NYC Ferry is hiring captains and deckhands for the summer 2018 season. Jobseekers can apply directly through Hornblower's website, www.ferry.nyc.
For more information on NYC Ferry and to stay up-to-date on the latest information visit www.ferry.nyc.
About NYCEDC
New York City Economic Development Corporation creates shared prosperity across New York City's five boroughs by strengthening neighborhoods and creating good jobs. NYCEDC works with and for communities to provide them with the resources they need to thrive, and we invest in projects that increase sustainability, support job growth, develop talent, and spark innovation to strengthen the City's competitive advantage. To learn more about our work and initiatives, please visit us on Facebook, Twitter, or Instagram.