Press Release
Mayor Adams Announces "CARE" Strategy to Create Jobs Hubs across NYC with City Offices, Kicks off First Phase in East New York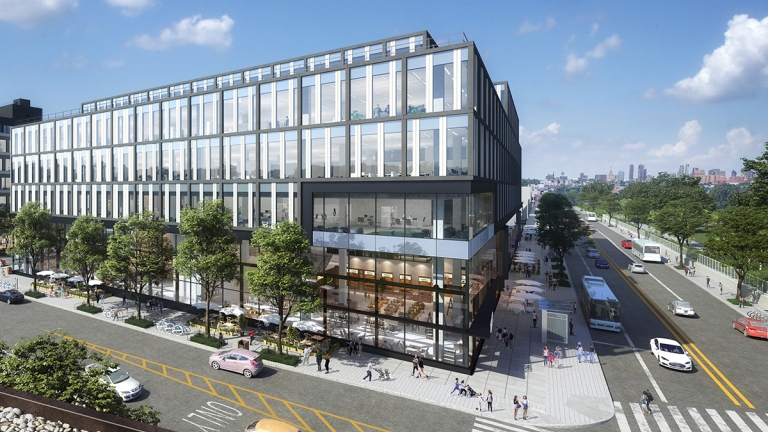 Delivering on a Promise from the Mayor's Economic Recovery Blueprint, New "City Agencies Revitalizing the Economy" Strategy Will Locate City Agency Offices in Key Neighborhoods to Help Create Local Jobs
As Part of First Phase, Mayor and Partners Break Ground on Largest Commercial Building in Broadway Junction Area of East New York
BROOKLYN, NY—New York City Mayor Eric Adams today announced his new "CARE" strategy, "City Agencies Revitalizing the Economy," to create jobs hubs across the city by strategically locating city agency offices in key neighborhoods. Mayor Adams kicked off the initiative's first phase, breaking ground on what will be the largest-ever commercial building in the Broadway Junction area of East New York, Brooklyn, which the New York City Department of Social Services (DSS) will occupy. The strategy delivers on a key commitment of Mayor Adams' "Rebuild, Renew, Reinvent: A Blueprint for New York City's Economic Recovery," released last month,
"When I outlined my economic recovery blueprint last month, I spoke about not going back to the way things were before the pandemic—and that is what this strategy and this groundbreaking are all about," said Mayor Adams. "We are building a more inclusive economy that works for all New Yorkers, in every neighborhood and every borough, and city government is leading the way."
"With this project in East New York, we advance two critical goals—bringing city services closer to the people that we serve and catalyzing the creation of office space for local businesses," said Deputy Mayor for Economic and Workforce Development Maria Torres-Springer. "I'm thrilled to see this project come to life and look forward to working with my partners in government to expand the CARE strategy across the city."
"The CARE strategy is an innovative solution to support new development in underserved areas across the city and is a key component of Mayor Adams' blueprint for the city's economic recovery," said NYCEDC President and CEO Andrew Kimball. "Today's groundbreaking is just the beginning of utilizing city offices to create new commercial centers—bringing quality jobs, services, and amenities to neighborhoods across the city."
The new strategy leverages long-term city commercial leases to brings jobs closer to communities and catalyze new commercial development outside of traditional central business districts. The first phase is the result of a collaborative multi-agency effort between DSS, the New York City Economic Development Corporation (NYCEDC), the New York City Department of Citywide Administrative Services (DCAS), and developer the Leser Group. It builds on work NYCEDC began in 2017 to encourage investment in commercial markets across the city.
The new building at 2440 Fulton Street, developed by the Leser Group and designed by Marvel Architects, will bring best-in-class commercial space that will host more than 1,100 employees from DSS' Human Resources Administration (HRA), along with private-market tenants, in the heart of East New York. The new space will allow HRA to improve client experience with rapid electronic check-in systems, upgraded self-service technology, and expanded waiting areas. The new building will also offer about 80,000 square feet of private-market commercial space, including new retail space along Fulton Street, Herkimer Street, and Van Sinderen Avenue.

"This project exemplifies this administration's commitment to ensuring an inclusive recovery from the pandemic by supporting and revitalizing under-served communities, while creating employment for thousands of New Yorkers," said DSS Commissioner Gary P. Jenkins. "The Department of Social Services is proud to play a vital role in realizing the mayor's vision for a fairer New York City, where every New Yorker has equal access to opportunity and we prioritize the growth and success of our long-overlooked communities. At this site, we look forward to working with our city partners to bring innovative development to East New York, while improving and strengthening the delivery of social services for New Yorkers in need in the community with care and compassion."
"We are a five-borough city, with diverse neighborhoods within each borough," said DCAS Commissioner Dawn M. Pinnock. "For far too long, city offices have been heavily concentrated in too few places. Our government needs to be closer to the people and should be an engine for economic growth in commercial areas across the city."
"This project defines public-private partnership," said Fernando Fisbein, representative, Leser Group. "It represents a true collaboration between multiple public agencies and local businesses to achieve key community goals, including connecting critical city services to the communities that access them; anchoring a commercial hub for local businesses, nonprofits, and institutions; and creating new energy and opportunity for the Broadway Junction neighborhood. In achieving these goals, this building will produce over 200,000 square feet of brand-new, class A office space for HRA and create over 100,000 square feet of office and retail space for public, private, and nonprofit organizations. We thank Mayor Adams, NYCEDC, and the elected officials for their support of this project."
Creating local jobs and revitalizing East New York are critical priorities for Mayor Adams. The neighborhood offers:
A transit hub at Broadway Junction, with access to six subway lines, various bus routes, and the Long Island Rail Road,
Comparatively low property costs,
Access to a strong local community that can serve as both a workforce and a customer base, and
Proximity to one of the largest clusters of industrial businesses in New York City.
In addition to 2440 Fulton Street, NYCEDC is currently reviewing proposals for the next phases of the "CARE" strategy in Queens and the Bronx. More information is available here.
"For too long, East New York has been at the receiving end of both private and public disinvestment, predation, and neglect," said New York City Councilmember Sandy Nurse. "We are encouraged by the city's 'CARE' strategy, and we hope that today signals a new commitment by the city and this administration to direct public attention, time, and investment to my district. We are eager to work collaboratively with local stakeholders and this administration to bring more public dollars to our community and do local, community-informed economic development more equitably than ever before."
"After years of community engagement and planning, today marks a new beginning for Broadway Junction," said Bill Wilkins, director of economic development and housing, Local Development Corporation of East New York. "We are starting to see the fruits of our advocacy and hard work to create new jobs and opportunity for East New York. This public-private partnership between the city and the Leser Group is a major step in the right direction, and we commend Mayor Adams for prioritizing progress for the Junction."
About New York City Economic Development Corporation (NYCEDC)
New York City Economic Development Corporation is a mission-driven, nonprofit organization that creates shared prosperity across New York City by strengthening neighborhoods and creating good jobs. We work with and for communities to bring emerging industries to New York City; develop spaces and facilities for businesses; empower New Yorkers through training and skill-building; and invest in sustainable and innovative projects that make the city a great place to live and work. To learn more about what we do, visit us on Facebook, Twitter, LinkedIn, and Instagram.