Press Release
City & State Officials Break Ground on New Bartlett Dairy Headquarters and Distribution Center in Queens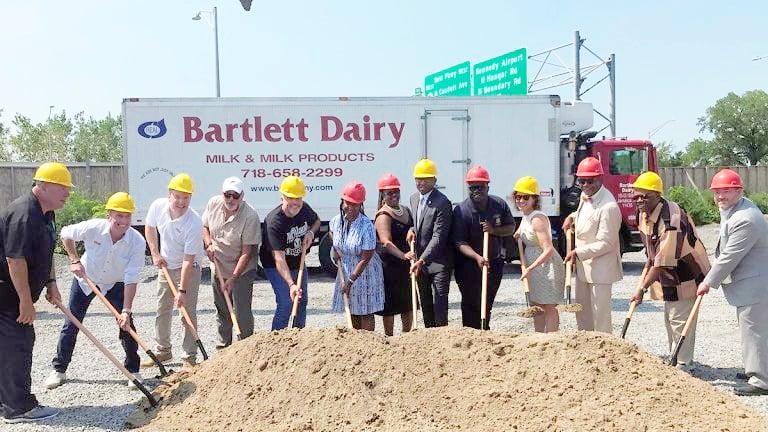 QUEENS, NY—Today, New York City Economic Development Corporation (NYCEDC), Queens Borough President Donovan Richards, Queens Community Board 13, New York State Senator James Sanders, Jr., Assembly Member Khaleel Anderson, and community stakeholders celebrated the groundbreaking of a new headquarters and distribution site for Bartlett Dairy, Inc. and its affiliates (Bartlett).
The minority-owned, family-run local business will develop a 54,000 square foot dairy distribution center on a significant portion of the JFK North Site, one of the largest city-owned manufacturing-zoned properties.  Their new distribution center will allow them to bring approximately 165 jobs with average wages of $70,000 back to Queens from New Jersey by activating this previously unbuilt, overgrown site along the Nassau expressway.
"Today's groundbreaking is a true testament to New York City's continued economic recovery," said NYCEDC President and CEO Rachel Loeb. "Bartlett's new headquarters and dairy and food distribution center will bring quality jobs to New Yorkers, while strengthening the City's food economy. We are proud to have worked with Bartlett Dairy and Queens Borough President Richards to make this happen. We want businesses to know they can grow and succeed in NYC, and Bartlett is a great example. Congratulations to Tom Malave, Jr. We wish him, his family, and his team a bright future here in Queens.
"Queens is not just leading the way out of the pandemic. It's leading the way toward a future where good-paying jobs right here in the borough sustain entire communities. That's the future Queens' own Bartlett Dairy is helping build in its hometown, starting with today's groundbreaking," said Queens Borough President Donovan Richards, Jr. "We couldn't be more excited to welcome back upwards of 165 good-paying jobs to Queens, and we look forward to working closely with Bartlett Dairy to create even more economic opportunities for local families and for Southeast Queens as a whole."
"We are excited to be returning home to Jamaica. When my father started this company more than fifty years ago, Bartlett Dairy was a small one man, one truck operation, said Bartlett Dairy Inc. President Thomas Malave Jr. "Over the years, my brothers and I have worked tirelessly to build upon the opportunity our father provided. It has been astonishing to see the growth that we have been able to achieve. We would not be where we are today, breaking ground on our new headquarters, without the dedication of all of our wonderful employees and the support of the City of New York, Borough President Richards, Greater Jamaica Development Corporation and the local community."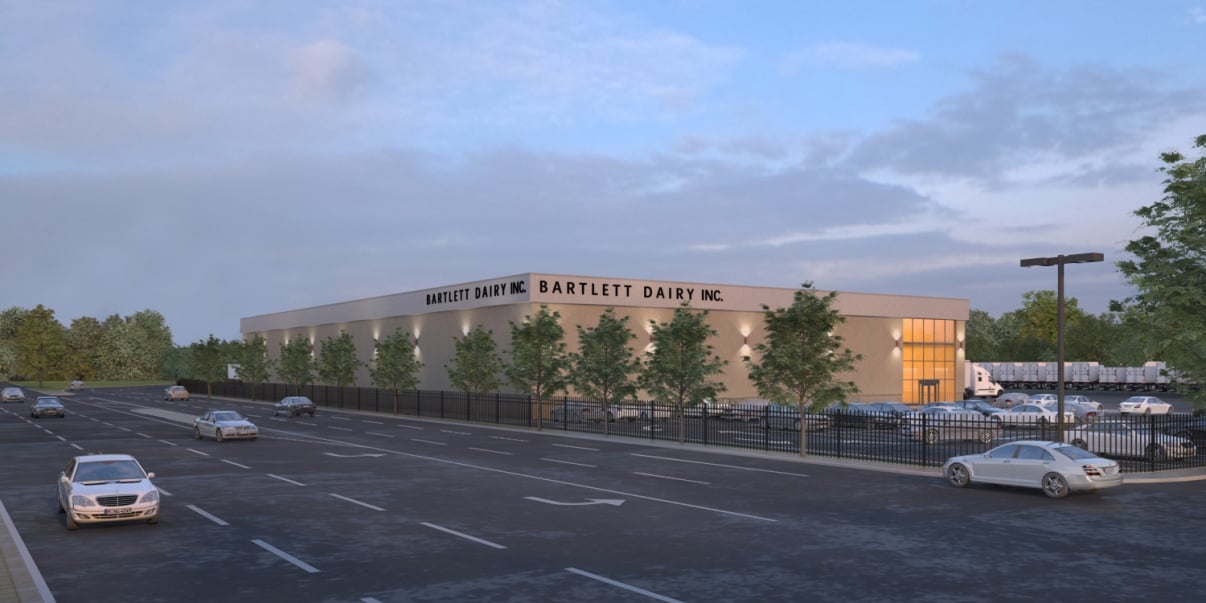 Starting with one truck in 1963, the Malave family has consistently grown their dairy and food distribution businesses. The Queens-based businesses employ approximately 500 people across three locations in Jamaica, Newark, and Rochester. They deliver to schools, hotels, grocery stores, and restaurants, among others across the tri-state area.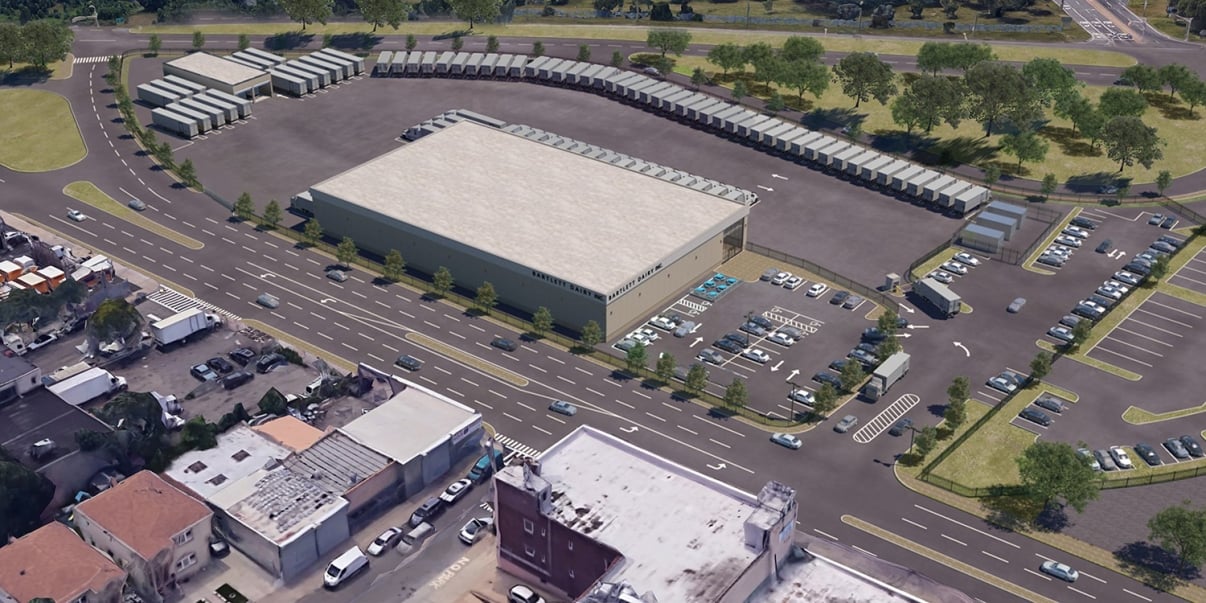 "I am hopeful that the opening of the Bartlett Dairy at JFK will bring back good paying jobs to local residents," said State Senator James Sander Jr. "In addition, by keeping distribution locally in New York instead of importing from New Jersey, product delivery will be faster and more convenient, especially to local businesses like schools, hotels and grocery stores, which will help boost the economy in these difficult times when industries have been hard hit by the Corona Virus Pandemic." 
"I am pleased to welcome Bartlett Dairy's brand-new headquarters and distribution site here in Southeast Queens. The headquarters and distribution site will create approximately 165 jobs with an average salary of $70,000 for Queens residents," said Assembly Member Khaleel M. Anderson. "As our communities recover from the COVID-19 pandemic, jobs like these provide economic stability, enhance the quality of life, and inspire a sense of hope for renewed economic opportunity for families disproportionately impacted by COVID-19 in Queens and throughout New York City. I applaud the New York City Economic Development Corporation, Bartlett Dairy, my colleagues in elected office and local community leaders for their efforts in making today possible."
"Bartlett Dairy's groundbreaking is an excellent example of the success we can achieve when we empower M/WBEs and invest in economic opportunity for our communities," said Councilwoman Selvena N. Brooks-Powers. "As we work to repair the damage to our local economy inflicted by the pandemic, Bartlett's new headquarters is an important step. Together with our community partners, elected officials, and NYCEDC, we are bringing valuable jobs to Southeast Queens."
"QCB13 has been excited about Bartlett Dairy building a plant in Southeast Queens since it was first proposed," said Community Board 13 District Manager Mark McMillan, "This development checks all of the boxes of what is wanted and needed in our communities: New York based, minority-owned, family-run, creating 165 jobs with good salaries. Undeveloped areas - outside of residential areas - are finally being utilized for the benefit of the community. This is important to keep our young people around and to make the neighborhoods nearby more attractive to those who end up working for Bartlett. A win-win scenario by lifting up and enriching Springfield Gardens and its neighboring communities."
In 2015, NYCEDC issued a Request for Expressions of Interest (RFEI) seeking proposals for redevelopment of the JFK North Site. Bartlett was selected to develop the site and was able to meet the City's industrial manufacturing criteria, Living Wage and HireNYC requirements for employees, as well as a 25% MWBE contracting goal for design and construction.
About NYCEDC
New York City Economic Development Corporation is a mission-driven, non-profit organization that creates shared prosperity across New York City by strengthening neighborhoods and growing good jobs. NYCEDC works with and for communities to provide them with the resources they need to thrive, and invests in projects that increase sustainability, support job growth, develop talent, and spark innovation to strengthen the City's competitive advantage. To learn more about our work and initiatives, please visit us on Facebook, Twitter, or Instagram.
About Bartlett Dairy Incorporated
Bartlett Dairy Incorporated is a minority-owned, family-run business with three centralized distribution centers, specializing in the custom distribution of frozen foods, dairy and paper products. Bartlett serves the tri-state area of New York, New Jersey and Connecticut from Montauk, Long Island to New Haven, Connecticut. Bartlett provides food service for schools, hospitals, hotels and restaurants, in addition to supermarkets, mom-and-pop grocery stores, and other retail businesses.