Press Release
The City, Queens Borough President Donovan Richards and Community Partners Launch Grant Program to Support Small Business Recovery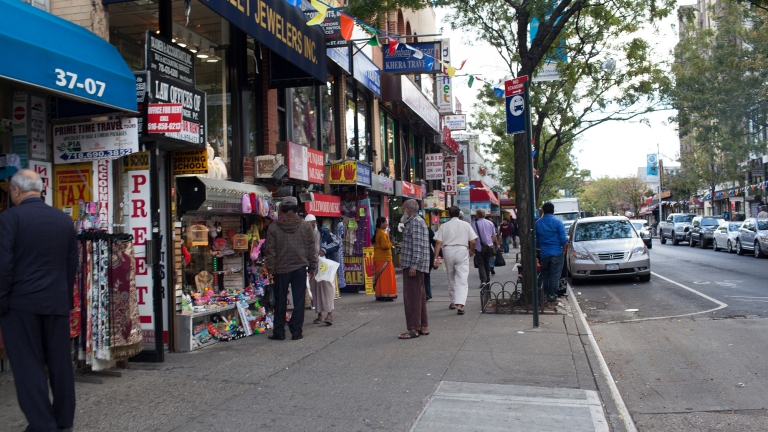 QUEENS, NY—Today, the City in partnership with Queens Borough President Donovan Richards, and Pursuit announced the launch of the Queens Small Business Grant Program, to provide resources to small businesses impacted by COVID-19. Through a generous $17.5 million donation from Steve Cohen, the City will partner with community-based organizations to offer $15 million worth of grants to Queens small businesses in need up to $20,000 to support operational expenses.
The COVID-19 pandemic has disproportionately impacted minority communities. In an effort to support small business recovery, New York City Economic Development Corporation (NYCEDC) worked with Queens Borough President Donovan Richards to provide Queens-based small businesses and vendors that are minority-owned, located in one of the COVID-19 hardest hit zones or low-and moderate-income communities (LMI) with financial resources. In addition, the City will dedicate 30% of the grants to support restaurants, street vendors and $2.5 million for further small business support later in 2021.
"Small businesses have been hit hard by the COVID-19 pandemic, and they deserve all the help our city can give them to get back on their feet and serve their communities," said Mayor Bill de Blasio. "I'm proud to stand with our partners in government, business, and the nonprofit sector to support these community anchors and rebuild a fairer, better city."
"Small businesses are the backbone of our communities and their success is key to the City's long-term economic recovery," said James Patchett, President and CEO of New York City Economic Development Corporation. "We're thrilled the fund will provide much-needed relief to Queens businesses, particularly to those in the neighborhoods and populations hardest hit by COVID-19."
"No borough has been hit harder by the COVID-19 pandemic and its disastrous economic fallout than Queens, where countless small businesses — and the thousands of families these entities support through local hiring— are facing unprecedented uncertainty through no fault of their own," said Queens Borough President Donovan Richards. "Small businesses are the lifeblood of our communities, and no expense must be spared to prevent even a single closure. With so many struggling to keep their doors open, Queens is deeply grateful to the NYC Economic Development Corporation, Steve Cohen and all our partners for stepping up to support our small businesses in their hour of greatest need."
"Small businesses are the lifeblood of our City and COVID has had a devastating impact on them," said Steve Cohen. As the owners of the Mets, we are proud to support small business owners during this difficult time, just as they have supported the team and the community over the years. We hope this donation brings them some relief."
Pursuit is administering the grant program and will partner with other local community organizations to expand reach and impact. Businesses may qualify for the grant with participating community partners including Accompany Capital, Ascendus, BOC Capital, Greater Jamaica Development Corporation, Pursuit, Renaissance EDC, and Queens Chamber of Commerce.
Eligible applicants must:
Be located in Queens 
Operate as a first-floor storefront business, a second-floor restaurant, or a street vendor
Employed 20 or fewer full-time equivalent employees in 2019
Earned gross revenue of less than $1 million in 2019 or less than $3 million if a restaurant
Have no tax liens or unresolved judgements
Generated a profit or came close to breaking-even in 2019
For more information about the Queens Small Business Grant program, reach out to the community partners listed above.
"In Queens, our small businesses and restaurants have always been the heart and soul of our diverse communities, and their success will be a critical part of a robust economic recovery for our city," said Council Member Paul Vallone, Chair of the Committee on Economic Development. "I welcome news of the Queens Small Business Grant Fund, which will serve as a buoy to so many of the borough's small businesses and provide them with the support they need to serve their communities, retain employees and stay afloat in the pivotal months ahead."
"From day one of the pandemic, Queens has been home to some of the hardest hit communities in the country," said Pat MacKrell, Chief Executive Officer at Pursuit. "These grants will provide Queens-based businesses with a lifeline, allowing them to continue to pay employees and stay afloat until business operations can resume at more normal levels. We applaud the City and the Steven and Alexandra Cohen Foundation for investing in the future of Queens by supporting its diverse small business community.
"BOC Capital Corp. together with Queens Business Outreach Center, is enthusiastic and grateful to help dedicated entrepreneurs in Queens," said Nancy Carin, Executive Director - Business Outreach Center Network/BOC Capital Corp. The small businesses we serve represent the diversity that is Queens, and the grant program will be a critical support for their survival."
"Greater Jamaica Development Corporation is pleased to join this consortium of community partners to deliver much needed grant funding to support some of the local small businesses that are struggling to survive during this difficult time," said Hope Knight, President & CEO, Greater Jamaica Development Corporation.
"At Ascendus, our vision is to create financial ascension for all but at this moment, we are working to achieve an even more existential goal: survival! The grants offered by the Queens Small Business Fund program will help many local businesses survive a difficult winter in the hopes of seeing them emerge in full blossom this coming spring," said Paul Quintero, CEO of Ascendus.
"NYCEDC's grant program for small businesses in the borough of Queens is a lifeline for micro and small businesses, said Yanki Tshering, Founder and Executive Director of Accompany Capital. For our clients - many of whom are refugees or immigrants who are less likely to have a support network, savings, or household or family members who have jobs that can easily shift online - it has been particularly devastating. These grants will provide businesses with critical cash flow to survive for the next few months as efforts are made to control the spread of the pandemic and try to bring some normalcy to our lives. As an economic first responder, we are proud of our efforts to join forces with NYCEDC, Queens Chamber of Commerce, and four NYC CDFIs to get critical capital to family owned businesses in the once vibrant neighborhoods of Queens. The current COVID-19 pandemic has underscored the indispensable role CDFIs play in low- and moderate-income communities, which have borne, and continue to bear, a disproportionate share of the pandemic-induced economic and health crises."
"Sadly, too many small businesses in Queens have closed their doors to customers for good due to the pandemic, and those that have survived face an uncertain future without immediate help," said Thomas J. Grech, President & CEO, Queens Chamber of Commerce. "These cherished institutions add character to our neighborhoods, and create jobs and opportunity for Queens residents. We must do everything in our power to help them make ends meet. That's why we're excited to partner with the New York City Economic Development Corporation on the Queens Small Business Fund, which will provide relief to local businesses, keeping New Yorkers employed. We deeply thank the NY Mets and the Steven and Alexandra Cohen Foundation Inc. for their support of Queens' small business community. This is a grand slam that will resonate across the entire Borough."
"In the past nine months, Renaissance EDC has witnessed first-hand the devastating impacts of COVID-19 on our immigrant small businesses, who have faced so many obstacles in accessing emergency relief funding, "said Jessie Lee, Renaissance EDC Managing Director. "This is why the creation of Queens Small Business Fund is so important. We look forward to working collaboratively with our government and nonprofit partners to ensure equitable distribution of grant dollars in low income communities at risk of losing treasured small businesses so crucial to the character and economic well-being of New York's working class neighborhoods."
"Here in NYC, we celebrate street vendors who represent many countries and cultures, from the Mexican tamaleras to the Halal food carts to the US military veterans selling souvenirs for tourists, adding flavor and livelihood to our City's streets," said Mohamed Attia, Director, Street Vendor Project of the Urban Justice Center. "Street vendors are part of the culture and fabric of NYC but unfortunately they have suffered mightily during this current pandemic and have been all but abandoned by COVID-19 recovery efforts. The Queens Small Business Relief Program developed by the NYC Economic Development Corporation is providing critical support inclusive of our smallest businesses, and we look forward to continuing to work together to save NYC's beloved street vendors across the five boroughs. Vendors are also a central part of the economic recovery plan for NYC as we reimagine our communities, expand open streets, and create more sustainable neighborhoods for working class communities of color."
About NYCEDC
New York City Economic Development Corporation is a mission-driven, non-profit organization that creates shared prosperity across New York City by strengthening neighborhoods and growing good jobs. NYCEDC works with and for communities to provide them with the resources they need to thrive, and invests in projects that increase sustainability, support job growth, develop talent, and spark innovation to strengthen the City's competitive advantage. To learn more about our work and initiatives, please visit us on Facebook, Twitter, or Instagram.