Press Release
Edenwald YMCA Community and Wellness Facility Completes City's Public Approval Process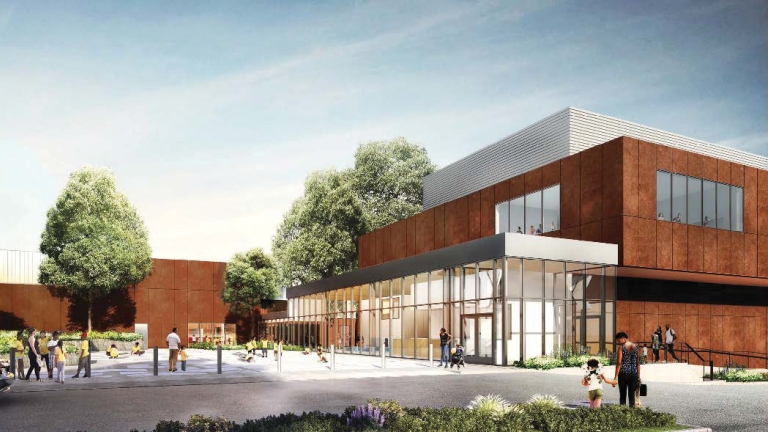 Construction on 50K SF Facility Slated to Begin This Fall

Ymca Will Create 100 Permanent Jobs and Include Two Pools, a Full Basketball Court, and Programming for New Yorkers of All Ages
NEW YORK, NY—New York City Economic Development Corporation (NYCEDC) today announced that the Edenwald YMCA community and wellness facility has officially completed the City's Uniform Land Use Review Procedure (ULURP), allowing the project to move forward into the construction phase this fall. Following unanimous support by Bronx Community Board 12, Bronx Borough President Ruben Diaz Jr., and the City Planning Commission, the project was approved by the City Council.

The 50,000 square-foot state-of the-art center will provide local families and residents of all ages and income levels with a full-service facility that will include two pools, a full-length basketball court, a gymnasium, and other programming. The center will also provide after-school care and summer camps, health and wellness improvement classes, and activities to strengthen the community, including senior adult programs and civic classes for new Americans. The YMCA was selected in July 2016 to develop and operate a recreation center.

"Today, we are another step closer to fully realizing a dream that I have tirelessly pursued for this community for decades," said Assembly Speaker Carl Heastie. "This new YMCA in Edenwald will touch the lives of countless families here in the Bronx by creating a safe and fun environment for children and families to come together to grow and learn while also providing meaningful employment opportunities. I want to thank Mayor de Blasio, Borough President Diaz Jr, Councilman King and all our community leaders for coming together to make this project a reality after so many years."

"All New Yorkers should have access to first-class recreation space, no matter where in the city they live," said NYCEDC President and CEO James Patchett. "The unanimous approval of the Edenwald YMCA will bring much-needed athletic facilities, wellness and after-school programming to Bronx residents, making the neighborhood both healthier and stronger. The YMCA will benefit community members of all ages, and I look forward to its opening."

"The YMCA is here for all New Yorkers, to empower youth, improve health, and strengthen community," said Sharon Greenberger, President & CEO of the YMCA of Greater New York. "This new Y will act as a true center of community in the Northeast Bronx. We are grateful to have this opportunity to work with local elected officials and community leaders to bring this project to fruition and to help more people in the Bronx learn, grow, and thrive."

"Over the course of many meetings and conversations for decades, I'm excited to see the designs of the Edenwald- YMCA will come with the fruition of that planning," said Council Member Andy King, 12th District. "In the YMCA of Greater New York, we have found a committed and trusted partner known for best practices in the field. Our community is eternally grateful for the commitment of the organizers, local advocates and elected officials who came together to bring the Edenwald-YMCA project closer to reality."

"The construction of the Edenwald YMCA will undoubtedly yield tremendous benefits for future generations living in the Northeast Bronx, and I am proud to support this project," said Bronx Borough President Ruben Diaz Jr. "This proposal represents years of determined work on the part of Edenwald residents and elected officials, and today's vote of the Bronx Borough Board to approve this project moves us one step closer to making it a reality. I look forward to working with the NYCEDC, Mayor de Blasio, Speaker Heastie, Council Member King and other stakeholders as we bring the Edenwald YMCA to fruition."
"I am thrilled to learn that the Edenwald YMCA Project has officially completed the City's Uniform Land-Use Review Procedure and will begin the construction phase! The Edenwald YMCA will be a great facility that will give access to the community to state of the art gymnasiums, pools, and engaging programs. I look forward to the final product and the positive impact it will have in the community," said Senator Jamaal T. Bailey.

"It has been a very satisfying experience to usher this development through the ULURP process for BxCB12," said Dr. William A. Hall, Chairman of Community Board 12, the Bronx. "As I cast my final vote in support of this project it is comforting to know they will have shovels in the ground before the end of this year. This is a win for the community and everyone involved."
The YMCA was selected in July 2016 to develop and operate the recreation center. The Edenwald YMCA will create 100 new permanent jobs that pay a living wage, as well as approximately 101 temporary construction jobs. As part of the de Blasio Administration's efforts to expand economic opportunities to minority- and women-owned business enterprises (MWBEs) and local residents, the YMCA is committed to a 35 percent MWBE contracting goal for design and construction, and will engage in local hiring efforts through the City's HireNYC program. Construction is expected to break ground this fall and be completed in 2020.

The YMCA is also committed to ensuring that membership is accessible to families at all income levels. YMCA membership dues vary by location and are determined by the economics of the area through the YMCA's Financial Assistance Program, and no one is turned away because of inability to pay.
The site is in close proximity to two New York City Housing Authority developments, including Edenwald and Baychester Houses, two of the largest public housing developments in the Bronx. Located at 1250 East 229th Street, the wellness facility will sit on the eastern portion of the larger city-owned site, which is under the jurisdiction of the New York City Administration for Children's Services, and currently includes the Christopher School and two cottages for children with special needs.
About NYCEDC
New York City Economic Development Corporation creates shared prosperity across New York City's five boroughs by strengthening neighborhoods and creating good jobs. NYCEDC works with and for communities to provide them with the resources they need to thrive, and we invest in projects that increase sustainability, support job growth, develop talent, and spark innovation to strengthen the City's competitive advantage. To learn more about our work and initiatives, please visit us on Facebook, Twitter, or Instagram.