Press Release
Mayor Adams, NYCEDC Move to Transform Downtown Manhattan Heliport into First-of-Its-Kind Hub for Sustainable Transportation, Local Deliveries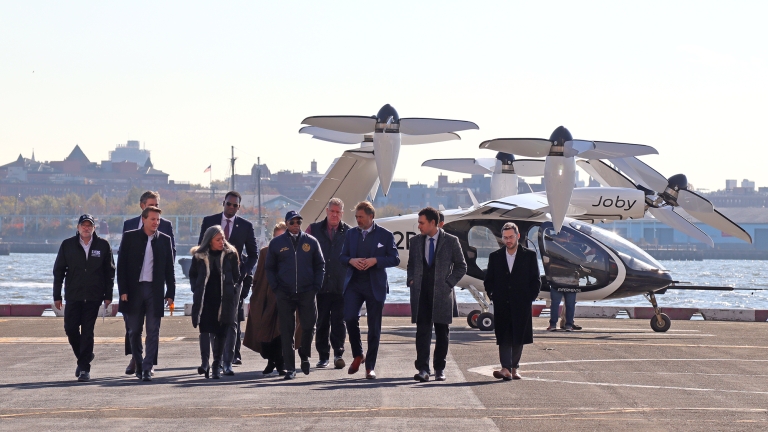 DMH Aims To Be World's First Heliport With Infrastructure for Electric Flight Technologies, Supporting Last-Mile and Maritime Freight Distribution
Quieter, More Sustainable Helicopters Will Offer Major Quality-of-Life Improvement for New Yorkers
NEW YORK, NY—New York City Mayor Eric Adams and New York City Economic Development Corporation (NYCEDC) President and CEO Andrew Kimball today took initial steps to realize a new vision for a first-of-its-kind hub for sustainable transportation and deliveries at the Downtown Manhattan Heliport (DMH). Under this plan, DMH will aim to become the first heliport in the world with the infrastructure to support electric flight — incorporating last-mile and maritime freight distribution and delivering major quality-of-life improvements for New Yorkers by supporting quieter helicopter alternatives.
Through a new request for proposal (RFP), NYCEDC will seek an operator to upgrade the city-owned heliport to provide the supporting infrastructure for electric vertical take-off and landing (eVTOL) aircraft, as well as last-mile and maritime freight delivery. The RFP also calls for plans for onsite workforce development training in aviation, maritime, and other relevant sectors. City officials were joined by leading eVTOL companies to demonstrate the new technology's ability to improve the quality of life for New Yorkers.
These major steps come as part of Mayor Adams' "Working People's Tour," continuing to create jobs and power New York City's economic recovery after the city set an all-time job high record, with 4.7 million total jobs, recovering the nearly 1 million jobs lost during the COVID-19 pandemic.
"Today, we are taking sustainability to the sky and our streets, and New Yorkers can feel the electricity in the air in our city as we electrify our heliport infrastructure," said Mayor Adams. "Our vision for the Downtown Manhattan Heliport will create the world's first heliport with infrastructure for electric-powered aircraft and put this public asset to work for New Yorkers as a hub for sustainable transportation and local deliveries. We will not only put New York City at the cutting edge of sustainable flight technology while addressing a persistent quality-of-life issue with helicopter noise, but also get trucks off the road and make our streets safer."
"This is an exciting day for the City of New York and another example of bold policies in the Adams administration that advance the working people's city," said Deputy Mayor for Housing, Economic Development, and Workforce Maria Torres-Springer. "With today's announcement, we are meaningfully accelerating the implementation of a low-carbon, multi-modal working waterfront in New York City, including moving freight on blue highways, creating green jobs, and growing the green economy, while leading the world on the adoption of safe, electrified flight in city environments."
"New York City is doubling down on its waterways for sustainable freight delivery," said Deputy Mayor for Operations Meera Joshi. "Reducing our dependence on trucks is critical for improving our air quality and congestion on our streets. We look forward to working with our private sector partners in developing a healthier freight network for New Yorkers."
"The Adams administration has been a leader in driving technology innovation and economic growth while simultaneously improving quality of life," said NYCEDC President & CEO Kimball. "NYCEDC's new strategy for the Downtown Manhattan Heliport reflects these priorities while making it an industry leader in the embrace of eVTOLS — a quieter and greener helicopter alternative — while at the same time facilitating maritime freight with last-mile e-bike deliveries that will take trucks off the roads."
"By developing a facility for last-mile micro-distribution at the Downtown Manhattan Heliport, we can hasten the transition of delivery of goods by dangerous, polluting trucks to clean, sustainable modes, such as cargo bikes," said New York City Chief Climate Officer Rohit T. Aggarwala. "Reactivating our waterways for freight mobility and electrifying our transportation systems are key initiatives laid out in PlaNYC that will help us cut transportation emissions in half by 2030."
"Today, as the Adams administration showcases visionary plans for the Downtown Manhattan Heliport and the potential of eVTOL technology, we are thrilled to integrate the marine highway into our strategy," said "New" New York Executive Director B.J. Jones. "By better leveraging this harbor landing and strengthening critical freight movement on waterways, we are forging a more sustainable transportation system while also creating valuable Minority and Women-owned Business Enterprises and workforce development opportunities."
The Adams administration's new vision for DMH advances goals laid out in Mayor Adams' "PlaNYC: Getting Sustainability Done" and the "Making New York Work for Everyone" action plan, the latter of which was created by the "New" New York panel and released by Mayor Adams and New York Governor Kathy Hochul late last year. Both plans highlight opportunities to expand the city's use of its waterways to move freight off trucks and trucks off city streets. Those goals are also advanced through the New York City Department of Transportation and NYCEDC's request for expressions of interest for the Blue Highways initiative — released earlier this month — to activate the marine highway to move goods into and throughout New York City, while reducing emissions, alleviating traffic congestion, and improving road safety.
NYCEDC is requiring the future operator for DMH to ready its infrastructure in advance of certification to position New York City at the forefront and launch the market for this emerging industry. In a first-of-its-kind event in the U.S., two eVTOL companies — Joby and Volocopter — conducted piloted demonstration flights of eVTOL aircraft from an urban heliport today at the DMH. Additionally, BETA Technologies, another company in the field, demonstrated the multimodal interoperable electric charger it developed. The heliport will deploy infrastructure to serve a similar purpose in order to support electric aircraft. Federal Aviation Administration certification is anticipated as early as 2025 with commercial flights to start shortly after.
The RFP seeks respondents who can commit to making DMH and the New York City skies quieter and more sustainable. Proposals must include:
Investments in supporting infrastructure, with chargers and other necessary utility upgrades required in anticipation of eVTOL certification and commercial viability;
Incentives to adopt quiet eVTOL technology and address community quality-of-life concerns;
Development of a facility for last-mile micro-distribution, as one of six waterfront assets funded in part by nearly $1 million of a $5 million grant from the U.S. Department of Transportation (USDOT) Maritime Administration (MARAD) grant awarded to NYCEDC to create and support a "Marine Highway" network;
Required, expanded outreach to minority- and women-owned business enterprises for all work, including meeting 30 percent utilization goals for site development and construction activities; and
Development of workforce development training programs that improve access to career pathways in aviation, maritime, transportation, logistics, and other relevant sectors.
NYCEDC is also open to suggestions from respondents to rename the Downtown Manhattan Heliport to better reflect the new multimodal and future-forward characteristics of the facility.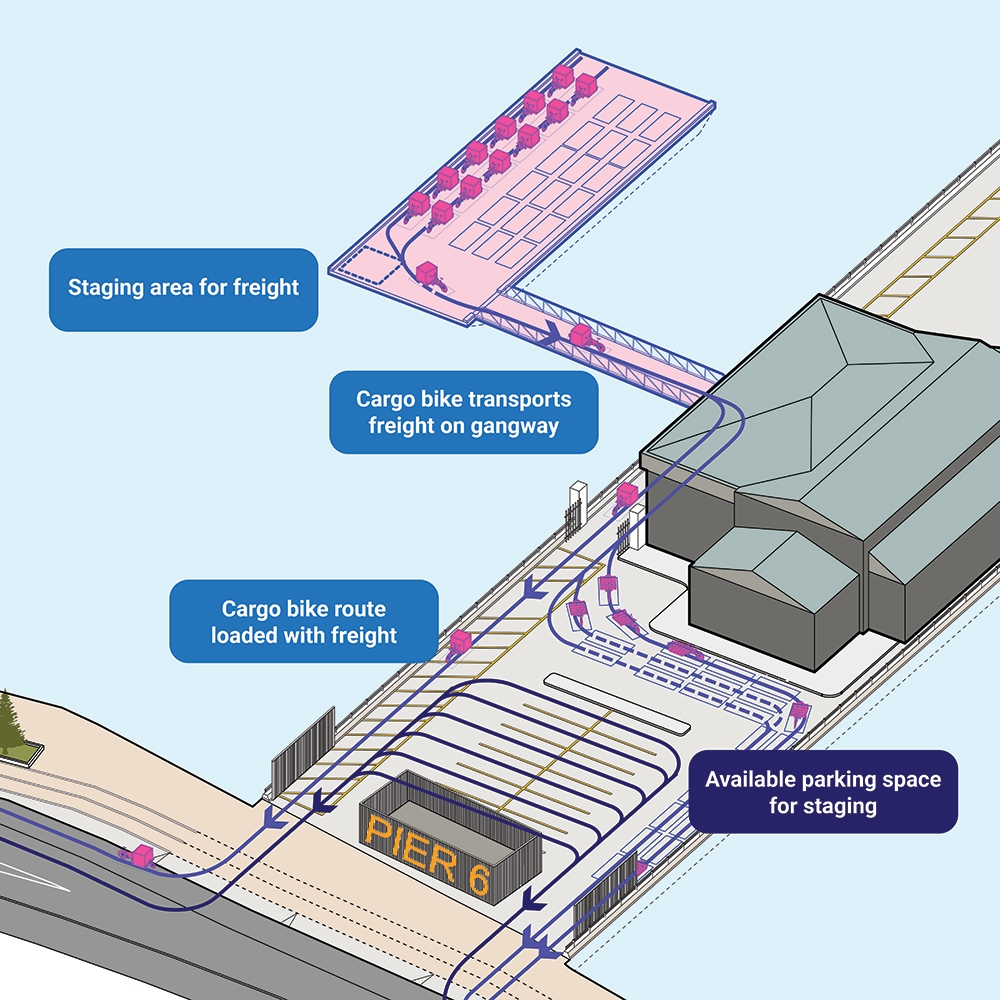 In 2022, NYCEDC received a $5.16 million USDOT and MARAD grant to strengthen critical freight movement on waterways by enabling landings to dock watercraft and prepare cargo for local delivery. In addition to DMH, identified harbor landings include Stuyvesant Cove. The 23rd Street Pier, and Pier 36 in Manhattan; Oak Point in the Bronx; and the 29th Street Pier in Brooklyn.
The utilization of marine highway services to transport and deliver cargo helps to reduce emissions, decrease wear and tear on roadways, alleviate supply chain bottlenecks, and move goods more quickly from ships to shelves. Additionally, the competition between sites increases transportation resiliency and redundancy, making New York City better equipped to receive goods during times of emergency or disaster.
The new operator's concession agreement at DMH will be for five years, with up to three options for five-year renewals conditional on the build-out and activation of all requirements. The RFP application will remain open until January 12, 2024, with an operator expected to be named in spring 2024.
"The innovative upgrade of the Downtown Manhattan Heliport to support eVTOL aircraft represents a major leap in our efforts to reduce helicopter noise in Lower Manhattan. This strategic upgrade not only aligns with our environmental goals but also demonstrates a commitment to improving the quality of life for our residents," said New York State Assemblymember Charles D. Fall. "As someone who has actively engaged with EDC on this issue, I am proud to see this effort come to fruition, paving the way for reducing urban noise pollution and enhancing the living standards of every New Yorker."
"The Downtown Manhattan Heliport plan is responsible, forward-thinking city planning by Mayor Adams. The future of transportation, eVTOLs produce zero emissions and negligible noise. In a matter of months, last-mile freight will be delivered by eVTOLs, relieving congestion and emissions on our streets," said New York State Assemblymember Jenifer Rajkumar. "As eVTOL technology improves, we will use them as air taxis and phase out helicopters. This is a game changer in quality of life for our City: 311 helicopter noise complaints have increased 700 percent since the pandemic, and now we will drive them down to zero. Even better, Mayor Adams has developed an RFP that requires workforce training, so New Yorkers are prepared for the jobs of the future that eVTOLs will create. Under his plan, we are set to 'take off' into a future at the forefront of transportation solutions."
"Creating new electrical infrastructures to support our city's growing demand for electrically-powered transportation options will help build a healthier, cleaner, and greener city," said Bronx Borough President Vanessa L. Gibson. "With asthma rates in the Bronx among the highest in the nation, I look forward to the development and progress of the Downtown Manhattan Heliport as it will help reduce congestion known to release carbon monoxide into the air and ensure the efficient delivery of products and services to residents. I thank Mayor Eric Adams and the NYCEDC for thinking of innovative and creative ways to grow and advance a more sustainable and eco-friendly city."
"Investing in sustainable helicopter infrastructure at the Downtown Heliport to reduce unnecessary noise and air pollution is a positive step in the right direction," said New York City Councilmember Gale A. Brewer. "I appreciate the city's efforts to address the quality of life and public health issues caused by helicopters, and I hope to see the U.S. House of Representatives pass the Safe and Quiet Skies Act sponsored by Rep. Jerry Nadler."
"As Chair of the Committee on Economic Development, I am excited to see the NYCEDC and the administration's commitment to a cleaner, quieter aviation technology and the utilization of these assets towards supporting our marine highways," said New York City Councilmember Amanda Farías. "After a hearing I chaired on our city heliports, the largest concerns were noise pollution and the future of this industry. It is exciting to see we are transforming the Downtown Manhattan heliport into a first of its kind hub for sustainable transportation that will also improve New Yorkers quality of life across all 5 boroughs - an initial investment in a solution. Thank you to our partners at Joby and Volocopter and I look forward to continuing to work closely with the NYCEDC on this new initiative."
"Lower Manhattan is not just a vital hub for the city's economic activity, but it is also a thriving and vibrant community that tens of thousands of New Yorkers call home," said Tammy Meltzer, Manhattan's Community Board 1 Chair. "We applaud the EDC and the city for taking this crucial step to modernize Pier 6. Addressing the chronic noise complaints from helicopters while making the air cleaner through modern green aviation and reduced truck traffic on neighborhood streets is a win/win for Lower Manhattan residents, workers, tourists, and the city."
"By electrifying one of the most famous heliports in the world, Mayor Adams and his team are laying the groundwork for New York City to become a global leader in the adoption of electric flight," said JoeBen Bevirt, founder and CEO, Joby Aviation. "With their support, we plan to make quiet, emissions-free flight an affordable, everyday reality for New Yorkers, connecting places like downtown Manhattan and JFK Airport in under 10 minutes."
"At Volocopter, a city's urban air mobility ecosystem is as important as developing or operating a sustainable and safe flying aircraft," said Christian Bauer, managing director, Volocopter. "We are honored to be a part of this grand public showcase, and to prove that eVTOLs are immediate contributors to the sustainability of New York City. We applaud the City of New York and the NYCEDC for taking the initiative to build partnerships across the industry and infrastructure developers, adopt this innovative new mode of electric aerial mobility, and put the residents' wellbeing first to do so."
"We're seeing real resonance with electric aviation, from aircrafts being delivered to the military to the reception we felt flying down the east coast into the communities this aircraft will eventually serve," said Kyle Clark, founder and CEO, BETA Technologies. "Access to reliable, fast charging infrastructure will be critical to enabling this technology to drive the economy and connect communities, from downtown Manhattan to more rural areas. New York has long been out in front supporting sustainable, next-generation transportation, and we're gratified to be part of its embrace of that same future for aviation."
"Waterfront Alliance is excited to support this next step in the city's recommitment to its 'Blue Highways,'" said Cortney Koenig Worrall, president and CEO, Waterfront Alliance. "We have a tremendous opportunity to not only innovate for decarbonization, but to reduce truck traffic and address supply chain stress and pressures through water-based transport. We look forward to seeing more blue economy and blue industry commitments in the future."
"For too long, loud, low-flying, nonessential helicopters have been a major source of reduced quality of life for New Yorkers" said Melissa Elstein, chairperson, Stop the Chop NY/NJ. "The vision of a 'quieter and more sustainable' multimodal port with alternatives to fossil-fuel based helicopters and as a 'hub for sustainable transportation' is an important first step by Mayor Adams' administration."
"New York City was built around our waterways and we're inspired by EDC and City Hall's proposal to come back to them as a way to move freight," said Danny Harris, executive director, Transportation Alternatives. "As our city faces the worst traffic in the nation, we must continue to look for creative and sustainable solutions like these to keep our people and goods moving that don't rely on adding more cars and trucks to our roads."
"In order to tackle the climate crisis and meet our emission reduction goals, we must take steps to clean up the entire transportation sector, including aviation and freight delivery, two notoriously heavy polluters," said Julie Tighe, president, New York League of Conservation Voters. "The New York League of Conservation Voters applauds Mayor Adams and the EDC for their plans to utilize the Downtown Manhattan Heliport to encourage cleaner aviation technology and sustainable freight distribution through the Blue Highway, and for their commitment to creating a greener, more sustainable New York across all sectors of the economy."
About NYCEDC 
New York City Economic Development Corporation is a mission-driven, nonprofit organization that works for a vibrant, inclusive, and globally competitive economy for all New Yorkers. We take a comprehensive approach, through four main strategies: strengthen confidence in NYC as a great place to do business; grow innovative sectors with a focus on equity; build neighborhoods as places to live, learn, work, and play; and deliver sustainable infrastructure for communities and the city's future economy. To learn more about what we do, visit us on Facebook, Twitter, LinkedIn, and Instagram.