Press Release
Deputy Mayor Glen and NYCEDC Announce First City Approval of Lowline Project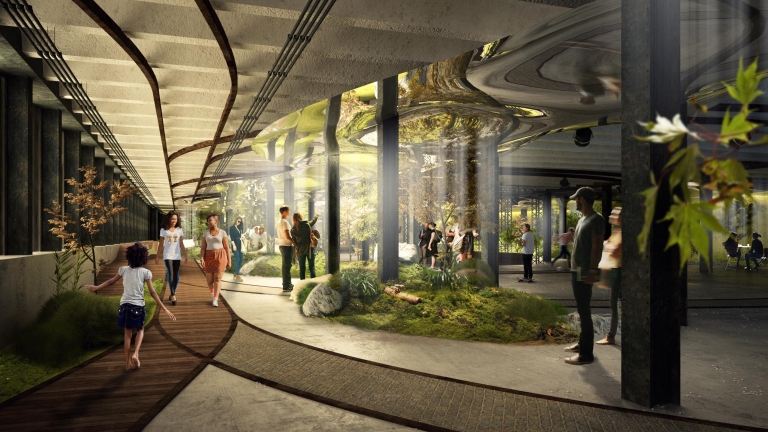 World's First Underground Park Would Keep NYC at Forefront of Urban Innovation

Major Cultural Attraction Would Provide Green Space, Educational Programming to Community, Help Support Local Small Businesses
NEW YORK, NY—Deputy Mayor for Housing and Economic Development Alicia Glen and NYCEDC President Maria Torres-Springer today announced that NYCEDC has selected the Lowline, to bring the world's first underground park to the Lower East Side. This conditional designation serves as the first major step in making this project a reality, resulting in a community-oriented public and cultural space that will serve as both a resource for local residents and an attraction for visitors from around the world.
The Lowline aims to use cutting edge solar technology to transform the abandoned former Williamsburg Bridge Trolley Terminal (located under Delancey Street) into the world's first underground park — a spectacular, one-acre underground public space. By delivering sunlight underground and activating photosynthesis to create lush year-round gardens, the Lowline will use new science and design to help New Yorkers — and city dwellers all over the world — to re-imagine public place-making and community building.
Not only will the Lowline provide the Lower East Side with desperately needed green space and offer a vital cultural resource for the city, it will set an international model for the adaptive reuse and cultivation of abandoned underground spaces. The Lowline is a unique opportunity to shape the future of the City through innovation, deep community engagement, education, and youth development.

"New York City never stops innovating—that's what makes us the greatest city in the world," said Deputy Mayor for Housing and Economic Development Alicia Glen. "The Lowline represents an incredible fusion of technology and public space. For eighty years, this underground space has sat idle. Now we're putting it to use for the people of the Lower East Side and for all New Yorkers to enjoy. We can't wait to see this experiment unfold."
"New York City is the place where visionary ideas get turned into tangible realities," said NYCEDC President Maria Torres-Springer. "Today we move one step closer to making the Lowline a reality, which will serve as a cultural and educational hub for this vibrant community and pioneer cutting-edge technology."
"We couldn't be more thrilled for this opportunity to turn a magical dream into reality," said Dan Barasch, Co-Founder and Executive Director of the Lowline. "The transformation of an old, forgotten trolley terminal into a dynamic cultural space designed for a 21st century city is truly a New York story. We know with input from the community and the city, we can make the Lowline a unique, inspiring space that everyone can enjoy."
"Every designer dreams of doing civic work that contributes to society and to the profession," said James Ramsey, Lowline Co-Founder and Creator. "Over the last 8 years, we just stuck to what we thought was a great idea that could make our city and our community better. We're thrilled to move ahead on designing and building a space that people will enjoy for generations to come."
"Chances to add new parks and public spaces in Manhattan's neighborhoods are rare and priceless," said Manhattan Borough President Gale A. Brewer. "I'm excited by the prospect of transforming the Lowline into a first-of-its-kind public space, and will work with the administration, Community Board 3, Lower East Siders, parks advocates and the design community to make the most of this opportunity."
"With this conditional designation, the promise of the Lowline is one step closer to becoming a reality," said Council Member Margaret S. Chin. "From the beginning, the Lowline has been about transforming an abandoned space by literally shining the light of day to create a lush and verdant center of science, technological innovation and learning. Years before its projected opening, the Lowline has already offered opportunities for hundreds of students to redefine what's possible in our great City. I thank Deputy Mayor Glen and President Torres-Springer for their commitment to work with the Lower East Side community to make the Lowline both a local and global resource for people of all ages."
"The Lowline has the potential to bring together our need for open space, with a New York love for creativity and innovation," said State Senator Daniel Squadron. "As community engagement continues, today's news brings us one step closer to making a new park a reality. I thank NYCEDC, my colleagues, the community board, and the Lowline team for their continued collaboration."
"For over a century, the Lower East Side has been at the crossroads of innovation and community engagement," said Community Board 3, Manhattan Chairperson Jamie Rogers. "In its June 2012 resolution, Community Board 3, Manhattan, supported converting the Williamsburg trolley terminal space into the Lowline park, a 21st Century amenity that serves our community. This conditional approval is an important milestone for furthering community engagement with the Lower East Side's residents and businesses who want to ensure that what is created truly benefits those who live and work here."
Last fall, NYCEDC in collaboration with the Metropolitan Transit Authority put out a request for expressions of interest (RFEI) for development plans involving the long-term lease and activation of the vacant Williamsburg Bridge Trolley Terminal, currently owned by the City and leased to the MTA. The trolley terminal is approximately 60,000 square feet and runs underneath Delancey Street between Clinton Street and Norfolk Street. Based on their response to that RFEI, NYCEDC has designated the Lowline team for the use of the space, and requires them to meet a number of conditions in order to move forward with the project. Specifically, the Lowline is required to:
Implement a robust community engagement plan, including 5-10 public design charrettes and quarterly Community Engagement Committee meetings.

Reach a fundraising target of $10 million in the next twelve months.

Complete schematic design documents and present them for approval in the next twelve months.
The Lowline is focused on meeting three important needs for the Lower East Side: more high quality community amenities, a major community-centered cultural venue that bolsters the neighborhood's established and emerging cultural organizations, and a unique public space that exposes both residents and visitors to new technology. The Lowline will serve as a showcase for the power of green technology, the creative repurposing of the city's subterranean infrastructure, and the bold imagination of New Yorkers to lead the way toward more resilient, sustainable and livable cities.
While New York City abounds with world-class urban parks and leading botanical institutions, the Lowline will be a truly singular public space – a historic preservation project fused with a futuristic underground garden at the heart of the dense Lower East Side of Manhattan. It will also be another high-profile initiative that solidifies New York City's reputation and brand as a hub for technology and innovative urban design.
As a high profile destination, the Lowline also offers a valuable opportunity to bring more visitors at all times of day to support the neighborhood's diverse array of independent shops and restaurants. Visitors to the neighborhood are essential to the health of small businesses in the Lower East Side, accounting for 75 percent of retail spending in the community.
In October 2015, the Lowline team opened the Lowline Lab, a live experiment to showcase and test its solar technology and subterranean horticulture, and also to test the cultural value of a year-round public space. Since its opening, it has attracted nearly 70,000 visitors and has hosted youth education visits for nearly 2,000 kids across New York City. It will remain open through March 2017, and is free and open to the public on weekends.
For more information on the Lowline, visit http://thelowline.org/.
Today's announcement builds on NYCEDC's historic commitment to bringing new investment to the Lower East Side community. NYCEDC and the Department of Housing Preservation and Development have also partnered with Delancey Street Associates, LLC to transform a number of sites that have sat largely vacant for more than four decades into Essex Crossing - a 1.65-million-square-foot development anchored by 500 units of permanently affordable housing for low, moderate, and middle-income New Yorkers and senior citizens. The project also includes 15,000 square feet of open space, a new and expanded Essex Street Market, senior housing and community facilities, a rooftop urban farm, 250,000 square feet of office space, and a diverse mix of retail space.
About NYCEDC
New York City Economic Development Corporation creates shared prosperity across New York City's five boroughs by strengthening neighborhoods and creating good jobs. NYCEDC works with and for communities to provide them with the resources they need to thrive, and we invest in projects that increase sustainability, support job growth, develop talent, and spark innovation to strengthen the City's competitive advantage. To learn more about our work and initiatives, please visit us on Facebook, Twitter, or Instagram.