Press Release
De Blasio Administration and Alexandria Real Estate Equities, Inc. Finalize Deal for Expansion of Life Sciences R&D Campus in Kips Bay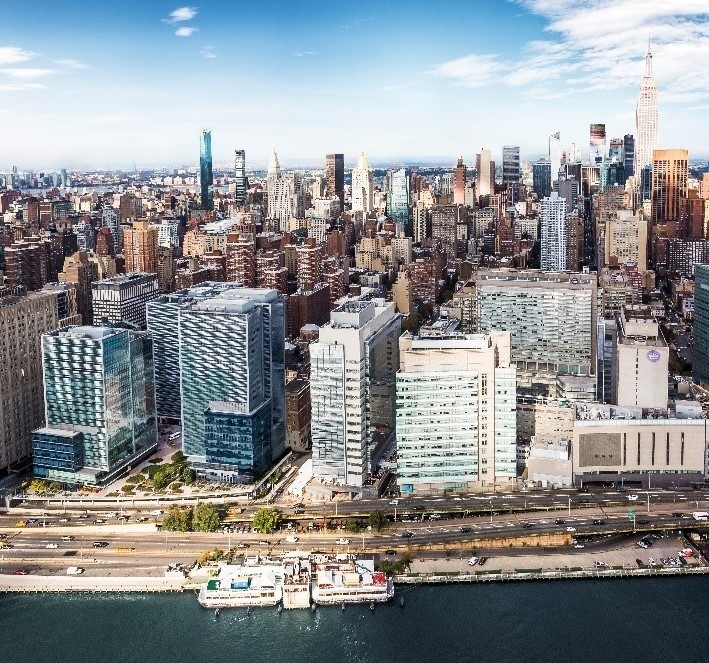 NEW YORK, NY—The de Blasio Administration and Alexandria Real Estate Equities, Inc. (NYSE: ARE) today announced a final agreement to initiate the third phase of development of the Alexandria Center® for Life Science – New York City in Kips Bay, also known as the North Tower. The Alexandria Center is the City's first collaborative campus for life sciences research and development and commercialization. Construction of the North Tower will complete the campus, which currently comprises the East and West Towers, resulting in nearly 1.3 million square feet of commercial laboratory facilities, pre-built space for emerging companies, flexible office space, and amenities for life science research and development tenants.
The proposed 550,000 square-foot facility will serve as a valuable resource to the City's emerging life sciences industry and is expected to foster innovative collaborations among world-class academic and commercial institutions, provide much-needed commercial laboratory and office space for growth-stage life science companies, and include more than 1,466 quality jobs. Construction is anticipated to break ground in 2020, with expected completion by 2022.
"The Alexandria Center for Life Science currently provides best-in-class space to an abundance of life sciences companies looking to continue innovating and growing here in New York City," said NYCEDC President and CEO James Patchett. "Once complete, the North Tower will add an additional 500,000 square feet of wet lab and office space to the campus, building on the growing momentum of the City's life science cluster and supporting the creation of nearly 1,500 quality jobs."
"Our focus for the North Tower, which fits very well with the goals set forth by the NYCEDC and Mayor de Blasio's administration, will be to further expand Alexandria's innovative proprietary product offerings in the New York City life science cluster," said John H. Cunningham, executive vice president and New York City regional market director at Alexandria Real Estate Equities, Inc. "We plan to equip the new North Tower with a combination of office and laboratory step-up space in a highly curated and sustainable environment designed to meet the needs of early-stage companies spinning out of world-class academic and medical institutions, which comprise the majority of demand in New York City."
"The news of the North Tower is incredibly exciting for life science companies like Kallyope," said Nancy Thornberry, CEO of Kallyope, LifeSci NYC Advisory Council Member and current tenant of the Alexandria Center of Life Science. It will increase the number of options for high-growth companies looking to expand their research and development efforts and to leverage the considerable scientific talent in the NYC area."
"The life science sector provides incredible potential for job creation and New York City must make every effort to stay on top of this rapidly growing field," said Council Member Paul Vallone, Chair of the Committee on Economic Development. "The Alexandria Center has already been enormously successful, and this new expansion will allow it to continue attracting new, top tier life science companies. As we look for effective means to drive economic growth in our city, initiatives like this are promising and exciting. New York City is poised for a bright and successful future in life science research and development."
"Thanks to years of investment by city leaders, biotech and life sciences obviously feel at home here in Manhattan, and I am happy to see these opportunities continue to grow right across the street from my District at The Alexandria Center," said Councilwoman Carlina Rivera. "With new capacity for this industry on the way, I look forward to working with the de Blasio administration and community partners on other initiatives that prepare our children with the STEM skills necessary for future careers in our changing economy."
"The expansion of the Alexandria Center will allow for continued innovation and growth on the East Side," said Council Member Keith Powers. With this new building, the Alexandria Center will be better able to work in tandem with nearby hospitals and medical facilities to make scientific breakthroughs while improving our city's economy. I congratulate the NYCEDC and the Alexandria Center on this venture and I look forward to partnering with them to further cement New York City as a hub for the life sciences sector."
"Community Board 6 has long advocated for the building of incubator or affordable research lab spaces in our district," said Molly Hollister, Chair of Manhattan Community Board 6. The Alexandria Center for Life Science is an integral part of the world class medical corridor along First Avenue. We welcome the added employment opportunities biotech brings to Community District 6."
In 2005, New York City Economic Development Corporation (NYCEDC) and NYC Health + Hospitals selected Alexandria, the country's largest owner, operator, and developer of collaborative life science campuses, to develop and operate three buildings dedicated to the life sciences in Kips Bay, Manhattan. Alexandria completed construction of the first two towers at the Alexandria Center in 2010 and 2013, which are now fully leased up. Located at 29th Street and 1st Avenue, the research and development campus serves as an important piece to New York City's growing commercial life sciences sector.
The Alexandria Center currently offers more than 728,000 square feet of commercial laboratories, office space, a restaurant, a café, a conference center, gym facilities, an urban farm, and underground parking. Over 50 tenants are currently occupying space both facilities including Bristol-Myers Squibb (NYC HQ), Eli Lilly, the Roche Translational and Clinical Research Center, Accelerator Life Science Partners, Intracellular Therapies, Kallyope, MeiraGTx, and Cellectis in the West Tower. Tenants in the East Tower include Pfizer's Center for Therapeutic Innovation, NYU Langone, Petra Pharma, BlueRock Therapeutics and Kadmon.
With more than 100 research foundations and nine academic medical centers, New York City is home to one of the largest concentrations of academic life sciences research in the world. However, challenges such as the shortage of commercial laboratory space have made previously it hard to retain high-growth life science companies. The Alexandria Center has disrupted that previous trend.
Finalizing development of the Alexandria Center is part of the de Blasio Administration's efforts to establish New York City as a global leader in life sciences research and innovation. In December 2016, Mayor de Blasio announced LifeSci NYC, a 10-year $500 million commitment to establish New York City as a leader in life sciences R&D and innovation, spurring an estimated 16,000 quality jobs and addressing the need for up to three million square feet of new space for life sciences companies and researchers.
NYCEDC has made significant efforts to catalyze the growth of New York City's life sciences industry by creating a $300 million discretionary tax abatement incentive program and modernizing the City's land use policy to facilitate life sciences real estate development. As part of LifeSci NYC, the City has awarded a $5 million grant to fund approximately 50,000 square feet of new incubator lab space, approved a $10M fund to help NYC companies expand in NYC and launched an internship program to train the next generation of life sciences talent. Since the start of the internship program, 118 students have participated gaining both business and scientific experience from NYC based companies.
Earlier this year, NYCEDC released a request for expressions of interest including $100 million and city land to build a new applied life sciences campus focused on commercial R&D, and include space for companies to grow and exchange ideas. LifeSci NYC also includes $50 million to expand the network of R&D facilities. This spring, NYCEDC solicited ideas from the scientific community what New York City needs to stay at the forefront of innovation. NYCEDC expects to release a request for proposals in the coming months.
About NYCEDC
New York City Economic Development Corporation creates shared prosperity across New York City's five boroughs by strengthening neighborhoods and creating good jobs. NYCEDC works with and for communities to provide them with the resources they need to thrive, and we invest in projects that increase sustainability, support job growth, develop talent, and spark innovation to strengthen the City's competitive advantage. To learn more about our work and initiatives, please visit us on Facebook, Twitter, or Instagram.