Press Release
Community Stakeholders, Elected Officials, and City Agencies Unveil Unified Vision for Broadway Junction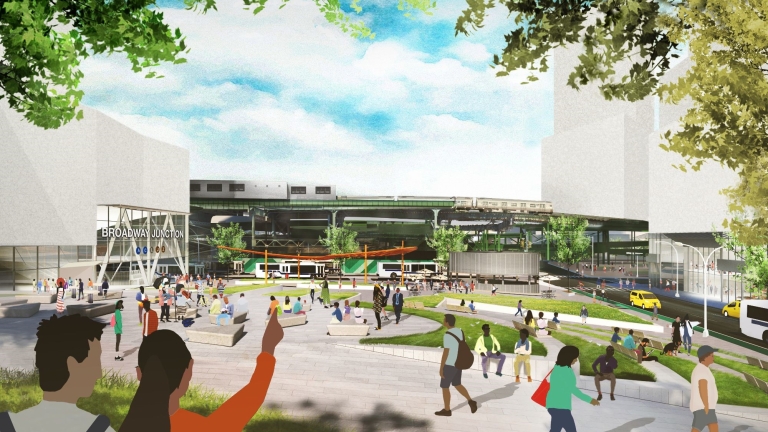 Vision Document Guided by Community Working Group Outlines Recommendations for Future of Major Brooklyn Transit Center
EAST NEW YORK, NY—After over a year of working group meetings and public feedback, a vision document commissioned by Council Member Rafael L. Espinal, Brooklyn Borough President Eric L. Adams, and the New York City Economic Development Corporation (NYCEDC) shows strong support for transforming the Broadway Junction area into a more accessible and vibrant transit hub and economic center.
The Vision Document is the first step toward a reimagined and reinvigorated Broadway Junction. The visioning effort, which grew out of a commitment by the City as part of the 2016 East New York Neighborhood Plan, began over a year ago by Council Member Espinal, Borough President Adams, and an interagency team led by NYCEDC with the launch of the Broadway Junction Working Group – comprised of community leaders and co-chaired by Council Member Espinal and Borough President Adams – to help guide the City's future planning efforts.
You can find a copy of the Vision Document here.
"As one of our city's major transit hubs, Broadway Junction has the potential to be a thriving economic engine for the community," said NYCEDC President and CEO James Patchett. "This vision provides a blueprint to improve the station's accessibility, enhance local amenities, revitalize public spaces and foster inclusive growth in the surrounding neighborhoods. We look forward to continuing to work with Councilmember Espinal, Borough President Adams, and the Broadway Junction Working Group to realize this vision."
"Broadway Junction is an area that has been overutilized and underinvested in for decades. Through the East New York Neighborhood Plan, I made clear to the Administration that we must better study the area to identify potential investments and ways to deliver the quality jobs, services, and public spaces our community deserves," said Council Member Rafael L. Espinal. "The community-driven process memorialized in this document lays a critical foundation for the City to make the necessary investments to realize this vision. I am committed to working with stakeholders and public officials to ensure that we advance this vision into tangible improvements for the surrounding communities."
"Decades of advocacy have underscored the need for investment at Broadway Junction, but it was only after Council Member Espinal and my office directed the City to study the area's potential as a critical transit and employment center for Brooklyn that we've been able to coalesce around a clear vision," said Borough President Eric L. Adams. "I am proud of the efforts of the Broadway Junction Working Group, all of whom are passionate to ensure that investments are driven by the needs of our neighbors. I am committed to working closely with community and borough-wide stakeholders into the next phase of work, as well as Council Member Espinal and City agencies, in order to make this vision a reality."
The vision outlines five pillars to ensure comprehensive, inclusive growth to guide future investments:
Transit access and equity: Improve the daily experience for all commuters using all transit stations in Broadway Junction.
Inclusive growth: Ensure that existing residents and businesses benefit from any future changes and development in the Broadway Junction area.
Economic and workforce development: Grow Broadway Junction into a major jobs center and expand access to training and career opportunities.
Active places and neighborhood amenities: Make Broadway Junction an active, mixed-use district anchored by the transit stations.
Public realm and open space: Improve and activate the streets, sidewalks, and open spaces to promote a sense of place and safely connect to surrounding neighborhood.
Broadway Junction is one of Brooklyn's major transit hubs, occupying approximately 25 acres in east Brooklyn and sitting at the intersection of five subway lines, six bus routes, and the Long Island Rail Road (LIRR). It is also the meeting point of six largely residential neighborhoods: Bedford-Stuyvesant, Brownsville, Bushwick, Cypress Hills, East New York, and Ocean Hill, as well as the East New York Industrial Business Zone to the south, home to over 100 local industrial businesses.
Beyond the local community, the Junction is uniquely connected to employment and transit hubs citywide, with a 15-minute ride to Downtown Brooklyn, Jamaica, or Williamsburg, 20 minutes to Lower Manhattan, and 35 minutes to Midtown Manhattan or JFK Airport. With over 1 million workers within a 45-minute commute by transit, Broadway Junction is not far behind other employment hubs like Downtown Brooklyn and Long Island City in terms of access to transit.
"All of us look forward to the day that Broadway Junction realizes its full potential as an enhanced transit hub for tens of thousands of New Yorkers and a center for jobs, in the midst of strong residential communities in Ocean Hill, Brownsville and East New York. The Broadway Junction document encapsulates this vision and is an important step forward in making this vision a reality," said Marisa Lago, Director of the Department of City Planning.
"Broadway Junction is a vital Brooklyn crossroads, a spot where a diverse mix of residential and industrial neighborhoods feed into five different subway lines and six bus routes,' said DOT Commissioner Polly Trottenberg. "EDC's vision document recognizes how this bustling commuter hub and its surrounding area were long overdue for improvements – and lays out a path forward. We look forward to working with our sister agencies to a transformation that will bring better connectivity, updated transit infrastructure and increased economic opportunities to these communities. For our part, we at DOT look forward to making these public spaces more welcoming, attractive and under Vision Zero, even safer. We especially thank Borough President Adams and Council Member Espinal for their leadership."
"Improving open space is a key component to reimagining Broadway Junction," said NYC Parks Commissioner Mitchell J. Silver. "NYC Parks' work to transform Callahan Kelly Playground, the Junction's next-door neighbor, into a destination playground and community gateway bolsters the overall vision for one of Brooklyn's busiest transit hubs."
"We are continuing to support local needs by investing in the potential of East New York through our Workforce1 Career Center and our Neighborhood 360° grant program," said Gregg Bishop, Commissioner of the NYC Department of Small Business Services. "The Broadway Junction Vision Document unveiled today is an important next step in working with the East New York community to build a more vibrant neighborhood."
"This document is a good first step for the community, local elected officials and all stakeholders as we continue our ongoing conversation about the future of the Broadway Junction," said U.S. Congresswoman Nydia M. Velázquez. "I look forward to seeing this process move forward and most of all continued robust community input. I would like to thank Community Board 5, New York City Economic Development Corporation and Cypress Hills LDC and all those who worked collaboratively in crafting this document. For my part, I will continue working with other members of the New York City Congressional delegation for additional federal resources to improve our transportation infrastructure citywide."
"Broadway Junction is a major transit hub for Brooklyn and the rest of New York City; many commuters pass through every day. I welcome any improvements of its accessibility, economic development and public spaces so visitors feel safe and welcomed to the area," said New York State Senator Roxanne J. Persaud.
"Given the pace of development across the city, preparedness is vital to ensure our communities are a part of the change," said Robert Camacho, Chairperson of Brooklyn Community Board 4. "The Broadway Junction Study facilitated by the NYCEDC is one of those processes that has enabled local stakeholders, including Brooklyn Community Board 4, to provide feedback that reflects the greatest needs of our communities and also shape the future of one of Brooklyn's major transit centers. We would like to thank Brooklyn Borough President Eric Adams and Council Member Rafael Espinal for initiating this process early on and in partnership with the community."
"The Broadway Junction of the future will provide the surrounding communities with access to quality and affordable fresh food, higher education opportunities, open space, and much more; while also protecting current residents and small business owners," said Celestina Leon, District Manager of Brooklyn Community Board 4. "We look forward to realizing these recommendations with all of our community partners."
"The Broadway Junction study has shed necessary light on some of the long time needs in this section of Community Board 5, and it is important that we focus on those needs as a key component in this process," said Melinda Perkins, District Manager of Brooklyn Community Board 5. "It has also provided us with an opportunity to strengthen our advocacy for a real CUNY presence as well as a permanent training facility for careers in the green/environmentally sustainable industry. CB5 will continue to advocate for economic empowerment, safety, and long-term success for the residents, businesses, and organizations of this great district."
"The Broadway Junction HUB is a critical connection point to improving transit accessibility and economic opportunity for residents of Brooklyn Community District 16," said Genese T. Morgan, Chairperson of Brooklyn Community Board 16. "We welcomed the opportunity to participate in the Broadway Junction Work-group, to ensure that our priorities from prior community planning and Annual Statement of District Needs is brought forward into the vision for this area; and also ensuring that every contributed voice is heard as it relates to the future of Broadway Junction and the possibilities that exist for our community."
"This is a major step toward activating the long-underutilized Broadway Junction as a vibrant, accessible and inclusive economic center. Realizing this vision will drive economic opportunity for the communities surrounding Broadway Junction: supporting entrepreneurs and small businesses, filling vacant storefronts, creating jobs and attracting new investment," said Hector Bautista, President and CEO of the Brooklyn Chamber of Commerce. "The Brooklyn Chamber of Commerce supports a thoughtful, collaborative process that leverages Broadway Junction's tremendous assets in a way that maximizes benefits for nearby residences."
"Celebrating 40 years of service to the East Brooklyn community, the Local Development Corporation of East New York supports creative, impactful, community-based investment at Broadway Junction," said Bill Wilkins, Director of Economic Development for the Local Development Corporation of East New York. "After years of neglect, the area is poised to be the catalyst for locally sourced economic development with neighborhood jobs, retail and educational opportunities and diverse cultural offerings. Local residents have been waiting for almost 50 years for Broadway Junction to finally realize its full potential as a holistic community nexus that urban pioneers like John Pitkin first imagined when the transit hub was developed in the 19th Century."
"I encourage and would welcome growth, investment, equitable, and inclusive development of the Broadway Junction area," said Harvey Lawrence, President and CEO of Brownsville Multi-Service Family Health Center. "However, development must proceed in a manner that ensures that current residents and businesses remain existing equity stakeholders in their community and benefit from its future development and revitalization. Future plans must also include a commitment to resources and opportunities which would sustain existing residents and businesses continued ability to remain and invest in their community, as well as policies necessary to mitigate and prevent displacement through eminent domain or any other public private supported initiative."
"Being a part of this Working Group allows Urban Strategies, Inc. the opportunity to be instrumental in the planning and developmental process and much needed uplifting of a vastly neglected and highly utilized area of Brooklyn, the Broadway Junction," said Pelham Bollers, Executive Director of Urban Strategies, Inc. "One of our main objectives is to ensure that the ideas and values of community residents and businesses are reflected throughout the development process. For more than 35 years Urban Strategies has been a pillar in the community. As community members and stakeholders, we are committed to preserving the integrity of this project."
"Thousands of Brooklyn residents with disabilities face longer, more difficult commutes than necessary because Broadway Junction is a gauntlet of staircases," said Colin Wright, Senior Advocacy Associate at TransitCenter. "The EDC's plan for Broadway Junction is a game-changer that would shorten the interminable commutes of riders with disabilities in Eastern Brooklyn."
"We are thrilled to see that access and equity is the leading pillar in your reinvention plan for Broadway Junction," said the Elevator Action Group at Rise and Resist. "Public transportation should be built with everyone's needs in mind, including wheelchair users, seniors, parents with young children in strollers, caregivers, delivery people, and travelers. We support efforts to finally make this transit nexus truly accessible to everyone who passes through, lives, and works in the surrounding neighborhoods."
"The EDC's plan for Broadway Junction is holistic and inclusive, representing a variety of modes and user needs," said Sarah Kaufman, Associate Director, NYU Rudin Center for Transportation Policy and Management."If brought to fruition, it will improve the health and safety of those around it."
"We are thrilled to see that the EDC, Broadway Junction Working Group, and a wide range of stakeholders have worked together diligently to envision plans to transform the Broadway Junction station and its surrounding area," said Christine Serdjenian Yearwood, Founder and CEO at UP-STAND."Making this huge hub more accessible will help all riders safely use public transportation and improving the open and public spaces in the surrounding area is a fantastic use of the space that will benefit the whole community. We look forward to continuing to support these efforts."
The Vision Document fulfills a commitment from the East New York Neighborhood Plan to study Broadway Junction. It builds on approximately $267 million of funding dedicated to the surrounding communities of East New York, Cypress Hills, and Ocean Hill. Investment includes the complete renovation of Callahan Kelly Playground and Park, the reconstruction of Atlantic Avenue, the renovation and creation of a new community center at 121 Pennsylvania Avenue, streetscape improvements and gut renovation of an industrial asset in the East New York IBZ, and new broadband to the ENY IBZ and residential communities.
As a next step, NYCEDC, city officials and agencies are working to develop a strategy to implement this vision, and will continue to seek feedback from residents, workers, business owners, and commuters to help shape Broadway Junction's future.
About NYCEDC
New York City Economic Development Corporation creates shared prosperity across New York City's five boroughs by strengthening neighborhoods and creating good jobs. NYCEDC works with and for communities to provide them with the resources they need to thrive, and we invest in projects that increase sustainability, support job growth, develop talent, and spark innovation to strengthen the City's competitive advantage. To learn more about our work and initiatives, please visit us on Facebook, Twitter, or Instagram.
About Broadway Junction Working Group
Co-Chaired by Council Member Espinal and Borough President Adams, the Broadway Junction Working Group has been comprised of elected officials, the community boards, and local stakeholders to develop a comprehensive vision and set of recommendations to guide future investments in and around Broadway Junction. The Working Group has been comprised of the following community partners:
Community Board 4
Community Board 5
Community Board 16
Brooklyn Chamber of Commerce
Brownsville Community Development Corporation
East New York Restoration Local Development Corporation
Local Development Corporation of East New York
Ocean Hill-Brownsville Coalition of Young Professionals
Urban Strategies, Inc.