Press Release
NYCEDC, Elected Officials, and Community Members Break "Water" to Dredge Entrance Channel to Hammond Cove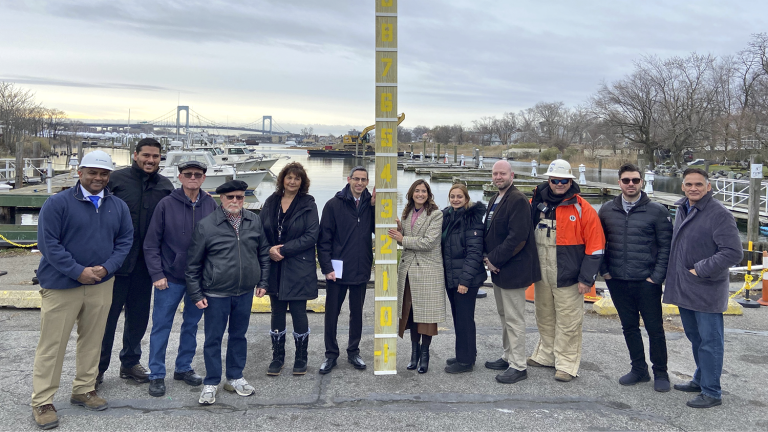 $1.5 Million Grant from Dormitory Authority of the State of New York (DASNY) for Dredging will Help Restore Depths for Safe Navigation and Operations
BRONX, NY—Today, the New York City Economic Development Corporation (NYCEDC) joined Councilmember Marjorie Velazquez, Assemblymember Michael Benedetto, and community members for the "water" breaking of the Hammond Cove dredging. The dredging will restore Hammond Cove's depths for safe navigation, operations, and enhance the recreational and emergency public access to New York City's coastal waters in the Locust Point area of the Bronx, New York.
The project is funded through a $1.5 million grant from the Dormitory Authority of the State of New York (DASNY) that will be used to improve navigable access during all tidal conditions by dredging an area of 80 feet wide and depth of 6 feet below the Mean Lower Low Water (MLLW). This will improve navigation within the Hammond Cove Inlet where the channel is constricted, and depths are less than 6 feet, thereby reducing the 20 to 50 vessel grounding instances that occur in the area each year.
"This important project will ensure Hammond Cove's water depths are restored to safe level and revitalize a popular recreational boating destination that the community can enjoy this upcoming year," said NYCEDC President and CEO Andrew Kimball. "We are very grateful to Councilmember Velazquez, Assemblymember Benedetto, and every elected official that helped secure this needed funding and bring this project to fruition."
"As NYC Parks' only marina in the Bronx, Hammond Cove is an important place for New Yorkers to connect with our city's coastline," said NYC Parks Commissioner Sue Donoghue. "We're grateful to the Bronx community and to our partners at NYCEDC, City Council, and DASNY for this collaborative project, which will make Hammond Cove safer and more accessible for future generations of visitors, boating and non-boating alike."
"During my time on Community Board 10, we advocated for this project to be a priority, and this moment came full circle when I allocated funding towards this project during my first year in office," said New York City Council Member Marjorie Velázquez. "We must continue investing in our communities, which includes our waterways and waterfronts. A lot has happened since the 1930s, and it's time the Cove, the only NYC Parks-owned marina in the Bronx, to receive much-needed improvements for everyone's safety, especially our boating community."
"I am pleased that NYC EDC has committed to the dredging of Hammond Cove and eager for its completion," said Assembly Member Michael R. Benedetto. "This project was originally funded by State Senator Jeff Klein and championed by former Councilman Mark Gjonaj. This project will protect the shorefront communities of Locust Point and Schuyler hill and the vital businesses that depend on access to Hammonds Cove."
"This is a project years in the making, that is finally moving forward. I want to thank the Dormitory Authority of the State of New York for funding this project as well as the New York City Economic Development Corporation, Council Member Marjorie Velasquez, and Assembly Member Michael Benedetto for their work in creating a safe, accessible, environmentally friendly space for boaters and those interested in enjoying our borough's beautiful waterfront property," said Bronx Borough President Vanessa L. Gibson.
"Bronx Community Board 10 commends EDC and the Department of Parks for its commitment to dredging Hammond Cove," said Bronx Community Board 10 District Manager Matthew Cruz. "We are confident that the work will do little to disturb the surrounding community and maritime life. We know that our community will appreciate all precautions being taken to enhance our waterfronts."
Permitting and planning the dredging of Hammonds Cove has been years in the making. Going back to 2016 the project has been listed by Bronx Community Board 10 as a top priority in the Statement of Community Board Needs. The last time that Hammond Creek was dredged was around 1937 which resulted in the creation of Hammond Cove. The Cove is the location of the NYC Department of Parks and Recreation Hammonds Cove Marina as well as the Locust Point Yacht Club. Vessels using both facilities directly benefit from improved navigational safety improvements achieved through dredging the Cove entrance.
About NYCEDC
New York City Economic Development Corporation is a mission-driven, nonprofit organization that creates shared prosperity across New York City by strengthening neighborhoods and creating good jobs. We work with and for communities to bring emerging industries to New York City; develop spaces and facilities for businesses; empower New Yorkers through training and skill-building; and invest in sustainable and innovative projects that make the city a great place to live and work. To learn more about what we do, visit us on Facebook, Twitter, LinkedIn, and Instagram.