Press Release
Mayor de Blasio and NYCEDC Announce Columbia University Will Operate and Oversee Pandemic Response Institute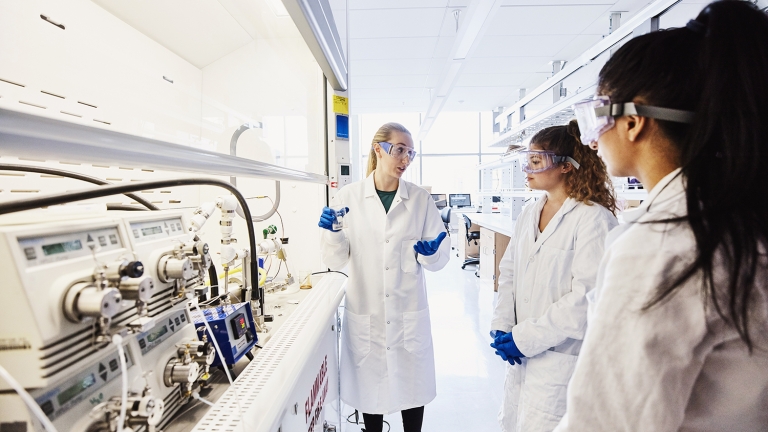 PRI Allocated $20 Million in City Funding, Tasked with Preparing Communities Ahead of Next Pandemic
NEW YORK, NY—Mayor Bill de Blasio, New York City Economic Development Corporation (NYCEDC), and New York City Department of Health and Mental Hygiene (DOHMH) announced their selection of Columbia University to launch and operate the Pandemic Response Institute (PRI), with its key partner, the CUNY Graduate School of Public Health and Health Policy (CUNY SPH), and several community, research, and industry partners.
The PRI will be supported by up to $20 million in city capital funding for eligible costs and be dedicated to preparing New York City for future health emergencies and epidemics in a more effective and equitable manner, while positioning the city as a global leader to serve as a model for public health response.
"The Pandemic Response Institute, operated by Columbia University with key partner CUNY SPH, will play a critical role in preparing for future pandemics, and promoting equity in public health," said Mayor Bill de Blasio. "Born out of New York's quick action during the early days of the pandemic, this institute will put our hardest learned lessons to work so that when the next public health crisis emerges, New York City will not only be prepared, we will be ready to lead these global fights."
"Columbia University with key partner CUNY SPH demonstrated to us a high level of expertise that was unmatched," said NYCEDC President and CEO Rachel Loeb. "NYCEDC has every confidence these esteemed institutions and their partners will put New York City and all New Yorkers first. Keeping people safe and our economy open means we need an unprecedented public health response that is forward-looking and dedicated to addressing health disparities. NYCEDC is proud to help establish a Pandemic Response Institute that will be innovative and critical to our public health infrastructure."
"The Pandemic Response Institute will serve as our City's anchor as we invest and ensure we have the tools we need to confront—and prevent—future public health emergencies," said Deputy Mayor for Housing and Economic Development Vicki Been. "We are grateful to our partners at Columbia and CUNY SPH for putting forth an ambitious and comprehensive vision for such an urgent need for New York City."
"The COVID-19 pandemic has opened our eyes to the critical need for strong and vibrant multi-sector partnerships to effectively protect New Yorkers from emergent health threats," said Wafaa El-Sadr, University Professor of Epidemiology and Medicine at Columbia's Mailman School of Public Health, and director of ICAP and Columbia World Projects, who is leading the PRI. "The Pandemic Response Institute will create an unprecedented nexus for engagement, expertise, and resources from across our city and beyond that will enable us to equitably prepare, predict, prevent, detect, respond to, and recover from major health emergencies."
"We are enormously excited to partner with Columbia University in this vital effort," said Ayman El-Mohandes, Dean of CUNY SPH. "Our school's primary commitment to health equity and social justice, coupled with existing strengths in health communication, systems modeling, and community outreach will help to shape and support this initiative to advance a new vision for the health of all New Yorkers."
NYCEDC, DOHMH, and New York City Emergency Management reviewed and selected Columbia to launch this institute with a key partnership with CUNY SPH as well as other collaborators, following a Request for Proposals (RFP) in April. The university, through its Mailman School of Public Health, put forth an ambitious and compelling vision for the PRI, which was supported by an impressive and robust multi-sector group of partners, while looking to ensure all New Yorkers are prepared for future public health emergencies by having access to health solutions, information for decision-making, and the capacity to prepare and respond.
The Pandemic Response Institute will specifically focus on:
Building or strengthening technologies and systems to support real-time data collection and sharing
Driving cutting-edge research on public health innovation and creating capacity to rapidly scale technological solutions in future public health emergencies
Piloting community-based partnership models and workforce training programs that improve emergency preparedness and advance health outcomes across all communities
Centering racial equity in all activities of the Institute and addressing gaps in health infrastructure that have disproportionately caused harm to communities of color and others facing structural inequities
The PRI will bring together communities, nonprofit organizations, industry, and academic institutions, and coordinate with City agencies in activities related to and within the entire public health emergency cycle. These critical partnerships will help the institute to advance research, training, and innovation.
"The experience of confronting COVID-19 and recent natural disasters has proven that we must work together to prepare and respond to public health emergencies with a focus on racial and social justice," said First Deputy Health Commissioner and Chief Equity Officer Dr. Torian Easterling. "These investments will prepare us to fight future health crises and ensure a just recovery and the opportunity to establish New York City as the public health capital of the world."
"One of the lessons we've learned over the last 18 months during the COVID-19 pandemic is the importance of a robust public health emergency response system," said Emergency Management Commissioner John Scrivani. "The partnership with Columbia University and the other institutions will make the Pandemic Response Institute a hub of innovation, information and planning to better prepare us for the next health crisis. A dedicated institute to analyze and plan for future crises, along with resources and collaboration with City agencies, will help minimize the impact of future disasters and strengthen our public health responses."
"Our commitment to building a recovery for all of us includes ensuring a robust public health response to any future emergency," said the City's Senior Advisor for Recovery Lorraine Grillo. "We look forward to working with Columbia and CUNY to bolster our city's infrastructure so we are better prepared to swiftly and equitably address any threat to the well-being of our communities."
"Under the guidance of Dr. El-Sadr and Dr. El-Mohandes, along with an impressive array of academic, community and industry partners, the Pandemic Response Institute will bring together leaders with multiple perspectives and expertises, and importantly, will empower the voices of members of affected communities, all with the goal of discovering novel approaches to fight both the Covid-19 surges likely yet to come and the inevitability of future epidemics and public health crises," said Dr. Claire Pomeroy, President and CEO of the Lasker Foundation. "Thanks to the Pandemic Response Institute, we are better positioned to build a healthier, more resilient, and more just New York City—and serve as a model for the world."
"COVID-19 has devastated the world, with some of the hardest hit communities here in New York City," said Congressman Jerry Nadler. "The pandemic strained economies, livelihoods, and health systems while challenging the lives and daily routines of every New Yorker. I am extremely pleased that Columbia University and its partners have been chosen to lead New York City's Pandemic Response Institute. Columbia is uniquely positioned to establish, coordinate, and prepare New York City to equitably respond to future public health crises."
"The COVID-19 pandemic has shown us how unprepared our city and country were to tackle public health emergencies," said Rep. Ritchie Torres (NY-15). "It's clear that there must be engagement, coordination, and research across institutions in order to devise strategies that will ensure we are prepared for future pandemics. The Pandemic Response Institute will help the city create a necessary foundation for tackling future public health emergencies when they occur."
"Since the beginning of the COVID-19 pandemic, Columbia University, including ICAP at the Mailman School of Public Health at Columbia University Irving Medical Center, and New York-Presbyterian Hospital has been at the forefront of COVID-19 research and clinical care," said Congressman Adriano Espaillat. "Given the demands and stressors of the COVID-19 pandemic and the challenges families throughout our community faced, we as New Yorkers have seen how invaluable Columbia University has been in our city-wide response to COVID-19 and our efforts to combat the virus. As New York looks to its immediate and longer-term needs, the Pandemic Response Institute is an opportunity to harness the lessons learned and memorialized and establish long-standing and skillful responsiveness to future pandemic and public health emergencies throughout our city, the state and as an example to the world."
"I commend the City's tremendous investment in public health through the Pandemic Response Institute," said Manhattan Borough President Gale A. Brewer. "COVID-19 irrevocably changed our city, country and the world. Columbia is a place we often turn to for their world-class expertise on health and science and Columbia's long history of scientific excellence ensures that through this Institute, New York City can achieve better health outcomes for all."
"Our city has been crippled with crisis after crisis, making clear the need for unparalleled and collaborative public health responses that are forward-thinking, innovative, and rooted in equity," said State Senator Robert Jackson. "I am confident that two NY research and policy giants, such as Columbia University and CUNY's Graduate School of Public Health, can lead in providing solutions that take into account health disparities and, by extension, the devastating impact of potential disasters on our most vulnerable communities. It's a promising and exciting initiative that will strengthen our city's public health responses and proactively protect New Yorkers from major public health emergencies in the future."
"I'm so pleased to see that Columbia University, along with the CUNY School of Public Health and Health Policy, has received funding to ensure our community stays safe and healthy, " said Assembly Member Danny O'Donnell. "We know that COVID-19 won't be the last public health crisis that we face, and we need all hands on deck to prepare for the future. The Pandemic Response Institute is a model for what our new normal should look like -- partnerships with neighborhood organizations to address health disparities and ensure no one is left behind in our response to emerging threats. I look forward to seeing it serve our community."
"For a century and a half, New York City has been a leader in public health," said Richard Gottfried, chair of the NYS Assembly Committee on Health. "The Pandemic Response Institute continues that leadership, and Columbia's Mailman School and the CUNY Graduate School of Public Health and Health Policy will be excellent partners in this groundbreaking and important program."
"The only question about the next pandemic is when it will occur and it is critical that we learn the lessons of Covid-19 so we are better prepared in the future," said New York City Council Health Committee Chair Mark Levine. "New York City is uniquely positioned to lead globally in pandemic preparedness based on our own entrenched confrontation with Covid-19 and because we have one of the largest concentrations of public health institutions in the world. The Pandemic Response Institute will ensure that New York City will lead in this effort and the Columbia University's Mailman School of Public Health is the ideal partner to tackle this immense challenge. I am tremendously excited to work with the Pandemic Response Institute to produce better health outcomes for all our city's residents."
"I applaud the Mayor and the NYCEDC on their investment in prevention of future pandemics in our city, and on their utilization of the incredible resources we have in their selection of Columbia University as their partner in this endeavor," said New York City Council Member Paul Vallone. "We can be confident that with this new Pandemic Response Institute, we will never be caught unprepared by a health crisis of this magnitude again."
The Institute will begin activities this year and plans to launch a community-based location in each borough.
About NYCEDC
New York City Economic Development Corporation is a mission-driven, non-profit organization that creates shared prosperity across New York City by strengthening neighborhoods and growing good jobs. NYCEDC works with and for communities to provide them with the resources they need to thrive, and invests in projects that increase sustainability, support job growth, develop talent, and spark innovation to strengthen the City's competitive advantage. To learn more about our work and initiatives, please visit us on Facebook, Twitter, or Instagram.
About Columbia University Mailman School of Public Health
Founded in 1922, Columbia's Mailman School of Public Health has programs in New York City and in more than 100 other countries and is a leader in HIV/AIDS, mental health, environmental health, global health, and urban health. The School has a long history of engagement with and commitment to the health and well-being of New Yorkers. For decades, the School has trained generations of students and the public health workforce and partnered with New York City agencies, community-based organizations and other entities. The school has more than 20 research centers, including ICAP at Columbia—the center leading PRI at Columbia—the Center for Infection and Immunity and the Robert N. Butler Columbia Aging Center.
About CUNY SPH
The City University of New York (CUNY) is the nation's largest urban public university, a transformative engine of social mobility that is a critical component of the lifeblood of New York City. The CUNY Graduate School of Public Health and Health Policy is committed to promoting and sustaining healthier populations in New York City and around the world through excellence in education, research, and service in public health and by advocating for sound policy and practice to advance social justice and improve health outcomes for all.