Press Release
City Officials, Local Elected Officials, and Development Partners Celebrate the Opening of Flatbush Central Caribbean Marketplace in Brooklyn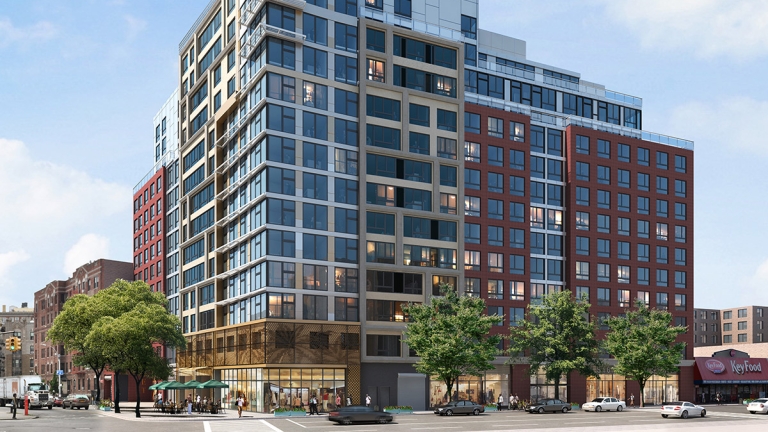 The Opening of Flatbush Central—Formerly Flatbush Caton Market—Includes the Unveiling of a New Name for the Revitalized Market and Longtime Destination of Commerce and Culture in New York City
BROOKLYN, NY—New York City Economic Development Corporation (NYCEDC), Department of Housing Preservation and Development (HPD), Housing Development Corporation (HDC), BRP Companies, and Urbane have announced the opening and rebranding of Flatbush Central—formerly Flatbush Caton Market—the revitalized marketplace which has been part of the fabric of the community for more than 20 years.
The new Flatbush Central offers upgraded amenities, expanded space for food vendors—inclusive of a Caribbean-themed food hall, shared commercial kitchen, bar, and lounge—and new programming to engage entrepreneurs and the broader community in building connections and celebrating the cultures of Flatbush and Central Brooklyn.
Flatbush Central's rebrand was inspired by a desire to fulfill the vision of the market's founder – The Honorable Dr. Una S.T. Clarke, former NYC council member – who sponsored the market's creation to build an institution for Caribbean people in Flatbush through the incubation of Caribbean businesses. Through an extensive research and design process that involved discussions with several community stakeholders, including patrons and vendors of the market, a new logo and brand emerged to reflect the diversity of the vibrant Caribbean cultures that influence the market.
"I am delighted to see my vision fulfilled, that vendors and entrepreneurs from our community now have a permanent home which gives both pride and dignity to those who struggled for existence and recognition," said Dr. Una Clarke. "The name of the new site—Flatbush Central Caribbean Marketplace—is fitting because it acknowledges the contribution that Caribbeans have made to Flatbush and East Flatbush. I have long dreamt of and supported the aspirations of the Caribbean people. As a civil rights leader at the forefront of the community for more than four decades, building long-standing institutions rather than promoting temporary programs in our community is of the utmost importance. Because institutions last while programs come and go."
"Flatbush Central Caribbean Market is an embodiment of New York City's small business recovery," said NYCEDC President and CEO Rachel Loeb. "We are excited to open the doors to this market whose resilient vendors celebrate the rich Caribbean culture of this area of Brooklyn. We are proud to have worked with our development partners to deliver a project that will strengthen the Caribbean and Brooklyn communities for generations to come."
"Flatbush Central Caribbean Market is a long-time anchor of the community, providing culturally significant commerce for more than 20 years. We're proud to be part of a partnership rooted in serving the needs of this community.  Caton Flats, an affordable housing development that is currently leasing up, will be anchored by a new and improved Flatbush Central Caribbean Market at the ground floor level," said HPD Commissioner Adolfo Carrión, Jr. "Congratulations to the small businesses, and to BRP Companies, Urbane, EDC, HDC, and our team at HPD for their hard work on this great development. We will soon cut the ribbon on the 255 affordable homes at Caton Flats!" 
"The Flatbush market has served as a cultural hub for the Caribbean community for more than 20 years and the opening of the new Flatbush Central continues with that tradition, while also bolstering resources and opportunities for local small businesses. Today's announcement marks only the beginning of celebrations for this dynamic project, which will also provide 255 affordable homes to New Yorkers from a range of incomes," said HDC President Eric Enderlin. "Congratulations to the entire community and our partners on the opening of the newly revitalized Flatbush Market."
"Flatbush Central is a great example of what happens when we bring together immigrant entrepreneurs, government, and the private sector to create a new vibrant community," said NYC Department of Small Business Services Commissioner Kevin D. Kim. "This market showcases the rich contributions of the Caribbean community in Brooklyn, and its many talented entrepreneurs. I'd like to thank my partners in government for all of their efforts to sustain this market and bring it to this next level."
More than just a shopping destination, Flatbush Central represents a central place where Caribbean culture and diaspora traditions are expressed in a shared space through commerce, food, events, myriad arts, and more. The market features a variety of small businesses that operate year-round.
Additionally, the market will introduce its Mangrove™ accelerator—an economic mobility platform and incubator program whose goal is to spur community wealth opportunities—to the site to promote the growth of new and existing small local businesses. The Mangrove™ at Flatbush Central will offer access to state-of-the-art shared food and culinary, natural body care and cosmetics, new media, and textile production facilities, specifically targeting Black, Indigenous, and People of Color (BIPOC) entrepreneurs to support the growth of their businesses. The Mangrove™ will provide direct, industry-specific technical assistance, access to capital, cohort-based business curriculum for informal and emerging businesses, respectively, as well as facilitate partnerships with larger corporate entities and institutions for business-to-business (B2B) opportunities.
"Small, local vendors like the ones returning to Flatbush Central are part of what makes Brooklyn so unique," said Brooklyn Borough President Antonio Reynoso. "I'm excited to see them in a new, permanent home that celebrates Caribbean culture and will also have incubator space to support new small businesses. I can't wait to go and try some doubles and roti!"
"The distinctly Caribbean character of Flatbush is one of the many reasons I'm so proud to represent the neighborhood in the Council," said Councilmember Rita Joseph. "The Flatbush Central Caribbean Marketplace will be a beacon of culture in Central Brooklyn for both Caribbeans and non-Caribbeans, and I'm thankful for all the leaders who made the opening possible."
"For years the Flatbush Caton Market has been responsible for the success of entrepreneurs in the 21st district in which I represent and the surrounding areas," said State Senator Kevin Parker. "The rebranding will be helpful to so many small business owners who took a hit a during the pandemic. The market not only spurred economic growth but met the needs of the community. I am proud that they were able to still be up and running during this critical time"
"More than 20 years ago, my mother, former NYC council member Dr. Una S. T. Clarke founded a marketplace for Brooklyn's Caribbean community on the corner of Flatbush Avenue and Caton Avenue. The Flatbush Caton Market soon burgeoned into a hub where a host of Caribbean, West African and South American vendors gathered to share culture and sell their goods. Today, what started out as a small gathering on blankets and in tents has become an invaluable resource for all of New York, especially the Caribbean community. And my mother's legacy to this proud and historic moment, certainly makes her the cornerstone of this new foundation. Beyond her tireless work to improve our Brooklyn community and help grow local businesses, Dr. Clarke helped countless others establish roots in their new country, and Flatbush Caton Market–Brooklyn's cultural fabric–is a wonderful example of that legacy," said Congresswoman Yvette Clarke. "After decades of work, progress, and growth, the revitalization of FCM is finally complete and I am tremendously proud to witness the fruits of my mother's love and labor be realized. Thanks to partnerships with New York City Economic Development Corporation, (NYCEDC), New York City Housing Development Corporation (HDC), New York City Department of Housing Preservation and Development (HPD), Urbane Development and BRP Companies, our Caribbean community in Brooklyn has an improved and unique space for their entrepreneurial endeavors to thrive. Like so many members of our beloved community, the Clarke family have long awaited this day, and we eagerly anticipate the moment we can experience the new Flatbush Central in all its glory."
"The opening of the Flatbush Central Caribbean Marketplace is a victory that our entire community can rejoice in," said Assemblymember Rodneyse Bichotte Hermelyn. "The new amenities, and Mangrove accelerator, give us hope for renewed prosperity and socio-economic growth in our area. This project also promises to uplift those who suffered the most from the wrath of the pandemic: Black small business owners. As Chair of the New York State subcommittee on MWBEs, I applaud this opening, and encourage New Yorkers to come explore and experience the rich culture our neighborhood has to offer."
The newly opened market is located on the ground floor of Caton Flats, a 14-story, mixed-use development containing 255 units of 100 percent affordable housing and over 20,000 square feet of community space in Flatbush, Brooklyn. Residences range in size from studios to three-bedroom and are available to a range of incomes from very low-income to middle-income households.
"Caton Flats exemplifies what can come to fruition when real estate development is custom-tailored to the needs and culture of the local community," said Meredith Marshall, Co-Founder and Managing Partner at BRP Companies. "We're thrilled to be celebrating this grand opening, a true partnership between multiple community groups and local leaders committed to serving the Flatbush community."
"The new Flatbush Central market will at once serve as a vital hub for Caribbean commerce within the community, and as a first-rate retail destination attracting visitors and locals alike," said James Johnson-Piett, Principal and CEO of Urbane. "For over two decades, the market has served as a cultural and commercial anchor in the neighborhood. Urbane is proud to be a steward in the evolution of the marketplace, through the preservation of legacy businesses who have operated at the market from its inception, while investing in a new era of entrepreneurial opportunity with upgraded and enhanced facilities serving emerging and existing talent throughout the Caribbean diaspora in the region and beyond. Additionally, Flatbush Central's community programming will continue the tradition of the market as a community anchor where neighbors and friends can gather and make the space their own."
"Brooklyn Community Board 14 is incredibly excited for the return of Flatbush Central to its original location," said Jo Ann Brown, Chair, Brooklyn Community Board 14. "Most anticipated are the new resources to support our local makers and entrepreneurs! The USDA commercial kitchen, bath and body lab, the media lab and related incubator programs will no doubt provide unique opportunities for market vendors and district residents to grow their businesses- and found new ones. For the last 20 years, Flatbush Central has been integral to showcasing and preserving the rich and diverse culture of Flatbush. Community Board 14 looks forward to our continued partnership with Flatbush Central and the NYC Economic Development Corporation for years to come!"
Located at the northwest corner of Caton and Flatbush Avenues, Caton Flats delivers:
Just over 220,000 square feet of residential space for the affordable housing component
16,000 square feet of space for Flatbush Central, small business incubators and offices
5,000 square feet of supplemental community space, a Caribbean Trade Center and headquarters owned and operated by Caribbean American Chamber of Commerce and Industry (CACCI)
10,000 square feet dedicated to local retail
NYCEDC selected BRP Companies in 2015 through a competitive process to redevelop the city-owned Flatbush Central—formerly Flatbush Caton Market—into a mixed-use building that includes affordable housing as well as the market. BRP Companies was the only respondent to offer a temporary location for Flatbush Caton Market to operate during the construction period. Relocation costs for the vendors were covered by the development team and Urbane worked closely with the vendors to provide additional support and mitigate disruption during the period of construction.

Flatbush Central Caribbean Marketplace is located at 2123 Caton Avenue, Brooklyn, NY, 11226, and open to the public Monday-Saturday from 10:00 a.m.-7:00 p.m. For more information on the market, visit us on Instagram @flatbush_central and at flatbushcentral.com.

Photography and new logos of Flatbush Central, along with imagery of Caton Flats, can be found here. For a video overview of the community at Flatbush Central, please see here.
About New York City Economic Development Corporation (NYCEDC)
New York City Economic Development Corporation creates shared prosperity across New York City's five boroughs by strengthening neighborhoods and creating good jobs. NYCEDC works with and for communities to provide them with the resources they need to thrive, and we invest in projects that increase sustainability, support job growth, develop talent, and spark innovation to strengthen the City's competitive advantage. To learn more about our work and initiatives, please visit us on Facebook, Twitter, LinkedIn, and Instagram.
About the New York City Department of Housing Preservation and Development (HPD)
The New York City Department of Housing Preservation and Development (HPD) is the nation's largest municipal housing preservation and development agency. Its mission is to promote quality housing and diverse, thriving neighborhoods for New Yorkers through loan and development programs for new affordable housing, preservation of the affordability of the existing housing stock, enforcement of housing quality standards, and educational programs for tenants and building owners. For full details visit nyc.gov/hpd and for regular updates on HPD news and services, connect with us on Facebook, Twitter, and Instagram @NYCHousing.
About The New York City Housing Development Corporation (HDC)
The New York City Housing Development Corporation (HDC) is the nation's largest municipal Housing Finance Agency and is charged with helping to finance the creation or preservation of affordable housing under Mayor Bill de Blasio's Housing New York plan. HDC also serves as a key financing partner in the rehabilitation of our city's public housing stock under the NYCHA Permanent Affordability Commitment Together (PACT) initiative. Since 2003, HDC has financed more than 201,000 housing units using over $28 billion in bonds and other debt obligations and provided in excess of $3 billion in subsidy from corporate reserves and other available funds held by the corporation. HDC ranks among the nation's top issuers of mortgage revenue bonds for affordable multi-family housing on Thomson Reuter's annual list of multi-family bond issuers. In each of the last five consecutive years, HDC's annual bond issuance has surpassed $2 billion. For additional information, visit: nychdc.com
About BRP Companies
BRP Companies is a New York-based real estate firm that is at the forefront of mixed-use development and acquisition of urban, multi-family properties. The firm offers a full complement of development, acquisition, construction, property, and investment management. With an experienced staff of 70, a $3.7 billion portfolio and over 9.1 million square feet of current and completed development, BRP is uniquely positioned to meet the demands of urban housing consumers. The firm is an innovator in developing mixed-use, mixed-income, "walkable" urban housing with high-quality, and energy efficient properties throughout the city of New York and beyond. Please visit: brpcompanies.com
About Urbane
"Win the Corner, Win the Block, Win the Neighborhood" is the mantra that drives Urbane. Founded in 2008, Urbane is a community development venture and certified MBE with offices in New York City and Philadelphia that builds community wealth. Our methodology centers on strengthening community anchors through a multi-disciplinary approach – Neighborhood Insights, Business Development and Advisory Services, and Place-Based Development and Investing – aimed at generating long- term prosperity and wealth creation in historically disinvested communities. Urbane leverages the advantages of for-profit enterprise for community benefit by focusing on strategies that generate wealth and resource capacity for communities. We specialize in helping entrepreneurs and anchor institutions in underserved communities take their businesses and organizations to the next level. Urbane has worked in more than 100 urban and rural communities in North America and the Caribbean to develop solutions to entrenched challenges. The team has worked with over 1,500 small businesses, representing over 1.4 million square feet of commercial and community facility space. Urbane has helped raise over $75 million to help small business, commercial projects, and community development initiatives with the goal of promoting internal wealth generation. Urbane co-develops mixed-use real estate, primarily in the Northeast. To learn more, visit: thisisurbane.com, LinkedIn, or Instagram.