Press Release
City & Hudson Square BID Unveil New Design for Enhanced Pedestrian Space and New Amenities in the Hudson Square Neighborhood of Lower Manhattan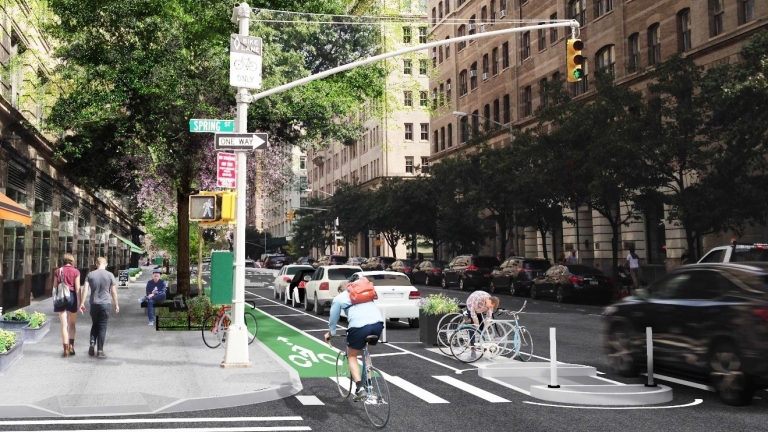 Project will improve pedestrian, vehicular and bicycle safety between Canal and West Houston Streets, and include public realm improvements along the corridor
NEW YORK, NY—New York City Economic Development Corporation (NYCEDC) and New York City Department of Transportation (DOT), in partnership with the Hudson Square Connection Business Improvement District (HSC), today announced a major investment for the Hudson Street streetscape between Canal Street and West Houston Street, to improve pedestrian, bicycle and vehicular safety, while transforming the corridor into a grand boulevard that will beautify the neighborhood.

As part of the $27 million Hudson Square is Now streetscape improvement plan, this key project will extend sidewalks up to five feet and add new street amenities along the seven-block corridor.
Designed in partnership with NYCEDC and consulting firms AKRF and W Architecture and Landscape Architecture the project scope will include:
8041 square feet of planting areas filled with various trees, shrubs, and perennials
Application of the Hudson Square Standard for urban forestry, using continuous tree pits and permeable pavers to maximize stormwater capture and support healthier trees
New benches providing the capacity for approximately 168 seats
2,255 square feet of allowable space for future sidewalk cafes
Sidewalk realignments and new pedestrian ramps
A dedicated and parking-protected bike lane on Hudson Street from Houston to Canal Street
Over 40 additional bicycle racks
For more renderings of the project click here.

The design creates continuity with the strolling environment of Hudson Street in the West Village, and also evokes the district's industrial past while accommodating the contemporary needs of the area's creative workforce. Additionally, the design includes several elements that are also being installed in Spring Street Park, which is slated to open this summer.

NYCEDC and DOT, in partnership with HSC, began preliminary design of the streetscape in February 2017. Construction will commence in Spring 2019, with completion expected in 2021.

"The Hudson Street streetscape will become a vibrant connection for surrounding communities," said New York City Economic Development Corporation President James Patchett. "We are very pleased to work with our partners to beautify this area through public realm enhancements and improve public safety conditions for all New Yorkers."

"We are pleased to work with EDC and the Hudson Square Connection to bring significant streetscape enhancements to Hudson Street," said DOT Manhattan Borough Commissioner Luis Sanchez. "The project will bring additional sidewalk space, energy efficient street lighting, bike racks, and a parking protected bike lane to an area thriving with pedestrians and cyclists. We believe these enhancements make the area safer and more enjoyable for all road users."

"This project, a cornerstone of our $27 million streetscape improvement plan, Hudson Square is Now, is designed to provide a lush green boulevard that can be shared by all users - pedestrians, bicycles and vehicles," said Ellen Baer, President of the Hudson Square Connection Business Improvement District. "The unique design will evoke the strolling environment of the iconic Hudson Street of Greenwich Village while reinforcing the unique vibe of today's Hudson Square."

"Today marks a major step forward for the Hudson Square is Now streetscape plan, which promises to transform a part of the city once known for car horns and gridlock into a neighborhood oasis and make the area more environmentally and socially sustainable in the process," said City Council Speaker Corey Johnson. I applaud the Hudson Square Connection for the invaluable work it is doing and I thank DOT and EDC for their help in making this dream project a reality."

"The improvements slated for Hudson Square will take the area from an afterthought to a wonderful new destination for workers, residents and visitors," said Manhattan Borough President Gale A. Brewer.

"CB2 Manhattan strongly supports this plan which represents a welcome potential for transforming Hudson St. into a vibrant place for people," said Shirley Secunda, Chair of CB2's Traffic & Transportation Committee.

HSC's comprehensive $27 million streetscape improvement plan, Hudson Square is Now, was conceived as a public-private partnership with the City of New York. The plan proposes physical improvements on public land to manage traffic, create pedestrian-friendly open spaces, identify sustainability opportunities, and support retail opportunities. Each improvement is designed toward creating a pedestrian-friendly environment that improves the quality of life for the people that live, work in, and visit Hudson Square.

To date, HSC has implemented several key improvements identified in the multi-phase master plan, including the planting and retrofitting of 250 trees as part of the award-winning Hudson Square Standard. In 2015, Hudson Square is Now received an International Downtown Association Planning Merit Award.
About NYCEDC
New York City Economic Development Corporation creates shared prosperity across New York City's five boroughs by strengthening neighborhoods and creating good jobs. NYCEDC works with and for communities to provide them with the resources they need to thrive, and we invest in projects that increase sustainability, support job growth, develop talent, and spark innovation to strengthen the City's competitive advantage. To learn more about our work and initiatives, please visit us on Facebook, Twitter, or Instagram.