Press Release
Recovery Agenda: City Holds Pandemic Preparedness Meeting with Public Health and Academic Leaders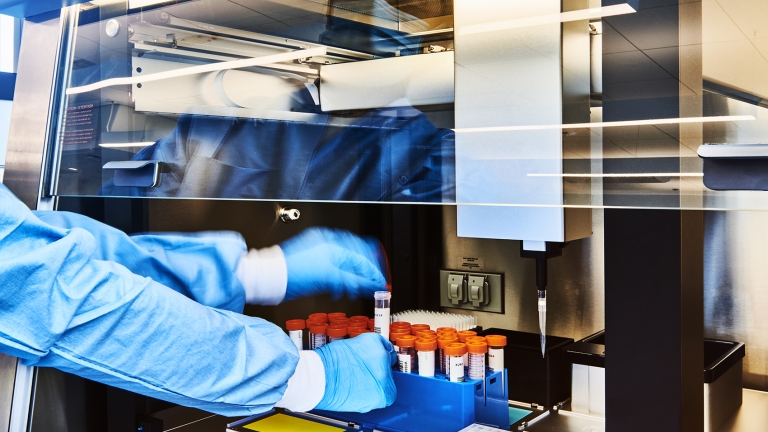 Vision for Strengthening the City's Long-Term Health Infrastructure and Positioning New York City as the Public Health Capital of the World.
NEW YORK, NY—Last Thursday, New York City Economic Development Corporation, New York City Department of Health and Mental Hygiene and the Rockefeller Foundation convened leaders across academia, industry and public health to evaluate lessons learned in the pandemic and assessed how the City could become a global leader in research, innovation, and pandemic preparedness and response. This information gathering session is part of the Administration vision to create a local institution, tentatively called the Pandemic Response Institute (PRI), that will serve as a hub to prepare for and respond to future health emergencies in New York City.
"The last 10 months have made clear the fundamental interdependence of health and economic well-being and the need to have systems in place to quickly address both," said Deputy Mayor Vicki Been. We must use the lessons from this challenging experience to ensure New York and all cities are better able to prevent future health catastrophes and protect all individuals and families from those that do occur. I thank our Agencies, partners at the Rockefeller Foundation and all the participants for coming together for what is sure to be an important step in the City's recovery."
"Investing in public health is critical to strengthening the City's health infrastructure and economic recovery," said James Patchett, president and CEO of New York City Economic Development Corporation. "The message from this group of health leaders was clear: New York City is uniquely positioned to be a leader in pandemic preparedness and health equity."
"What we've experienced during the COVID-19 pandemic must inform future public health responses," said Health Commissioner Dr. Dave A. Chokshi. "The Pandemic Response Institute will ensure that our experience will save lives in the future."
"The COVID-19 pandemic continues to highlight the need to advance health equity through anti-racist public health practice, including in emergency response" said Dr. Torian Easterling, First Deputy Commissioner and Chief Equity Officer, NYC Health Department. "The Pandemic Response Institute is an opportunity to build infrastructure for pandemic preparedness centered on racial equity and social justice."
"New York City has long been a leader in public health and biomedical science, but the COVID-19 pandemic exposed gaps in our ability to respond quickly and forcefully to a new disease threat," said Senior Advisor Dr. Jay Varma. "A public-private collaboration focused on pandemics can help the city strengthen its resilience by developing the next generation of public health workers and technologies."
"What cities do before, during, and after a pandemic matters greatly for lives and livelihoods, as the 1918 pandemic demonstrated and Covid-19 reminds us," said Jonathan Quick, MD, MPH Managing Director, Pandemic Response, Preparedness, and Prevention, Health Initiative, The Rockefeller Foundation. "Given its remarkable resilience in fighting Covid-19 and the depth of its public health and academic resources, New York City is in a unique position to lead efforts to make all of us safer from future pandemics."
This effort builds on the Administration's long-term recovery agenda, which places public health and social justice at the center of the City's recovery. Last month, the City issued a request for information (RFI) seeking perspectives from community-based organizations and public health leaders to inform the creation of a new institute focused on pandemic prevention, preparedness, and response. The City will invest $20 million to create the facility which will advance research and new innovations related to outbreak detection, investigation, prevention, and management.
The meeting also focused on ways in which the new institute can strengthen public health infrastructure to advance health equity, racial justice, and economic development. Attendees described the need to coordinate a coalition of traditional and non-traditional public health partners, forge new interdisciplinary research partnerships across a broadened stakeholder group, and center health equity and racial justice in all of the work that the new institute does.
Participants were called upon to propose specific activities for the institute and partners to improve preparedness and response including:
Epidemic intelligence and forecasting
Bioinformatics
Diagnostics
Vaccines and therapeutics
Community participatory research
Public and private partnerships
Training and workforce development
Fundraising
"One primary lesson learned, as we fight COVID-19, is the need for accessibility to quality health care and these types of investments are a vital step in addressing these inequities," said Bronx Borough President Ruben Diaz Jr. "The Pandemic Response Institute will be key in helping our most vulnerable communities, not only in being more proactive in combating the next global pandemic, but also making quality health care more available to those who need it the most here and now."
"Building on knowledge gleaned during New York City's COVID-19 response is the Pandemic Response Institute, a hub that will help drive health sector innovation and position our city as a leader in pandemic response in the years ahead," said Council Member Paul Vallone, Chair of the Economic Development Committee. "Activating local and national talent to convene and share critical insights at events like these will produce the strategies that will inform our country's public health response procedures and partnerships now and in the future."
"We are excited to be a partner in the creation of a Pandemic Response Institute, and look forward to helping it become a reality," said Dr. Cheryl Healton is Dean of NYU's School of Global Public Health and Professor of Public Health Policy and Management.
"It is critical that we distill the lessons learned from COVID-19 response to shape a comprehensive strategy for a prepared and resilient City in the future," said Dr. Wafaa El-Sadr, director, ICAP, and professor, epidemiology and medicine, Columbia University Mailman School of Public Health. "The Pandemic Response Institute, which will build on the City's unique assets, will be groundbreaking. Never again should New York City be surprised by a pandemic."
"The CUNY Graduate School of Public Health and Health Policy was honored to be included in this important dialogue, we hope to be able to contribute to its success," said Ayman El-Mohandes, Dean, CUNY Graduate School of Public Health & Health Policy. "We are optimistic the next phase of planning will include a wide participation from communities most affected by the pandemic and most likely to benefit from the institute's endeavors."
"It will take a multi-sector network - centering racial equity, building trust with and recognizing the expertise of communities most affected, to ensure that New York City is prepared for the next health emergency, " said Rasmia Kirmani, Independent Consultant to the Ford Foundation and Former Director at the Office of Public/Private Partnerships, New York City Housing Authority (NYCHA). "The convening today made it clear that this will be the path forward and I am excited about what the Pandemic Response Institute will do for New York City, and beyond."
Based on the feedback from the meeting, the City of New York and the Rockefeller Foundation will advance a strategy development process that will engage both a working team and additional stakeholders to refine the vision for the PRI. The strategy process could culminate in the launch of an RFP for operator for PRI. The City aims to select an operator for the Pandemic Response Institute by mid-2021, with the goal of opening the facility by the end of 2021.
About NYCEDC
New York City Economic Development Corporation is a mission-driven, non-profit organization that creates shared prosperity across New York City by strengthening neighborhoods and growing good jobs. NYCEDC works with and for communities to provide them with the resources they need to thrive, and invests in projects that increase sustainability, support job growth, develop talent, and spark innovation to strengthen the City's competitive advantage. To learn more about our work and initiatives, please visit us on Facebook, Twitter, or Instagram.