Press Release
City Council Approves The Peninsula, A Vibrant Live-Work Campus In The South Bronx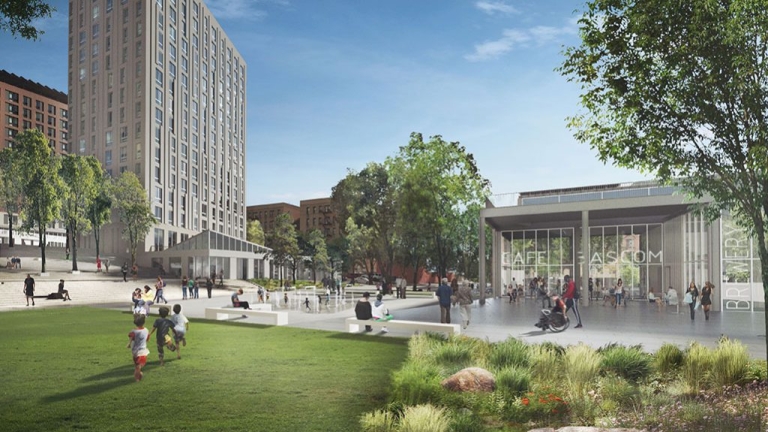 Redevelopment of the former Spofford Juvenile Detention Center will be anchored by several Bronx-based small businesses and will deliver over 700 units of 100% affordable housing, over 300 good jobs, and space for light industrial use, community programming, artists and recreation
BRONX, NY—New York City Economic Development Corporation (NYCEDC), the Department of Housing Preservation and Development (HPD), and Council Member Rafael Salamanca today celebrated the City Council approval of The Peninsula, a $300 million initiative to redevelop the former Spofford Juvenile Detention Center into a vibrant 5-acre, live-work campus.

The current facility will be demolished and replaced with The Peninsula, a mixed-use development that will include over 700 units of 100% affordable housing for mixed-income households that range from extremely low-to-moderate (from 30% to 90% of AMI). The development will be anchored by ground-floor retail, and space for light industrial use, community programming, artists, and recreation, creating over 300 good permanent jobs and more than 1000 construction jobs in the Hunts Point community of the South Bronx.

The City Council unanimously passed the vote 48-0, marking the final step in the city's formal land use process, allowing the start of abatement, demolition and remediation of the Spofford Juvenile Detention Center, followed by the start of construction of The Peninsula.

"It's a big day for justice in the Bronx. As we move to build more than 700 affordable homes, open space and small businesses in Hunts Point on the site of the old Spofford facility, we are seeing a community rising and the righting of old wrongs. We celebrate the City Council's vote to adopt The Peninsula redevelopment plan today and I thank Speaker Johnson, Council Member Salamanca and Borough President Diaz for their work in bringing about this transformation. I also want to thank the hundreds of community and criminal justice reform advocates, inside and outside of government, who worked for decades to get this notorious juvenile center shuttered," Mayor Bill de Blasio said.
"The Peninsula will be a transformative project for Hunts Point and the South Bronx, adding 100% affordable housing and new jobs while spurring economic growth through the creation of a vibrant hub for my community," said Council Member and Land Use Chair Rafael Salamanca, Jr. "Together with organizations such as Urban Health Plan, The Point CDC and many others we've advocated tirelessly to ensure that this project thoughtfully incorporates the much-needed community amenities to the neighborhood – and we got them. I'm grateful to our community leaders and partners who've helped take this incredible project one step closer to reality and look forward to our continued partnership to see this development to completion."
"The City Council's approval of the redevelopment of the former Spofford Juvenile Detention Center will create new opportunities for Hunts point, with hundreds of affordable homes, good jobs and public open space," said NYCEDC President James Patchett. "The Spofford redevelopment project reflects the core of our mission: To create equitable economic growth for all New Yorkers. Special thanks to Council Member Salamanca Jr., HPD, and our community partners for their unwavering support and leadership."
"With over 700 affordable apartments, space for community organizations, small businesses and recreation, The Peninsula will soon transform a site associated with much notoriety and sadness into a thriving mixed-use campus and true community asset," said HPD Commissioner Maria Torres-Springer. "I thank Councilmember Rafael Salamanca, Jr., Bronx Borough President Ruben Diaz Jr, our development partners, the NYCEDC team and the many community leaders and activists who have all worked so hard to make today possible."
"This project represents the transformative redevelopment of a long dormant site, and my office is excited to see The Peninsula moving forward," said Bronx Borough President Ruben Diaz Jr. "This development will bring much-needed affordable housing as well as new retail and commercial options to Hunts Point, and fits perfectly with my office's priority to bring vibrant, inclusive development to every Bronx community. I'd like to thank Councilmember Salamanca, NYCEDC and HPD for their strong partnership on this project."
"The Spofford Juvenile Detention Center redevelopment into 'The Peninsula' will create hundreds of new affordable housing units, retail spaces, new jobs and recreational opportunities for local residents. This is what community oriented and inclusive development looks like, and I applaud NYC Council Member Rafael Salamanca and the City Council for supporting this project. On behalf of the Bronx, I also thank the NYC Economic Development Corporation and the Department of Housing Preservation and Development for choosing to invest in it. I look forward to seeing the positive impact it will have on hundreds of Bronx families," said Congressman Jose Serrano (NY-15).
According to Assemblyman Marcos Crespo, chair of the Assembly Puerto Rican/Hispanic Task Force, "The redevelopment of the Peninsula is another great example of the revitalization taking place in the Bronx. Projects like these improve the quality of life for everyone in surrounding communities and will reshape the Bronx for generations to come."
Development of The Peninsula forges a new model in neighborhood development by embedding quality industrial jobs, health and wellness, and open space recreation in a new residential community. The pioneering project will create approximately:
740 units of 100% affordable housing
52,000 square feet of publically accessible open space, including a new plaza
50,000 square feet of light industrial space – including kitchen step-out space for food business entrepreneurs
53,500 square feet of community facility space (including 15,000 square feet of artist workspace anticipated)
15,000 square feet of commercial space
In October 2016, NYCEDC, HPD, and Council Member Rafael Salamanca, Jr. announced the development team Gilbane Development Company, Hudson Companies and Mutual Housing Association of New York (MHANY) would develop The Peninsula. The experienced development team is working closely with long-time community stakeholders and operators, including The Point Community Development Corporation, Urban Health Plan, Sustainable South Bronx, The Knowledge House, Casita Maria, Rocking the Boat, and BronxWorks.

Construction of The Peninsula will occur in three phases, with phase I expected to be completed in 2021, phase II to be completed in 2022 and anticipated completion of phase III in 2024. The project is expected to create more than 300 permanent jobs and approximately 1,000 temporary construction jobs, and the selected development team has committed to a 35% MWBE goal. Additionally, the development team will participate in HireNYC, a City program that connects New Yorkers with job opportunities and career development to various projects.

The project builds on the Administration's Housing New York plan that addresses the City's housing affordability crisis, which affects half-a-million low-income to middle-class New Yorkers, by building or preserving 300,000 units of affordable housing by promoting mixed-use, mixed-income and healthy communities.
"The Point CDC is excited to be a part of the team that will reshape the future of the Spofford site. Once a symbol of the low aspirations and despair of our community, we now look forward to develop a space for learning, creating and growing for everyone. Thank you to all of our partners, Councilman Salamanca and Community Board 2," said Maria Torres, Executive Director of The Point CDC. "Our work rests on the shoulders of others who struggled to close Spofford and make it into a place of hope, and for that we thank Mothers on the Move and many other allies."
"Urban Health Plan is proud to be part of The Peninsula," said Paloma Hernandez, President and CEO, Urban Health Plan, Inc. "We will be offering an innovative health and wellness center that encourages active living and incorporates nutrition, spirituality and stress reduction techniques. Our project also includes a Mercado, a community space that will provide Hunts Point residents access to fresh, healthy food choices."
"Today is a day to celebrate the community and the hard work many individuals and local community based organizations endured throughout the years. This victory for everyone who had a hand in turning a leaf to a brighter future for Hunts Point. We applaud the City Council for approving this plan to redevelop the Spofford site. This project will benefit our community tremendously by creating much-needed affordable housing, good jobs and the potential for local businesses to thrive," said District Manager of Community Board 2 Ralph Acevedo. "We appreciate Council Member Salamanca's steadfast leadership on this important initiative."
"The Peninsula is a victory that can be shared by many community residents and local institutions that have struggled over the past two decades to re-purpose the Spofford Juvenile Detention facility, especially Mothers on the Move and The Point CDC," notes Ed Broderick, President and CEO of Gilbane Development Company, managing member of the development team. "By supporting longstanding local institutions like Urban Health Plan and South Bronx MBE food manufacturers like Il Forno and Bascom Catering, The Peninsula helps ensure that those who have remained in this community through its years of adversity will be able to share in the benefits of its rebirth."

"Today is a celebration for the people of Hunts Point and the South Bronx. Hudson and its partners are proud to help bring The Peninsula redevelopment closer to reality. Area residents have endured a long struggle to see the Spofford Juvenile Detention Center transformed from a roadblock to an opportunity for South Bronx youth. We were honored to be designated by the City of New York and remain grateful to Councilman Salamanca, Community Board 2, Borough President Diaz, the City and Hunts Point community leaders and voices for being true partners in bringing affordable housing, economic development and community space to the neighborhood," said Aaron Koffman, Principal of The Hudson Companies, Inc.
"MHANY is proud to be part of a comprehensive community-based initiative that transforms what has stigmatized an entire neighborhood for decades into a vibrant, livable groundbreaking housing and economic development," said Ismene Speliotis, Executive Director of Mutual Housing Association of New York. "As a not-for-profit community housing organization in the neighborhood, developing a plan with the community that builds on its strengths and addresses its needs is something we look forward to doing together well into the future."
The Peninsula: A Live-Work Campus

Rendering by WXY architecture + urban design and Body Lawson Associates

Non-Residential Programming
The expansive campus will be comprised of a five building, three-phase project that will provide 100% affordable housing for low- and moderate-income New Yorkers. The Peninsula will incubate, support, and sustain homegrown food manufacturing, technology, media production, and commercial and retail uses from growing sectors in the South Bronx economy.

Many of the retail, commercial and industrial tenants are Bronx-based organizations and businesses operating in and around the Hunts Point area, including Bascom Catering, Hunts Point Brewing Company, Lightbox NY film studio and a supermarket. Nonprofit organizations that will anchor the development include The Point CDC, Space Works and the Bronx Academy of Arts and Dance (BAAD!).

Additionally, a 16,000 square foot health and wellness center operated by Urban Health Plan, a lead community sponsor of The Peninsula, will connect residents to quality primary and specialty health care services and employ emerging health-tech professionals.
The Peninsula campus will offer community development and education resources. Specifically, an early childhood facility will be preserved and expanded with a dedicated playground.

Rendering by WXY architecture + urban design and Body Lawson Associates
Residential Program
Over 700 units of 100% affordable housing will be available for households earning a mix of incomes that range from extremely low- to moderate (from 30% to 110% of AMI), including approximately 75 units for formerly homeless individuals. Apartment's sizes will range from studios to one, two, three and four bedroom homes.
The buildings will have contemporary amenities such as dishwashers, hardwood floors, built-in energy efficient air conditioning and heat within every unit, communal gyms and playrooms located near laundry and amenity rooms, as well as access to roof terraces. The buildings will also utilize solar panels on the room and include refuse rooms on every floor for easy trash and recycling. Underground parking spaces will also be provided onsite for residents, their guests and the commercial tenants.
Site History
Located in the Hunts Point peninsula, the majority of the site previously served as the location for the Spofford Juvenile Detention Center for juvenile offenders in New York City (renamed the Bridges Juvenile Detention Center in 1999). After over 50 years of operation, during which the center served thousands of youth, the City decided to close permanently in 2011. The center experienced operational challenges: there were concerns about the treatment of youth and, due to the center's restricted location, it was difficult to access for many of the youth's families. The closing was consistent with the City's goal to transition from a punishment-based system that removed children from their families and community support systems, to a rehabilitative model of juvenile justice. The building has since been managed by the Administration of Children's Services.
About NYCEDC
New York City Economic Development Corporation creates shared prosperity across New York City's five boroughs by strengthening neighborhoods and creating good jobs. NYCEDC works with and for communities to provide them with the resources they need to thrive, and we invest in projects that increase sustainability, support job growth, develop talent, and spark innovation to strengthen the City's competitive advantage. To learn more about our work and initiatives, please visit us on Facebook, Twitter, or Instagram.