Press Release
City and Amtrak Release Long-Term Sunnyside Yard Master Plan With New Model: Transit-First, All-Affordable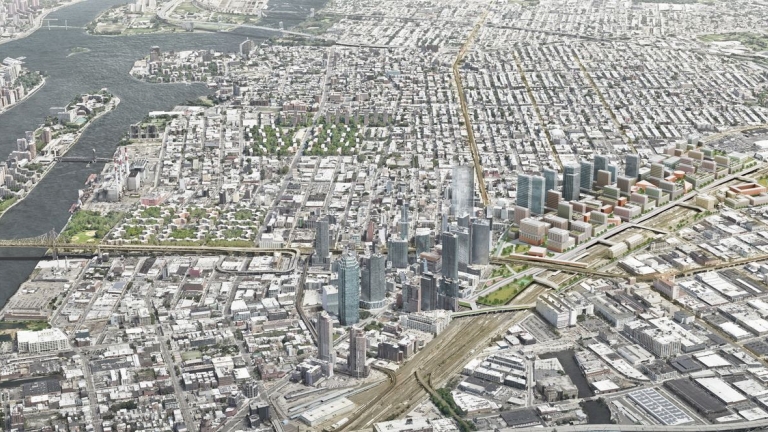 Plan Calls for City-Backed Public Transit First, with 100 Percent Affordable Housing with Emphasis on Lowest-Incomes, New Parks and Open Space
NEW YORK, NY—The de Blasio Administration and Amtrak released the Sunnyside Yard Master Plan, a new framework that will focus on building new public transit first and making all housing affordable, with a focus on New Yorkers earning less than $50,000 per year. The Master Plan calls for the creation of the long-sought Sunnyside Station, 100 percent affordable housing with 12,000 homes, 60 acres of new open space, equitable homeownership opportunities, and infrastructure and other public amenities on a publicly controlled site equal in size to Roosevelt Island.
"Sunnyside Yard presents once in a generation opportunity to create a new model for affordable housing and equitable development. With a plan that delivers a new Sunnyside station along with 12,000 affordable homes, equitable homeownership opportunities, open space, schools, and more, we are fighting for a New York New Yorkers can afford," said Mayor Bill de Blasio.
The plan is directly responsive to community feedback about public transportation, parks and more housing local residents can afford. Sunnyside Yard is critically important to Western Queens and the Greater New York City region. Its central location and surrounding diverse neighborhoods present an unparalleled opportunity to plan for the next generation of New Yorkers. This is why the plan calls for 100 percent affordable housing with 12,000 homes. The plan designates at least 6,000 affordable homes for very and extremely low-income New Yorkers, with the remaining 6,000 homes creating affordable homeownership opportunities. To realize this vision, the plan will leverage financing mechanisms modeled after the successful Mitchell-Lama Housing Program. Together, these affordable homes will make Sunnyside Yard the largest single planned affordable community to be built in New York City in generations.
The Master Plan is a once-in-a-generation opportunity for the City and Amtrak to coordinate long-term planning, and it is the culmination of more than 18 months of community engagement and technical analysis. The Master Plan provides a blueprint for the construction of a deck structure over the rail yards that would support streets, infrastructure, open space, and buildings.
In addition to the design of the deck structure, the Master Plan responds to urgent priorities identified by New Yorkers during the planning process. It will ensure that public priorities drive the future of the Yard and is intended to be implemented in many phases over multiple decades, beginning with key investments in public infrastructure, proposals for a new street grid, open space network, infrastructure, and public transit options.
Responding to community input throughout the planning process, the Master Plan takes a transportation-first approach. Specifically, participants consistently expressed that Sunnyside Station – a new regional rail station to be built in Sunnyside Yard next to Downtown Long Island City – is a top priority for Western Queens and must be built first. In response, the City is committing to making a substantial funding contribution for Sunnyside Station to make the project a reality. The City will immediately begin conversations with the MTA about how to fit this into its capital planning.
To view the Sunnyside Yard master plan, click here.
"After over a year of extensive community engagements and scores of conversations with a wide range of stakeholders, we developed a thoughtful framework to guide development at Sunnyside Yard for the generations to come," said Deputy Mayor for Housing and Economic Development Vicki Been. "We benefitted enormously from those discussions, and the master plan responds to the feedback by putting neighborhood needs for transit, affordable housing, and open space first, to ensure that future development is responsible, inclusive, and fair."
"The Sunnyside Yard Master Plan provides numerous benefits to Amtrak, the City and local residents as it combines our assets with the potential creation of open spaces, housing, parks, and jobs while also allowing Amtrak to achieve its core mission of providing reliable intercity train travel with a priority towards safety and sustainability," said Amtrak Board Chair Tony Coscia. "We thank our partners at the City, as we continue to collaborate on the strategies that will make the best possible use of the land that meets our rail operations requirements, enhances the community, and builds new connections between Western Queens, the greater New York City region, and the Northeast."
Over the last 15 years, Western Queens has experienced rapid growth, putting strains on infrastructure, transportation, and housing. The Sunnyside Yard Master Plan presents an opportunity to create nearly 115 acres of new public land by decking over Sunnyside Yard. The Plan provides solutions to key priorities expressed during the community engagement process, including a desire for:
● Improved public transit: A new Sunnyside Station served by regional and intercity rail services connecting Western Queens to every part of the Greater New York City region and major cities of the Northeast.
Planning for a new Bus Rapid Transit line connecting Queens and Midtown Manhattan, as well as the potential for a future new Queens subway line, to connect New Yorkers with existing and emerging economic centers, fueling job growth and access to opportunity.
● More affordable housing: Approximately 12,000 affordable homes – more than Stuyvesant Town and Peter Cooper Village combined. All of the homes will be affordable and restricted to incomes that reflect the most pressing housing needs of Queens.
At least half of the homes will be restricted for families earning below 50% of Area Median Income (AMI) (currently $48,050 per year for a family of three) and half of those to families earning below 30% of AMI ($28,830 per year). In total, this will mean at least 6,000 units for very low-income New Yorkers at Sunnyside Yard. All rental units will be rent-stabilized.
The remaining 6,000 homes would create affordable homeownership opportunities and help families build wealth through a 21st-century financing mechanism based upon the Mitchell-Lama Housing Program, which for decades has created opportunity for so many New Yorkers. The program will deliver housing to families meeting eligible income limits, targeting an average of 100% AMI ($96,100 per year).
This generational investment in affordable housing will make Sunnyside Yard the largest single planned affordable community in New York City since Co-Op City in the Bronx was completed in the early 1970s. Affordable housing for different income levels will be distributed to promote economic integration and a healthy mix of homes, commercial uses, social infrastructure, and open space throughout the Yard.
● Equitable development and ownership models: Development priority will be given to M/W/DBE and community-oriented developers, particularly nonprofits, and further priority given to community forms of ownership such as Community Land Trusts (CLTs).
● Desire for more open space: 60 acres of new public open space alongside a network of "social infrastructure" such as new schools, libraries, and child and health care facilities to serve the neighborhoods around the Yard.
● Growing Western Queens as a job center: Five million square feet of new office, retail, industrial, and institutional space to grow an estimated 6,000 potential new jobs over the coming decades.
● Sustainable and resilient growth: Elevated land away from the floodplain, infrastructure designed to withstand climate-intensified weather, and ambitious goals that embrace carbon neutrality, circular systems, and green building technologies.
● Planning for a Green Future: An education and research hub to grow the 21st-century green economy and connect it to a diverse workforce, building on nearby institutions like LaGuardia Community College, CUNY School of Law, Cornell Tech, and public schools like nearby Energy Tech High School.
● Extending the built character of Western Queens: Density and building heights that reflect the existing scale of the neighborhoods surrounding the Yard.
● Connecting neighborhoods: A safe street network designed to prioritize walking and biking with wide sidewalks and shared streets, ADA-accessible pedestrian connections, and separated bus and bike lanes.
In 2014 Amtrak approached the City about coordinating on long-term planning for the Yard. In the 2015 State of the City address, Mayor de Blasio said that the City would need to work closely with elected officials, community leaders and the railroads to determine what makes sense and ensure that any future overbuild of Sunnyside Yard serves the needs of New Yorkers by delivering on affordable housing, jobs, transportation, social infrastructure and open space. The master plan released today provides the framework to achieve that goal.
The City of New York and Amtrak began the Sunnyside Yard master planning process in Summer 2018, which comprised robust community engagement efforts and detailed technical analysis of rail and deck engineering, infrastructure, urban design, and transportation, among other topics. The City and Amtrak brought together a diverse Steering Committee of more than 40 community leaders, local and citywide advocates, and policy experts to advise on the planning process and provide critical feedback. The Master Plan was shaped by over 100 public interviews, four community workshops, three large public meetings, a digital town hall, walking tours, and group discussions with over 145 organizations to understand the pressing needs of the communities surrounding the Yard.
The City and Amtrak have committed to forming a nonprofit planning entity in partnership with local elected officials, community members, and other key public stakeholders. This entity will steward implementation of the Master Plan and ensure that future decisions reflect the public priorities established by the Plan, including affordable housing, open space, transportation, and sustainability goals, and help coordinate early investments such as Sunnyside Station.
"Sunnyside Yard presents a once-in-a-lifetime opportunity to plan for improved public transit, more housing, open space, and jobs to support a stronger, more equitable New York City," said New York City Economic Development Corporation President and CEO James Patchett. "The Sunnyside Yard Master Plan is an example of how responsible long-term planning benefits New Yorkers today and future generations of New Yorkers tomorrow. I want to thank Amtrak and all of the community members, technical experts, elected officials, and public agencies that worked tirelessly to create a plan that will shape the city and region's future for generations to come."
"Civic engagement is alive and well in Western Queens. The planning process enabled direct community participation and the prioritization of community needs. It's particularly gratifying to see the input and recommendations of the community reflected in the final Master Plan," said Sharon Greenberger, President and CEO of the YMCA of Greater New York and Co-Chair of the Sunnyside Yard Steering Committee. "As we move forward to implement the plan components, the continued engagement of local residents and stakeholders will be key to the plan's long-term success."
"It is exciting to see the release of this framework plan for Sunnyside Yard, the largest and best located opportunity to holistically address both existing community needs and future growth in Western Queens and the city," said Elizabeth Lusskin, President of the Long Island City Partnership and Co-Chair of the Sunnyside Yard Steering Committee. "The plan incorporates 18 months of public feedback and deep engagement on the long-term priorities for this growing area from so many members of Western Queens' diverse neighborhoods, and of the city at large. The preliminary framework released today responds to those priorities, proposing a new rail hub to support a fast-growing Western Queens and the area's transit network, more than 60 acres of new public open space, significant and 100 percent affordable housing, a range of jobs, and resilient planning. As we move into the next phase of the project, community input will continue to be the key to ensuring that Sunnyside Yard lives up to its potential and meets the diverse and growing needs of the people and businesses based here."
"For New York City to continue to thrive as an equitable and diverse city for future generations of New Yorkers, we must plan today for growth that brings opportunity within reach of all our residents. The Sunnyside Yard Master Plan does just that, presenting a long-term, infrastructure-focused vision for this uniquely significant location to support the vitality of Queens and the city as a whole. I look forward to working with EDC, our other sister agencies and, most importantly, community members and their elected representatives as we bring Sunnyside Yard into the 21st century," said Department of City Planning Director Marisa Lago.
"As we look ahead to envision the long-term future of Sunnyside Yard, this master plan will lay the groundwork for transportation solutions we need for the growing commercial and residential heart of Western Queens," said New York City Department of Transportation Commissioner Polly Trottenberg. "We thank our City agency partners and Amtrak for this vision, which will build on the tool kit that DOT has been using in Sunnyside that prioritizes transit, walking, and cycling – making them key elements of a safe, sustainable and equitable approach to community development."
"We've heard from the residents of Sunnyside and Western Queens, and the Sunnyside Yard Master Plan lays out a framework that responds to their needs. The master plan will spur the creation of 12,000 affordable homes, ensuring that as this community continues to grow, residents can afford to stay and enjoy the host of improvements planned for transportation, open space, and infrastructure that will serve this neighborhood for generations to come," said Department of Housing Preservation and Development Commissioner Louise Carroll. "I thank our colleagues at EDC as well as our many partners throughout the City and the Sunnyside community for their continued partnership."
"At 180 acres Sunnyside Yards provides an opportunity to think creatively about amenities that this part of Queens is lacking, including providing more open space for existing and future residents. This Master Plan provides a framework for development into the next generation. As the plan moves into implementation, it is important that the phasing be thought of comprehensively — balancing critical infrastructures like decking, roadways, sewers and open spaces with other on-site development. We look forward to its future," said NYC Parks Commissioner Mitchell J. Silver.
"Over the last 15 years, Western Queens has experienced rapid growth, challenging us to reassess areawide infrastructure needs," said Commissioner of the Department or Environmental Protection Vincent Sapienza. "The Sunnyside Yard Master Plan emphasizes holistic infrastructure planning to ensure that water mains, sewers and other critical systems have the capacity to support the next generation of New Yorkers."
"I will not stop fighting to ensure that the Sunnyside Yards project meets the current and future needs of Queens residents, is a holistic approach, and is driven by community priorities. The first step in this decades-long plan must prioritize infrastructure investments, and I am encouraged that the Master Plan includes the Sunnyside Station in its first phase," said Congress Member Carolyn Maloney. "Long Island Railroad, Amtrak and NJ Transit are already coming in to Long Island City's Sunnyside Yard, and with Penn Station Access under construction to bring Metro North through the Yard, it would be shortsighted to allow so many transit system to converge without providing station access for passengers. Creating this transportation hub will allow many new economic opportunities, while servicing a neighborhood that suffers from a lack of investment. While I am initially encouraged by the proposal for the Sunnyside Yard Master Plan governance entity, it is necessary that this continues to be a community driven process and I will not support plans that abandon this approach. I will continue to be a fierce advocate for an open dialogue that ensures none of our neighborhood's voices are left out."
"At Sunnyside Yard, we are presented with the rare and unique opportunity to build from the ground up a new, 21st-century community in the world's greatest city," said Council Member Paul A. Vallone, Chair of the Committee on Economic Development. "Through close work and partnership with community leaders, elected officials, and residents, this transformative project could deliver essential employment, 100% affordable housing and infrastructure opportunities. Adding much needed green space to Western Queens and building a new Sunnyside Station connecting regional and intercity rail services would serve City residents for generations to come."
"Community Board 2 has long advocated for Sunnyside Station," said Denise Keehan-Smith, chair of Queens Community Board 2. "We're looking forward to working with the City and the rail entities to make this a reality for Queens residents."
"This plan by the City of New York and Amtrak for Sunnyside Yard is the type of ambitious vision that both the New York region and Long Island City community need," said Tom Wright, President and Chief Executive Officer of Regional Plan Association. "It provides a road map for addressing the major challenges of today—affordable housing, economic opportunity and climate change—by using Sunnyside's potential as regional transportation hub and mixed-use center."
"Sunnyside Yard has the potential to be a transformative project for both local and regional transit," said Nick Sifuentes, Executive Director of the Tri-State Transportation Campaign. "It is a linchpin in the transit network that can unlock opportunities to improve and expand commuter rail for hundreds of thousands of daily riders—and can provide local residents with better transit options too. With the city's promise of substantial funding for the Sunnyside Yard transit station, the dream of better regional connection takes one step closer to reality. We are glad to see the City and Amtrak's master plan and applaud their efforts and the city's commitment to improve transit in Queens."
"Now, more than ever, the City and communities must work together to invest in young people so that they have a better chance to build wealth for their families," said Anne Cotton Morris, Chair, New York City Housing Authority Council of Presidents. "We're thrilled the City will prioritize an affordable housing program that supports low income families with rental and homeownership opportunities in Western Queens. The Sunnyside Yard Master Plan is a great example of what can happen when the City and the community plan responsibly together for new opportunities in the future."
"Inclusive growth as a development model takes into account all of the areas that impact one's life, including and especially the challenges that might be further exacerbated as a result of careless economic development — housing, workforce development, education, and transit to name a few," said Jose Ortiz, Jr., Executive Director of New York City Employment & Training Coalition. "By taking such a holistic approach, the Sunnyside Master Planning Process provides a unique, once in a generation opportunity to develop a community in such way that increases the likelihood that existing and future residents of all socioeconomic experiences will equally benefit from the city's growth. Like in the case of this plan, the next generation of economic development initiatives in our city must embrace a strong inclusive growth strategy that takes the needs and interests of all New Yorkers and prioritizes the creation of an equitable and affordable city."
"We applaud the open process that New York City and Amtrak have jointly undertaken to enable the entire community to help shape the future of Sunnyside Yard," said LaGuardia Community College Interim President Paul Arcario. "Imagining a future Long Island City with more affordable housing options, improved transit, and more open space is extremely exciting—for future LaGuardians and our community alike. LaGuardia is ready to serve businesses moving into Western Queens with our highly successful workforce training programs, designed to prepare the workforce of tomorrow."
"For years, residents in Western Queens have been seeking another mode of transportation to help support their growing neighborhoods," said Dean Devita of the National Conference of Firemen & Oilers. "We're thrilled the City will make a financial contribution for a future Sunnyside Station, which over time will give residents access to every part of the NYC region. This would create new rail jobs, support commercial and economic growth, and plan ahead for a 21st-century transportation system."
"Sunnyside Yard is such a unique opportunity to make the city more affordable while also creating new jobs that expand pathways to economic mobility," said Jonathan Bowles, Executive Director, Center for an Urban Future. "This master plan shows how to realize the Yard's incredible potential. It does so in a way smartly balances new development with critical investments in transit and open space that will strengthen one of New York's greatest neighborhoods."
"The Sunnyside Yards master plan is a good first step in the development of substantial new housing resources and we appreciate the early focus on new infrastructure and transportation. This is exactly the type of long-term planning that the city should be doing," said Kathryn Wylde, President & CEO of the Partnership for New York City.
"The Sunnyside Yard Master Plan is another step toward creating New York's next great neighborhood. This is a once-in-a-generation opportunity that will change the landscape of Queens and the entire city, and we must get it right," said Carlo A. Scissura, Esq., President and CEO, New York Building Congress. "Investment in infrastructure – from transit and utilities to schools, hospitals and beyond – and the creation of affordable housing must be prioritized. It's also critical that the community remain actively involved throughout the process to ensure that whatever is built benefits the surrounding neighborhoods. Congratulations to Mayor de Blasio and his administration, EDC, Amtrak and everyone who was a part of creating this plan."
"We're proud to contribute to this planning process, which once realized, will have a profoundly positive impact on this city for generations to come," said Gary LaBarbera, President of the Building and Construction Trades Council of Greater New York. "The Sunnyside Yard Master Plan provides the framework for a project that creates thousands of good union jobs with benefits — paving pathways to middle-class careers for thousands of New Yorkers — and plans responsibility for the future of New York City."
"The Sunnyside Yard Master Plan is a great example of the creative thinking and careful planning needed for New York City to continue to experience inclusive and sustainable growth," said Steven Rubenstein, Chairman of the Association for a Better New York. "By bringing stakeholders in the community to the table, the City and Amtrak have pulled together a plan to activate a critical parcel in Western Queens to include transportation, housing, and open space while maintaining the character and diversity of the surrounding neighborhoods. This is smart development and a plan that anyone who wants our City to remain dynamic, vibrant, and diverse should support."
"The Sunnyside Yards master plan, unprecedented in scope and scale, thoughtfully delivers a much-needed blueprint for the growth and prosperity of not only Western Queens but New York City and the region as a whole," said Felix Ciampa, Executive Director, Urban Land Institute New York. "With its emphasis on providing affordable rental housing and home ownership opportunities, commitment to improving local and regional transit connectivity, creation of significant new public open space, and ambitious goals for advancing resiliency and carbon neutrality, Sunnyside Yards offers a compelling vision for the growth and development of New York City that is socially, economically, and environmentally equitable and sustainable."
"The Sunnyside Yard Master Plan will be catalytic for creating a new framework for economic development—one that is inclusive, progressive, and benefits local residents and families here in Western Queens," said Pursuit Co-Founder and CEO Jukay Hsu. "This plan will create new companies and jobs where people live and, through a new regional rail hub, connect residents of Sunnyside and the surrounding diverse neighborhoods with the many jobs in technology and other industries springing up across the City."
"The Sunnyside Yards Master Plan is an absolute game-changer for Queens and for our entire city," said Jolie Milstein, President and CEO of the New York State Association for Affordable Housing (NYSAFAH). "With this plan the de Blasio administration has presented a truly forward-thinking vision for building strong communities, creating good jobs, and investing in more of the transit-oriented development we need to address New York's housing crisis."
"The Queens Chamber of Commerce fully supports the efforts to date which have included wide public input and a detailed planning process," said Thomas J. Grech, President and CEO, Queens Chamber of Commerce. "We believe this once in a lifetime opportunity presents a number of achievable and worthwhile goals: reinvigoration of a critical rail hub, development of thousands and thousands of affordable homes, a new street grid with nearly one-third of the entire project dedicated to open space and something that everyone in Queens wants: infrastructure improvements and additional public transit options; among others. As a member of the steering committee, I clearly heard the adamant request for a Sunnyside Station to connect with multiple transit lines; something that has been discussed for years and will come to fruition under the Master Plan."
"Just think of the convenience of a station for QUEENS RIDERS," said George Stamatiades, President, Central Astoria LDC. "The local community will at last be accommodated."
"The Sunnyside Yard Master Plan represents an important first step for architects considering what can and should be built in Western Queens. Expanded transit options, green space, and affordable housing are essential for the neighborhood, and it is encouraging to see them embodied in this plan," said Ben Prosky, Executive Director, AIA.