Press Release
In Celebration of WorldPride, NYC Ferry Introduces the Pride Vessel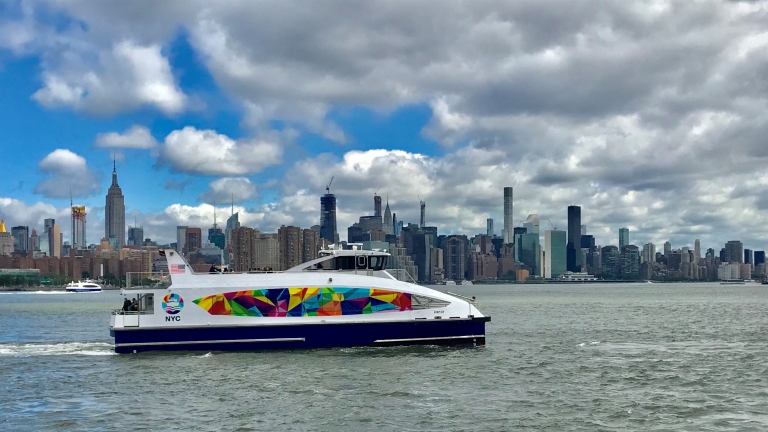 The Dedicated, Decorated Vessel Will Be in Service Across All Six Routes Through Early July

Riders Can Follow @NYCFerry on Twitter to Track the Vessel in Real Time
NEW YORK, NY—In commemoration of WorldPride 2019 and the 50th Anniversary of the Stonewall Uprising, New York City Economic Development Corporation (NYCEDC) is participating in the citywide celebration with a dedicated NYC Ferry "Pride Vessel." As part of Project Rainbow, an initiative launched by NYC & Company that aims to Paint the Town Proud for WorldPride, the Pride Vessel will be a public statement of the City's commitment to equity, diversity and inclusion. It will bear the official City Host brand "Pride.Uncontained." inside and out, visible from the shore and to riders, as it operates in New York Harbor through early July.

The Pride Vessel will be decorated with the "Pride.Uncontained." theme on its exterior windows, on the primary ferry on the stern, and other visual elements internally and on the upper deck. The vessel will operate in and around the harbor and be rotated across all routes to ensure all New Yorkers have an opportunity to experience a ride on the Pride Vessel. WorldPride is expected to attract between 4-6 million visitors to the city.

"Pride Month highlights New York's unwavering commitment to inclusivity and diversity," said NYCEDC President and CEO James Patchett. "We are proud to deliver a visible symbol of these values on our ferry boats and show the world that our city celebrates the LGBTQ+ community not just in June, but all year long."

"We are pleased to see NYCEDC and NYC Ferry's dedication to painting the City proud this June by creating a 'Pride Vessel' to transport visitors and locals throughout NYC's diverse and inclusive neighborhoods," said Fred Dixon, president and CEO of NYC & Company.

"As we welcome millions of people from around the world and country to New York City for World Pride this month, it's exciting that many will have the chance to see or ride on NYC Ferry's Pride Vessel," said New York State Senator Brad Hoylman. "I'm proud to be the State Senator that represents the Stonewall Inn, the location of the uprising that sparked the modern LGBTQ movement for human rights 50 years ago. The Pride Vessel is one of many steps our City is taking to tell its citizens and visitors that we will continue fighting and marching to ensure those rights are achieved for all LGBTQ people and to tell the world hate has no place in our City."

"As Chair of the City Council's LGBT Caucus, I'm thrilled that NYC Ferry is using their assets in an inventive and prominent way to celebrate WorldPride," said Councilmember Daniel Dromm. "As the Pride Vesselmoves riders all over the city this month, I hope they will take a moment to appreciate this wonderful symbol of our inclusivity."

"Decorating an NYC Ferry vessel to honor and celebrate the LGTBQ community during WorldPride celebrates New York City's diversity and inclusivity," said Councilmember Carlos Menchaca. "I look forward to seeing the Pride Vessel sailing our waterways throughout the month!"

"This visual recognition of Pride month and support for the LGBTQ community, further cements New York City's place as the most diverse and accepting city in the world. We continue to showcase our support for LGBTQ individuals in festive and creative ways, and the Pride Vessel is a great example," said Councilman Ritchie J. Torres.
In 2015, Mayor Bill de Blasio announced his vision for a six-route citywide ferry service that would expand transportation access across the city affordably and reliably. Launched in May 2017 with 21 landings throughout New York City, NYC Ferry has served nearly ten million riders to date across the East River, Rockaway, South Brooklyn, Astoria, Lower East Side and Soundview routes. Revised annual ridership forecasts project the system will reach 11 million annual riders by 2023 with the addition of the St. George and Coney Island routes.

Riders are encouraged to follow @NYCFerry on twitter to track the Pride Vessel in real time.
About NYCEDC
New York City Economic Development Corporation creates shared prosperity across New York City's five boroughs by strengthening neighborhoods and creating good jobs. NYCEDC works with and for communities to provide them with the resources they need to thrive, and we invest in projects that increase sustainability, support job growth, develop talent, and spark innovation to strengthen the City's competitive advantage. To learn more about our work and initiatives, please visit us on Facebook, Twitter, or Instagram.