Biden Policies and an Opportunity for Equitable Recovery in NYC
By Dr. Fred Olayele, Chief Economist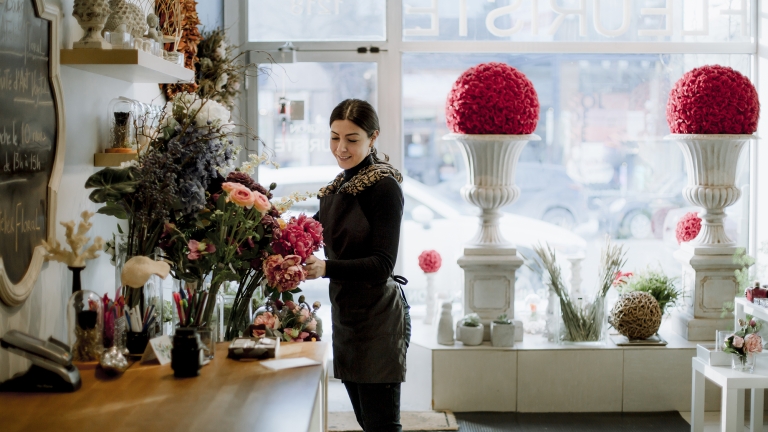 Several of the Biden administration's planned policy shifts are aligned with New York City's needs to help its own equitable economic recovery.
With the COVID-19 pandemic on the front burner of President Biden's domestic agenda, many quick policy changes will be essential for the country's economic recovery. Some of these changes—focusing on small businesses and jobs, infrastructure, and public health—will be crucial for New York City's own recovery and to address long-standing inequities, many of which have been laid bare and amplified by the effects of the pandemic.
A Strong, Yet Uneven, Economy
In March 2020, COVID-19 brought the longest economic expansion in US history to an abrupt halt. Before the virus slammed the brakes on America's largest metro economy, NYC was a leading contributor to a full-fledged expansion in the US.
The US consumer provides fundamental strength to the overall economy. Recently, per capita personal consumption expenditures1 in the city and its surrounding states have been among the highest in the country. Not only that, NYC has accounted for a significant share of total US exports for sectors like2 Financial Services (22.2%), Support Services (14.1%), Apparel Manufacturing (13%), and Travel and Tourism (11.2%).
By the Numbers
$776B
NYC's Gross City Product before the pandemic. Source: Moody's Analytics
But despite the strength of the economy before COVID-19, it was not an even economy. The US labor market had already seen a recent shift and polarization: While the number of low-wage jobs had increased more than higher-wage jobs, the pay associated with low-wage jobs had dropped significantly (Figure 2). This shift and polarization hit dense urban centers hardest.
Figure 2: Polarized NYC Labor Market

COVID-19 has only compounded this recent trend, disproportionately affecting marginalized New Yorkers and a wide array of small businesses—movie theaters, museums, restaurants, bars, hotels, and others related to business and leisure travel to the city—in industries that include lower-wage jobs and are central to the city's economy.
Given the polarized state of the city's economy, and the inequitable effect of COVID-19, it's crucial to NYC's recovery that federal policies strike a better deal for workers in the bottom half of the income spectrum. Here's how they can, in a few key areas.
Small Businesses and Jobs in NYC
Small businesses are central to NYC's economy, with businesses with 50 employees or fewer constituting 96.1% of establishments and providing a third of private employment.3 Further, NYC is home to over 64,500 minority-owned firms with employees—more than the total number of businesses in Dallas, San Francisco, or Philadelphia, among other major cities.4
By the Numbers
96.1%
The percent of NYC businesses with 50 employees or fewer. Source: Quarterly Census of Employment and Wages
Yet, during the first phase of the Paycheck Protection Program (PPP), only 50% of eligible employer businesses in New York City received assistance, including 40% in the Bronx, 48% in Queens, 50% in Staten Island, 52% in Manhattan, and 53% in Brooklyn.5
On the employment front, since March 14, 2020, NYC has seen over 2.42 million unique unemployment claims. The city's unemployment currently stands at 11.4%, compared to the pre-COVID rate of 3.4%. While jobs are fully back to pre-pandemic levels for the highest-wage earners, many low-wage earners still don't have their jobs back—further widening the existing wealth gap.6
The Biden Policies
The Biden administration aims to7 address the pervasive wealth gap8 faced by marginalized groups by capitalizing Community Development Financial Institutions (CDFIs). Specifically, the administration is "focused on ensuring that small businesses owned by people of color and others who have been historically disadvantaged—many of whom were shut out of previous relief packages—receive support."9
As a starting point, CDFIs can be key disbursement partners for the next round of relief to ensure that it reaches community-based businesses. President Biden plans to reserve half of new small business relief—whether the PPP or future efforts—for small businesses with 50 employees or fewer, including microbusinesses and sole proprietorships.
The Biden administration also aims to improve and expand the Small Business Administration (SBA) programs that most effectively support women- and minority-owned businesses, especially those owned by women of color. The administration plans to spur more than $50 billion in public-private venture capital to entrepreneurs. Access to capital is the biggest barrier for Black entrepreneurs in NYC10 and is behind the gap in representation among people of color in startups that receive funding. For example, of the 169 leadership positions in the 20 startups in NYC that received most funding between 2018 and 2020, only 10 were held by people of Black or African American origin, and six were held by people of Hispanic ethnicity.11
President Biden plans to reserve half of new small business relief—whether the PPP or future efforts—for small businesses with 50 employees or fewer, including microbusinesses and sole proprietorships.
Infrastructure in NYC
Infrastructure is a vital part of economic and societal wellbeing. From roads and bridges to public transit and airports to water mains and power lines, infrastructure supports a working economy. Infrastructure, prosperity, sustainability, health, and quality of life are inextricably linked.
In NYC, over 2.2 million resident workers (56%) rely on public transit for their daily commute to work.12 And 67.9% of NYC residents who commute to work via transit are people of color.13 The subway had total ridership of roughly 1.7 billion in 2019 and bus annual ridership was about 680 million.
By the Numbers
67.9%
The percent of NYC transit commuters that are people of color. Source: ACS 2015–2019
But the US's most densely populated city faces aging infrastructure vulnerabilities. While the Metropolitan Transportation Authority (MTA) has prioritized modernizing the subway's ancient signal system over the next five years, and improving wheelchair accessibility, a major improvement program is needed.
In 2014, the Center for an Urban Future (CUF) released a report14 on NYC's aging infrastructure vulnerabilities. The analysis pointed out that the city's infrastructure, more than 50 years old, was in varying states of disrepair—a situation further exacerbated by a growing population,15 climate-induced stresses, and other factors. The report concluded that a minimum investment of $47 billion was required over a five-year period to bring the city's core infrastructure to a state of good repair. The MTA has proposed $51.5 billion capital plan to ensure continued robust bus and subway service and help make them more reliable and accessible. To achieve this, the right mix of funding from city, state, and federal administrations must be in place.
A green recovery that prioritizes clean energy, resilient infrastructure, and environmental justice will help accelerate economic recovery while enhancing social equity.
The climate crisis, which often disproportionately affects marginalized populations, remains a priority. As we emerge from the COVID-19 crisis, a "green recovery that prioritizes clean energy, resilient infrastructure, and environmental justice will help accelerate economic recovery while enhancing social equity."16
The Biden Policies
The Biden administration has put forth a $1.3 trillion infrastructure proposal that seeks to provide much-needed funding to cities and counties, and includes a commitment to create green jobs that position the nation for long-term success.
President Biden has set goals to "ensure America and the world can meet the urgent demands of the climate crisis, while empowering American workers and businesses to lead a clean energy revolution that achieves a carbon pollution-free power sector by 2035 and puts the United States on an irreversible path to a net-zero economy by 2050."17
Further, the administration plans to spend $2 trillion on clean energy; this aligns with NYC's commitment to cultivate clean energy ecosystems like offshore wind. In a January 27 executive order, the White House directed the secretary of the interior to identify steps to "double renewable energy production from offshore wind by 2030."18
Public Health in NYC
Since the early days of the pandemic, the city has been producing what it has needed for COVID-19 response largely on its own, with limited support from the federal government. NYCEDC formed public-private partnerships to manufacture and deliver 8.4 million face shields, 4.2 million hospital gowns, 3,000 ventilators, and 1 million test kits to hospitals, clinics, and community testing sites. But now, the City currently faces a $3.8 billion deficit in the upcoming fiscal year, and after 10 months of responding to the pandemic with limited support, NYC needs economic relief.
The Biden Policies
On his second day in office, President Biden invoked the Defense Production Act of 1950, which gives the president broad authority to mobilize the resources and production of private companies to meet the needs of the national defense—including the production of vaccines and other supplies needed to confront the coronavirus pandemic.
NYC's continued recovery from the COVID-19 pandemic, and the city's ability to respond to any future health crises, will rely on such federal support.
An Opportunity for Equitable Recovery
The more inequality that exists in an economy, the less likely it is for economic growth alone to sufficiently lift up those at the bottom. And COVID-19 has perpetuated and deepened existing inequalities, around the US and here in NYC. President Biden's proposed policies in the areas of small businesses and jobs, infrastructure, and public health are aligned with NYC's needs, both to recover from the effects of the pandemic on our economy and to address long-standing socio-economic disparities. 
Further, considering the city's importance to the national economy, recovery and increased economic activity in NYC in the coming months should speed up recovery nationwide, especially in sectors with strong linkages to NYC's economy.
For these reasons, addressing the issues that most affect NYC must be prioritized in federal aid programs.
Learn more about the work of the Economic Research & Policy group at edc.nyc/Insights and contact the team at [email protected].
SOURCES
1. Consumer Expenditures for the New York Metropolitan Area: 2018–19
2. Brookings Export Monitor, 2018
3. Bureau of Labor Statistics, Quarterly Census of Employment and Wages, 2020 Quarter 1
4. Caution Ahead: Overdue Investments for New York's Aging Infrastructure
5. The Failures of the PPP in NYC
6. The Recession Is over for the Rich, but the Working Class Is Far from Recovered
7. Executive Order On Advancing Racial Equity and Support for Underserved Communities Through the Federal Government
8. The Black-White Wealth Gap Left Black Households More Vulnerable
9. Fact Sheet: President Biden to Take Action to Advance Racial Equity and Support Underserved Communities
10. Advancing Black Entrepreneurship in New York City
11. Pitchbook data, 2021
12. American Community Survey 5-year estimates, 2015–2019
13. American Community Survey 5-year estimates, 2015–2019
14. Caution Ahead: Overdue Investments for New York's Aging Infrastructure
15. Manhattan has the highest ratio of daytime-to-nighttime population in the US.
16. COVID-19 Green Recovery
17. Fact Sheet: President Biden Takes Executive Actions to Tackle the Climate Crisis at Home and Abroad, Create Jobs, and Restore Scientific Integrity across Federal Government
18. Fact Sheet: President Biden Takes Executive Actions to Tackle the Climate Crisis at Home and Abroad, Create Jobs, and Restore Scientific Integrity across Federal Government