Real Estate
As one of the world's most valuable residential and commercial property markets, New York City stands as an unquestioned powerhouse in the real estate industry.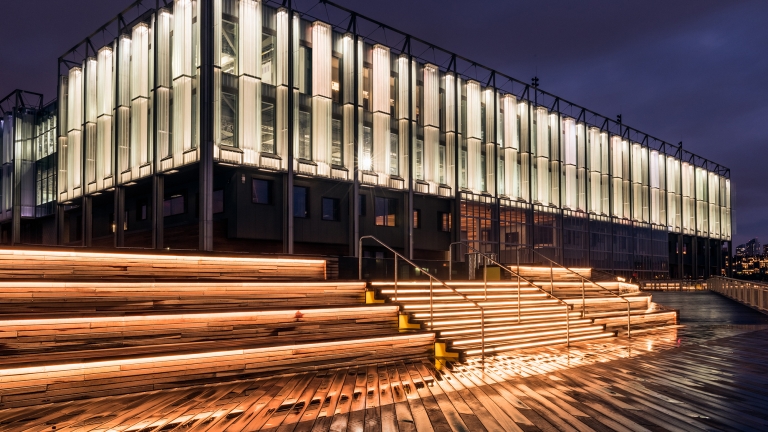 With the size and diversity of real estate offerings and its established leadership in finance and banking, NYC is a global hub for real estate technologies (proptech).  In fact, NYC is the global leader in proptech investments, with 99 deals since 2017, more than any city in the world. 
From appraisal, design, construction, financing, leasing, marketing, and operations/maintenance, NYC startups are creating the built environment of the future, today. 
Leveraging Assets. Delivering Results.
NYCEDC is the city's largest landlord, maintaining and leasing over 60 million square feet of City property.
By executing and advising on real estate transactions, negotiating the sale or lease of City property, and creating innovative public-private partnerships with developers, NYCEDC uses its real estate assets to deliver results for NYC's economy and make communities better, including:
Affordable housing in mixed-use projects;
Job creation in targeted industries that diversify the city economy;
Cultural and community space in select neighborhoods that enhance quality of life for residents.
Our Properties
NYCEDC is leveraging City real estate assets to support developers and tenants who will create jobs and help new sectors of the economy thrive and grow. Some of the properties managed by NYCEDC across the five boroughs include:
Brooklyn Army Terminal (BAT): Once a supply base for the US Army during WW1, BAT offers more than three million square feet of industrial space for over 100 NYC-based companies.
Arthur Avenue Market: Bringing bold flavor to the Little Italy section of the Bronx, Arthur Avenue Market is home to over 25 vendors specializing in Italian foods, bakery items, dry goods, fresh produce, and garden needs.
Museum of the Moving Image (MoMI): Located in Astoria, Queens, MoMI is the only cultural institution in the US dedicated to the exploration and interpretation of visual media, featuring a 267-seat main theater and a 4,100-square-foot gallery for changing exhibitions.
Pier 17: This four-story pier at the newly revitalized South Street Seaport District features a 1.5-acre rooftop event space and is now home to ESPN's new live broadcast studios, making it Lower Manhattan's newest destination for dynamic cultural, culinary, and entertainment experiences.