Insights
Transforming 42nd: The Six Design Principles of Times Square with Paul Whalen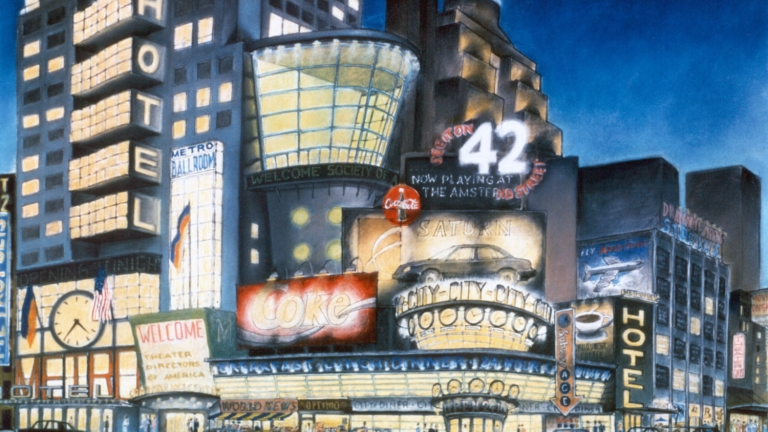 In advance of the debut of the documentary film Against All Odds: Transforming 42nd Street, we spoke with Paul Whalen, one of the principle members of the team that was responsible for creating the six guiding design principles of the development plan.
Paul Whalen is Partner at Robert A.M. Stern Architects and has been involved in the 42nd Street Development Project since 1992.
What are some memories of Times Square?
My earliest memory of 42nd Street is really particular. I was 18 years old, and I had just arrived at Columbia University from Cheyenne, Wyoming, and I'd never been in New York before. As part of our orientation, Columbia decided to bring a bunch of us to 42nd Street and to the Circle Line so we could get a view of Manhattan from the water. We walked from the Seventh Avenue subway past the brightly lit theaters and porno shops all the way down to the water. There were a lot of prostitutes, and there were policemen everywhere, and police cars and sirens. It was exciting and amazing—but also kind of scary for an 18-year-old.
What does 42nd Street represent to the city and the world at large?
42nd Street represents the heart of New York, a good-time main street for a 24-hour city. It's where everybody gets together to be entertained, to see each other, and to have fun. At the turn of the 19th century the street was lined with elegant theaters and grand restaurants, but at the same time there were simple little eateries, five-and-dime stores, and a major intersection of subways. From the beginning of the project, one of our guiding principles was that 42nd Street is for everybody. For most of its history, it has been one of the most democratic places in New York.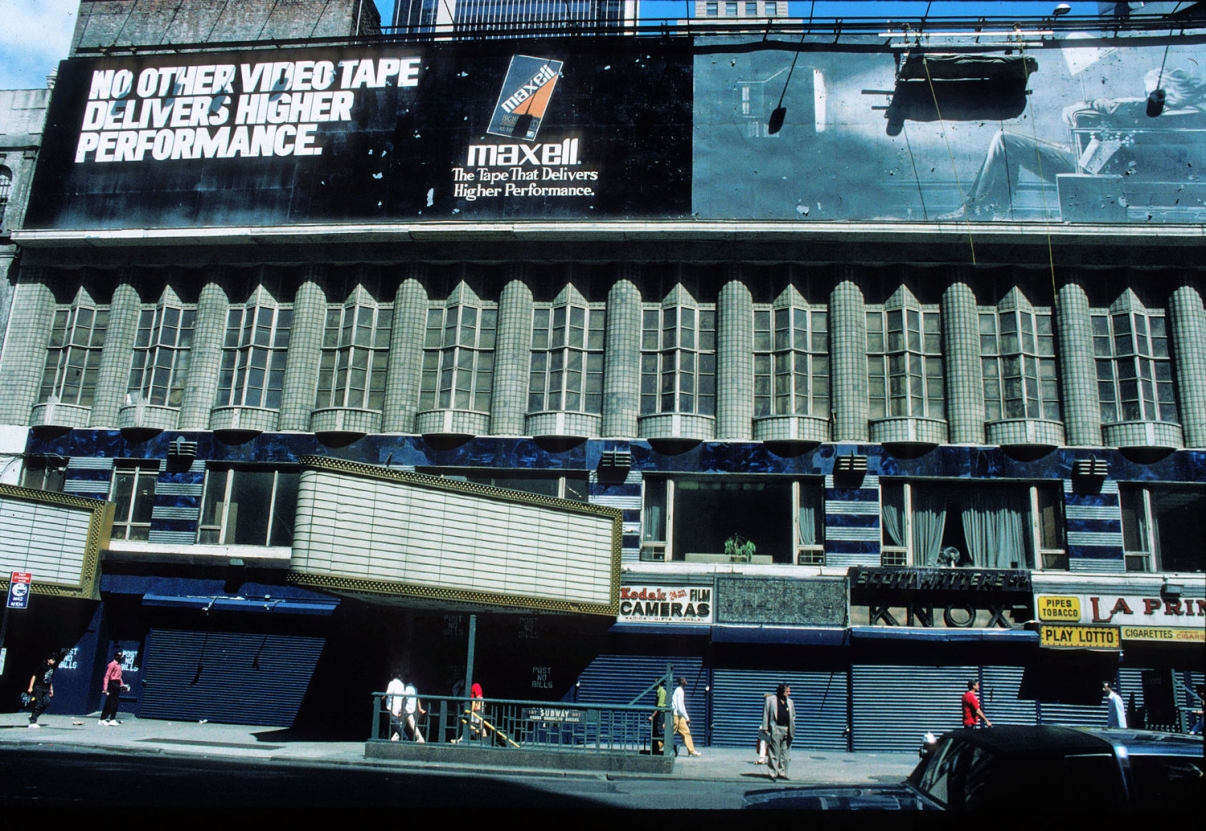 What was happening on 42nd Street when you joined the project?
At the time, all the plans and wishes of the State and the City had resulted first in a controversial design by Philip Johnson that was very regimented, with all the proposed new towers featuring Mansard roofs. The result, even after a redesign that added a bit of Russian Constructivism to the mix, was a scheme whose goal seemed to be to make Times Square into a kind of Rockefeller Center—a place that was very corporate.
At the same time there seemed to be no place for Midtown to grow except southwest, right through Times Square, but crime and blight made the area very unappealing to developers and potential office tenants. It was an important citywide issue that needed to be resolved. And one way to deal with it was to say, "Lots of people like Rockefeller Center, so let's make this another Rockefeller Center to encourage corporate investment!" By the time we got involved there was general agreement that Rockefeller Center was not the answer to the future development of this unique part of the city. Certainly we wanted to maintain the existing complexity of Times Square and 42nd Street, with its layers of historic and more recent architecture, while bringing in the higher density that the city needed.
By 1992 the City and State had condemned many buildings on 42nd Street, emptying them out so that towers could be built. But then the stock market crashed and suddenly there was no market for office towers. The consensus at the time was that the economy might not recover for 10 or 15 years, and so there was a need to develop a new plan that would not only serve to immediately bring life back to the street by filling the empty stores but that would also serve to guide the street through the next economic recovery. That's when we were hired.
What was your design approach to the project?
We believed that to capture the imagination of public and future investors, the plan for the revitalization of 42nd Street needed to be simple and direct. To that end we developed an approach based on six principles: layering, unplanning, contradiction and surprise, pedestrian experience, visual anchors, and aesthetics as attractions.
We wanted to maintain as much of the historic architectural and commercial character of the street as possible, while bringing in the higher density that the city needed.
Paul Whalen
Partner, Robert A.M. Stern Architects
1. Layering
By analyzing historic photographs, we studied what 42nd Street was like throughout its 100-year development, from 1890 to 1992 when we started our work. We realized that even early on, the street was strongly layered, first with commercial signs on the elegant early theaters, and thereafter with new commercial architecture and the constant replacement of old signs and storefronts with new ones. More typically though, new signs were added but the older ones were still visible underneath, creating an archaeological display of 20th-century architecture and commercial display. Neon came in, but there were still old hand-painted billboards on lot-line walls; movie theater marquees came in but the classical theater facades remained immediately behind them. 42nd Street is a layering of architecture and signage, a layering of highbrow and lowbrow, and a layering of different historical epochs.
2. Unplanning
The street was never planned. It was always just higgledy-piggledy. It evolved naturally over time based on whatever was needed from a cultural, economic, or commercial point of view. We needed to come up with a plan that would maintain this messy vitality. We wanted to make sure that there was a kind of disorder on the street.
The photographic symbol that we used for our unplanning principle was a map diagram of the garden at Blenheim, one of the most classic picturesque English gardens. It was extremely carefully planned, with views and corridors choreographed to create a multitude of scenographic experiences, contrived to appear to the visitor like a place that just happened naturally. That's what we wanted to do for 42nd Street.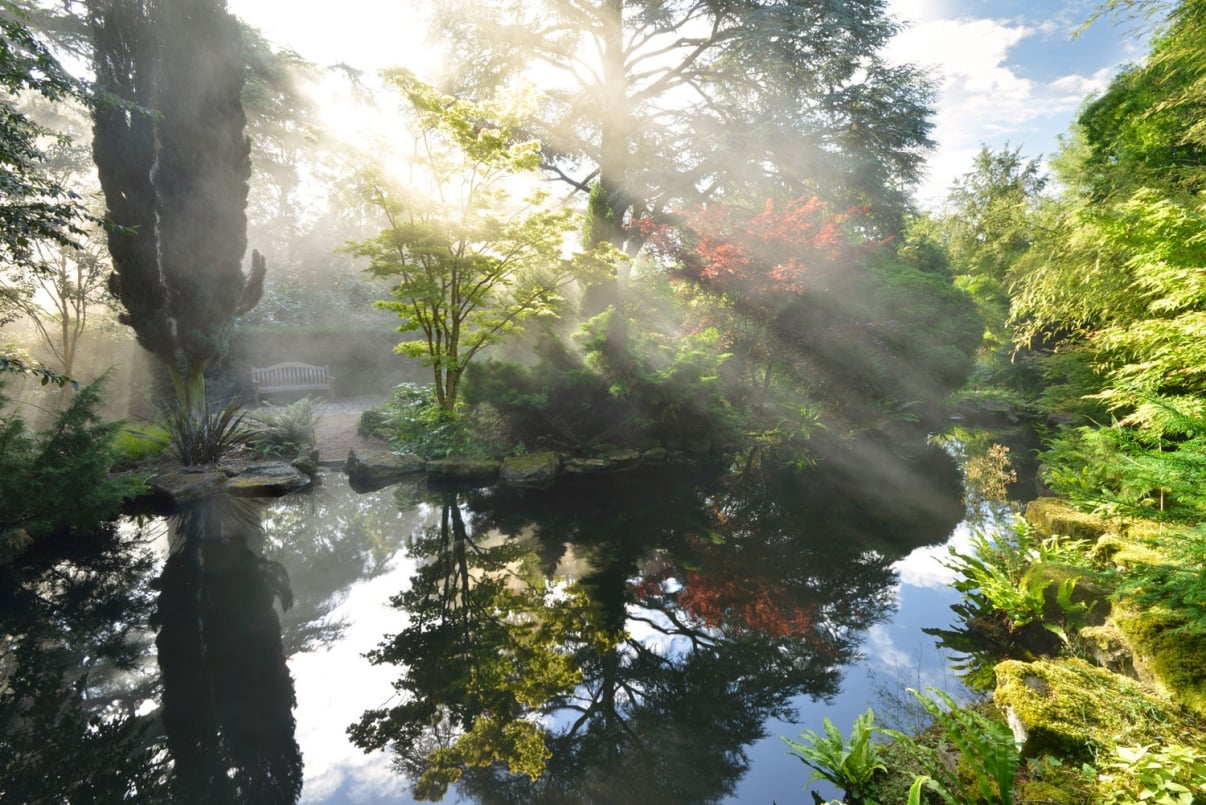 3. Contradiction and Surprise
Contradiction and surprise were always at the heart of the street. It always embraced rich and poor, highbrow and lowbrow. Small signs and doorways were often juxtaposed with gigantic commercial images of a famous face or a box of cigarettes. Theaters incorporated enormous billboards that could serve as a stage for a row of live dancers, and the dancers looked tiny in comparison. We understood that the juxtaposition of the very tall proposed new office buildings with the street's small historic structures and lower-scale signage would be difficult but if done with respect for history could also be interesting.
4. Pedestrian Experience
It doesn't matter what things look like from the air. When you're living in a city, you're walking on the streets. And a street that's lined with good retail is bound to be successful. We wanted to ensure great storefronts, each with their own individual identities, that would bring small-scale interest to the sidewalk experience. Street-level retail with a high level of transparency also makes people feel safe, so we required transparency and minimum lighting levels.
There are also signage requirements to make the street feel commercial and vibrant, and we wanted a flush street wall to ensure defensible urban space.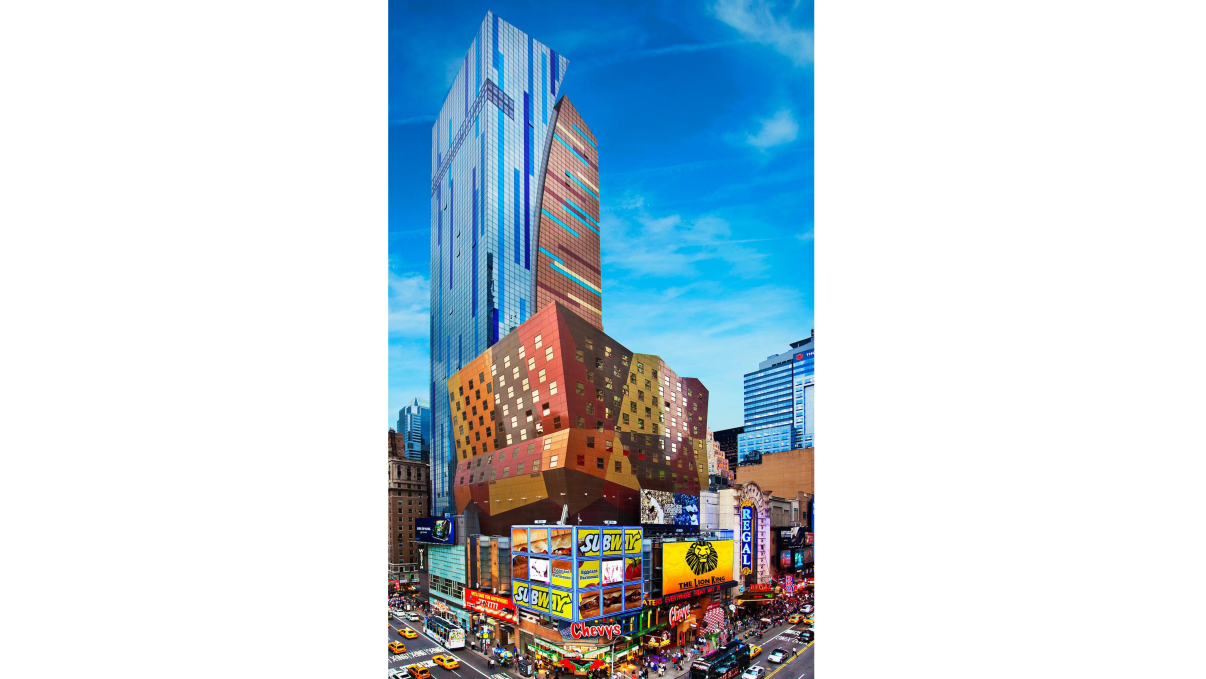 5. Visual Anchors
When we started working on the project in the early '90s, Times Square sputtered out toward the south and did not link clearly to 42nd Street. We wanted to create two primary visual anchors, one that would draw people down from Times Square to 42nd Street at Seventh Avenue, and another at Eighth Avenue and 42nd Street, which was always the weak end of the block. One of the project's earliest tall buildings was the "Westin New York at Times Square" on the northeast corner of 42nd Street and Eighth Avenue. Arquitectonica designed it and followed our guidelines to create a visual statement at that corner. Some people hate it, and some people love it, but it certainly works as a great anchor for that end of the block. It's quite memorable.
6. Aesthetics as Attractions
We wanted the street to be visually compelling enough to attract visitors regardless of the quality of the theaters or the retail or restaurants. It needed to be fascinating in itself. We used Venice as a comparison, because everyone goes to Venice for its aesthetics, not for its great restaurants or theaters. We wanted people to be attracted to 42nd Street because it looked amazing. Even in those pre-selfie days we wanted tourists to take pictures of themselves standing on 42nd Street, just as they would in the Piazza San Marco.
Our guidelines grew out of these six principles, including the amount of signage that we thought was appropriate and the sizes and shapes of the area's buildings. These principles were at the heart of the master plan and have guided our review of everything that's happened on the street for the past 25 years.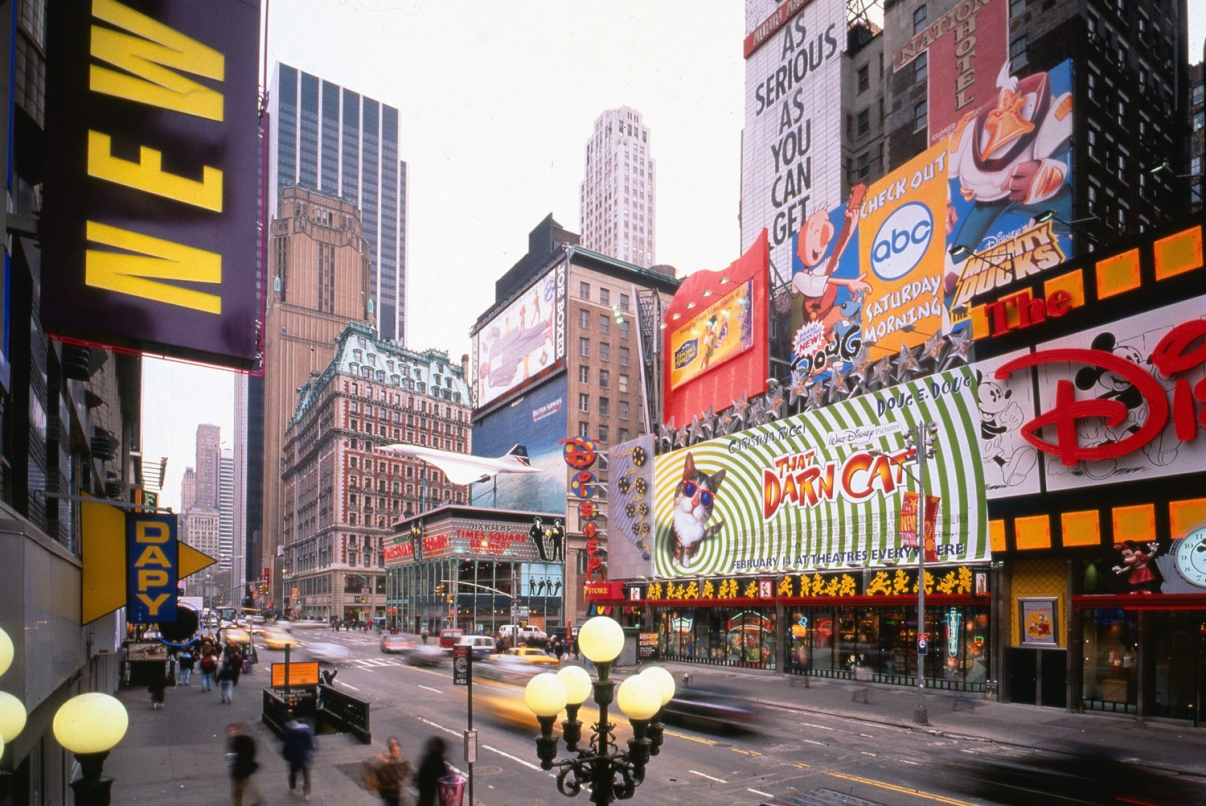 What do you see as your biggest accomplishment on this project?
We were able to bring 42nd Street into the 21st century. Anyone looking at it today would have no idea that 42nd Street was on its deathbed for a while. There are no signs of a hiatus; it appears to have developed continuously and naturally. When the first construction ended, some thought it looked too new. We recommended that everyone be patient and let the street age naturally. It needed to get dirty. I was just there this morning, and I think it's great that some of the light-bulbs are out and that it's not spotless. It really feels like part of New York.
Also, we were able to create a feeling of historical continuity while also allowing for large Midtown-scaled buildings. We were stewards not just of this street, but of a vital, growing Midtown Manhattan.
If you had to use one word to describe 42nd Street today, what would that be?
It's hard to think of one word. It's vibrant, it's honky-tonk, it's exciting, it's messy—it's all those things. It's exciting, and I think it still looks a bit dangerous. I love that.
Editor's note: Q&A has been edited for length and readability.
Learn how NYCEDC helped transform the once dangerous and rundown 42nd Street into an economic engine and tourist destinatio