Explainer
Transforming 42nd: Reversing Urban Decay with Carl Weisbrod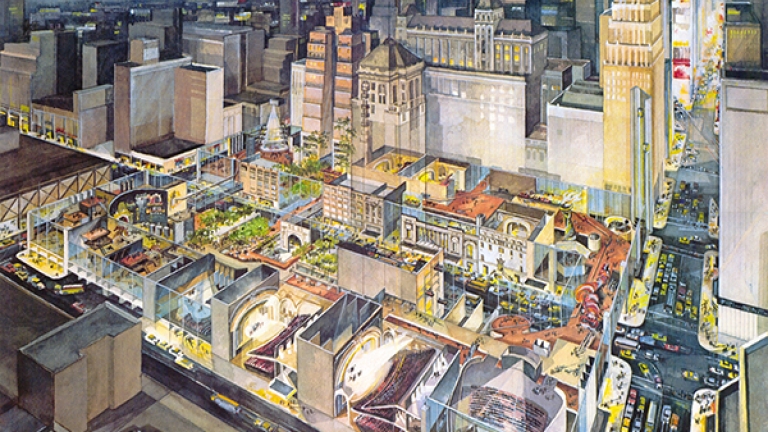 In advance of the debut of the documentary film Against All Odds: Transforming 42nd Street, we spoke with Carl Weisbrod, the first President of the 42nd Street Development Project. Weisbrod led the initial redevelopment plan for the block and established the financial mechanisms to make it possible.
Carl Weisbrod, a lifelong New Yorker and graduate of New York University School of Law, has been involved in urban planning and development since 1970. In addition to his role with 42nd Street Development project, he was Chairman of the New York City Planning Commission from 2014 to 2017 and was the founding President of NYCEDC.
What is your history with the neighborhood?
One of the ways I worked my way through law school was as a per diem teller for Chase Manhattan Bank, often at their 42nd Street branches, and so I understood and lived through the transformation of 42nd Street. The neighborhood transformed from a major theater district through the first War period into, in the 1960s, a street that consisted principally of sex businesses and hole-in-the-wall grocery stores selling beer, condoms, and knives and basically nothing else. Times Square—and specifically 42nd Street—attracted many people who were, for the most part, up to no good.
What was the block's condition when you started?
By the late 1970s, the street was generating six serious felony complaints every single day, more than any other street in New York. Eight thousand people an hour, at peak hours, would go through 42nd Street, 90 percent of them men, because women were afraid to walk that street; they would only pass through averting their eyes to avoid the cacophony of outrageous behavior and visual pollution that was all around them.
Forty-Second Street cost the City a huge amount of money in services. It cost the sanitation department something like six times the average to clean 42nd Street compared with other streets in New York City. There were 200 police officers assigned on a given day to that one block alone: city patrol officers, public morals police, anti-crime police, narcotics police, Transit Authority police, and Port Authority police.
Times Square in the 1960s, 1970s, was really the symbol of urban decay in New York and, in fact, urban decay around the country.
Carl Weisbrod
First President, 42nd Street Development Project
Had there been attempts to fix the street?
There was a history of mayors, principally right before election time saying, "we're going to clean up 42nd Street." And they would come in with police and close a few sex businesses and clap their hands and say, "We're on our way." And a month after the election, whatever businesses had been closed would reopen and business would continue pretty much as usual.
Then the Ford Foundation, together with Theater Row people, the preservationist Fred Papert, and others including Rockefeller and Equitable Life, came up with the scheme called The City of 42nd Street, which was essentially a Disney-fied theme park.
They presented that plan to then-Mayor Koch. It was very appealing in some ways, but to Mayor Koch's eternal credit, he courageously rejected the idea. He said the City couldn't take what was arguably the most important block in New York City and sole-source it to one development entity—no matter how well intentioned—or have a critical street in New York essentially be a gated theme park. A lot of people said things like, "This is the end." "42nd Street will never change." "Ed Koch has really rejected a major opportunity here."
The street itself, because of its dilapidated conditions, contributed less in taxes than one medium-sized office building did at that time. And because the sex industry, principally, was an all-cash business, property owners and their lessees were making out very, very well without contributing much to the city's well-being.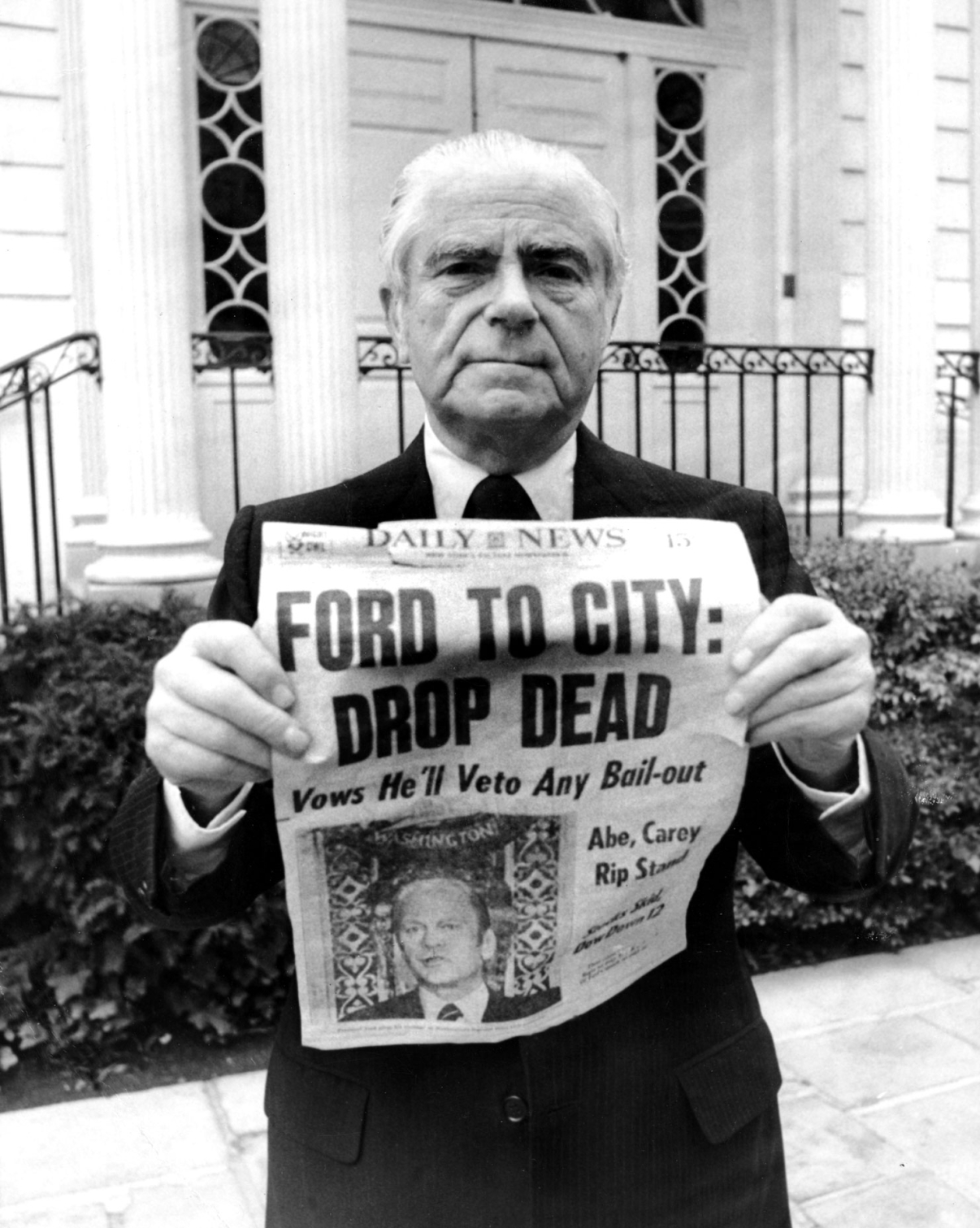 How did the mayor want to move forward?
Ed Koch asked the City to work with the New York State Urban Development Corporation to come up with a better scheme. At this time, New York City was recovering from the fiscal crisis of the mid-1970s, when it had de facto gone bankrupt. And the City itself didn't really have the development capacity or expertise that it has today. There wasn't a New York City Economic Development Corporation. The New York State Urban Development Corporation had recently undertaken two very important projects in the post-fiscal crisis era: the Hyatt Hotel on 42nd Street and the convention center on the West Side. It had gotten into commercial development for the first time and had a much easier and more powerful route to condemnation, which everyone believed would be essential. The partnership was created through a memorandum of understanding between the Urban Development Corporation and the City. And a partnership initially between Governor Hugh Carey and Mayor Koch.
How did the project progress?
In 1987 the 42nd Street Project had been unanimously approved by the then-governing body in New York City, the Board of Estimate. It had been approved by the Urban Development Corporation. But it really hadn't made any progress.
Probably 40 lawsuits were started against the project: property owners who didn't want to lose their property. Competitors on nearby streets who were afraid that businesses on 42nd Street would become competitive with them. Neighbors in the surrounding area afraid of gentrification. The sex industry, which claimed that this was somehow an attempt to eradicate sex in the city of New York. Not one of those lawsuits was ever successful. But they did delay the project.
How were condemnation and the process of eminent domain used?
When Ed Koch took office in 1978, the City had a capital budget under $1 billion a year. It had no money to pay for anything—compare that to today, where our 10-year capital budget is about $80 billion a year. So when looking at how to proceed on 42nd Street, and recognizing that the City just didn't have the money to pay property owners directly for condemnation, the City and the State came up with an extremely novel idea: to designate developers who would pay for condemnation themselves. We assured property owners that the money would be there for condemnation by requiring the developers to put up a non-refundable letter of credit. And that letter of credit was ultimately, I think, in excess of $200 million. It paid not only for condemnation but also ensured that the public improvements that New Yorkers had bargained for would be paid for.
There's no way this block would have changed without public intervention.
How else did the City help incentivize development on the block?
We knew when we were structuring the financing of this endeavor that we needed developers who would front money for the things that the public usually pays for upfront. In return for paying these upfront costs, we would structure a tax deal and taxes—payments in lieu of taxes, or PILOT—where full real estate taxes would not be imposed. Instead, the government could structure taxes as it wished, providing much lower taxes in the early years so that developers would have an incentive to attract tenants. And then those payments in lieu of taxes would rise over a number of years, ultimately to full taxes, at which time the developers would have the option of buying their land from the public and owning the property outright. And that's pretty much what has happened.
Looking back, do you think the block could have changed without public intervention?
There's no way this block would have changed without public intervention because there were 79 property owners. There had not been a new development on 42nd Street since before World War II—extraordinary for Midtown Manhattan. It was inconceivable that, even with the best of intentions, any property owner could have transformed and developed its own property and attracted tenants without the entire block being redone. And Disney would not have come to 42nd Street unless it was assured that the rest of the block was going to be redeveloped. And they were essential. It could not have happened without public intervention.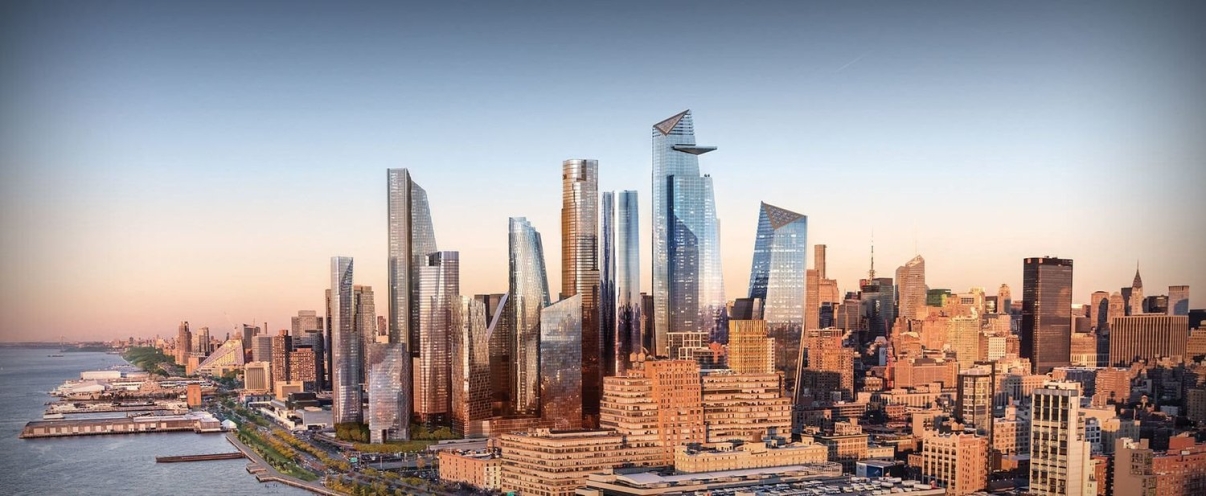 Would you characterize this project as a success?
I would say there are four major successes that really put the project in the pantheon of great public-private partnerships over the last 50 years. One is that we've taken an area that was the symbol of the worst of the city and transformed it into the symbol of the best of the city. The second is that we have opened up the West Side, which is essential to the city's growth. Hudson Yards would never have been possible if 42nd Street had remained the way it was. Third, because of the way the deals were structured, an area that was producing less in real estate taxes than a midsized office building has become one of the great economic generators of the city. Our ability to support City services through real estate is essential. And fourth is that we have done all of this in a way that preserves the very best of the city's history, the 42nd Street theaters, and the aesthetic of Times Square, while keeping it a popular center where people can come and have a good time.
What one word describes the transformation?
If there's one way to describe what 42nd Street has become, I'd say it has become a mecca for entertainment.
Editor's note: Q&A has been edited for length and readability.
Learn how NYCEDC helped transform the once dangerous and rundown 42nd Street into an economic engine and tourist destination.