Insights
Transforming 42nd: Creating a New Plan with Rebecca Robertson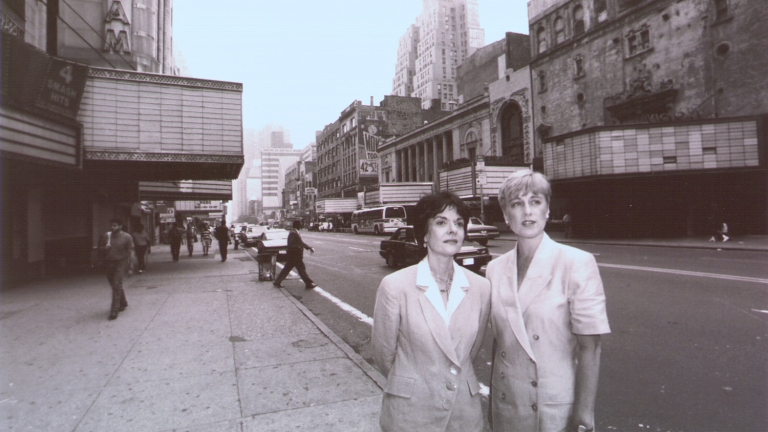 In advance of the debut of the documentary film Against All Odds: Transforming 42nd Street, we spoke with Rebecca Robertson, the second President of the 42nd Street Development Project.
Rebecca Robertson served as President of the 42nd Street Development Project from 1990 to 1997. During her tenure, she brought on Robert A.M. Stern Architects to help provide a vision for the block; brought a temporary art exhibition to the empty storefronts and theaters; and helped sign the deals to bring Disney and the Durst Organization into the project.She is currently the Founding President and Executive Producer of the Park Avenue Armory.
How did you join the project?
I worked for the Department of City Planning in the Manhattan Office, and the Executive Director of City Planning was Carl Weisbrod. Carl became head of the 42nd Street Development Project, the State entity that ran the project, and he asked me if I'd come with him. I was very happy to and was really excited about the possibilities of the project.
What was going on with the project when you started?
A project plan had been approved in 1984. It had the developer George Klein, of Park Tower Realty, building four huge behemoths designed by Philip Johnson at the bottom of Times Square. The plan included a big merchandise mart and a somewhat hazy hotel development idea. The theaters were going to be preserved and become Broadway theaters. That plan operated on the thesis that developers would have to be given huge tax subsidies to take on such a risky plan. They also were asked to provide public amenities or pay for public amenities, including the restoration of two theaters and the renovation of the 42nd Street/Times Square subway.
George Klein and Park Tower Realty was the only developer who put up money, and who found a financial institution to put up major money. The other developers sat back, watched everything happen, would put in a little money here and there to do a study or do something to make it look like they were busy, but the fact of the matter is they were smart. They sat back to see it change first.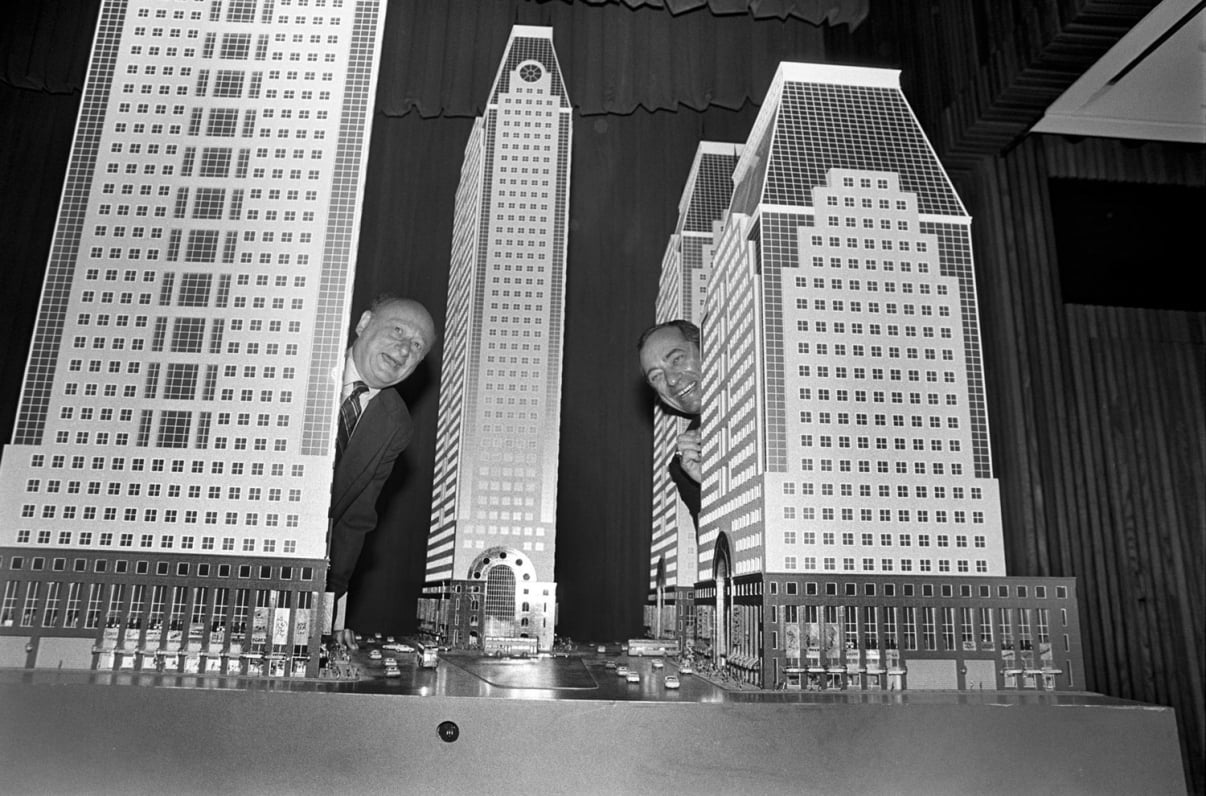 How did your team feel about the project plan and the proposed buildings?
The four office buildings at Seventh Avenue, Broadway, and 42nd Street didn't comply with any of the existing guidelines. I don't think there was any effort to have the office buildings reflect anything about 42nd Street or Times Square. What was amazing about the proposed office buildings was that they didn't have a single light or sign on them.
So one of the things we had to do was get them to comply with the guidelines. And, frankly, we had to do new guidelines, because the guidelines from '84 had been pretty watered down about lights and signs. We worked with the architectural lighting design firm Fisher Marantz to develop a measurement for the luminosity of signs. It's called LUTS: Light Units Times Square. It was a way that we could make sure that Park Tower Realty was really putting up signs that had the luminosity that those great neon signs did. They hated it. The second time we did guidelines was after 1990.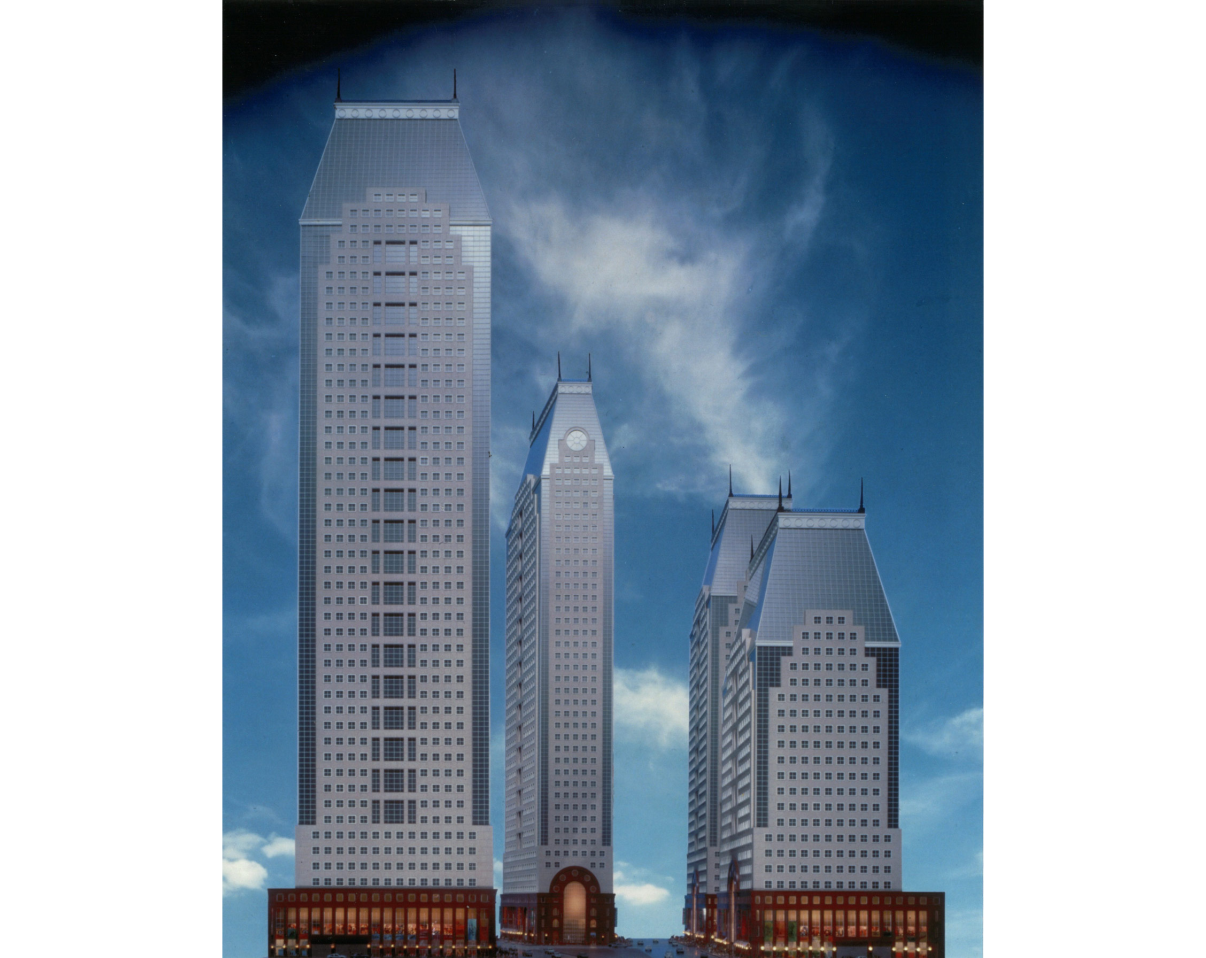 What was the turning point for the project?
The real turning point was when Prudential Insurance Company of America, who were brought on by Park Tower Realty, put up $240 million for the condemnation of the first two-thirds of the 13-acre site. If that had not happened, 42nd Street would still be the way it was then. Once they put up that money, which was in April, 1990, we had to clear their four office sites. Once we cleared the sites, they were committed to start construction immediately. It all seemed like a fine idea except that the market fell out.
How did the team feel when the market crashed?
Our team was delighted. It's a terrible thing to say because I know how much people had invested at that point, but it was an opportunity for us to change the plan, which was what we wanted to do in the first place. With the exception of Park Tower Realty, of course, we de-designated all of the developers, some of whom were quite irritated about it, and we just started afresh.
We assembled a team of designers like Robert A. M. Stern Architects, Tishman, and Tibor Kalman. Tibor is, unfortunately, no longer with us, but he was one of the great minds of his time in terms of understanding popular culture. We involved theater people, economic people. We had a huge team. And we created a plan called 42nd Street Now. We presented it as an interim plan with lots of lights and signs, entertainment uses and enforced "unplanning," because we didn't want to scare people off.
I believe that mythology in cities is something that has to be protected, and Times Square clearly had an incredible mythology.
Rebecca Robertson
President, 42nd Street Development Project, 1990–1997
That's when we really started to look at the history, what the theaters were doing, and what their potential was. And we started to look at the economics of 42nd Street.
Supposedly no businesses were succeeding there. But the Gap opened, and they had the highest sales in New York at 42nd and Seventh. McDonald's had their highest sales in Times Square. One of the things that our economist helped us figure out is that the potential for this place was unbelievable. Foot traffic was huge. And when we started to condemn the properties, crime dropped. After that happened, the potential for it to really be a major economic force was huge. That was the beginning of doing this new plan at that time. It was a really great opportunity.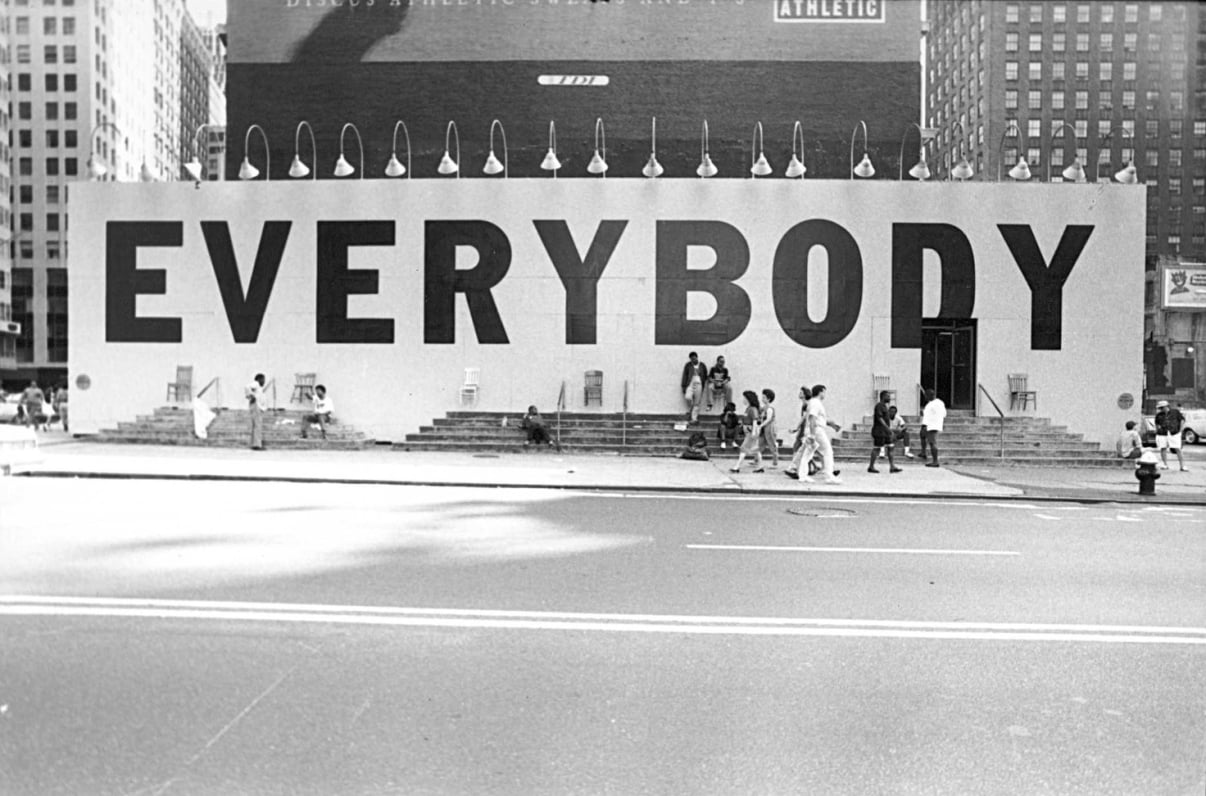 What were the guidelines for the new plan?
We required that the sites that had not been cleared put up major lights and signs and that they find tenants that were 24/7—not banks, but restaurants and things that would be lively, because we really wanted people to come back to 42nd Street. We had this beautiful sign that Tibor Kalman did for us called, "Everybody." It was an art piece that said we wanted everyone to come back because, for a while, 42nd Street had only been for criminals and perps.
Prudential Insurance Company and Park Tower Realty either had to give up the project or comply with our guidelines. The interim plan, 42nd Street Now, required that everybody have tenants and do signs. There was one sign that ended up being a Concorde jet on the top of one of the low-lying projects. It was really great. It lasted only about a year and a half, sadly, but it brought people back to 42nd Street.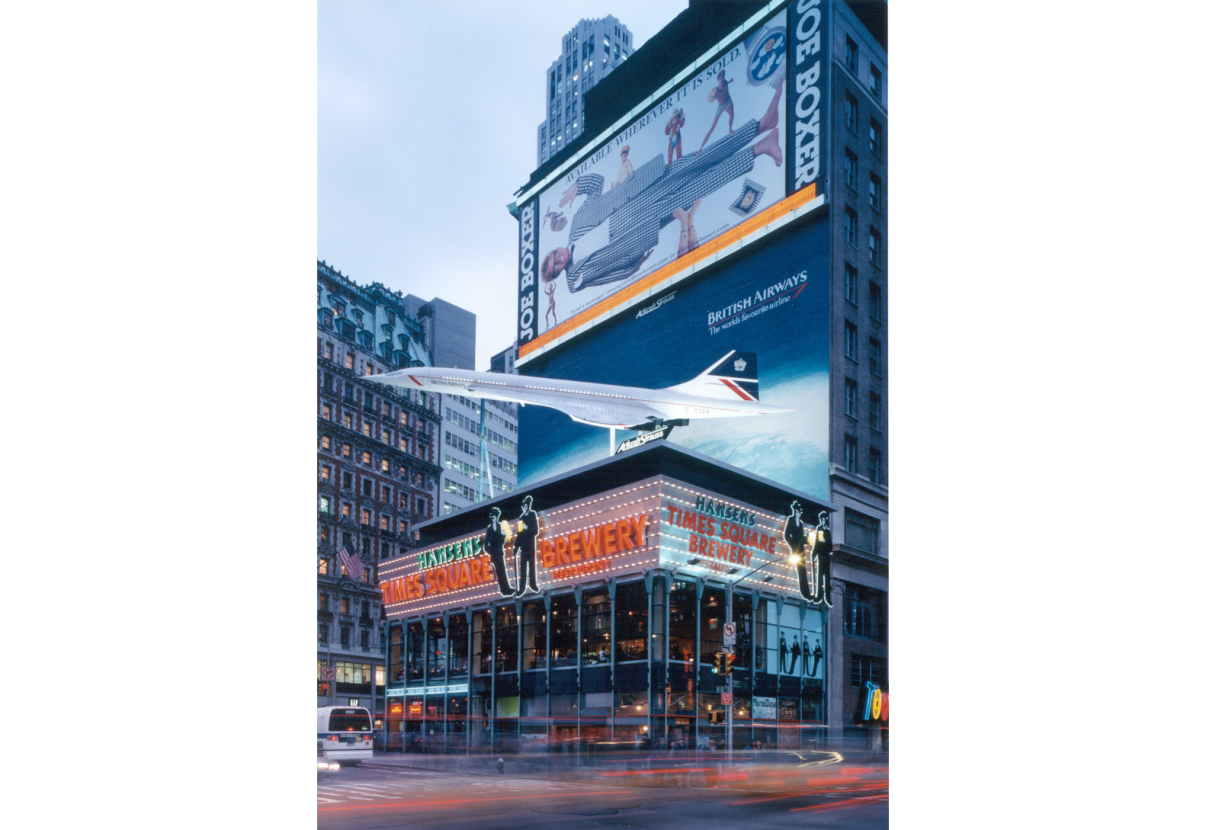 How did the partnership with Creative Time come about?
The partnership was part of our effort to convince people they should come back to 42nd Street. They agreed to do a project in all the storefronts that we'd emptied out, for two years, '93 and '94. We had extraordinary artists—Jenny Holzer and Vito Acconci, Diller and Scofidio, Karen Finley. It was just in your face, and lots and lots of people came to see it. And then they're standing there and nobody is attacking them and they're safe and it's okay. It was a way to say that 42nd Street was back.
How were the theaters addressed by your team?
Our idea was to create a nonprofit corporation and give it all the theaters; it would receive, if I remember correctly, 10 cents a square foot from every bit of commercial development to subsidize the operation, and we created a board that could fundraise. We set that up in 1988 and called it the 42nd Street Entertainment Corporation. We hired Cora Cahan, and she, of course, immediately renamed it The New 42nd Street.
We wanted it to be chaotic and fantastic and crazy and kind of out-of-the-box in the way that it should be.
The New 42nd Street decided to make their first theater a children's theater. I remember being in the board meeting. I was in shock. It seemed crazy. But in fact, it was kind of gorgeous. It was a really beautiful, optimistic vision to give hope and prosperity back to the 42nd Street theaters.
What was the Durst Organization's role in the project?
Douglas Durst was an enemy of the project. He sued everybody, and he slowed everything down. And the reason for that was actually just business. The Durst Organization owns a number of properties on Sixth Avenue. Their leases were coming due at a time when 4.3 million square feet of new office space would go on the market, and, understandably, he didn't want that to happen because that would get in the way of leasing of their own buildings.
Things changed when the market fell out and Prudential Insurance Company became very concerned about going further. Douglas Durst suddenly appeared on the scene and offered to build the first office tower, which was shocking. But I've got to say that once he was in, he was in 100 percent. He really bought into the whole concept. But yeah, it was an interesting turnabout.
How did things progress from there?
Once Douglas Durst become the developer of a Times Square building things really changed. By '95, the New Victory opened; in '97 The New Amsterdam opened. We had already started the condemnation of the final sites, so it was completely clear. Once we cleared the sites, those crimes statistics just disappeared. Then Durst started to work on development, and Tishman won an RFP for hotel development. Forest City Ratner came in. We did a deal with Tussauds because we really loved the honky-tonk part of Tussauds. And now we even have Ripley's Believe It or Not. It was a good market. It was all market driven.
What are you most proud of?
I'm most proud of the fact that you would never know that this was the largest commercial government project ever undertaken in the State of New York. You would have no idea where the government project stops and the market takes over. We changed the 42nd Street plan, making it into a plan that fits its heritage and what it means in the City of New York. That that's my greatest contribution. I'm very proud of that.
But that the unsung hero in this, and I'm sure he would laugh if he heard it, is George Klein. And Prudential. Without them, none of it would have happened. George Klein didn't have the right idea from a planning point of view, but he stuck with it. Prudential stuck with it, and they put their money where their mouth was.
What one word that you would use to describe 42nd Street today?
Honky-tonk. It's a honky-tonk place.
Editor's note: Q&A has been edited for length and readability.
Learn how NYCEDC helped transform the once dangerous and rundown 42nd Street into an economic engine and tourist destination.