Explainer
On the Sunnyside Yard, Part 1: What is Sunnyside Yard?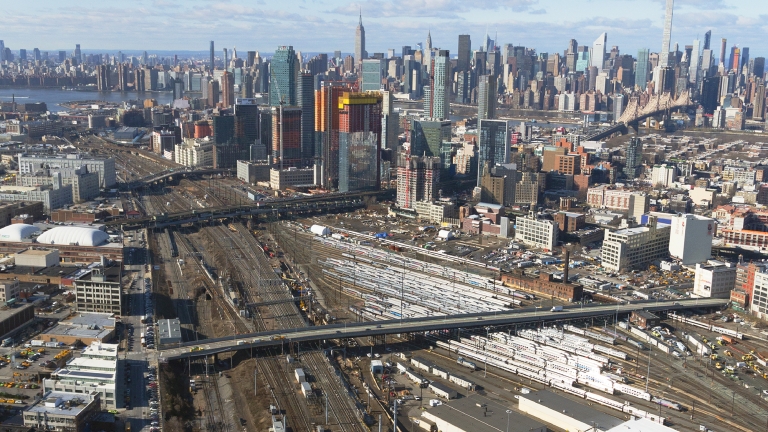 Over the next 18 months, the City and Amtrak are engaging in a master planning process to explore the future of Sunnyside Yard in western Queens. 
The natural place to start when embarking on a years-long conversation about Sunnyside Yard is to answer the basic, yet important question:
What is Sunnyside Yard?
Here are a few facts to start:
Sunnyside Yard is an active approximately 180-acre rail yard, stretching over a mile and a half from east to west, surrounded by five distinct neighborhoods in western Queens
The yard contains one of the busiest railroad facilities in the country and is a key train storage and maintenance yard serving Amtrak, NJ Transit, and LIRR
Sunnyside Yard borders one of the fastest-growing neighborhoods in the country and a significant employment center outside of Manhattan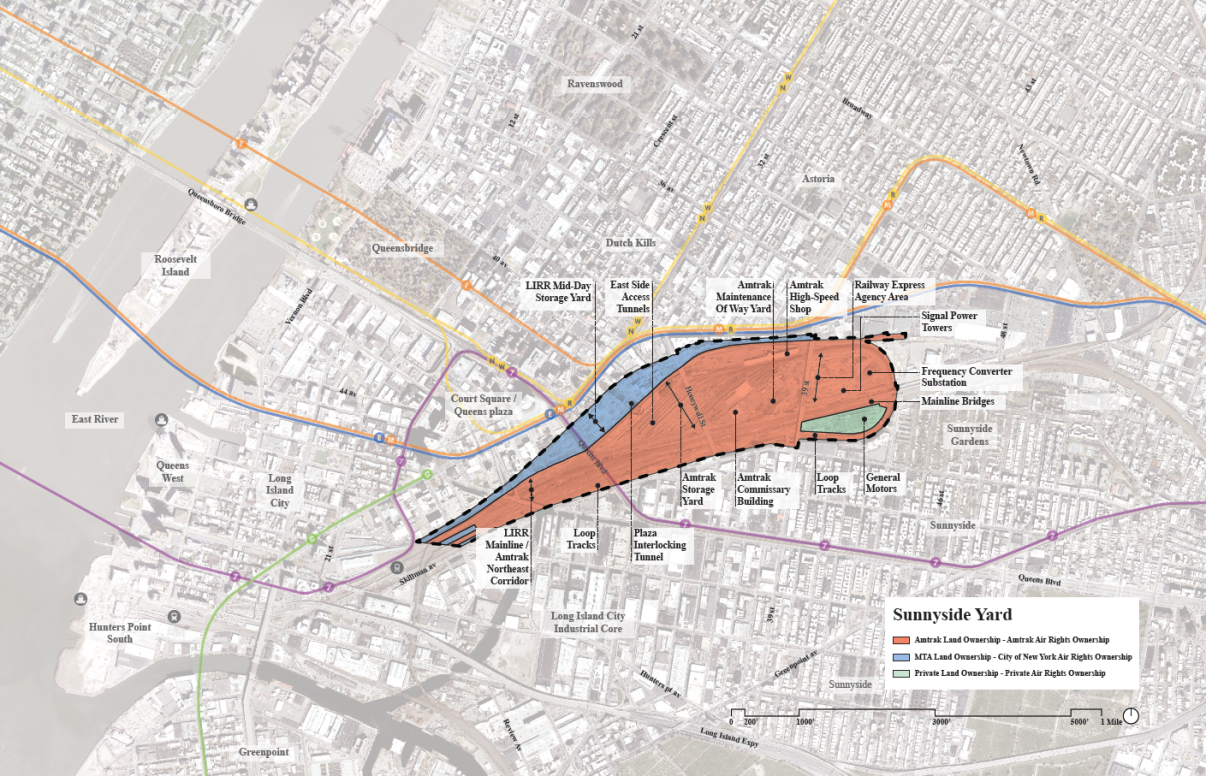 History and Operation
Sunnyside Yard was opened in 1910 by the Pennsylvania Railroad and, at the time, it was the largest coach rail yard in the world. Today, the yard is owned jointly by Amtrak (142 acres), the MTA (31 acres), and General Motors (7 acres). (Note: we'll take a deeper dive into the yard's history in the coming months.)
What Does Sunnyside Yard Do?
Sunnyside Yard is crucial to rail operations in the Northeast Corridor and, by extension, the entire United States. As a rail yard, it is a key train storage yard and maintenance hub, with 32 active storage tracks used daily by Amtrak and NJ Transit for trains leaving from or arriving at Penn Station. The yard is also one of the busiest railroad junctions in the US, with 132 Amtrak trains, 100 NJ Transit trains, and 578 LIRR trains passing through daily, projected to increase to about 1000 trains per day by 2023.
A Strategic Location
Sunnyside Yard itself is the place of work for approximately 800 Amtrak employees, and this is expected to jump to 1,300 by 2030. Further, the area surrounding the yard (within a 1-mile radius) is home to 100,000 residents and 90,000 jobs and includes a diverse set of neighborhoods that range from a major employment hub to long-time manufacturing districts to historic residential communities. Additionally, the area is served by eight subway lines and 13 stations—along with LIRR—offering residents and workers easy access to Midtown Manhattan and other parts of the city.
Why Plan for the Future?
So, this, in a nutshell, is Sunnyside Yard today. But what could it be tomorrow? The master planning process will explore future possibilities and identify how Sunnyside Yard might address some of the challenges New York City faces. Over the next 20 years, the city is expected to add more than half a million people—including over 80,000 in Queens alone. Growth like this can put strain on schools, parks, mass transit, and affordability of housing.
Sunnyside Yard could address this emerging need—for more schools, transit infrastructure, and places to live—and ensure that Queens stays affordable and livable for current residents, small business owners, and future generations. Further, over the next 15 to 20 years, both Amtrak and the MTA are undertaking major capital investments in the yard itself, offering a rare window to seamlessly coordinate development over the yard with improvements to the rail infrastructure.
This approach—decking over an open-air rail yard—has been done successfully in other parts of New York City and around the country, providing long-lasting benefits to the rail operations underneath and the surrounding communities.
Over the next 18 months of master planning, the City and Amtrak, led by the Sunnyside Yard Steering Committee and with input from community stakeholders, are developing a vision and framework—and ultimately a comprehensive and detailed plan—for what Sunnyside Yard may become.
Learn more about Sunnyside Yard here, and get involved in exploring the future of western Queens.