NYCEDC Stories
Recovery is a Long Process, but New York is Worth Fighting For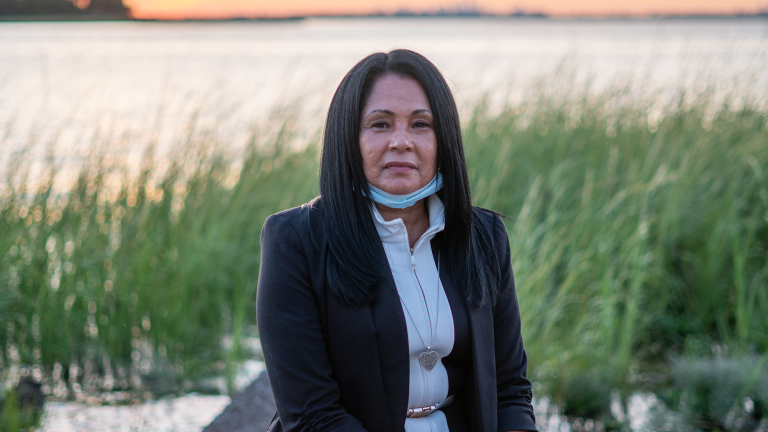 Although Nancy Martinez has lived abroad and traveled the world, her heart has always led her back to the Rockaways, where she's established businesses and nonprofits, formed lifelong friendships, and found a sense of belonging. A participant in NYCEDC's RISE program and founder of the New York Career Training School LLC, Nancy shares her story with us.
As part of the All In NYC campaign highlighting the city's resilience as it reemerges, rebuilds, and reopens, we're sharing the stories of the people and businesses that make NYC special.
As an immigrant child in New York City, I had to discover who I was, how I would define myself, and where I belonged. I arrived here from the Dominican Republic when I was seven years old after my father was granted political asylum. It was difficult adjusting to a new city and culture; I felt there was no place for me. But fast forward to today and I know exactly who I am: a proud New Yorker.
I am forever attached to New York City. It's a city that forces you to push forward when you're on the cusp of giving up. It inspires you to show fortitude in the face of change and crisis. Personally, it has given me this unbreakable drive and passion to do good things in the world.
In 2010, I opened a training school that could assist people looking to start careers in healthcare. I was inspired after my brother was left paralyzed and confined to a wheelchair due to a car accident, and I took the responsibility of caring for him. I spent over a decade in the healthcare industry learning about regulations, designing patient care standards and learning how to run a successful business in the city. To date, the New York Career Training School LLC has over 20,000 graduates with an estimated employment rate of over 98 percent.
I started with just 24 students. I now get up to 3,000 students a year. The school took a hit in 2012 after Hurricane Sandy devastated the Rockaways. Although there was no physical damage to the school, we went a month without electricity or heat. Subway trains were closed and buses were limited, so I drove to and from Lower Manhattan to pick up my students who had no other way to come to class. That commitment I saw from my students kept me going.
Communities overcome pain together and we need to remind ourselves that as New Yorkers, we are fighters and right now, I am fighting back harder than I ever had to before.
When the COVID pandemic struck the city, I told myself I couldn't lose this fight, because if I lost, so would my students. We were forced to close for three to four months but reopened at limited capacity early in the summer because of the shortage of homecare providers NYC was experiencing. My students were very worried, but they needed to work and wanted to study; most of all, they wanted to be there for the most vulnerable members of the community. We quickly adapted to the city's social distancing and health guidelines to ensure our staff stayed safe and protected.
To be blunt, it's been very hard with a new obstacle each day, but I'm no stranger to sudden challenges. I've had a lifetime of battles and I've never given up, not once. That's the spirit of New York. You can't call it quits when the going gets tough. Recovery will be a long process, longer than what we've experienced in the past. But communities overcome pain together and we need to remind ourselves that as New Yorkers, we are fighters and right now, I am fighting back harder than I ever had to before.
Learn more about 
New York Career Training School LLC
 and the city's 
All In NYC
 campaign.