Explainer
Moving Toward a Circular Economy in NYC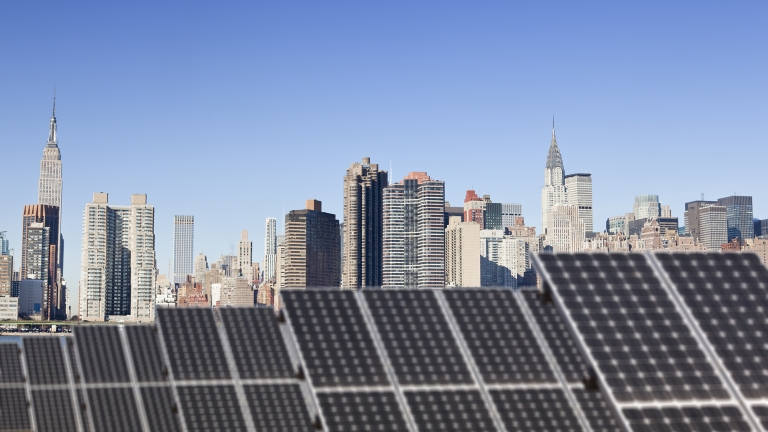 "Going circular" will be crucial for the future of New York City's economy. Here's what that means, why we need it, and what NYCEDC and the City are doing to get there.
With a growing global population, the waste produced by today's economy is unsustainable. And as a center of this economy, New York City produces 14 million tons of trash every year. Adopting a circular economy can take much of this waste out of the equation while growing the overall economy and creating good jobs.
First, What Is a Circular Economy?
Our current system, the linear economy, relies on a "take-make-waste" model: New or "virgin" resources and materials are sourced, made into products, and then thrown away once those products are no longer considered useful.
The linear economy made sense with a much smaller population, but today, with the world's population at nearly 8 billion, the practice is pushing our supply of non-renewable resources to the brink and generating 11.2 billion tons of waste per year globally!1
A circular economy, on the other hand, is "based on the principles of designing out waste, keeping products and materials in use, and regenerating natural systems,"2 according to the Ellen Macarthur Foundation, the leading global organization advocating for a circular economy.
By the Numbers
11.2B
tons of waste are generated globally, each year.
Waste doesn't mean just physical waste, but also lost economic value. Often, what's thrown away includes materials, ingredients, and properties that could be leveraged to generate ongoing uses.
Bringing a circular economy to life requires new business models and will take a shift in how we source materials, design products, and facilitate the return of products and materials for reuse.
Business Models of Circular Economy
Circular supply: Replacing material inputs with bio-based, renewable materials
Resource recovery: Recycling waste to replace raw materials
Product life extension: Extending the use period of existing products through repair or refurbishment
Sharing platforms: Sharing underutilized products, reducing the demand for new purchases
Product as a service: Marketing products on a subscription model, e.g., including initial installation and ongoing maintenance
Through the lens of these business models, we can already see the seeds of a circular economy in NYC. Local companies are creating renewable yarns from kelp, recycling electronics, repairing their products, creating online platforms for clothing rental, and partnering with large retailers to provide a reusable packaging service.
But this is just a start. There's still much to be done to reach widespread adoption of a circular economy in NYC.
A circular economy is based on the principles of designing out waste, keeping products and materials in use, and regenerating natural systems.
Ellen Macarthur Foundation
The Need and Opportunity in NYC
A few key industries, along with several public and private initiatives, highlight both the need and opportunity for "going circular" here in NYC.
Fashion
Every year NYC landfills 200 million pounds of clothing, equivalent to over 440 Statue of Liberties.3 On average, New Yorkers toss 46 pounds of clothing in the trash each year and garments are worn just seven times before they're tossed.
Fortunately, with 900 fashion companies headquartered in NYC, the city is home to a robust fashion industry equipped to support eliminating waste and keeping more materials in the supply chain.
NYCEDC has partnered with the NYC Department of Sanitation and the Ellen Macarthur Foundation on #WearNext, a public-facing program and interactive map where New Yorkers identify places to donate, recycle or sell the used clothing.
The need has also given rise to nonprofits to support the effort. FABSCRAP, an organization based at the Brooklyn Army Terminal, addresses NYC's commercial textile recycling needs. The organization collects and sorts clothing and fabric that typically would have gone to the landfill to make sure they're properly recycled and made available for reuse.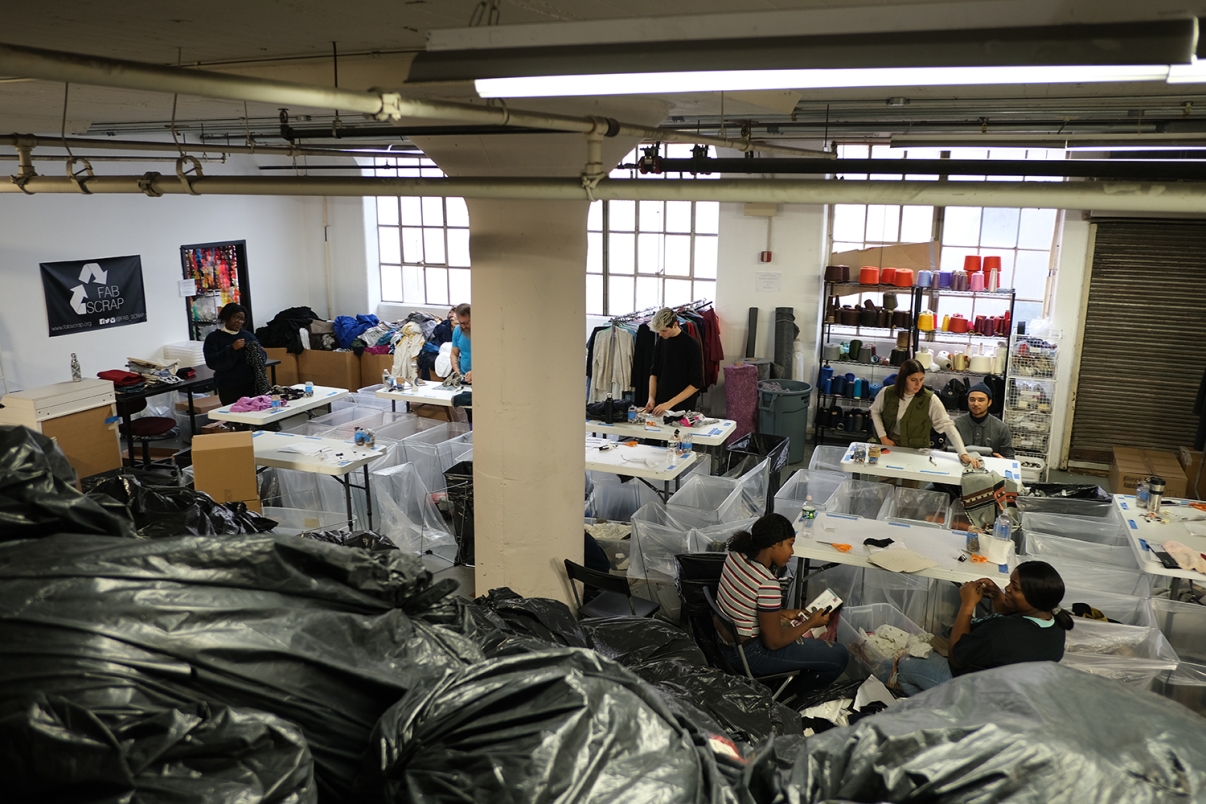 Food
In 2017, food scraps accounted for 21 percent of the city's residential waste, a larger portion than any other type of waste.4 Meanwhile, businesses generate over 650,000 tons of food waste each year.5 Much of this goes to landfills, where it releases methane, a gas more harmful than carbon dioxide in contributing to climate change.
While the food industry can do its part by donating misshapen and unsold food to appropriate organizations whenever possible, increasing circularity begins at the source of food production.
In the summer of 2019, NYC was selected alongside London and Sao Paolo as a Circular Economy Flagship City for Food, part of a three-year interagency effort to reduce food waste and design a more circular food system. Circularity here can provide environmental benefits and help NYC residents who experience food insecurity.
NYCEDC, the Mayor's Office of Sustainability, Mayor's Office of Food Policy, and others, are working to set an agenda for food-related initiatives. The partnership is also being expanded to leverage how we can apply circular thinking not just toward food, but toward additional challenges.
The Built Environment
In 2019, the City issued nearly 8,000 new building permits, which is expected to grow as the economy returns to pre-COVID levels.6 But 10 to 15 percent of building materials are wasted during construction, generating roughly 6 million tons of debris each year in NYC.7 By incorporating circularity from the beginning of a construction project, developers can affect all life stages of a new building.8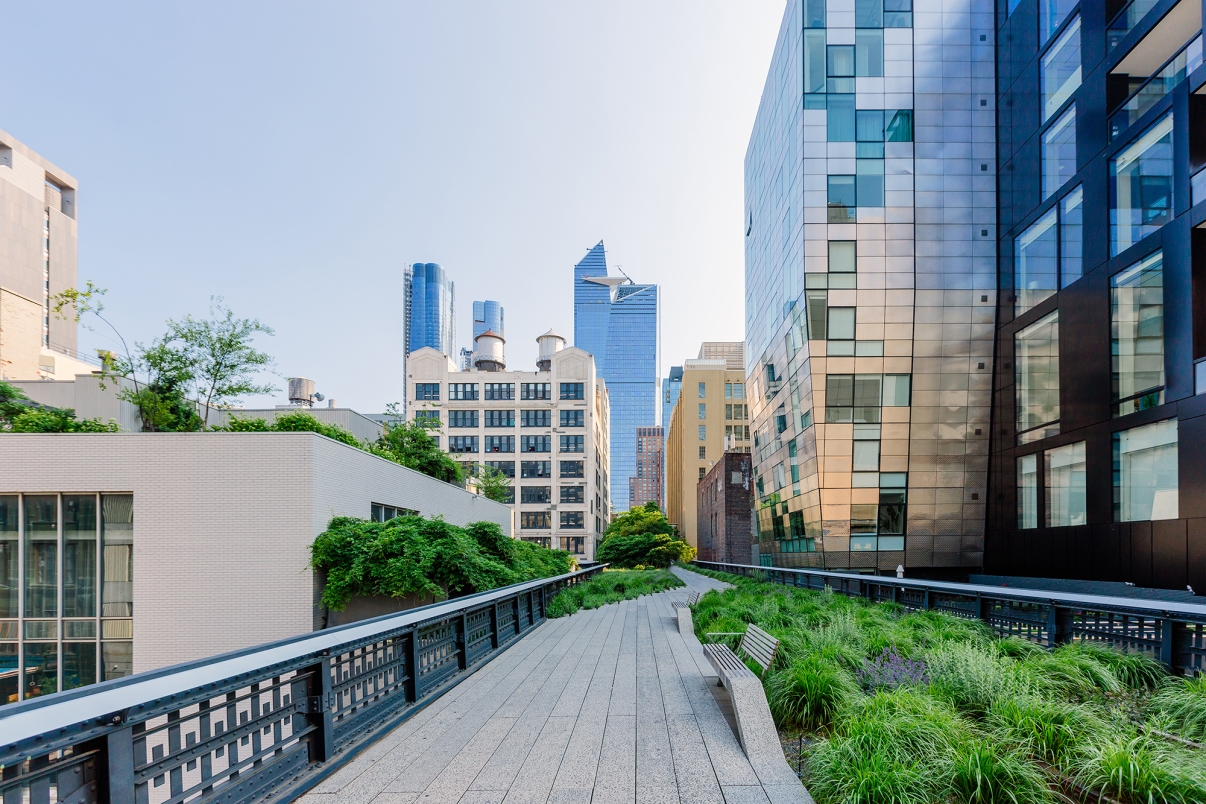 One move toward circularity is the NYC Zero Waste Design Guidelines, a collaboration between leading design and architecture firms in NYC to provide the people who plan, construct, and manage buildings, streets, and neighborhoods with a resource to manage and reduce waste in their projects
On the legislative level, recent City Local Law 97 guidelines require that buildings over 25,000 square feet significantly reduce greenhouse gas emissions by 2024 or pay fines. Circular thinking is an opportunity to consider how we can reduce both waste and energy to achieve a lower carbon footprint.
How else are the City and NYCEDC going circular?
In 2018, NYCEDC and New Lab launched the Circular City Studio a program that tests solutions designed to address the increasingly complex and urgent challenges facing cities. In 2020, NYCEDC partnered with the international law firm Freshfields to convene City agencies, nonprofits, entrepreneurs, corporations, and other organizations to re-imagine what the city could look like with a circular economy. The resulting a report—the New York City Circular Initiative—provided a roadmap for investments in circularity that have the potential to create thousands of good jobs and billions of dollars in economic growth.
The City has set ambitious policy goals to combat climate change, including a commitment to reduce greenhouse gas emissions 80 percent by 2050 and send zero waste to landfills by 2030. OneNYC2050, the City's strategic blueprint for the future, also highlights carbon neutrality, 100 percent clean energy adoption, and the transition to a circular economy as key goals.
NYCEDC also recently partnered with the Danish Business Authority and four other global cities to launch the Circular Innovation City Challenge, soliciting innovative digital solutions designed to help cities become more circular.
And in April 2021, the Ellen Macarthur Foundation announced a broader strategic partnership with New York City that will include NYCEDC, the Mayor's Office of Sustainability, Department of Sanitation, and the Mayor's Office of Food Policy to create an action plan for advancing circularity in the city.
Both on an industry level, and through forward-looking public/private initiatives, NYC is moving toward a circular economy to reduce waste and ensure a sustainable future.
Learn more about NYCEDC's efforts to make NYC a global model of a smart, sustainable, resilient, and livable city.
1. Solid Waste Management, United Nations Environment Programme
2. What is the Circular Economy?, Ellen MacArthur Foundation
3. #WearNext - Make Fashion Circular joins forces with City of New York and fashion industry to tackle clothing waste., Ellen Macarthur Foundation, March, 4 2019
4. 2017 NYC Residential, School, and NYCHA Waste Characterization Study, New York City Department of Sanitation, 2017
5. Sanitation Department Proposes New Organics Recycling Requirements for Businesses, New York City Department of Sanitation, October 3, 2019
6. NYC Construction Dashboard, City of New York, Accessed November 14, 2019
7. "Getting to Zero: Construction and Demolition," Open House New York, Accessed November 14, 2019
8. Can the circular economy in construction really work?, Jim McClelland, Racenteur, August 21, 2019