Employee Profile
Kristyna Frantz, Assistant Vice President, Marketing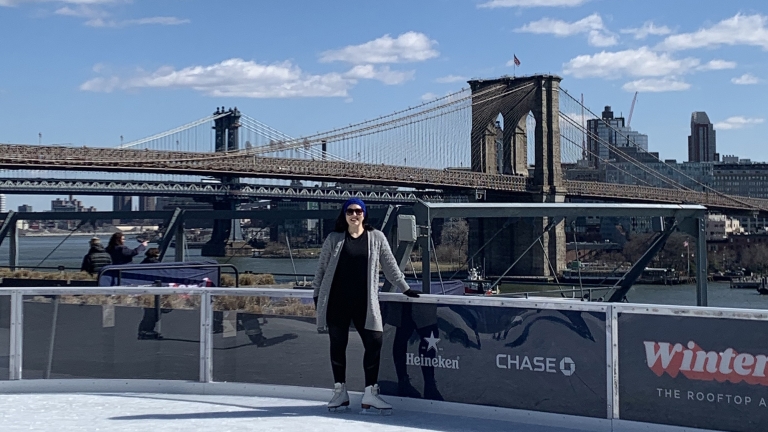 What was your first job?
My first job was as a camp counselor at a language-immersion camp, where I was paired with a fluent Mandarin-speaking counselor to oversee a group of five-to-seven-year-olds. I ended up learning the basics along with the campers, and it led me to study Mandarin for three years in college.
How did your previous roles lead you to NYCEDC?
Prior to joining NYCEDC, I worked at a public relations and marketing agency that specialized in destination marketing, specifically working with tourism and economic development organizations. As part of the economic development division, I worked with cities, states, and countries—from Chattanooga, Tennessee to Thailand—to help market their locations as great places to live and do business. After a few years, I realized I would rather do work that would benefit the city I lived in. When I saw an opportunity to join the Marketing team at NYCEDC, I jumped at the chance.
When did you join the company? What's your day-to-day role?
I joined the company in 2017. My day-to-day role involves liaising with my colleagues across the organization on their marketing needs, formulating strategies to help them meet their goals, and working alongside my team to make those plans come to life. No two days are alike!
What's the most rewarding part of your job? And the most challenging? (Is there a specific project or borough you enjoy working on?)
The most rewarding part of my job is my ability to work on a range of projects throughout the organization and work with different teams—I like to joke that I end up knowing a little bit about a lot of things. Outside of my day-to-day role on the Marketing team, I also enjoy the opportunity to be involved with NYCEDC's Employee Resource Groups. For the past two years, I have been a co-leader of the Women's Leadership Group and have enjoyed getting to know many women across the organization whom I may not otherwise work with.
How do you relax when you're not working?
When I'm not working, you can find me taking advantage of one the many beautiful parks in Washington Heights alongside my husband and our dog Jack Daniels. I'm also an avid reader, and in between books, I'm a frequent visitor to the New York Public Library or the independently owned bookstores in my area.