Explainer
Five Ways NYCEDC is Supporting New York City's COVID-19 Response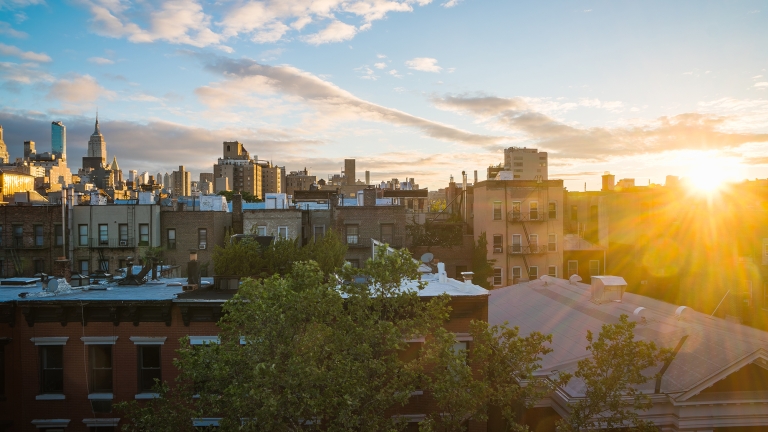 Focusing on the health and safety of New Yorkers, we're drawing on our resources and talent to address the effects of the coronavirus pandemic on NYC.
COVID-19 is an unprecedented crisis, but our role in this crisis is anything but unprecedented. Following the events of 9/11, the 2008 financial crisis, and Superstorm Sandy, NYCEDC was central to the city's response and rebuilding efforts. Now, drawing upon a decade of investments in key industries like advanced manufacturing and life sciences, we're well-equipped do the same to help New Yorkers recover from this crisis. Here's what we're doing:
1. Activating our sites to support the City's immediate response
One of our earlier response efforts focused on identifying and converting sites to meet the city's need for space—for both medical and non-medical uses. Working closely with City Hall, the Department of Health, Office of Emergency Management, and other partners, we conducted a series of site visits to identify and evaluate facilities around the city. This effort led to:
Setting up a 1,000-bed COVID-19 hospital at the Brooklyn Cruise Terminal
Activating the USTA Billie Jean King National Tennis Center to create 350 beds
Converting Kingsbridge Armory into a temporary food distribution center
Turning the South Brooklyn Marine Terminal into a parking facility for ambulances
Dredging 92,000 cubic yards of material in the Hudson River to prepare for the arrival of the USNS Comfort, a US Navy hospital ship docking at Pier 90
Leasing temporary housing for first responders
Additionally, we recently established temporary rest areas for inter-state truck drivers at GCT New York in Staten Island and at Hunts Point in the Bronx, the largest food distribution center in NYC. This is allowing food and other supplies to continue to come into the city—and it's providing a safe place for truckers to rest.
2. Manufacturing face shields and gowns
With the city facing a shortage of personal protective equipment (PPE) for healthcare workers, local manufacturers have stepped in, and stepped up, to help—from costume designers and seamstresses to electronics fabricators to fashion and garment manufacturers.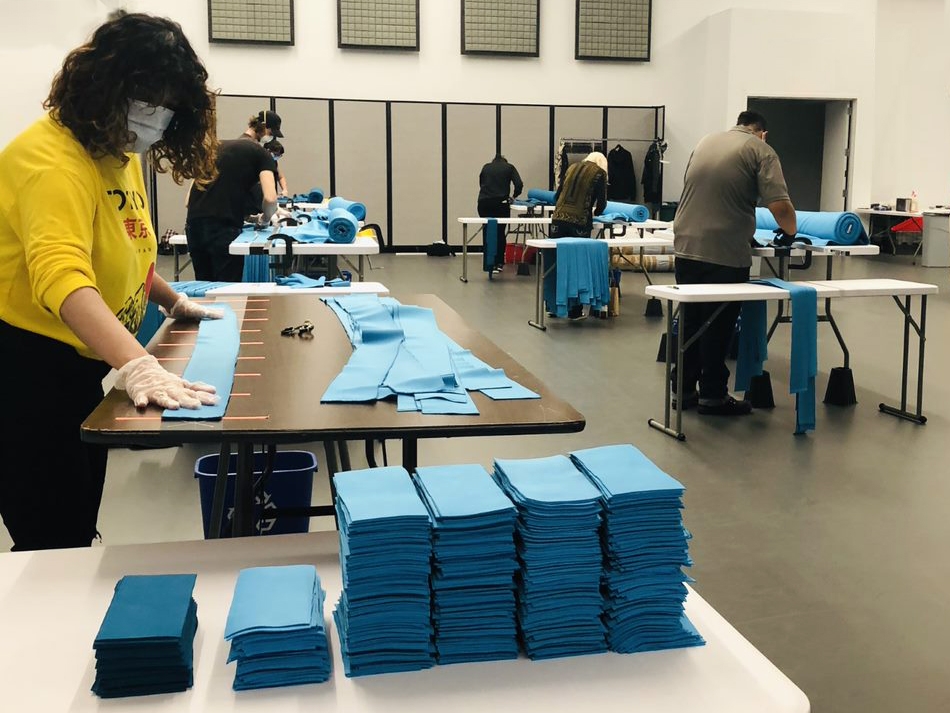 By the Numbers
2.4M
Number of face shields expected to be produced by NYC businesses
Our effort began in March, when we put out a call for local businesses to make urgent medical supplies and received more than 2,900 responses. Now, through our partnerships with nearly 70 businesses, approximately one million face shields and over 650,000 disposable and reusable surgical gowns have been produced. And the city is on track to produce a total of 2.4 million face shields and 3.2 million hospital gowns. These efforts have put over 1,500 New Yorkers back to work. (Note: As of September 2020, the city has created 8.4 million face shields and 4.2 million hospital gowns.)
Our partner businesses include (among others):
There are so many factories that are sitting dormant, and we have the know-how. This is what makes manufacturing in New York so incredible. We can turn on a dime and go from producing swimwear to producing PPE isolation gowns. And, we can get it to market very quickly because we're right here.
Libby Mattern
Founder, Course of Trade
3. Innovating a ventilator, fast
To help address the shortage of ventilators in NYC, we convened a partnership with researchers, local innovators, and members of the medical and public health communities to develop a "bridge" ventilator in less than a month. The lower-cost, easy-to-manufacture automatic resuscitator that resulted, called Spiro Wave, was inspired by a design first developed by a team of researchers at MIT. Engineers from Newlab initiated the project in partnership with 10XBeta, Boyce Technologies, and Otherlab, along with regulatory experts at Nemedio.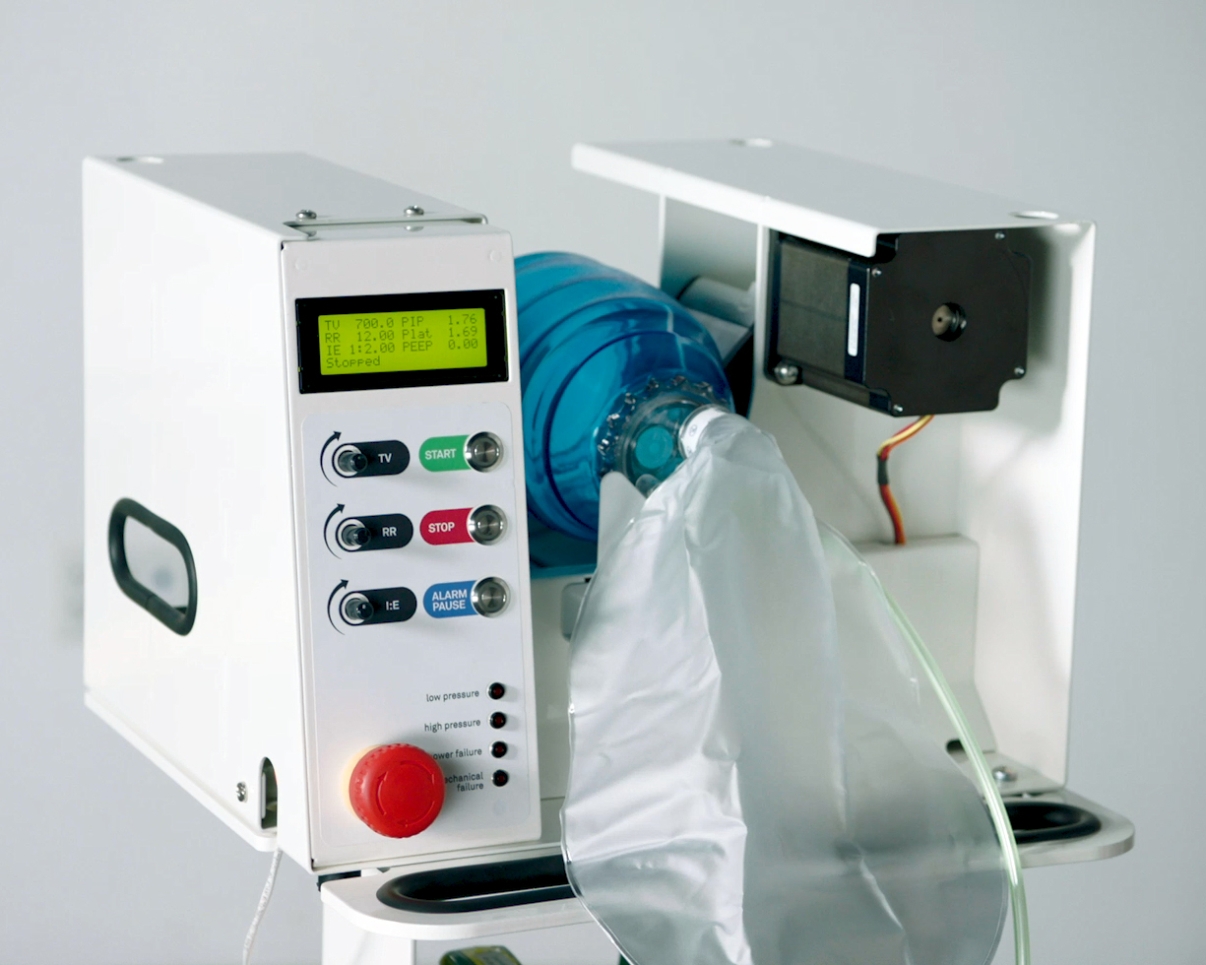 NYCEDC provided an initial seed grant of $100,000 for prototyping and design, mobilized major hospitals to vet the new technology, and provided regulatory support. We're also purchasing the first 3,000 devices and working with New York City Health + Hospitals to distribute them to healthcare facilities and hospitals.
During this unprecedented crisis, we've seen the strength, creativity and resilience of New York City.
James Patchett
Former President and CEO, NYCEDC
This initiative builds upon a decade of work to preserve and expand advanced manufacturing in NYC. We invested $3 million in Newlab's urban technology portfolio and, through the New York City Industrial Development Agency, helped Boyce Technologies build the state-of-the-art facility in Long Island City where the ventilators are now being produced.
4. Building a new supply chain for test kits
Large-scale testing is critical for the city to reopen safely. We've built a new supply chain with local biotech companies and small manufacturers to produce 50,000 COVID-19 testing kits per week. Our team consulted with experts across the country, forged relationships with local manufactures, worked with medical professionals and City agencies to review swab designs, figured out sanitization and vetting processes for medical use, and then quickly found local manufacturers to begin production.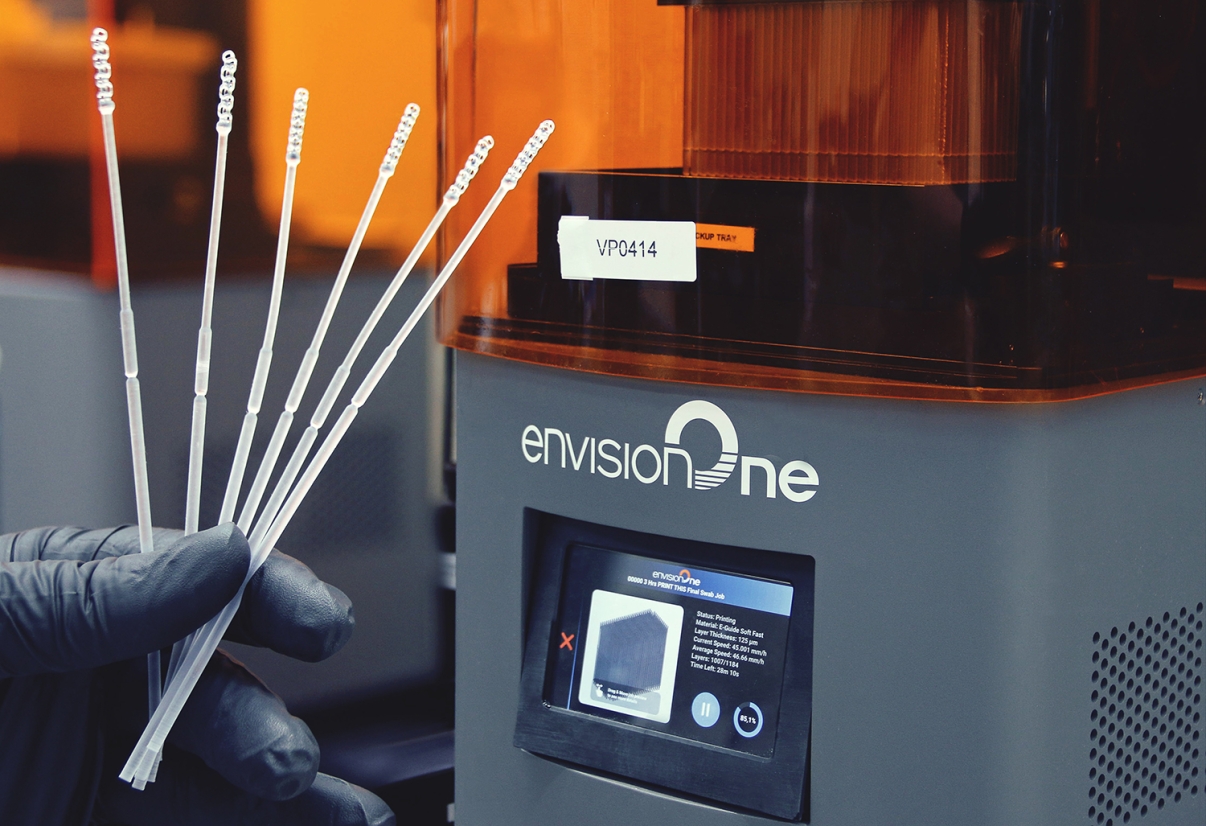 5. Supporting small businesses and planning for recovery
With small businesses among the most vulnerable to the effects of the crisis, we're working to ensure that they can access available assistance, including US Small Business Administration (SBA) financing. We've also offered technical assistance to over 500 of our tenants and shared information with over 4,000 local small businesses to encourage them to apply for SBA programs.
Supporting the city, its businesses, and New Yorkers also takes advocating for federal policies, which we're proactively engaged in with City Hall, Senator Schumer's office, and NYC's congressional delegation. Finally, as we plan ahead for recovery, NYCEDC is taking part in the mayor's recovery task force, a group of various industries and stakeholders working to develop an inclusive blueprint for recovery that supports all New Yorkers.
Our efforts to respond to the COVID-19 crisis are evolving to meets the needs of NYC. To stay up to date on our continuing work, follow NYCEDC on Facebook, Twitter, Instagram, and Linkedin.