NYCEDC Stories
Building Out for Outdoor Dining: Stories from Small Businesses in the Design Corps Network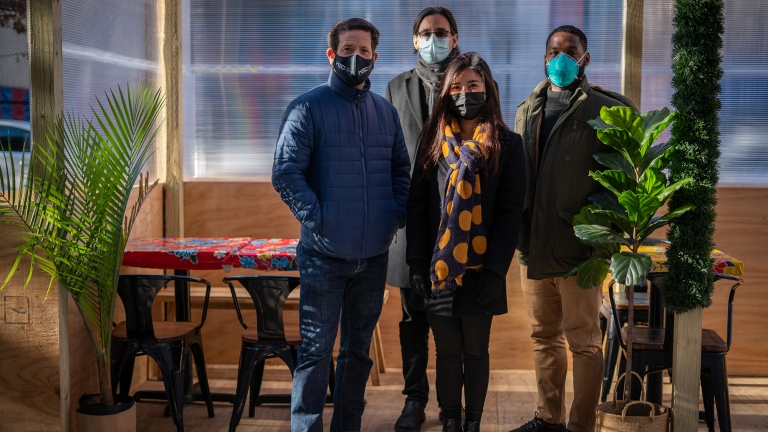 In the summer of 2020, NYCEDC and partners launched the Design Corps: Small Business Reopening Network to help restaurant owners bring their business outside. The network matches architects and designers with restaurants to help build safe, sturdy, and up-to-code outdoor dining spaces.
Meet two restaurant owners who found much-needed help and more from this innovative program.
On a brisk December morning, Sommy Putthida sat outside her restaurant in East Harlem, reflecting on the past year that was, as she described it, fraught with uncertainties, but also full of "kindness, unity and hope."
Last April, Sommy lost her job as a product manager at a tech startup in San Francisco, a casualty of layoffs brought on by the pandemic. She was in New York City visiting her sister and was hesitant to travel back to California in the middle of a health crisis. So Sommy made a bold decision: stay in the city and try to run a business of her own.
She came across a Facebook post from a Thai restaurant owner who was selling his place in Upper Manhattan. By the end of May, Sommy was the new owner of Pro Thai on East 101st Street and Lexington Avenue.
"I saw this as a sign, a shot to pursue my dream," she said. "I've always wanted to run my own restaurant. I love food and cooking, and through it, I bring comfort and joy to people. And what better place to pursue this than New York City."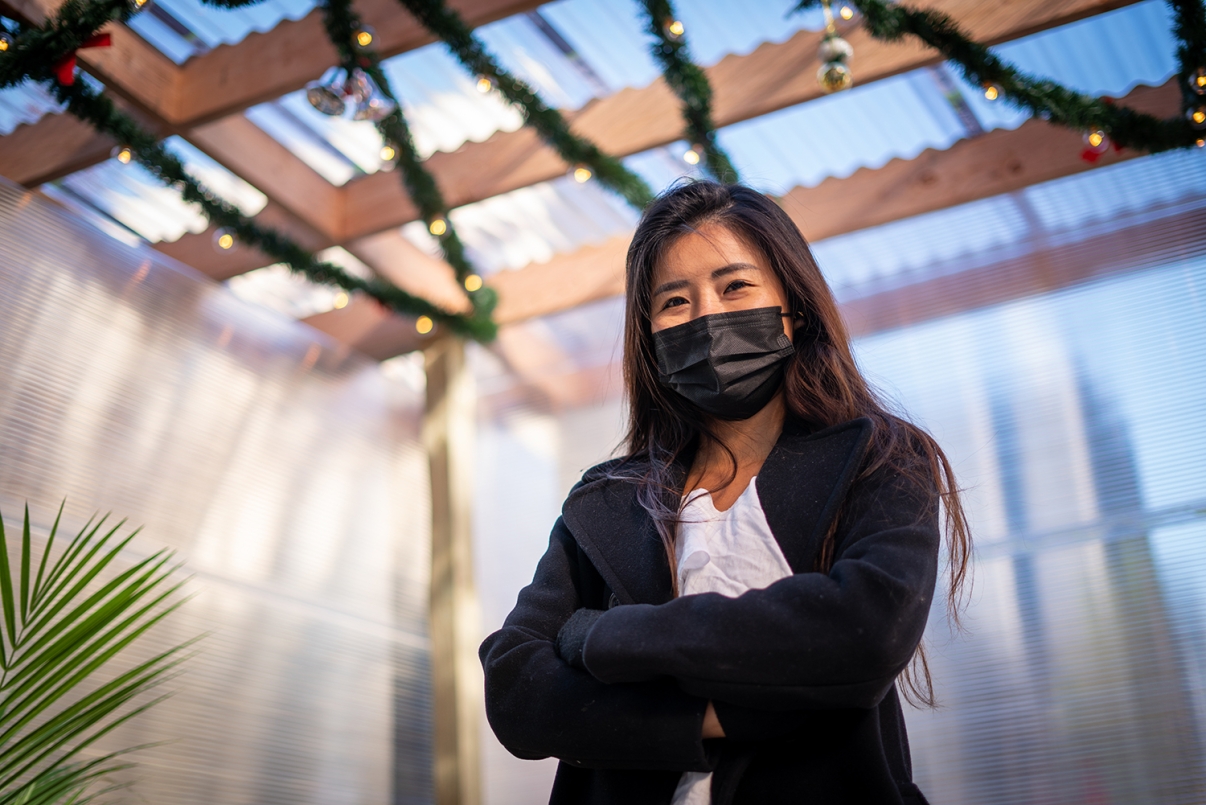 Sommy reopened Pro Thai in June, and the new restaurateur had a lot on her plate from day one: keeping her staff employed, expanding her takeout and delivery options, rebranding the restaurant with an effective online presence, and implementing health and safety protocols. And, with restrictions on indoor dining in effect, she needed to find a creative and affordable way to bring Pro Thai outdoors. Without any sort of design background, Sommy didn't know where to begin.
That's when she discovered the Design Corps: Small Business Reopening Network and the program's participating local architects and designers who provide pro bono services to help restaurants, like her own, successfully and safely operate outdoors. The program was developed by NYCEDC in partnership with NYCxDesign, the American Institute of Architects NY, and Design Advocates.
Making design accessible
Sreoshy Banerjea, an assistant vice president at NYCEDC who came up with the idea for the program, said that the pandemic has surfaced the inequities in access to design thinking.
"Well-designed outdoor spaces have generated additional revenue for those higher-end restaurants with access to architects. There's no reason smaller mom and pop shops shouldn't have equal access to design when it comes to building out their lifeline."
Through the Design Corps website, restaurant owners are connected to design professionals who can assist them with understanding health guidelines, City regulations, maximizing space (particularly for difficult or limited frontages), designing durable structures that can withstand severe winter weather, and creating a welcoming dining environment.
It's a scary time for many restaurants so we wanted to do what we could to make their lives a little easier. It's been inspiring to see how New Yorkers have pulled together to help each other out.
Andre Soluri
Soluri Architecture
As of January, there are 60 restaurants and 29 designers who have signed up with Design Corps. And going forward in 2021, the program plans to focus on reaching out to the hardest-hit neighborhoods to help ensure services are accessible for those who need it most.
"We're all seeing this vital industry struggle and there are so many people who have a strong desire to help restaurants in need with services they typically wouldn't be able to afford," said Lindsey Mayer, a senior project manager at NYCEDC who helps run Design Corps. "You have these seasoned architects going above and beyond at what the program aimed to accomplish. They love New York and the restaurant industry."
Small businesses helping small businesses
Sommy began working on her outdoor space in September with architects Andre Soluri and Stephen Sewar from Soluri Architecture, and Aaron Borenstein at Home Evolutions Corp., who did the construction work. According to Andre, this unprecedented collaboration demonstrates how architecture and thoughtful design can help address some of the many challenges faced by restaurant owners and other small businesses.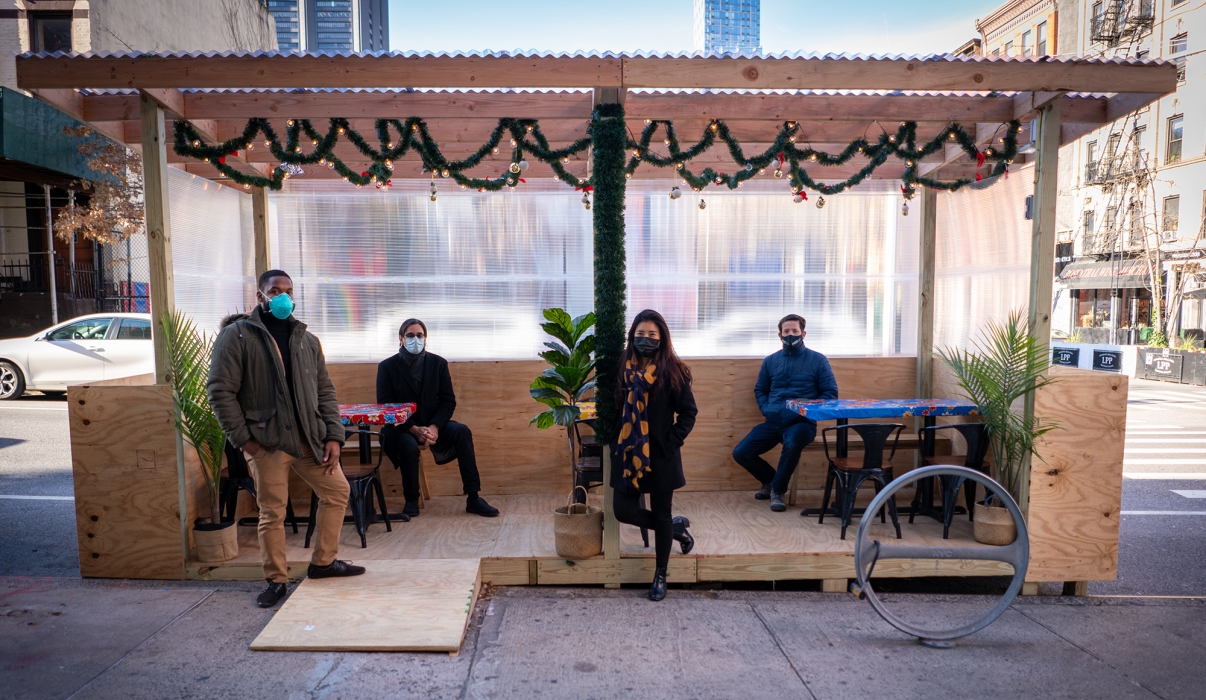 "Sommy's restaurant is located on a steep hill, which complicated the design and build of the outdoor space," Andre said. "To keep costs low, I consulted with a structural engineer and brought on Aaron who has extensive experience with wood frame construction, which is uncommon in the city. He was able to do the work for less than 50 percent of his original estimate."
Together, they created a space that seats an additional 8 people and will not only be able to survive a harsh winter, but last for at least a year.
"Outdoor dining is new territory for everyone" Andre adds. "It's a scary time for many restaurants so we wanted to do what we could to make their lives a little easier. It's been inspiring to see how New Yorkers have pulled together to help each other out."
Another Design Corps participating restaurateur, Gehad Hadidi, owner of the French bistro La Bonne in Midtown, was able to install an additional 16 outdoor seats after working with two architecture firms through the program.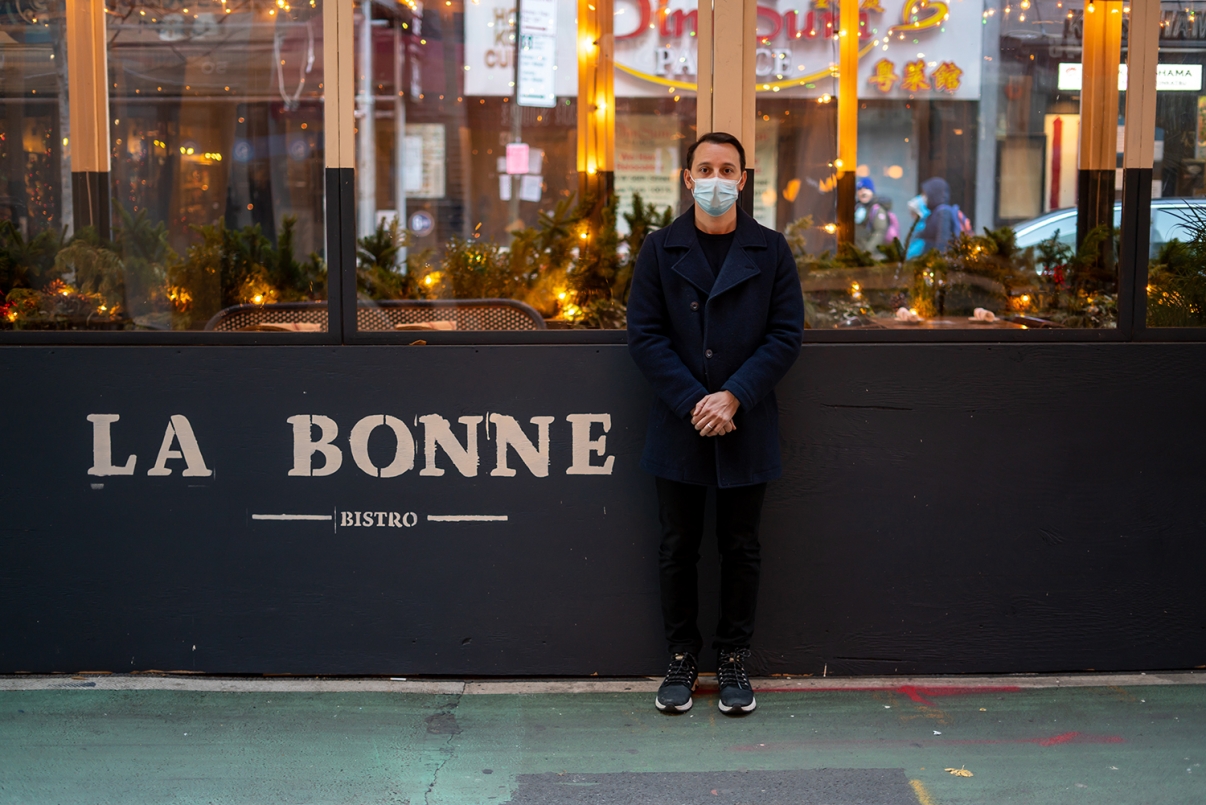 Gehad took over La Bonne in 2019 when its founder and previous owner decided to retire and sell the place after 43 years. "I just fell in love with the place. Its history, its charm, its committed workers, its authenticity to Midtown—that's not something you can just recreate."
The year Gehad took over was one of the best for La Bonne. But when the pandemic hit, he saw a 50 percent drop in customers. "At that point, we were exhausted and losing so much money that we made the difficult decision to not reopen the next day."
When Gehad did reopen for outdoor dining, he constructed the space on his own with simple planters. But as the weather became colder, Gehad knew he couldn't adapt on his own, so he sought guidance from Design Corps experts. He worked with landscape architect Nina Kramer on expanding the space safely with sufficient ventilation and with design studio RE:AD to install floor heaters.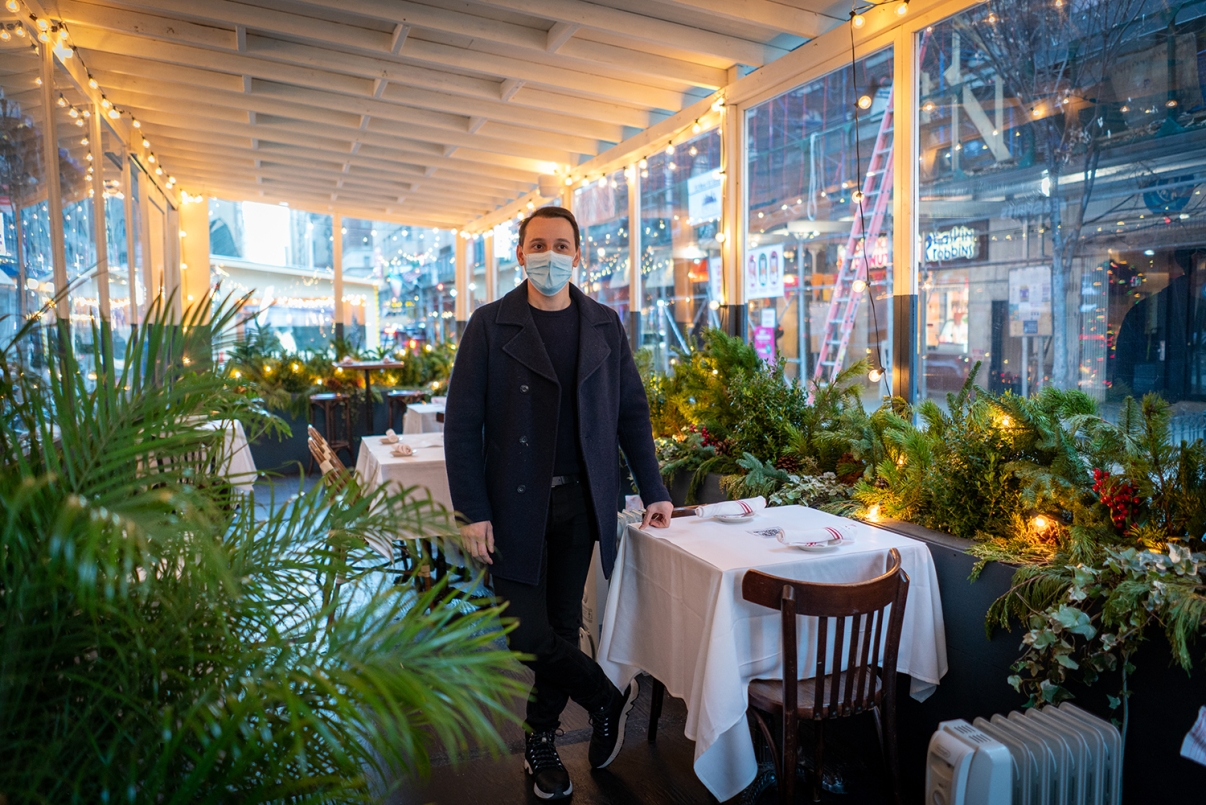 The generosity of La Bonne's neighbors was also vital for Gehad's ability to reopen. They allowed him to use space in front of their businesses to accommodate more seating and ensure safe social distancing.
"Business has picked up. On average 50 percent of our business is done outside," he said. "I've seen those articles about how Midtown has emptied out, but we received so much support from our neighbors and others who I know now on a first name basis and come here often for lunch or dinner. The city is still special."
About the city, Sommy agrees. The generosity she experienced as a new business owner has changed her life. "It's been hard, but we're surviving. I am so thankful for this wonderful community of New Yorkers who came together for me, and other restaurant owners. New York City is full of surprises."
To learn more about the Design Corps program and how to get involved, visit nycxdesign.com/design-corps.