Explainer
How A Local Life Sciences Company Powered NYC's Pandemic Response and Recovery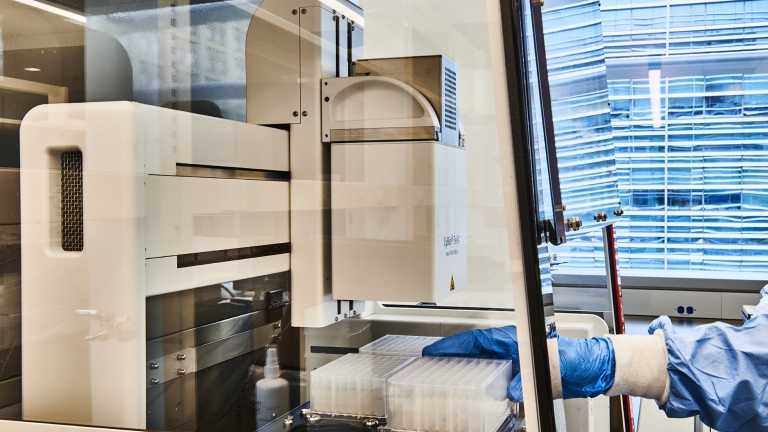 Meet Opentrons Labworks, Inc., a small robotics firm in Brooklyn that operates New York City's largest COVID-19 testing lab, the Pandemic Response Lab (PRL).
In an effort led by NYCEDC, PRL was opened in September 2020 to increase laboratory capacity and significantly reduce the wait times for processing COVID-19 tests to as little as 24 to 48 hours as NYC prepared for reopenings.
As we look to recover from the economic impacts of the COVID-19 pandemic, life sciences companies, like Opentrons, will help New York City recover and reopen. We interviewed Jonathan Brennan-Badal, CEO of Opentrons, about the story of the company, the creation of the Pandemic Response Lab, and how life sciences will continue to play an integral role in creating healthier communities and a stronger economy for all.
What inspired the creation of Opentrons?
Opentrons was created to offer biologists all over the world an affordable, flexible, customizable way to pipette liquids (i.e., to quickly and precisely move them between vials) without being locked into a closed system of proprietary technology, software, and consumables. The need to save biologists from a menial, repetitive task like pipetting was inspired by how time-consuming manual pipetting is. It slows down scientific discovery and progress and impedes biologists—and all life scientists—from creating solutions for the problems we face today.

Why did you choose to start your company in NYC?
We're New Yorkers. Why would we start our company anywhere else? Also, NYC was really investing in life sciences and making its name as a life science hub, and we knew we wanted to be part of that.
Can you describe the moment you decided Opentrons would pivot to helping the City deliver faster COVID test results?
We were plugged into the coronavirus pandemic conversations early on, thanks to a heads-up from our international network. We racked our brains trying to create a testing solution with our liquid-handling robots in early February 2020, and once we had a prototype, we immediately reached out to the City to find a way to help.
As we spoke with City officials, we realized that we could actually offer a bigger, better solution in creating a diagnostic testing lab tailored to the challenges of the pandemic and got to work on that in the early summer. Eight weeks later, we opened the Pandemic Response Lab (PRL) and took over 20 percent of NYC's COVID-19 testing.
Importantly, we began genome sequencing to track COVID-19 variants. Our lab recently identified the first case of the South African variant in a New York State resident and immediately notified health officials. As we ramp up our sequencing capability and expand our operations in other cities, we will soon be able to track variants nationwide. This variant tracking will be critical to staying ahead of the virus and putting an end to the pandemic in the United States.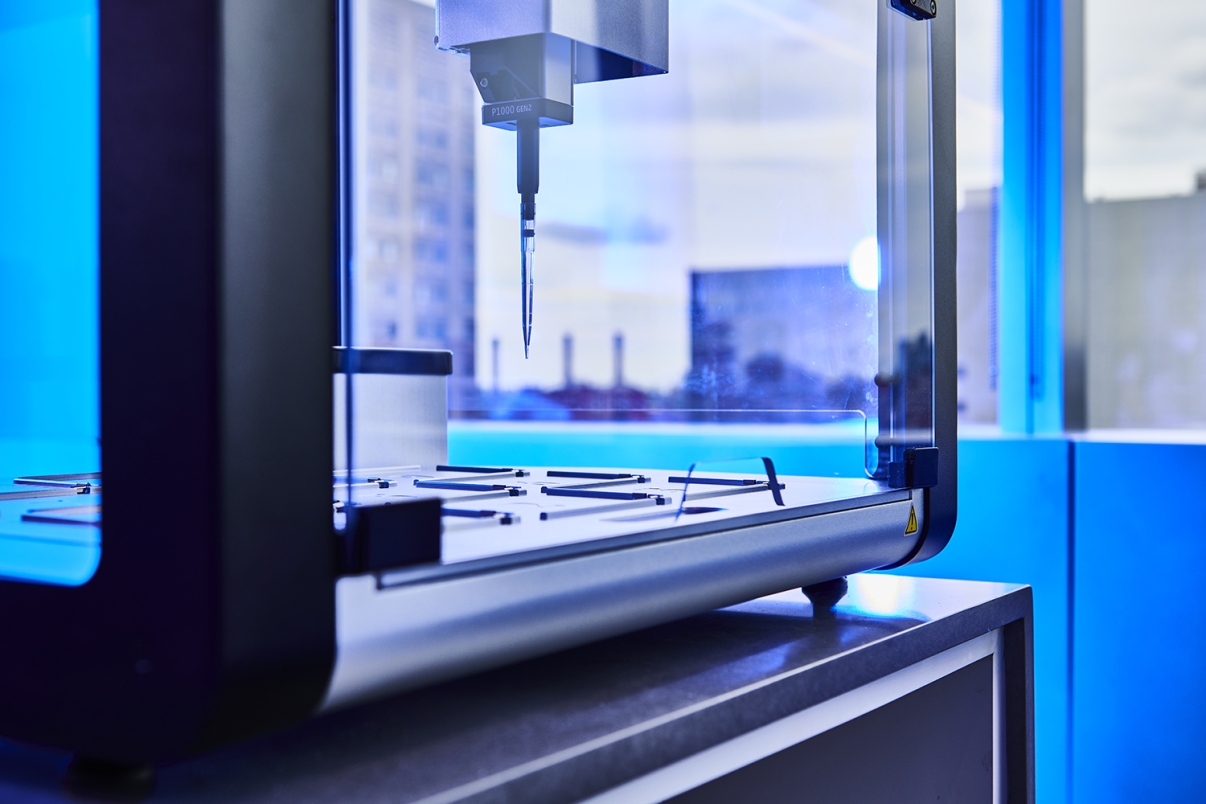 With NYCEDC and other partners, you managed to develop the technology for processing COVID tests quickly. How were you able to do this and what were the biggest challenges you faced in doing so?
We were lucky in that we ran into one of Opentrons' customers, Dr. Jef Boeke, after meeting with City officials. Dr. Boeke is a world-renowned genetics and genomics researcher, and created a groundbreaking testing procedure that greatly sped up testing while retaining gold-standard accuracy. We spoke about it and realized we were able to utilize that procedure on our robots, and create a whole work-cell of lab robots to automate the entire process for accuracy and speed.
We've seen profound collaboration among scientists, biologists, engineers, civil servants, and others in response to the pandemic. Do you see this kind of collaboration continuing in the future, especially as the city establishes itself as a global leader in life sciences?
We definitely see this kind of collaboration continuing and strengthening into the future. We expect to see continued resource sharing, research sharing, and out-of-the-box thinking, and partnerships—and, of course, innovation and enthusiasm to keep providing solutions. It enabled us to move quickly, make lots of connections, and take meetings as often as possible. It also gave us a clear perspective on the exact problems and challenges faced by our local community and how we could solve them.
The Pandemic Response Lab (PRL) helped New York City go from being an epicenter of the pandemic to a shining example of recovery. While that speaks to the resiliency, talent, resourcefulness, and dedication of New Yorkers, it also calls out NYC as a global leader in life sciences innovation for rolling out an industrial-scale diagnostic solution to combat the pandemic. Today, PRL is opening labs in Washington D.C., Los Angeles, Seattle, and many other locations around the country.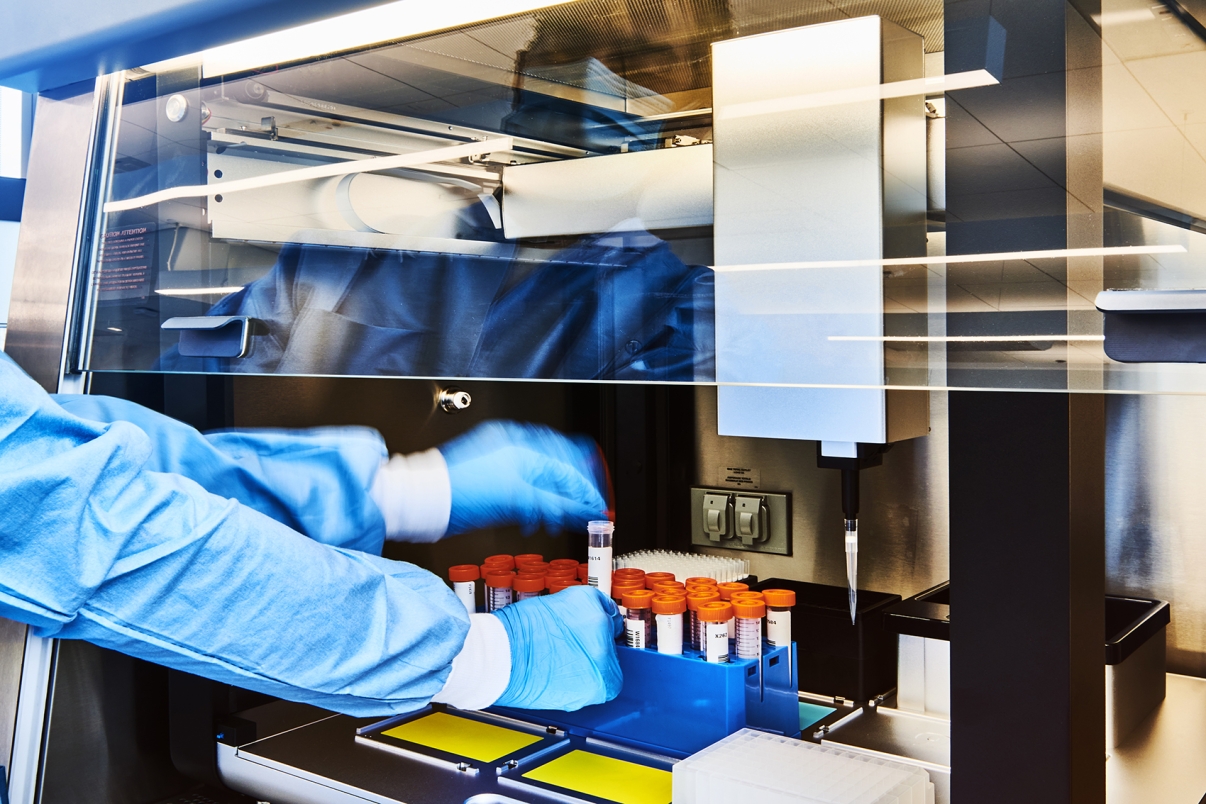 How did it feel to be part of a solution that has saved many lives? What did it mean to you and your team on a personal level?
We're incredibly grateful that we're able to provide a solution and help mitigate the spread of the coronavirus pandemic. Personally, I feel very fortunate to be in a position to help so many people in this difficult time. So many people are suffering in so many different ways, and to be able to provide even a little relief in a very real way is incredible and humbling. Every single person at Opentrons and PRL feels that way.
As a company that makes robots—and developed robots to make COVID-19 testing go faster—how has this effort also created jobs for New Yorkers?
We process 40,000+ COVID-19 tests every single day, and the lab is running 24/7. We can't do that kind of testing without people and given the lab's location in Gramercy (Manhattan), we're able to hire more than 150 people.
What has given you hope for the future of NYC?
Seeing the way the city has responded to the pandemic gives me hope. At all levels, from City and state officials continuing to find solutions to regular New Yorkers walking around wearing masks and keeping social distance, NYC is doing everything it can to come back from this pandemic stronger than before. Nothing keeps this city down.
Learn more about LifeSci NYC and the city's Pandemic Response Lab.